Bundesliga Tactics Talk: Round Seven
By Peter Weis @PeterVicey
Sunday night in central Europe means it's "Tactics Talk" time on Bulinews.

The final round of action preceding the October international break leaves us with an incredibly interesting pack of tightly clustered top four teams. Leverkusen, Stuttgart, Bayern, and Dortmund are separated by just four points following big wins. There's plenty of intrigue throughout the rest of the table as well.

Our comprehensive weekly recap feature, as always, covers all nine of the weekend fixtures. Dortmund, Union Berlin, Bochum, Leipzig, Köln, Freiburg, and Frankfurt receive draw-ups in the latest installment.

There's much to ponder over the next two weeks, so do join us for another deep delve into the world's best footballing beat!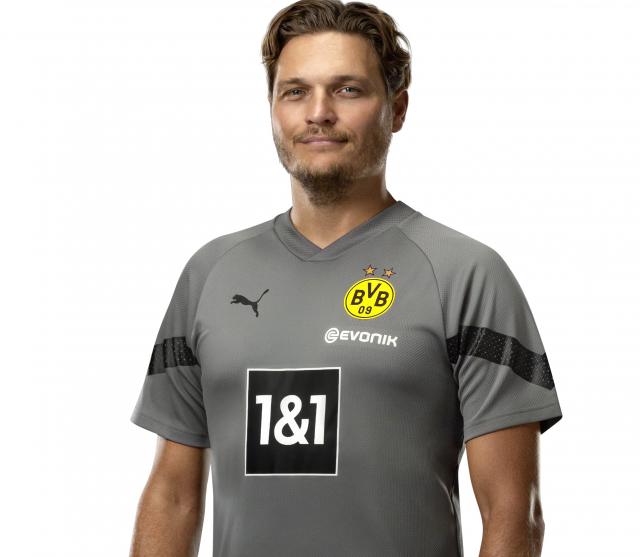 Bundesliga Tactical Banter: Round Seven
"The Almighty Guirassy"

It really begins to get ridiculous at this point. Thirteen league goals now for Stuttgart's "master of the infinite". The columnist couldn't resist reviewing all of Stuttgart's goals this season just to see how vital Serhou Guirassy has been for his team. The investigation yielded more shocking stuff. In addition to notching one official assist, the Guinean international played the penultimate pass on three VfB goals. That translates - with a bit of an expanded definition - to involvement in 17 of Stuttgart's 22 league goals. Insane.


Apropos "loose definitions", those still curious about whether Harry Kane's three goals two weeks ago qualified as a "hat-trick" in German parlance should know that Guirassy's three goals against Wolfsburg on Sunday qualifies under the old German definition of the term in the 70s and 80s. The super striker scored three uninterrupted goals in a single half. These days, Germans refer to that a "lupenreinen" ("flawless") hat trick. Guirassy's three tallies also qualified as "flawless". The author isn't even attempting to exaggerate.

A cool conversion from the spot in the 67th. Perfectly composed touched around Koen Casteels in the 78th. Even more sumptuous touches around the flailing WOB defensive ranks in the 82nd. The two goals from open play count as what Germans refer to as "Zucker-zähle" ("Sugar Goals"). Sweet to the touch. Set-ups from teammates Chris Führich and Silas (after admittedly horrible ball losses from Ridle Baku and Cedric Zesiger) were equally saccharine. Flawless and nectarous stuff from the Swabians. Too perfect for words.

Are Stuttgart themselves "flawless, nectarous, and perfect"? We do need to address the first half. Wolfsburg ran roughshod over the VfB right for virtually the entire opening 45 minutes. Niko Kovac's German Wolves played comfortably out of the back against a woefully lax Stuttgart press. Cycles up both flanks for Sebastian Hoeneß' side came nowhere close to being optically acceptable football on this level. Right-back Pascal Stenzel messed up royally on Yannick Gerhardt's 1-0 in the 34th. Gerhardt and Matias Svanberg could have scored more were it not for sloppy touches in the final third.

The Württembergers didn't really produce their first meaningful offensive chance until 54 minutes in. Was the comeback a fluke? Not at tall. Hoeneß actually pulled off a tactical masterclass for the second week in a row. The VfB gaffer pulled Stenzel and Jamie Leweling for Silas and Deniz Undav, turning his regular  4-1-4-1/5-4-1 hybrid into a clear 3-4-1-2 with Guirasst and Undav serving together up top. The results spoke for themselves. Silas prepped the 3-1. Undav tore holes in the VfL ranks, opening up plenty of lanes for Guirassy.

Quoting the stats is naturally fun. Guirassy has already surpassed Stuttgart's leading goal-scorer (Wataru Endo, 12) from last year. Stuttgart as a team have already scored more goals that they did in the entire "Hin-runde" last year. Guirassy is already just three goals shy of the leading goalscorer (Niclas Füllkrug, 16) from last season. As much fun as these numbers are, what the author really wants to talk about here is how he once called Hoeneß one of the most tactically inept trainers in all of German football during his final days at Hoffenheim. Yep. It's in print. No sense denying it.


Very different story this time around.

The man looks like a genius.

"Auf geht's Darmstadt!"

The column happily pays tribute to a lovely little developing story on the Bundesliga beat by giving the team bottoming out last week's column near top billing this week. Newly promoted SV Darmstadt 98 secured their second win of the season less than a week after picking up their first. Cool. The promotion side with the irresistibly cool kits are up and running with seven points from seven league fixtures. Of monumental significance, the Hessians bagged their second set of three from the team that ruthlessly stole the two best players from their promotion side over the summer: FC Augsburg.

Anyone for some "Karma's a bitch" factoid? Former Darmstadt stars Patric Pfeiffer and Philipp Tietz were in the FCA starting XI together for the first time. Both the Lillies former top defender and their former leading goal-scorer completely bombed. There's some "Schadenfreude" for reeling 1. FC Union Berlin (observed below) as well. Left-lane attacker Tim Skarke - who played absolutely no role in Urs Fischer's system - netted his third league goal of the season. Another player lured away from this club has generally looked quite sharp in his return to his old stomping grounds.

There's still more good news for those eager to talk about this side, albeit one with a sardonic twist. Though VfB Stuttgart striker Luca Pfeiffer still hasn't scored in his own return to his former loan club, the 27-year-old hit the post for the third time this season. The rebound off the frame at least allowed Pfeiffer to record his second assist of the season. At some point, one expects him to get a ball past the aluminum. At least he's recorded more scorer points than Tietz. Skarke has the slack picked up for the time being. What a takedown and finish from him!

Regarding Augsburg, a parting of company with current trainer Enrico Maaßen seems to be inching nearer. A most unhealthy number of passing errors out of the back, including one that nearly resulted in a Darmstadt opener, were observable during the first half. Of even greater concern, the columnist honestly can't recall the last time he witnessed a Bundesliga side squander so many set piece opportunities with genuinely torrid designs as the Fuggerstädter did on Saturday. Maaßen appeared to lead the team into a winnable match unprepared.

Often a good idea to change during the international break.

Another surprise "Top-Spiel"

Just as was the case two weeks ago, an ostensibly hum-drum Saturday evening late kickoff involving SV Werder Bremen ended up yielding a surprising amount of entertainment, not to mention goals. Ole Werner's SV hosting Pellegrino Matarazzo's Kraichgauer in the Saturday 18:30. With both sides carrying plenty of injuries into the encounter, the possibility of a total dud lurked over the affair. In some respects the opening half was something of bust despite the fact that three goals were scored. Hoffenheim took a 2-1 lead into the tunnel, but mostly stretched possession out with their safe short passing game.

Goals from Maximilian Beier and Grischa Prömel featured nice actions on behalf of the Sinsheimers. One nevertheless didn't really observe the tenacity in front of goal that one would expect from a team facing a back-three of Milos Veljkovic, Nicolai Rapp, and a very much off-on-the-night Marco Friedl. TSG striker Wout Weghorst seemed more intent on holding the ball up with stalls than actually doing anything with it. Matarazzo's Kraichgauer barely retained any interest in putting the match to bed. No killer instinct from the sleepy Sinsheimers. Typical.

Matters got much more interesting after the restart, with SV striker Justin Njinmah seeing an equalizer narrowly disallowed for offside and Hoffenheim throwing much more in-crashing actors at the goalmouth of the hosts. Werner's Hanseaten continued to put up a spirited fight in search of an equalizer. Matarazzo's Badeners, in turn, went after the decisive goal. Beier, Florian Grillitsch, Ihlas Bebou, Mitchell Weiser, Marvin Ducksch, Romano Schmid, and Jens Stage all missed out on the back of the net during a furious final ten minutes of normal time.

Then came the spectacular finish. Two goals in second half injury time. Stage with the 2-2. Marius Bülter with the 3-2. Bremen skipper Marco Friedl - running high on adrenaline like the rest of us - was also so gracious as to supply us with a quality post-match interview afterwards. It certainly beat the insufferable crap we league watchers were forced to endure after Bochum-Frankfurt three weeks ago. Thanks to both sides for putting on a show. Fun stuff. Not all too many lessons to be drawn from it...er....apart from the fact that Naby Keïta's Bremen move makes a bit more sense now.

The "Burning Questions": Round Seven
Are Dortmund starting to gel?

The headliner of the 15:30 kickoffs proved instructive in several ways. Probably the most frustrating and painful lesson for German football lovers had to endure was that we can expect more far-too-lengthy VAR reviews when watching our beloved Bundesliga for some time to come. An eventually disallowed Alex Kral goal in the 18th had to endure a five-minute-long VAR check after a glitch in the software package used to create the calibrated lines forced a total system reboot in the Kölner Keller. After that, there was another two-minute-VAR-delay on an ultimately disallowed Füllkrug goal in the 26th.

We had barely begun playing again when a Mats Hummels high tackle on Sheraldo Becker in the box summoned match official Patrick Ittrich to the pitch-side VAR screen in the 29th. Two more minutes before Union's Leanardo Bonnucci received clearance to take the spot kick. Six minutes of actual football in a 13-minute-span of time. Ugh. It had the feel of an American Football match. One half expected shots of the Budweiser logo to appear juxtaposed across the city skyline. This isn't our game.

In terms of the actual football on display, one had little to report from open play in the first half either. Most of the early action came via dead ball situations. The two sides traded goals off corner services in the opening ten minutes. Füllkrug's 1-0 in featured abysmal marking from the Union defenders and a poor initial stop from keeper Frederik Rønnow. Robin Gosens' answer, two minutes later, came courtesy of a deflection off Füllkrug. The equalizer was much more random. The penalty also could have just as easily been ignored by Ittrich.

For what it's worth, the BVB first-half tactics:

Lineup—Dortmund—Match Seven (4-2-3-1)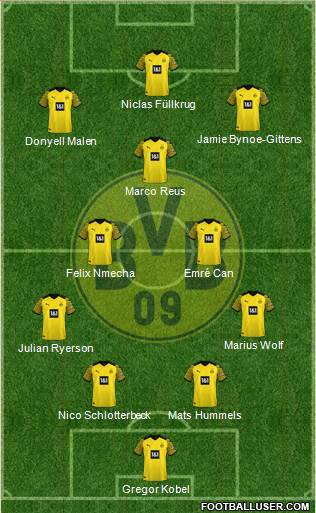 Both Edin Terzic and Urs Fischer used precisely the same constellations as they did midweek in the Champions' League. In Fischer's case, the FCU trainer is frantically attempting to stop his team's slide with an ironclad return to basics. Fischer ditched his latest attempt at a tweak from last week in the league and returned die Eisernen to his old tried-and-trusted 3-5-2 "double stack" against Braga on Tuesday. The system remained in place on Saturday, with Christopher Trimmel and Aïssa Laïdouni replacing Josip Juranovic and Tousart on straight swaps.

Lineup—Union Berlin—Match Seven (3-5-2)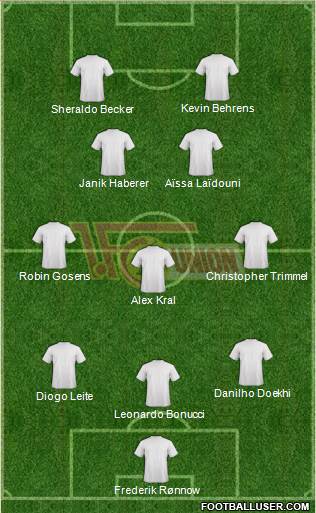 To their credit, Union probably played probably one of their better matches of football in the current seven-game-losing streak. Tousart had to come on early for the injured Kral and did a decent job as the midfield flight director. Trimmel was strong on both dead-balls and from open play. Becker drew the penalty and had his chances, as did striking partner Behrens. That about sums up the good news with respect to Union, however. A half-time tactical shift from Terzic tore this constellation to shreds.

Lineup—Dortmund—46th minute (3-5-2)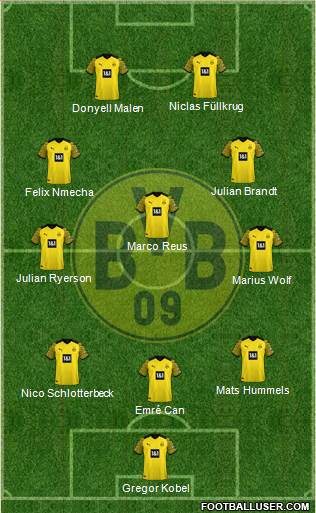 The radical formation shift was accomplished via just one personnel change: Julian Brandt for Jamie Bynoe-Gittens. Almost as soon as one saw Emré Can settle back between Mats Hummels and Nico Schlotterbeck, one could tell that Terzic had a winner on his hands. One expected the two BVB center-halves to operate with much more forward impetus. Moving Julian Ryerson and Marius Wolf up higher and Felix Nmecha out wide gave the approach play several options. This column continues to endorse the awesome potential of the Donyell Malen-Niclas Füllkrug dual striker set.

A quick dismantling

Indeed it wasn't long until Schlotterbeck - advancing on the half-left underlap - opted to have a go from distance after Nmecha put him up. The 2-2 came off a gorgeous distance effort from Schlotterbeck in the 50th; very much reminiscent of that stunner he scored against Schalke last spring. Union's attempted response featured far too many dangerous bow-arcs in midfield. Danger on the counter lurked. The 3-2 counterattacking goal - with all due respect to the Bayern one involving Jamal Musiala and Leroy Sané last week - might have been the most beautifully run counter of the young season.

Reus marshaled the charge in the 54th. Though the goal belonged to Brandt, the work drawing coverage from both Malen and Füllkrug was simply superb. Terzic's two strikers opened up the gap for Brandt with their runs on the four-vs-three. The lane cuts looked to be rehearsed well on the training pitch. One could be forgiven for falsely assuming that Malen and Füllkrug had been working together for well over a year. Former Union man Ryerson added insult to injury with the 4-2 in the 71st, deflecting the final goal in off (of all players) one of his higher profile replacements, Gosens.

The state of Terzic's BVB

Let it be emphasized that this column never really took the talk of a "BVB crisis" especially seriously. The amount of respect that Terzic enjoys in German footballing circles was conveyed in the pre-season column. Most German football watchers assumed that a post-Bellingham turnaround under Terzic would come to pass at some point. If anything, it has arrived earlier than expected. Now riding a three-game league winning-streak, it's not inconceivable at all that die Schwarzgelben (after Bremen and Eintracht) can ride into the big meeting against Bayern on a five-game-run.

Some disappointing aspects within this team obviously show that Terzic doesn't get everything right. The slow start to the season for the BVB trainer's newly-anointed skipper counts as a judgement error, though the job Emré Can did as a defender in the second half of this contest might help the lift the struggling German international up. Form woes for other struggling German internationals Karim Adeyemi, Felix Nmecha, and Youssoufa Moukoko also need to be straightened out with some extra attention in training.

Apart from these not terribly huge issues, the "right man for the job" most certainly has a title-contender in place. Consider for a moment how much attention Terzic gives his back-line and midfield every week. The current BVB gaffer selects the right actors (not to mention sides for switchers like Ryerson and Marius Wolf) and prepares them well for each opponent. This Dortmund team - unlike so very many incarnations past - loses far fewer balls in build-up play and has only conceded eight league goals.

They unquestionably "gel".

Hopes for Union?

Not to deliberately keep matters boring, but the current stage of the season leaves plenty of time for a rebound in Köpenick. Talk of "crisis" and "collapse" empties out the kiosk newsstands. Even the Bundesrepublik's most sensationalist Boulevard-Blätter nevertheless know better than to speculate on whether Fischer will get the axe. The Swiss gaffer and his system shall remain in place. In time, the jewels contained therein can begin picking up points as impressively as they did at the beginning of the season.

The absence of Rani Khedira in midfield, though it took a while to manifest itself, hurts the team's midfield game considerably. The same applies to the Robin Knoche injury in defense Suspensions interrupted the flow of otherwise promising summer additions Brenden Aaronson and Kevin Volland. David Datro Fofana seems to have his form unnecessarily disrupted by Fischer on selection. That matter too will rectify itself. So much football remains to be played and an early exit from the Champions' League will probably benefit this team at the turn of the calendar year.

On the topic of the turn of the calendar year, one maintains faith in the administrative competence of FCU managing director Oliver Ruhnert when the January transfer window arrives. Sticking with Fischer and his preferred system remains the absolute right course of action since, one assumes, Ruhnert already has a list of specific targets drawn up. A sudden change-of-course behooves no one. Unless Fischer runs into an absurd losing streak that places the team in relegation jeopardy, one doesn't see a change happening year.

Union can be grateful they traversed this phase.

What happened with Leipzig?

Mostly a pretty boring midfield slog of a football match, though the purists among us German football lovers will gladly proclaim that our faith in the proud mystique of the tradition-based-club of VfL Bochum channeled through to the players on the field. The author freely admits we're full of it. Even the supposed spectacular story of VfL keeper Manuel Riemann stopping two RB penalties isn't a real story. Xavi Simons struck the ball so softly in the 27th that Riemann had no problems holding the ball. Emil Forsberg barely got any power behind his own spot kick in the 61st.

Riemann - doubtless buoyed by a sense of invincibility late on - did make a pretty fine save on Yussuf Poulsen in the 77th. This happened to be the lone time that the VfL net-minder was really tested all afternoon. Bochum trainer Thomas Letsch threw veterans Danilo Soares and Cristian Gamboa on to clamp down the flanks as wingbacks. The attack was set up is such an obvious step-stone-stagger that it remained clear that defending would remain the order of day throughout. A total of five personnel changes in the XI from last week's debacle held their own.

Lineup— Bochum—Match Seven (3-5-2)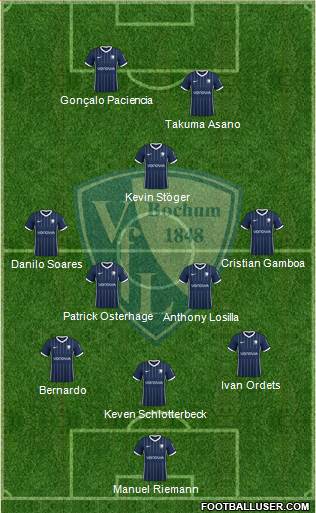 Rose's own XI featured only three rotations (Christoph Baumgartner, Benjamin Sesko, and Kevin Kampl for Forsberg, Poulsen, and Nicolas Seiwald) from the midweek Champions' League fixture. Weariness shone through, particularly in the unchanged defensive crops. A few early errors even almost enabled the visiting Revierklub to score the opening goal. Castello Lukeba recovered only just in time to scrub the ball off Takuma Asano's foot in the 36th. Bochum also narrowly missed out on a chance to take the lead via a Kevin Stöger free-kick just after the restart.

We eventually saw a tactical reformat from Rose, who initially didn't alter his standard "RB 4-2-2-2" with the double sub of Poulsen and Forsberg for the ineffective Sesko and Baumgartner in the 57th. A triple substitution in the 78th saw Timo Werner, Fabio Carvalho, and Amadou Haidara relieve Simons, Schlager, and Loïs Openda. Rose - surely noticing that Letsch was preparing a back-six with five center backs on, flipped three players to unnatural sides and split the regular 4-2-2-2 out wide.

Lineup—RB Leipzig—79th minute (4-2-2-2)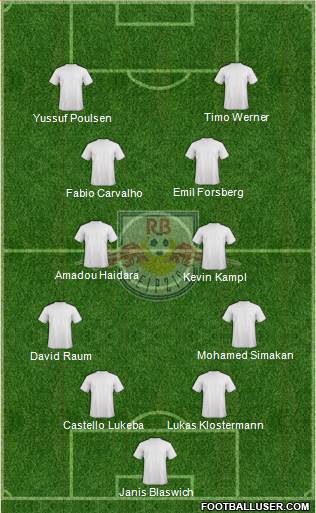 A worthy enough attempt to crack the VfL lock. Playing Werner on the right lane was certainly worth a shot after the out-of-form German national team striker scored from that side a couple of weeks back. Flipping Kampl and Forsberg over to the right simultaneously could have theoretically produced something. Unfortunately, theory didn't translate into practice in this case. Not one single chance came after Poulsen's test of Riemann. A flat match ended with a flat finish. Bochum can at least begin to build up some "bogey team" hoodoo from the result. That's about all.

Any takeaways from Leverkusen-Köln?

Not really. The "Werkself Show" rolls on for Germany's red company team. Few, if any of us, expected Steffen Baumgart's bluster from a couple of weeks back to translate to much in this total mismatch. Those of us eager to see if Xabi Alonso might hand a slip of paper to one of his players and re-format the 3-4-3 were also in for disappointment. No wizardry from the Basque Sage for us on this day. Drat. At least we got a chance to witness three gorgeous goals. This team is just too damned good. Even the "B Side" - as evidenced by the Europa League victory on Thursday - runs slick and smooth.

It having been some time since we last checked in with what what can now (in terms of the table at least) be confirmed to be the Bundesliga's worst side means that we might as well give Köln a draw up this time around. It's a small miracle that the Geißböcke were able to hold Xabi's crew to three tallies in the early Sunday kickoff, especially considering the fact that the B04 trainer allowed his forward seven to play ahead of the back-three with what was among the biggest gaps this tactical-cam scribe has ever seen. Effzeh keeper Marvin Schwäbe did more than his fair share today.

Any bright spots?

Lineup—Köln—Match Seven (4-1-3-2)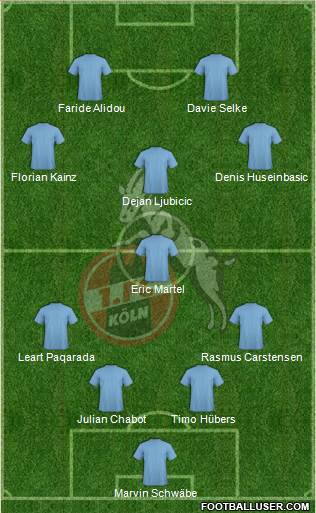 On the rare occasions that Eric Martel won some balls at the back there were some hints of dangerous counters. To Baumgart's credit, the idea of leaving a 21-year-old to work as a solo-six against Granit Xhaka and Exequiel Palacios and stacking the attack axes was pretty fearless. The Germany U21 international did about as well as could be expected under such circumstances. Martel even got a couple of chances in on goal in first half injury time, albeit not from open play. Davie Selke also got one useful effort in on goal off a corner shortly before Martel's chances.

Phrew. Not much else to report upon beyond that. Faride Alidou managed a whole lot of nothing in his starting XI debut. Florian Kainz - easily the best player on this team - was far too busy defending to do much going forward. Steffen Tigges remained anonymous off the bench. Youngsters Max Finkgräfe and Damion Downs had a couple of moments late on long after Leverkusen took their foot off the gas pedal. The Effzeh remain in deep trouble this year. No clue where Baumgart can find a foothold while the rest of the relegation pack begins to sift upward.

How fares Gladbach's "momentum"?

Picking up on one of the more interesting threads from last week, the columnist eagerly tuned into Gladbach-Mainz on Friday night in order to ascertain whether his previous prognosis was correct. In large part, the claim that Gerardo Seoane's BMG are on the uptick was affirmed. The foals furnished a consistently impressive game of football. Seoane's uncharged 4-4-2 exerted early dominance at home against the Pfälzer. Last week's hero Alassane Plea nearly recorded another brace before the opening 45 was out.

The goal that ultimately enabled Gladbach to take a deserved 1-0 lead belonged to the exceptionally hard-working Florian Neuhaus; who continues to impress working in tandem with fellow German midfielder Rocco Reitz. Working from their advanced positions on the wings, Franck Honorat and Luca Netz again looked sharp on the attack builds. Even the much-maligned American striker Jordan supplied some nice moves up top and was unlucky not to score himself. Overall, just about everyone in white appeared strong, though Manu Koné and Tomas Cvancara might have done better off the bench.

The two goals conceded in the Friday night draw don't overtly detract from this wholly positive performance. Not much could be done to prevent Brajan Gruda's hammer strike on the 1-1. The defending on the counterattack that enabled Aymen Barkok to score the second FSV goal was also steady enough. A little moment of magic from the Moroccan international led to the 2-1. While Koné and Cvancara didn't sparkle after their introductions, fellow BMG subs Nathan Ngoumou and Scally most certainly did. The author - for obvious reasons - still remains ecstatic two days after Scally netted his second top-tier goal.

Can Mainz build on the result?

The 2-2 draw certainly counted as a good result for both sides. The state of other Rhein-Bank club involved in the match merits some discussion. Rheinhessen trainer Bo Svensson's 3-4-3 displays some marked signs of improvement. Slumping attackers Ludovic Ajorque and Jae-Sung Lee visibly played looser and more effectively, with the latter missing an excellent opportunity to put the team ahead early in the second half. Of monumental importance, newly signed addition Anwar El Ghazi set up Barkok's goal later in the match.

A free-agent brought in to lead is off the mark. One assumes that a trainer as competent as Svensson has specific plans for another free-agent brought in specifically for his leadership qualities. German football lovers, at the very least, can't wait to see Joshua Guilavogui bring what he has to offer to this defensive corps. The Nullfünfter stand a realistic chance of taking some points off a jet-lagged Bayern once league play resumes after the international break. After that, three points remain within reach in most of the October-November-December fixtures.

This writer honestly isn't surprised at all that the club bosses have given Svensson full-backing despite the sluggish start to the season. This column has been praising the "magic" of Mainz's Danish trainer for quite some time. The coach immediately considered to be the natural heir of his successful FSV predecessors Jürgen Klopp and Thomas Tuchel has another spectacular turnaround left in him. Recall this prognostication when the Pfälzer do eventually get into gear. Stirrings are evident. An awakening isn't far off.

"Weekly Wortschatz": Round Seven
"Nadelstiche"

A nice commonly-used German footballing word that the author had been hoping might crop up for some time. It actually is most commonly used in the German footballing context when discussing the German giants. Whenever FC Bayern München square off against an opponent they're favored to beat handily, the question arises as to whether the mighty Bavarians can decide the match early or will gradually poke holes in the opposing team's defense. Here the author can merely translate the first word ("Nadel" = "needle") and the meaning becomes apparent almost immediately.

Get the picture? Nadelstiche refers to "little pinpricks". Football fans in general like to absorb themselves in the approach play of team eager to score early and often. Those first little pinpricks get one excited for the eventual elation that (potentially) accompany the first goal. A big home match against SC Freiburg at the Allianz actually turned out being something of a no-contest. Christian Streich's tired Breisgauer got trounced by the record champions, racking up a pretty pathetic 0.08 xG on one Lucas Höler chance in the 6th minute.

It still proved a fun affair for the "Nadelstiche" football fans out there. On a basic tactical level, Thomas Tuchel's FCB continue to line up in the same 4-2-3-1 formation as the last two matches. Something very interesting of note for football fans everywhere concerns the fact that Harry Kane seems to have gotten the hang of the sort of deep drop set ups favored by German coaches like Tuchel. Most all of the little Bayern "pinpricks" in the opening 45. The Englishman worked some really nice drops in the opening half hour and was directly involved in Leroy Sané's 2-0 in the 25th.

Aside from the "pinpricks", a series of odd occurrences characterized the first half. Kingsley Coman opened the scoring in the 12th with a shot the columnist is fairly certain was supposed to be a cross. Manuel Gulde nearly scored a freak own-goal in the 27th. Leroy Sané saw himself denied a brace on what was one of the most brilliant out-dekes (over Merlin Röhl) in the 44th due to a wafer-thin offside position. Horrible shame that goal didn't count. The second half was weird as hell too. Coman spurned three near-perfect opportunities before finally netting the 3-0 on a propitious bounce in the 85th.

What else can one say?

Why don't we check in with Freiburg.

Lineup—SC Freiburg—UEL (4-4-2)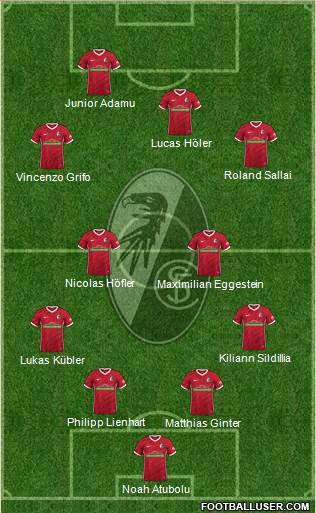 Streich liked the look of this 4-4-2 from the home Europa League fixture against West Ham on Thursday and kept it in place for the trip to the Allianz. Having to do without the still suspended Nicolas Höfler and regrettably ill Matthias Ginter meant that Manuel Gulde and Merlin Röhl had to serve in the XI. Junior Adamu also took a seat in favor of Ritsu Doan and the attack was re-ordered.

Lineup—SC Freiburg—Match Seven (4-4-2)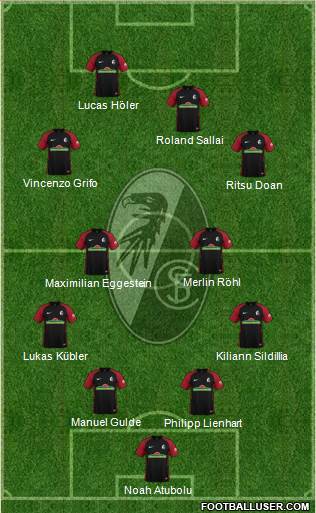 As noted above, the young German talent Röhl was only spared blushes by the offside flag. He otherwise got totally hammered during the lopsided first half, as did late-notice starter Gulde and totally overwhelmed 21-year-old French right-back Kiliann Sildillia. Streich pulled Röhl for veteran Maximilian Philipp at the half and tried his hand at something different. A brief forward spurt came before the 5-4-1 re-format, too, fell apart.

Lineup—SC Freiburg—46th minute (5-4-1)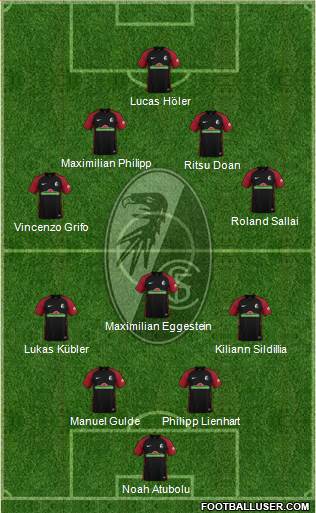 Eggestein at least improved significantly in this. Philipp also didn't necessarily get the memo that the rest of the team was prepared to stand down. At one point very late in the match, Sildillia even crept forward to score a disallowed equalizer. A subtle split-stagger in which Roland Sallai operates a little further afield of Vicenzo Grifo has an interesting feel to it.

Leave it to Streich to at least pull some interesting ideas out of what could easily be construed as a total washout for his team. Naturally, the amount of chances Bayern miffed up towards the end could have easily rendered this result worse that the round three stomping from Stuttgart. Maybe the writer's pro-Streich bias paints too rosy a picture in this case.

"Bub"

Have Eintracht Frankfurt potentially found a ray of hope from a most unexpected source? Sometimes this happens in football. A new pillar of a team can always arise out of nowhere. A squad with seemingly no attacking threat can scrounge some goals out of the "soft underbelly". We've just one such story developing in the Bundesrepublik's commercial and financial capital. It comes in the form of a "Bub" ("babe").

One seriously young looking Swedish talent - carefully introduced some four rounds back and steadily groomed over the course of five consecutive starts - made his presence known early and often in Frankfurt tonight. Hugo Larsson wasn't exactly a quiet signing this past summer. It nevertheless remained next to impossible to envision such a baby-faced teen finding his Bundesliga footing so soon.

Ahem.

Frankfurt's with a convincing 2-0 win over Heidenheim.

Lineup—Frankfurt—Match Seven (3-4-3)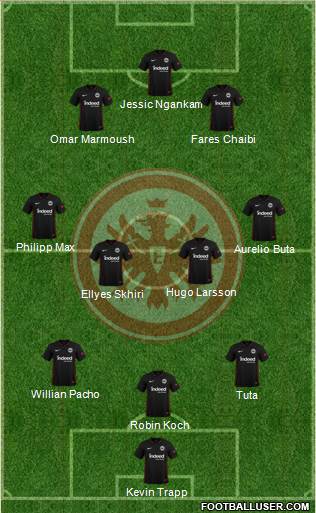 Dino Toppmöller's latest solution to the striker crisis - tested out in the recent UECL fixture against PAOK Athens - involved clustering together attackers on the top axis. Omar Marmoush, Jens Petter Hauge, and Fares Chaibi handled the honors on Thursday. Upon the release of the team-sheet in Sunday night's capper, it remained easily discernible that this would be the case against Heidenheim. Marmoush and Chaibi settled into tight half-space-positions relatively quickly.

Phillip Max got handed a surprise start. The out-of-form German fullback tended to work a more conservative rearward split-stagger with Aurelio Buta, though the author isn't totally confident enough to call it intentional on the tactics board. Larsson and Ellyes Skhiri definitely served on an axial chain. Toppmöller - after deliberately debuting Larsson in a "shield set-up" - gained enough confidence in the young lad to let him serve directly alongside his more seasoned partner. It paid off.

Larsson ran froward on a fine dribble in the 9th and sent a shot just wide. Something about his enterprising run suggested that we'd be hearing more from him. After Frankfurt looked their worst with finishing miscues from Marmoush, Chaibi, and a miss from the penalty spot that left Germans feeling painful pangs from the U21 European Championship, Larsson came forward again and pounced on a loose ball to drill home the 1-0 in the 39th. The subbed on Ansgar Knauff added the second in the 72nd following a largely dominant SGE display thereafter.

In truth, Toppmöller has many positives to take away from this result. Max lived up to his potential for the first time since moving to the RheinMain metropolis, hitting plenty of useful crosses into the box. Skhiri turned into a monster match in his own right, winning just about every midfield duel and coming close to scoring himself. The entire back-three appeared solid. Kevin Trapp kept on his toes and made some useful saves. Can this squad re-invent itself yet again in time to start climbing the table?

Damn the international break!

The answer shall have to wait.

Thanks so much for reading! You can catch the release of all Peter's columns (and occasionally catch him goofing off) on whatever the hell they're calling twitter these days @PeterVicey.

Twitter DMs are open for football conversations, corrections, and (if you truly insist) general abuse. 

Full color re-posts of the columns are eventually archived on Peter's website.




Related stories