10 facts you may not know about Dortmund starlet Christian Pulisic
By Rune Gjerulff @runegjerulff
Borussia Dortmund's Christian Pulisic is arguably among the world's biggest talents in his age class. Read more about him here.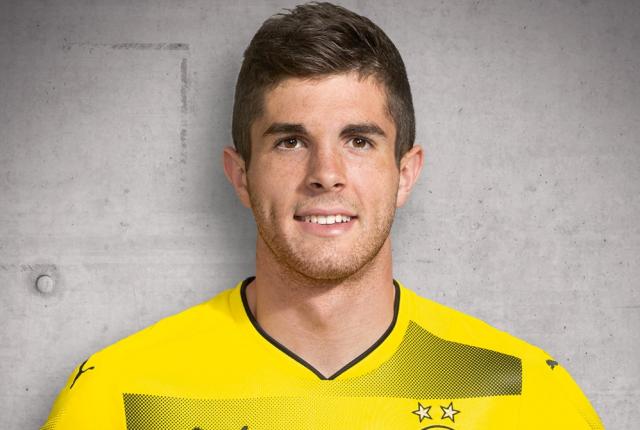 The expectations are high for Borussia Dortmund's young American starlet Christian Pulisic who was voted the 2017 U.S. Soccer Male Player of the Year with a whopping 94 percent of the votes. Read more about him here:


1. Grew up in 'Chocolate Town, USA'
Pulisic was born in Hershey, Pennsylvania in 1998, and that's where he spent most of his childhood. The town has a population of just over 14,000 people and is known for 'Hershey's chocolate' – a chocolate company founded by Milton S. Hershey. Hershey is also known as 'Chocolate Town, USA' and 'The Sweetest Place on Earth'.

2. From a football family
His parents, Mark and Kelley Pulisic, both played football – or 'soccer' as the sport is called in the United States – while studying at George Mason University. His father went on to play professional indoor football for the Harrisburg Heat in the 90's and later became a coach.

3. Lived in England
At the age of 7, Pulisic lived a year in England where he played for the youth team of Brackley Town.

4. Played for local clubs
Back in Hershey, Pulisic played for U.S. Soccer Development Academy club PA Classics and also trained with local professional club Harrisburg City now and then during his teen years.

5. Moved to Germany at the age of 16
In February 2015, at the age of 16, Pulisic was signed by Dortmund. At first, he joined up with the club's under-17 squad, but in the summer, he was moved to the under-19 team. He scored 10 goals and was behind eight assists in just 15 games for Dortmund's youth teams and impressed so much that he was moved to the first team in January 2016.


6. Of Croatian descent
Pulisic's grandfather, Măte, was born on the Croatian island of Olib. After moving to Germany, Christian Pulisic applied for Croatian citizenship so he didn't have to apply for a German work visa. He was since offered to represent the Croatian national team, but declined the offer.

7. His Bundesliga debut
After impressing in a few friendly matches, Pulisic made his Bundesliga debut on the 30th of January 2016 in a match against Ingolstadt when he came on in the second half instead of Adrián Ramos.

8. First Bundesliga goal
Pulisic was just 17 years and 212 days old when he scored his first Bundesliga goal in a 3-0 win against Hamburger SV on April 17 last year. With his goal, he became the youngest non-German player to score a goal in the Bundesliga.

9. Youngest American in a World Cup qualifier
Pulisic was called up to the Senior national team for the first time in March 2016 and became the youngest player to ever represent the United States in a World Cup qualifier when he was sent on the pitch in a 4-0 win against Guatemala.

10. Youngest American player of the year
At the age of 19, he is also the youngest player to win the U.S. Soccer Male Player of the Year. The record was previously held by Landon Donovan who won the award at the age of 21 in 2003.