Augsburg calls off fans, Reuter wants different regulations
By Peter Vice @ViceytheSS
Augsburg managing director Stefan Reuter joined 1. FC Köln boss Alexander Wehrle in expressing criticism of
Germany's data driven COVID stabilizer
, in use since the Bundesrepublik announced
a six-week-nationwide trial period
that would allow clubs to fill their stadiums to 20-percent-capacity on September 15th.
The Fuggerstädter were forced to call off plans to allow some 6,000 spectators in for this weekend's home fixture against Leipzig. Reuter proffered similar arguments
as Wehrle did last Friday.
Amid rising COVID rates across the country, the "trial period" is set to expire on October 25th.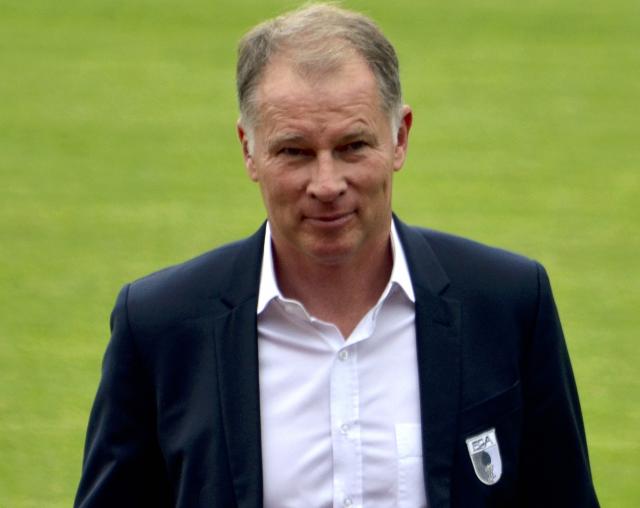 | | |
| --- | --- |
| Stefan Reuter. | Photo: Fuguito/Creative Commons/CC-by-SA 3.0 |
According to Germany's Süddeutsche Zeitung, the latest running seven day average of new COVID infections in the city of Augsburg stands at 45.86 per 100,000 inhabitants. This far exceeds the number of 35 which recommends an automatic cancellation of large-scale public events and flirts with the number of 50 that would classify the municipality as a hot-spot.


For fans of FC Augsburg, it means no trip to the WWK-Arena on Saturday to watch their surprise team contest a match against fellow league-leaders RB Leipzig. The supporters had been allowed in to watch their team upset heavily favored Borussia Dortmund in the second round. As was the case in Bremen, a club has been forced to reverse its progress in letting fans in; not to mention refund thousands of tickets.

"I wish to engage in a fact-based discussion on whether this regulation should be modified," Reuter communicated to the press on Wednesday, "The Bundesliga has proven, in many different locales, that it is quite good at conducting matches that comply with hygiene regulations."

Reuter raised nearly identical claims as his administrative counterpart in Köln did last week. The front-office man noted that many club supporters come from outlying areas where the infection rates are lower, spoke of how the virus is known to be less contagious in open-air environments where persons are suitably distanced, and spoke of devastating consequences, both financial and results-based, for German football clubs.

"We're not talking about full capacity here," Reuter emphasized, "twenty-percent [capacity] outdoors with sufficient distance significantly lowers the chance of infection."

Germany's handling of the global pandemic remains one of the most favorable models in the world. The country has suffered fewer deaths per capita than most countries and has consistently kept hospital capacity open throughout the crisis. With respect to sports, no other country has been audacious in terms of starting, completing, and then re-starting its major, and even lower, professional leagues.


Signs now emerge that another area in which the German Bundesrepublik has led the way, fan re-entry, may be headed for a sharp reversal.

The country recorded over 5,000 new infections on Wednesday, the highest totals since the height of the pandemic in early March. Chancellor Merkel concluded an emergency cabinet meeting by remarking "We are already in the exponential [growth] phase."

Another nationwide policy concerning fans should be expected when the current "test phase" expires in 11 days.



More about the match
More about the teams