Americans in the Bundesliga:
Center backs shine, Adams plays strong late
By Peter Weis @PeterVicey
The dispatches from the Bundesliga beat carry with them slightly better news with respect to Americans this week.

Chris Richards returned to Hoffenheim's starting lineup to produce a very solid performance. The 20-year-old joins USMNT veteran John Anthony Brooks in earning top marks.

Tyler Adams overcame a slow start to record an assist late in Leipzig's win. We'll check in with everyone else too in our weekly column.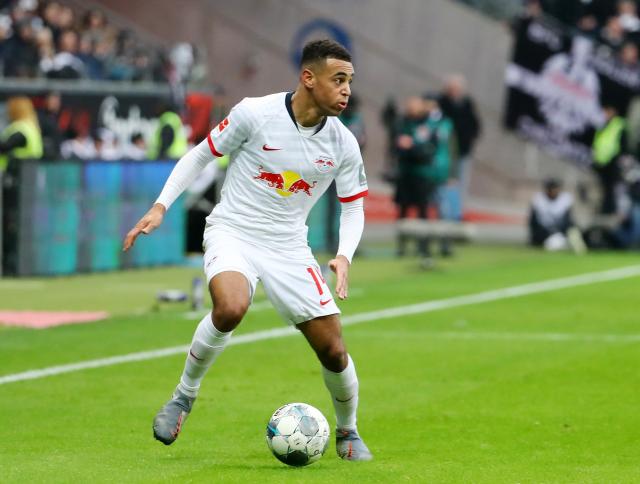 | | |
| --- | --- |
| Tyler Adams. | Photo: GEPA Pictures/Roger Petzsche |
A busy week for Americans playing in Germany's top footballing flight leaves us with six graded sections for the five starters and one trainer. Young phenom Giovanni Reyna found himself excluded from Edin Terzic's starting XI this week, playing only ten non-graded minutes at the tail end of the BVB's victory over Schalke.


We still await the first bench squad appearance for Borussia Mönchengladbach's Joe Scally even if, by all accounts, the 18-year-old remains fully fit.

John Anthony Brooks, VfL Wolfsburg

Minutes played = 90/90, Positions played = CB

Grade = A

Berlin's own J.A. Brooks tops the list yet again. Anyone growing tired of the column's all-too-predictable lead may rest assured that it is impossible for him to do so again next week. The USMNT veteran earned his fifth yellow card on, for the second successive week, a pretty controversial refereeing decision. It would appear the only thing capable of stopping this American's surge is questionable officiating.

Brooks' impending absence means that VfL head-coach Oliver Glasner will be forced to change his starting XI for the first time in six consecutive fixtures on the bounce. It seems proper for us to at least pay homage to the construct via a draw-up.

Lineup—VfL Wolfsburg—Match 22 (4-2-3-1)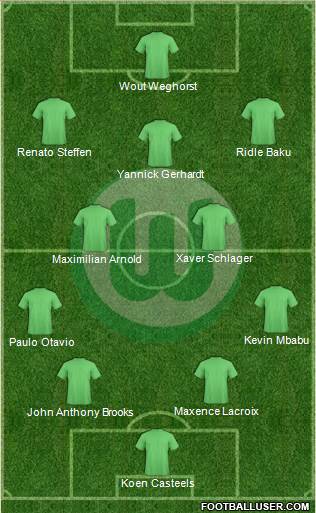 Again, there's no legitimate excuse for the art above other than to call attention to the "Beast of the Bundesliga" that keep five consecutive team sheets. It's a simplistic, yet imposing 4-2-3-1, in which the axial partners truly do a fantastic job of covering for one another. It all begins at the back with Brooks and (strong candidate for best summer transfer candidate in the 2020/21 league) Maxence Lacroix.

Maximilian Arnold and Xaver Schlager work wonderful subtle staggers throughout the matches. On both flanks, the vertical partnerships of Ridle Baku/Kevin Mbabu and Renato Steffen/Paulo Otavio execute fabulous overlaps and underfolds. Two perfect linchpins fasten the construct: a world class striker and a red hot goalkeeper. Yannick Gerhardt has no problem playing above his level with this gang.

By this writer's count, Brooks wrapped up an obscene 122 touches in his final fixture before the enforced break. Apart from two mistimed aerial challenges in the 30th and 38th, he was perfect on headed duels. The best of his general defensive brilliance is on display in the 7th, 20th, 21st, 27th, 44th, 64th, 71st and 74th. number of courageous carries forward, all originating from the left, are too numerous to list.

The American once more found himself unlucky not to score. Forward on all corners, he came closest in the 50th when a slight deflection redirected a ball onto his shoulder. It surely counts as a pity that the 28-year-old must take a seat in the midst of such great all-around form. We can all still expect to hear much more from him as his team march onwards to a likely top-four finish.

Chris Richards, TSG 1899 Hoffenheim

Minutes played = 90/90, Positions played = CB

Grade = A-

The Alabama native encountered significantly less direct action against Werder Bremen's anaemic attack on Sunday. Bayern's future starter still turned in a very solid performance of which he can take some pride in. While the 20-year-old may not exactly be ready for prime time as a roving fullback, he's quite solid skewed toward more centralised responsibilities.

Naturally, it helps when one works in a blanketed system like that of Sebastian Hoeneß.

Lineup—TSG Hoffenheim—Match 22 (5-3-2)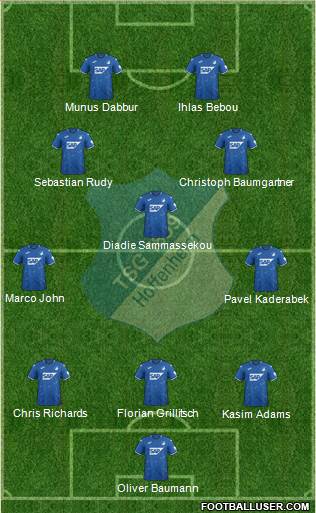 Basically the same construct we covered a couple of weeks ago. At times Sebastian Rudy drifts back to help out Diadie Samassekou more often, but certainly not enough to adjust an image aiming to be faithful to the heat map. The quality of the players in front of him insures that Richards typically gets about half as many touches (60 or so) as his countryman John Anthony Brooks.

Though this remains a column focused on US internationals, one might as well point out what an incredible ball-winner Samassekou is. The 25-year-old Malian still has his off matches, but often produces ones like this where he completely dominates a seemingly impossible patch of pitch. Florian Grillitsch, an attacking midfielder trade, also mopped up a lot of traffic.

Hence, there was less highlight-worthy involvement from this American in his weekend fixture. That isn't to say that the interested can't find some impressive stuff on the re-watch. One can watch Richards execute a perfectly timed tackle away from compatriot Josh Sargent in the 18th. There's another monster tackle on Yuya Osaka in the 69th, a great clearance in the 52nd and a wonderful ball win in the 60th.

Adversely affecting the score somewhat, we've the crummy attempt at a headed finish in the 21st and a lot of exhausted loafing on display in the final 20 minutes. The American nonetheless earns top level marks for a largely flawless day. Bundesliga enthusiasts of all stripes should definitely keep a close eye on this player. If he's capable of keeping it up, we might see him earning a few starts alongside Dayot Upamecano in FCB central defence next season.

Tyler Adams, RasenBallSport Leipzig

Minutes played = 90/90, Positions played = RM, RB

Grade = B-

The New Yorker finds himself on the receiving end of some moderately subjective grade inflation after an extremely strong final half hour. Many in German footballing circles back Hertha trainer Pal Dardai's contention that his "alte Dame" played a decent football match for good reason. Furthermore, few agree with footballing magazine Kicker's assertion that Leipzig have revived the tile race. A 3-0 scoreline was hardly reflective of RB's overall performance on this day.

Nagelsmann's opening constellation looked a little like this.

Lineup—RB Leipzig—Match 22 (3-3-4)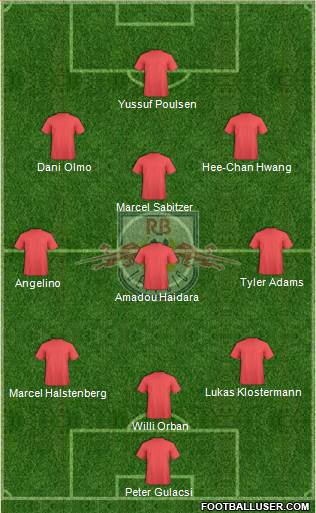 A purposefully intense start lasted all of 90 seconds. Unfortunately for die roten Bullen, the supportive attacking axis continues to be prone to confusion. An energetic Adams found few lanes forward during an opening 45 during which the capital city side looked much stronger. A unintelligent cross directly at Hertha defender Marton Dardai constituted the extend of this American's offensive involvement during the first half.

On the defensive side of the ball, he lost all but one direct duel. While the rest of his game improved, one-vs-ones remained fairly flat all afternoon long. He finished with a 37 percent success success rate in this writer's (unofficial) count. The win in the first-half came in the 34th past Matheus Cunha. Bad losses can be found in the 15th, 17th, 22nd, 27th, and 34th.

Of course, Adams would provide the player who ultimately cracked open the match. After inserting himself well into the rightward cycle-passing scheme during a stretch between the 66th and 70th, he stripped Matteo Guendouzi of the ball in the penalty box and alertly set-up Nordi Mukiele for the Saxons' second goal. After that, he played much more confidently on the charge. Good touches inside the box came in the 80th and 86th.

Pellegrino Matarazzo, VfB Stuttgart

Matches = 1, Result = W

Grade = C-

The Bundesliga's current Swabian representatives snapped a three-match winless run to earn their third victory of the new calendar year. The 1-0 "economy win" over lowly 1. FC Köln nevertheless served as a reminder that this team remains a shadow of the much better form we witnessed earlier in the year.

An examination of the tactics makes clear where Matarazzo's hand was and where it wasn't.

Lineup—VfB Stuttgart—Match 22 (3-4-3)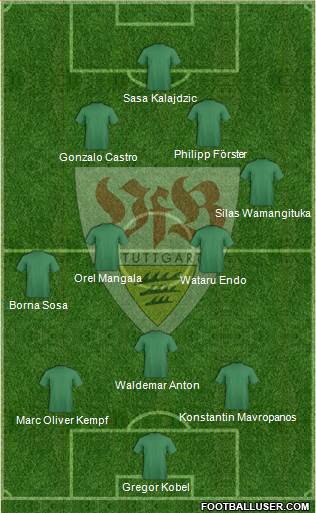 Borna Sosa and Silas Wamangituka's organic separation continues to develop. As noted last week, this is something that the duo have been working on individually all season long. The American trainer doesn't intervene here, though its potentially about time he should consider doing so. Opponents have gotten accustomed to it and the Congolese winger has been dipping a bit as a result.

Matarazzo's intentional alterations are on display between the two wingers. He brought Wataru Endo up serve alongside Orel Mangala; ostensibly in an effort to give returning captain Gonzalo Castro a bit of extra structure beneath. After a fiery opening 15 minutes of nicely spread flank-to-flank possession builds, the construct degenerated into a wholly unattractive mess. Endo, in particular, lingered on the ball too long.

It's obviously not clear if Matarazzo ordered Mangala forward towards the end of the first half or if the player made the push on his own volition. In any event Mangala squandered perhaps the only real chance of the first-half by not having a go himself in the 37th. The play wouldn't have counted anyway as Sosa Kalajdzic's offensive foul rendered it unofficial. A writer mentions it to call attention to the fact that Stuttgart managed not one instance of penetration that counted.

The second half turned out even worse. After Kalajdizic scored on what was a decently designed set-piece, Wamangituka looked quite heavy on his feet five minutes later on the side's only other chance of the game. Köln bossed Matarazzo's men around far too easily. This team is still playing bad football, even if the head-coach's matchplan seemed reasonable enough. Luckily for everyone involved with this club, Schalke comes next.

Matthew Hoppe, FC Schalke 04

Minutes played = 66/90, Positions played = LS

Grade = D+

It regrettably looks as if the Californian's sixth Bundesliga goal may not be forthcoming anytime soon. This American simply plays in a system that accords him little to no chance. This week's tactics column, in covering the weekend's Revierderby, contains a draw-up of Schalke's current 4-2-3-1. Few else saddens a football fan more than a striker so deliberately marooned up front without any coherent support. It's even more distressing to see a non-target-man like Hoppe have to operate so far afield.

The stats this week tell the entire story. Hoppe recored only 21 touches in his limited time on the pitch. A paltry nine passes connected with his boot. Teammates only sent a total of 14 his way. The American himself only played 11 balls to his colleagues. Individual duels were immaterial as he was only involved in five of them. One assisted shot. No shots of his own. Not a single move that possibly be contrasted as a genuine attacking chance. An unnecessary booking.

The full extent of his involvement in the match is covered in the tactics article. Mats Hummels, Emré Can, and Thomas Delaney ensured it was a very rough day for him. Hoppe plays far too removed from the rest of the team. Anyone charged with marking him can see plays developing from miles away. One must emphasise that this American's most of this American's tallies this year came from dogged pounces on rebounds and errors. He might get one or two more of those before the campaign, but can't expect much more without a better support mechanism.

Josh Sargent, SV Werder Bremen

Minutes played = 82/90, Positions played = LS

Grade = D

Llike Hoppe, the Missouri marvel sits stuck on a frustratingly bad team. Exactly like Hoppe, the touch tally effectively tells the whole sordid story. A recored total of 26 touches simply isn't good enough for a lead striker. In Sargent's case, the trainer's cumbersome tactics further undermine his potential.

There having already been some grouchy grumbling in the weekly tactics piece, a writer will now gladly go into greater depth.

Lineup—Werder Bremen—Match 22 (6-2-2)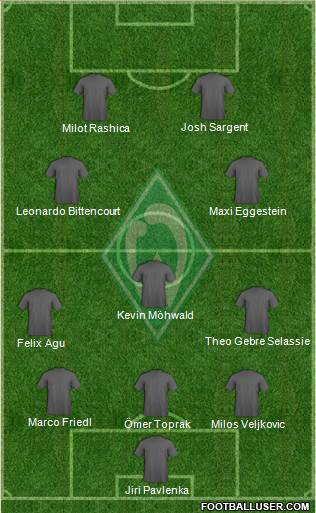 Every week brings with it some marginally different. Often, the binding thread concerns a maddening stationary deployment of six full players well behind the halfway line. The strength of Hoffenheim's strikers renders something like this semi-reasonable, but the decision to pit Kevin Möhwald against Diadie Samassekou in central midfield left this team doomed from the start.

Möhwald came nowhere near Sargent on three long upfield chucks in the opening 45. The American garnered 13 touches in the first half. In cases where he could force his way through, no discernible plan could be observed behind him. Dropping back to affect play a bit in the 26th, he managed an okay turn. That's about all one saw of him.

Lineup—Werder Bremen—46th minute (4-1-3-2)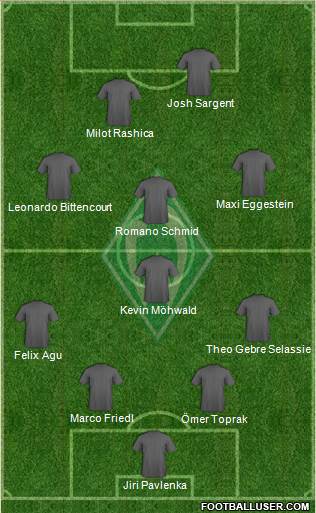 Kohfeldt reverted to a true back-four for the first time in seven matches at the break. Hoffenheim immediately caught the Hanseaten flat-footed, striking the third goal three minutes into the restart. This decided the match with nearly an entire half left to play.

One did see something interesting thereafter. Kohlfedt deserves minimal credit for ordering Milot Rashica to work behind Sargent, even though we've known since before the season that the American works better in this role. The American did his part with plenty of hard running, yet still found him unserviced.

One might as well accord Kohfeldt a slight smidgen of credit for introducing Yuya Osako and Niclas Füllkrug from the 56th onwards and attempted to run a 4-3-3 with Sargent on the left. This produced absolutely nothing, but might at least give the head-coach a better template for the American moving forward.



Related stories