Americans in the Bundesliga: 2020/21 Review and Grades
By Peter Weis @PeterVicey
For the second consecutive year here at Bulinews, we'll be hosting a weekly detailed scouting column covering the performance of US internationals--both players and trainers--in Germany's top footballing flight.

As a cordial reminder to all stateside footballing enthusiasts, the start of another great Bundesliga campaign is only 13 days away!

Our starting point for this season's column once again takes a comprehensive look back at the previous campaign.

We'll review all of the work of those returning and pay homage to those who have departed in the first 2021/22 edition of "Americans in the Bundesliga".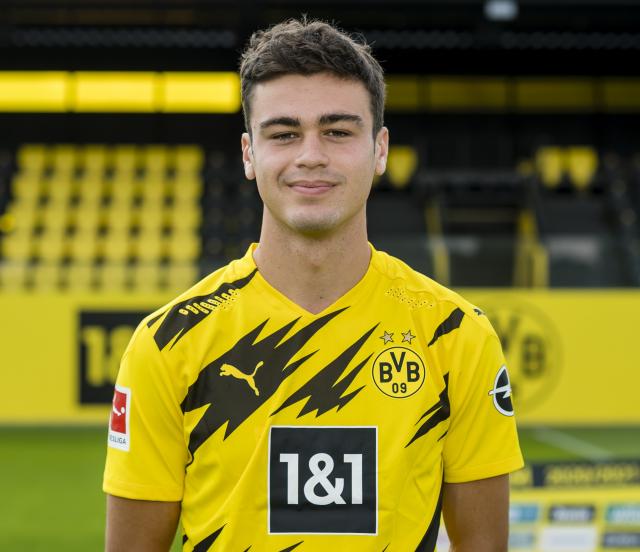 | | |
| --- | --- |
| Giovanni Reyna. | Photo: Borussia Dortmund |
---
The Returning Cast
---


It shapes up to be a very busy season for this columnist as five US players and one American trainer return for another year of Bundesliga football. We'll review the 2020/21 seasons of Giovanni Reyna, John Anthony Brooks, Chris Richards, Tyler Adams, Timothy Chandler, and Stuttgart coach Pellegrino Matarazzo below. Next week, it'll be time to utilize some early hard tactical data from the Pokal round in the interest of engaging in some early prognostications for this season.

Note that, at a minimum, we'll be adding three more actors to this mix. Jesse Marsch joins Matarazzo to become only the second ever American to coach a top flight German football squad. Additionally, Julian Green is back on the scene with promoted SpVgg Greuther Fürth and Joe Scally will almost certainly make his debut for Borussia Mönchengladbach this year. There's even a fourth American actor on the way in the form of Caden Clark. who will join Leipzig midseason.

As every football lover knows, chances are good that there will be at least one "out of nowhere player" every season. Last time around, Matthew Hoppe of Schalke 04 proved the "off the radar" man. One can scarcely wait for the season and the surprises to begin. Unfortunately for Hoppe, his presence in this column forms part of our "goodbyes section". Just as we did last year, we'll pay respects to those leaving our focus by reviewing their season highlights too. Hoppe and Josh Sargent shall be missed.



Giovanni Reyna, Borussia Dortmund


Matches played = 45/50, Matches started = 30/50

Positions played = LW, RW, AM, ATTM

Many American footballing enthusiasts find themselves of a mixed mind when it came to Gio's first full professional season. Those of us privileged enough to have watched the teenager every week in the German top flight remain much more sanguine. There were undeniably form struggles and it did prove somewhat disappointing to see him produce the same number of breathtaking wonder goals as he whilst seeing far less action in the spring of 2020.

In the humble of opinion of this writer, all should take a deep breath and recall that we're still dealing with an 18-year-old. Scions of footballing families operate under inflated expectations. All all-inclusive review of Reyna's campaign reveals that his skills mostly developed apace with his potential. It is without reservations that he is accorded top marks for his 2020/21 body of work.

September-December: Off the mark well

During the pre-season, a confident and self-assured young man boldly predicted that he and his fellow young guns and Borussia Dortmund expected to challenge Bayern for the title. To be fair, most of us did. All seemed to clicking in the BVB universe on matchday one. Reyna was among the impressive goalscorers in that high-flying 3-0 win over Gladbach.

The campaign of Germany's second wealthiest club soon came to be redefined by the type of matches a Lucien Favre coached team tended to lose. When the Schwarzgelben dropped the next match against a simple FC Augsburg diamond-box trap, all the talk in German footballing circles centered around how Favre never seemed to be able to set his squad up properly against the league's lower teams. This talk would not cease until the Swiss trainer was dismissed after round 11.

Amid all of this, Reyna (along with his team) turned in some bad performances. The American still rose above the dipping level of his club in instances like the loss to Köln and the draw with Frankfurt. He produced a hat trick of assists in week three and scored twice more in Favre's two final fixtures. He looked to be in very fine form after week ten and scored the lone goal in the 1-5 defeat to the VfB that ultimately ousted Favre.

December-April: Illness and dip

Reyna had some difficulty carrying his form over to the regime of interim trainer Edin Terzic. The primary reason for this related to the fact that Erling Haaland and Jadon Sancho struggled with injuries at the time. The American obviously couldn't be expected to shoulder the BVB attacking load all by himself. Moreover, the pressure on the team at that time was enormous as they continued to drop matches and eventually had to concede the title race  shortly after the delayed conclusion of the Hin-runde.

Amid what was a horribly frigid German winter, Reyna came down with a nasty non-corona-related throat infection shortly after the turn of the calendar year. The illness kept him out of the starting lineup for three consecutive fixtures between the 16th and 18th rounds. When he finally did return in very late January, but looked nowhere near himself. After a pair of genuinely bad starts, Terzic began to drop him in and out of the starting lineup.

The next two months proved anything but pleasant to watch. Reyna's basic posture (again, along with that of the team) left one very unimpressed. This was more than a simple slip up. Reyna lost a great deal of his confidence and pace. After a brief false-dawn in round 23, more unconvincing shifts both in the XI and off the bench commenced until, thanks in large part to some explicitly targeted training exercises with a fine coach, the turnaround came.

April-May: The Revival

Gio demonstrated that he was once again in the mood with some wonderful class in week 28. Within a week he was once again finding the back of the net. All the flicks and tricks returned and the American improved his physical game markedly. This was especially apparent on duels, where a youngster once deliberately targeted by some of the league's veteran players engaged in some aggressive targeting of his own.

By all accounts, Reyna finished the campaign strongly. A brace against Kiel in the semi-finals of the DFB Pokal ensured that Dortmund sailed through the penultimate round of Germany's domestic cup. A few minor ailments kept him out of the cup final and the last few league deployments, possibly because of the injuries, were hit or miss.


Cumulative 2020/21 Grade = A


A total of seven goals and nine assists across all competitions may fail to dazzle, but it remained something of a breakthrough year for the young talent. Gio really got the knack for servicing his close friend and teammate Erling Haaland, who fondly dubs him "The American Dream". In his first full season at a major club, he also made great strides in improving his one-on-one game with the requisite toughness needed for a developing player in a major league.

Whether or not a bout with adversity can be considered a positive remains highly contingent on the specific context of a player's growth. In the case of Reyna, one can easily argue that it came at precisely the right stage in his career. To the eyes of this columnist, it appeared as if Gio dropped some of the superfluous fanciness when it came to his flank shifts and relied more on pace, creativity, and courage to skirt past players later on in the campaign. A few important lessons learned about his best personal assets, he should continue to get stronger this year.


John Anthony Brooks, VfL Wolfsburg


Matches played = 37/39, Matches started = 35/39

Positions played = CB

Our second player receiving top level marks finally experienced a largely adversity-free campaign. To those who have always held a profound appreciation for the Berlin native, this served as a most welcome relief. At the age of 28, the last USMNT holdover from the Jürgen Klinsmann/Andreas Herzog Era at long last traversed a season in which he did not have to deal with major injuries, benching, or a rotating cast of partners at the center back position.

As is the case with Giovanni Reyna, one can credit this American for making a significant contribution towards his club's Champions' League berth. With respect to J.A. Brooks, it's nearly impossible to see how the VfL could have qualified without him. Central defensive colleague Maxence Lacroix generates a bit more buzz, but Brooks remains about as rock solid as it gets at this position. Most Germans have him ranked in their top-three ranking of Bundesliga CBs.

September-January: Nurturing a pup

A center back often being only as good as his level of intuitive understanding with his partner, it's common for football observers to express concern for a tandem that hasn't had time to cultivate an understanding yet. Looking back, it seems ludicrous to question the ability of Brooks and Lacroix to work together. The duo didn't gel immediately, but came close. After what proved a beneficial elimination from the 2020/21 Europa League, the American and Frenchman guided the league's best defensive side through an undefeated run that lasted twelve fixtures into the season.

In the early going, Brooks remained by far the better half of the duo. He turned in masterclass after masterclass. While not necessarily immune to a form drop here and there, it's no exaggeration to that he exhibited consistently great form throughout much of the season's first half. Lacroix benefitted from this tremendously. Feeding off the calm and measured work of his partner, the Frenchman's Bundesliga learning curve wasn't nearly as steep as it might have been.

This writer possessed zero qualms about tapping Brooks as the league's best American performer of the Hin-runde. The accolade was earned not so much for his individual play, but also the manner in which he brought the German footballing debutante at his side up to speed quickly. After the turn of the calendar year, there were a few stumbles. Lacroix had to take his turn as the primary standard bearer for the first three rounds of 2021. As the year's first month drew to a close, however, this American was back in the saddle again.


January-May: Howl of a Wolf

Brooks maintained his strong form toward the end of the month and earned his second tally of the season in week 19. USMNT head-coach Gregg Berhalter didn't have to engage in particularly deep scouting to determine his preferred center-halve duo. All it took was a quick glance at the Bundesliga, where both Brooks and Chris Richards were playing lights out.

The VfL American/Frenchman pairing continued to improve in that both players gravitated towards a more natural equilibrium in which neither had to be particularly spectacular on either side of the ball. It was such that there were a few slips for Brooks, though certainly no outright sags. One could say that this American passed his peak in early February. Once winter turned into spring, more capricious high/low performances began cropping up.

An error-laden shift in the 31st round followed not long after by a final surge in the 33rd exemplified this best. Erratic swings remained commonplace among virtually all footballers near the end of this atypically draining European club campaign. Docking Brooks for some inconsistencies near the end doesn't seem appropriate.


Cumulative 2020/21 Grade = A


Not every football lover shares the same appreciation for the work of a robust central defender. This writer happens to. Brooks' work always received thorough documentation in this column. Every towering header, precision tackle, victorious aerial challenge, and intrepid forward carry was meticulously catalogued via reference to the minute every week. Simply stated, this American has evolved into one of the most well-rounded CBs in German football.

Brooks' game contains everything one expects from a player at his position. One can take the position that he's even a more complete center back than the likes of Mats Hummels, Dayot Upamecano, and Edmond Tapsoba. Although those classic center halves certainly have him beat in individual areas, this American retains the advantage in terms of above average skills in the broader sense. Anyone tempted to disagree should give him a closer look. The hard work Brooks has put in to refine his overall game is apparent every week.


Chris Richards, FC Bayern München/TSG 1899 Hoffenheim


Matches played = 19/42, Matches started = 15/42

Positions played = RB, CB, LB

Our third player to attain top level marks could easily find himself garnering some playing time for Germany's record champions this year. The mere mention of the Alabama native's name conjures up memories of one of the more curious transfers completed on deadline day last October. Evidently, Hasan Salihamdzic and the Bayern higher-ups didn't feel as if Richards was ready to back up Benjamin Pavard. "Brazzo" and the gang thus acquired Bouna Sarr instead. We all saw how that worked out.

Over the summer there has been some talk of a renewed loan out for Richards. While conceding that a prediction of new trainer Julian Nagelsmann's personnel preferences remains impossible at this juncture, this writer tends to think it won't happen. It seems reasonable to assume that the FCB will want to give him a trial run as the second-string right back this year. At a bare minimum, his work out on loan in Sinsheim last spring should accord him a chance. We shall find out soon enough.

September-February: One first team trial

Hansi Flick gave Richards the early run out in round three of the 2020/21 campaign. Despite the fact that the youngster ended up registering an assist, the general consensus held that he wasn't quite ready for prime time yet. The Sarr purchase still came as a surprise as league watchers across the country tactically presumed the American would get another chance.

This proved wrong. Richards split his time between sitting as an unused player on Flick's bench squad and eight appearances for the reserves in the third division. Even after it became apparent that Sarr was a bust and Flick found himself resorting to the use of Niklas Süle at right-back, this American lay untapped.

February-May: Reunification with Hoeneß

A six-month loan arrangement was concluded on February 1st. Richards' former FCB II campus trainer Sebastian Hoeneß immediately inserted him into a back-three slanted left. The Hoffenheim gaffer quickly showered his new acquisition with deserved praise after an exceptional debut. This American kept turning in praiseworthy performances in the league, stopping briefly to regrettably put his foot in his mouth ahead of the flagrant Europa league flop.

With one possible exception, all of ten of this American's league starts were eminently skillful. Not every fixture was a masterpiece of course, but he proved consistently adept at the handling the responsibilities of his position. Moreover, he was always fun to watch. The apex, at least to this subjective set of eyes, came in the 26th round. More savvy match days followed and he came close to equaling his peak performance again in round 29.

Regrettably, Richards had to bow out with injury after round 31.


Cumulative 2020/21 Grade = A-


It would definitely prove something of a shame to see this American loaned back out to a backwater when he could prove a useful cog in Nagelsmann's rotative set-up. All of the tools one expects from a center halve remain fairly sharp in Richards' case. Much like Maxence Lacroix, this central defender gets a chance to pick up a few things alongside partner J.A. Brooks on Gregg Berhalter's USMNT.

The loan stint in Baden-Württemberg illustrated that he's definitely progressed beyond where the FCB deemed him to be at this point last year. Areas in which he appears ahead of the curve for a player of his age include field vision, outlay carries, and a generally mature poise off the ball when tracking back.


Tyler Adams, RasenBallSport Leipzig


Matches played = 37/48, Matches started = 26/48

Positions played = RB, CB, RW, ATTM, DM, ADM, SW 

Naturally, we'll have to address the slightly absurd surfeit of positional assignments first. In his two years at Leipzig, Julian Nagelsmann effectively blew the "Swiss army knife" player cliché out of the water. Every actor on the young coach's team served as a "Swiss army knife" week in and week out. The 33-year-old trainer's avant gardé tactics frequently saw as many as three radical alterations to the team shape in a single match. Beyond a clear proclivity towards a 4-2-2-2 when playing from behind, Nagelsmann's constellation always invariably proved one tough code to crack.

Given that the demands placed on this American were so strenuous, some may disagree with Adams' cumulative campaign grade this season. Know that the writer himself went back and forth, unsure how to weigh the marks properly whilst taking all the extra responsibility in account. The New Yorker by no means had a bad campaign. After some reflection, however, the conclusion arrived at holds that he turned in too many average and forgettable performances. The American who headlined this column last year thus gets a "C+".

September-November: Waiting for something

This American didn't transition into the new season well at all. Something of a pity as his crucial goal in the delayed knockouts of the 2019/20 Europa League in August accorded him some momentum with which to run. Adams did supply onlookers with a fine all-around shift in the league's fifth round. Apart from that, he served as more of a decoy piece for Nagelsmann to move around on his chess board.

The New Yorker dropped out of the starting lineup for five fixtures in the campaign's first two months. It would ultimately be reveled that he had an inner ligament strain. This explained a lot. It became obvious in hindsight that he was playing through pain. Adams wouldn't return to a regular role in Nagelsmann's XI until late November.

November-January: Still waiting

Buoyed by a more encouraging performance away on international duty, Adams slowly began to regain his form. The American played above average football, but only just. A peak was reached during round ten in December. After that, some undisclosed injuries began to flare up again and he was unable to run for the full 90 in 2020's final two fixtures.

At the turn of the calendar year, this writer still inflated his grade somewhat on the basis of some promising signs and a solid work ethic. Patience wore a bit thinner as January rolled on. Adams continued to have difficulty adjusting to many of the roles Nagelsmann had thought out for him. Even during the match in which he scored his lone goal of the season, the New Yorker didn't look terribly sharp.

January-May: Straddling the mean

The rest of the season could be described as unspectacularly stable. That isn't to suggest that hovering around the border of mediocrity constitutes something disastrous. Quite the opposite. Adams' reliability, especially in a centralized anchoring defensive midfield role, proved valuable in helping Leipzig secure second place. Work on the forward right wing was more suspect, with some caveats.

Easily the best performance came via a double-six set up in which the American worked with Dani Olmo. This transpired in week 23. The New Yorker put together another great shift in round 27 before dropping off again to deviate only slightly from the "C level". Demanding and grueling a campaign as it was, one can't help but be a bit disappointed that this American didn't furnish more noteworthy and significant football.


Cumulative 2020/21 Grade = C+


Something else that frustrates concerns the fact that Adams appears no closer to discovering his best position. That may not end up being cause for concern as the 22-year-old's personal preferences are on record. It could shape up to be a great year for him back under the aegis of former trainer Jesse Marsch.

We shall see what the head-coach who played an important role in Adams' early development has in mind for him. Ideally, he should probably work as a six with a regular partner. A stable position for the player could well result in a breakout campaign that transcends talk of "stable and average" play. The American still possesses marvelous skills.

Tactics-heads may wish to give Adams a closer look this year. The question of his positioning counts as one of this autumn's more intriguing questions. Marsch may make him a permanent six.


Pellegrino Matarazzo, VfB Stuttgart


Matches = 37, Results = 14 W, 14 L, 9 D

We took the time to grade the German Bundesliga's historic first-ever American trainer last year as well. The chance to evaluate and appraise the work of a mind from a country where "football" isn't even called "football" simply constituted too fabulous an opportunity to pass up. So it was that Stuttgart got a tactical draw-up each and every week. Close attention was paid to the work of the man from New Jersey as he sought to cut an unprecedented path.

And how did the lone man to coach a top flight German footballing squad fare? By and large okay. The above average results record documented above suggests undistinguished passibility. In the overall context of the season, that's what we got. Note that the first half of the campaign was far more inspired than the second. Stuttgart could have arguably made a greater push for the European places. Hard luck played a role in the drop in total squad form too.

September-December: The rush of novelty

Promoted sides often ride the adrenaline to overachieving in their first few months in the new flight. Unimpeded by doubts and mental stumbling blocks that shall creep in later, players play above their level. In a semi-related development, football writers find themselves hypnotically intoxicated by the novelty of a new team. This translates to glowing reviews that, looking back, may have inadvertently embellished a team's play with falsely perceived nuance.

In any event, Matarazzo's Stuttgart were still undeniably fun team to watch. The roving Wataru Endo ensured that the only thing predictable about the side's shape was a back-three run buy either Waldemar Anton or Atakan Karazor. We were often treated to a lovely attack-oriented formation designed to get the ball upfield with eye-catching triangulation. Sometimes Matarazzo would fall back on something more traditional, but it was rare.

The zenith of the season for the Swabians most assuredly came during the round 11 dismantling of Dortmund that ended up costing Lucien Favre his job. Most viewed VfB prospects as limitless near the advent of the holidays. The young and exciting team and their innovative coach could reach stratospheric heights if they wished to. The descent would nevertheless be forthcoming.

December-May: The "split stagger"

A poor string of results in December and January saw things slow down. It wasn't quite catastrophic yet. The team still grabbed three wins from nine league fixtures. Tactics-heads will certainly appreciate the manner in which Matarazzo, facing this decline, allowed his formation to settle. Two key actors located their groove on asymmetrical positions on the opposite flanks.

The players in question were the highly impressive new German international Borna Sosa on the left and (for lack of a better moniker) "the footballing artist formerly known as Silas Wamangituka" on the right. We beheld an interesting deliberate tactical construct referred to by some of us shape-obsessed as a "split stagger". Ordinarily this takes place in midfield, but flankers can execute it as well.

Unfortunately, while this produced some positive results, the organic separation quickly got out of hand. Stuttgart maintained their ability to beat up on chaotic teams like Schalke, Bremen, and Hoffenheim whilst failing to run a sufficiently tight defensive ship against better opponents. Wamangituka's (until everyone can decide on his new last name) injury in March left Matarazzo's basic tactics in pieces.

The American trainer couldn't restore order to the ranks. A four-match losing streak in April had many of us griping about what a waste this Stuttgart season turned out to be. Had Matarazzo done even a slightly better job of imposing his own imprint on the team late-on, the UEFA European Conference League would have been within reach.


Cumulative 2020/21 Grade = C


One can always make the case that it isn't worth pushing a newly promoted team too far in their first season back in the top flight. Qualifying for the lower tier European club cup competitions, of which there are now two, sometimes even spells doom. The travel schedule associated with the UEL and UECL wreak havoc on lower budget teams already spread thin. If Union Berlin tanks this year, Matarazzo may look like a genius.

All the same, it did prove frustrating to see this American stand pat whilst his squad's tactics deteriorated and the club slid further down the table. This year we shall be covering the work of two American trainers after Jesse Marsch took over at RB Leipzig. This writer has a certain feeling of unease when it comes to Matarazzo. The VfB could well be considered relegation candidates this year.

A slow start could conceivably mean that we'll be discussing only one American trainer per week again soon enough.


Timothy Chandler, Eintracht Frankfurt


Matches played = 17/36, Matches started = 3/36

Positions played = RW, RB, LW

To the chagrin of many, there is considerably less action to discuss regarding this German fan favorite this year. As we did last autumn, it's of some relevance to discuss why Chandler is still classified as an American in this space. After all, the 31-year-old's international career is long over and the Frankfurt native always identified more with his German roots; to the point that he even refused some USMNT call-ups.

When the usual questions concerning the final phase of his playing career began to surface last spring, "Timmy" adamantly pledged allegiance to his hometown club and the country in which he was raised. There appears very little, if any, feelings American heritage left in him. We shall nevertheless cover him again this season as, to reiterate, Chandler's American heritage has always been one reason German fans were so enamored with him.

It's a fairly straightforward phenomenon to explain. The sons of US servicemen who succeed on the German football scene represent the ideals of post-war transatlantic cooperation. The likes of Chandler, John Anthony Brooks, Fabian Johnson, Jermaine Jones, Danny Williams. and (hopefully once again) Julian Green are the children of the pacifistic "Bundesrepublik". We genuinely appreciate this particular subset of homegrown talent.

In light of the fact that there are ever fewer such players these days, following Timmy's work closely for another season seems a worthwhile endeavor. Hopefully we'll have more to talk about this year.

September-April: Benching and Rumors

There definitely wasn't much to talk about through the bulk of this season. Adi Hütter only used Chandler for a gradable amount of time once as a halftime substitution. An ineffective left-wing deployment made clear the limits of utilizing Chandler in his late-career converted attacking role. Perhaps that's why he was never used in that or indeed capacity again for quite some time, though contractual reasons were also rumored.

A goal off the bench in the 26th round moved Timmy up the depth chart and he became more of a regular late sub. It would still be four more rounds before he got his first start of the campaign. Hütter's reluctance to use him went a long way towards convincing some observers that the rumors about the contract extension were true.

April-May: Late season usage

The SGE-man started three of the campaign's final four fixtures. An actually highly disconcerting performance on the 30th matchday was followed up by a more encouraging one in the season's penultimate round. At no point did he manage to replicate the memorable form surge from January 2020, but at least one could discern that the willingness and work ethic were present.


Cumulative 2020/21 Grade = C-


Ruminating over some of the late-season action, it's difficult to tell if father time has caught up with this particular player. Chandler exhibited noticeable fitness issues. That could conceivably mean nothing as he simply didn't get enough opportunities to adjust to full-match pacing.

Most German football fanatics were pleased to see him get the final contract extension that he so avidly sought. Should Timmy decide that it's time to hang up the cleats, we'll all look forward to seeing him work with the SGE in some coaching or administrative capacity.

One still hopes such a day is far away. Timmy should still have plenty to contribute on the pitch, if only as a specialized "joker sub".


---
The Departing Actors
---


At the present time, it's not entirely clear whether these shall prove permanent farewells or not. Last year's sendoffs--Weston McKennie, Zach Steffen, and Alfredo Morales--were firmly off the scene. By contrast, several Bundesliga clubs have tendered offers for Josh Sargent and a top level German organization may consider, in parallel to English sides, at least bringing Matthew Hoppe into the system.

The writer's own opinion holds that neither attacker should be on the move up to the first division this year. Moreover, this is as it should be. It would much behoove both players to continue to hone their skills in the 2. Bundesliga. Hoppe and Sargent still fall into the category of raw and unrefined talent. Their current place seems fitting.


Josh Sargent, SV Werder Bremen


Matches played = 37/39, Matches started = 35/39

Positions played = SS, LS, AM, LW, RW

The Missouri Marvel's league production numbers--five goals and two assists--ended up being the best of his young career. Regrettably, such numbers are nowhere near good enough for a player starting every week. Even on a team as thoroughly bad as Florian Kohfeldt's 2020/21 version of the green Hanseaten, Sargent unequivocally failed to establish himself in the manner one has a right to expect for a second year Bundesliga player.

This writer did his utmost to show appreciation for Sargent's work whenever possible. One definitely couldn't accuse the young man of slacking off on the pitch. He always ran hard. This American led the appraisal pack in week two, week six, week 24, and the column's final report. Every perceived uptick in form was covered and no laudable performance went unnoticed. The writer, who has some Missouri connections, played cheerleader at every opportunity.

Sargent's best stretch came between the 18th and 25th round. At the tail end of this surge, he even scored in three consecutive matches. The now 21-year-old can undeniably heat up when he picks up some confidence. One also must emphasize the Kohfeldt's tactics--which elicited regular rants from a writer forced to watch such scandalously ugly football every week--oftentimes handcuffed this American.


Cumulative 2020/21 Grade = D+


Despite the mitigating factors of Kohfeldt and some of the very bad players around, the conclusion remains that Sargent's confidence was too easily shattered; this for the second consecutive year. The player must take some responsibility for managing his own morale at some point. It also didn't look as if this American made particularly good progress on the specific aspects of his game that he needed to work one: more assertive physicality on duels and better defensive awareness.

On the very day of this writing, the O'Fallon native bagged a brace against Düsseldorf in the second round of this year's 2. Liga. It did not take long for the rumors of Leverkusen's interest in him to resurface afterward. To reiterate, this writer genuinely hopes it doesn't happen. Sargent will get precious little playing time in as a third-string striker on the Werkself bench. Some time out of the spotlight in the second division really seems to be the best course for him now.


Matthew Hoppe, FC Schalke 04


Matches played = 24/37, Matches started = 16/37

Positions played = SS, LS

Our "out of nowhere player" earns his fair share of plaudits for fearlessly taking on a group of professionals no one could have envisioned him facing when he began the year playing in the fourth tier. The amazing hat trick in round 15 won't soon be forgotten. Hoppe, who ended up being Schalke's leading scorer in their generational nightmare of a season, carried his fiery January form on for as long as he could. He woke up again at the end of the season, earning himself some more deserving praise.

In-between these high altitude peaks, there were plenty of deep valleys. One shouldn't forget that. The youngsters debut, as one might surmise, was awful. Hoppe even earned close to failing or outright failing marks on several occasions. Taking this in the context of a player suddenly thrust into the limelight of one of Europe's top five football leagues, there is some slack cutting in order. One nevertheless has to note that the 20-year-old has oh so much left to learn.


Cumulative 2020/21 Grade = D+


As the only German football player permitted to remain on USMNT head-coach Gregg Berhalter's 2021 CONCACAF Gold Cup Roster, Hoppe has been doing a decent job of establishing a presence on the US national side. The Californian scored the winning goal against Jamaica in the competition's quarterfinals. This is the source of some of the talk linking him with Premiership sides.

This writer wouldn't mind seeing Hoppe get the opportunity to accrue valuable experience with an EPL reserve team. The same does not apply to any potential move to the Bundesliga, which would see him fill most of his time back in the fourth division. A year down in Germany's second division will surely do him a great deal of good. A columnist expresses the sincere hope that he remains under the purview of his 2. Bundesliga colleagues.

This writer sends friendly greetings to all Bundesliga fans out there ahead of another fantastic season! You can catch Peter on twitter, @ViceytheSS.

Twitter DMs are open for football conversations, corrections, and (if you truly insist) general abuse. 

All columns debut on Bulinews before appearing on Peter's website later in the week.



Related stories