Bundesliga Tactics Talk: Round 11
By Peter Weis @PeterVicey
Quite the bombshell in 2020/21 Bundesliga's 11th. An embarrassing 1-5 defeat to Stuttgart lowers the axe on Dortmund's Lucien Favre, making him the third coaching casualty of the campaign.

This being the major story of the weekend, we'll devote a significant amount of space to it. Favre's final match is analyzed in great detail in this weeks tactical focus and the commentary section contains our speculation about what will happen next.

Of course, many other stories emerge from a wild weekend on the Bundesliga beat.

It's all covered in our all-inclusive weekend round-up.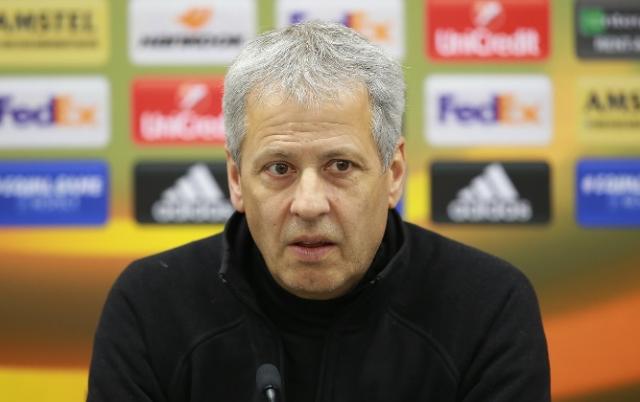 | | |
| --- | --- |
| Lucien Favre. | Photo: Антон Зайцев/Soccer.ru/CC-by-SA 3.0 |
League-wide Talking Points: Round 11
Congratulations to the new "Spitzenreiter"

What seemed probable heading into the weekend did indeed transpire. Another huge win for once-fired Dortmund head-coach Peter Bosz and the high-octane 4-1-4-1 we discussed last week. As noted then, they should be considered title contenders. Fatigue can't stop this team, even as so many others across the league succumb to exhaustion. Well done, Werkself. Kudos to Germany's red company team for their first trip to the top of the table since, wait for it, September 2014!


The 4-1 win over fellow Europa league participants Hoffenheim owed much to a comedy of errors from the Kraichgauer. Florian Grillitsch could have completely altered the outcome of the match had he converted a header 14 seconds in. Once-a-season howlers from Harvard Nordveit and Andrej Kramaric, the weird offensive foul call in the 18th minute, and all of the craziness associated with the two red cards left one wondering if one was even watching a real football match or an exhibition.

None of that takes away from another amazing performance from the unstoppable offensive flank-based set-up. Consider for a moment how deadly this squad will be once they procure some upgrades at the fullback position during the transfer window. Of course, we should note that Borussia Mönchengladbach were comfortably leading the league at this point last season. We're still six rounds from the halfway point.

Scraping by via the knees

On the topic of Gladbach, another round of congratulations are in order. The foals qualified for their first-ever UCL knockout round this week. The scenes following the 0-2 loss to Real Madrid were nothing short of hilarious. All of the players gathered around a communal iPad to confirm the results of the Inter-Shakhtar draw that would send them through. The jubilant reactions after playing a genuinely lousy game of football were priceless.

When it came time to play Hertha in the league this weekend, Marco Rose's men managed to once again do just enough. After an atrocious opening half of football even worse than that on display midweek, a Denis Zakaria giveaway gifted the capital city club a much-deserved lead. Bruno Labbadia's alte Dame then proceeded to squander numerous chances to close the game out before Breel Embolo supplied the unlikely finish in off his knee.

Hertha fans have cause to feel hard done by as their team played very well. Instead, their slump continues while Germans celebrate the splendid mediocrity of the "notorious BMG". Many thanks to Gladbach for ensuring that six German teams will be playing Spring football. It almost makes up for those six goals the Spaniards scored in the 0-6 national humiliation. Almost.

Gasping for air

Crucial wins for both Freiburg and Köln give the two clubs desperately needed points in what shapes up to be a six-team relegation dogfight. This was a huge weekend for the clubs ensnared in the vortex. During a season in which teams cannot rely on any bounces from a raucous hometown crowd, securing points in the winnable matches is fundamental to survival.

Biefeld and Mainz emerged the losers from these pivotal affairs. Arminia reverted to their totally limp offensive retreat one week after showing a bit of bite. Sven Schipplock produced the lone offensive chance over the course of the entire 90 minutes. Uwe Neuhaus tried a more attacking-minded 4-4-2, but Ritsu Doan and Fabian Klos found no way through this week. Freiburg comfortably won 2-0.


Mainz's Jan-Moritz Lichte debuted a 3-5-2 meant to give Karim Onisiwo an audition at short-striker. It struggled mightily against a Geißböcke side that didn't even use one of its available strikers or buccaneering captain. Ondrej Duda and Jan Thielmann took turns spearheading the attack in a makeshift 5-4-1. Both sides played horrendously bad football, with an Elvis Rexhbecaj goal making the the difference in Köln's meek 1-0 win.

The Schalke hex

The Königsblauen are just cursed. There's no other way to explain it. A horror-head injury to lead-striker Mark Uth in the first half forced Manuel Baum to send Nassim Boujellab forward. The converted striker then suffered his own dreadful head injury on an aerial contest with the same player, Augsburg's Felix Uduokhai.

After the FCA took the lead on a Suat Serdar own-goal in the first-half, it appeared as if Schalke were in for another dismal loss. It served as something of a miracle that the S04 players even wanted to continue after watching two of their players suffer such brutal collisions. Uth may be very seriously hurt.

Still, Baum's XI managed to fight back against all the odds. Boujellab, his damaged skull wrapped in a gauze turban, even put them ahead 2-1 in the 61st. The Knappen completed their comeback and even held on to the lead until nearly the last play of the game. Marco Richter equalized at 90+3.

Ugh. The winless streak now extends to 27 league games. Only four more non-results to go before they reach the Tasmania Berlin record.

The Burning Questions: Round 11
Who is the key component of the Leipzig revival?

Germans tend to oscillate between praising Julian Nagelsmann for his innovative approach to team management and criticizing him for subjecting his players to overly-complicated training regimens that make their heads spin with burnout. Assessing the work of the one who some regard as the "mini-Mourinho" has obviously never been an exact science. Initially charged with drawing up match-plans and workout stations when he was a mere 22-years-of-age, the Leipzig trainer has been trying all sorts of random things for the past 11 years.

Without having any access to the specific paces he presently puts his team through, one can only offer conjectures. Watching die Roten Bullen over the last five fixtures, a good educated guess might be that he's worked them very hard on some intricate zig-zag passing concepts in the practice sessions. He did this marvelously in his second year at Hoffenheim. Each match-plan contains a designated "assist-mister"; or so it seems.

Emil Forsberg, Dani Olmo, and (most visibly) Amadou Haidara supplied some of the most gorgeous assists one has seen all year in recent encounters. It's immensely impressive to watch how they cushion the ball until their teammates get into position and then split the defenders almost perfectly. Last week, it looked as if Haidara received the extra instruction. Against Bremen on Saturday, Marcel Sabitzer and Yussuf Poulsen waited those few extra seconds to allow the scheme to develop.

Add to this the fact that free-reign Angelino can always be relied upon to facilitate moments of spontaneous magic and the monumental form surge of Justin Kluivert and one has the recipe for a football team firing on all pistons. No real impediment stands in their way over the coming weeks. A dip would count as most unexpectedly. Should it occur, the go-to talking point will, of course, be that Nagelsmann overthought matters with a 52-point plan on the training pitch. Back and forth it goes.

What's missing at Frankfurt?

Die Adler continue to stumble through a weak run of form in which they appear almost intractably blunted and inept. They hit a similar rough patch last year at precisely this time, yet no longer have the excuse of a hectic European schedule to fall back upon. Moreover, pleading for patience after the unconventional breakup of the "Buffalo Herd" long ceased to work as a rationalization. Adi Hütter has had more than enough time to integrate the players Fredi Bobic and Bruno Hübner supplied him with. It might have even been Hütter's idea to undertake these moves in the first place.

So, what gives? How is it that the SGE get measurably worse each week? At this point, the sole source of sympathy left for Hütter concerns the recent injury to André Silva. When considering his statements to the press this week, it seems evident that he sent out signals to suggest as much without outright revealing it to both the public and his Friday opponent. Such a loss earns him a bit of leeway, but doesn't totally excuse these tactics.

Lineup—Eintracht Frankfurt—Match 11 (3-4-2-1)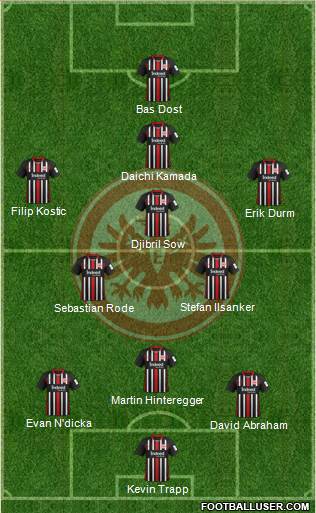 Herein lies the answer to the question posed. What we're missing is pace. This constellation features precious little of it. Daichi Kamada possesses sufficient speed to cut open a few lanes. Perhaps once Filip Kostic works himself back up to full match fitness, he'll have a bonafide counterpart. For the time being, the talented Japanese international tires himself out to no avail.

One could literally go on all night about the issues Hütter must address pronto. Neither writer nor coach maintain the luxury of such time. Hence, we'll focus on three urgent recommendations.

Shoring up the right wing

The introductions of Erik Durm and Djibril Sow into the lineup struck a chord of nostalgic satisfaction some three weeks ago. At present, there exists no legitimate reason why either one should remain in the XI. Sow received the bulk of Frankfurt's offensive cutbacks in this fixture, still never managing to produce a remotely dangerous effort on target. His ascension up the depth chart consternated at first before it ultimately confounded.

Kostic requires a creative wide axial partner to cross to. When the Croatian doesn't have a target to launch balls into the box for, he can at least allow some of the midfielders a chance to catch up by changing the point of attack via long switches. It's not even strictly necessary for Hütter to have a speedster on the right flank. Danny da Costa or Timothy Chandler will suffice.

So long as Kostic has someone else capable of stretching the shape to work with, they team can avoid getting mired down in midfield battles they have little hope of winning. Durm doesn't truly have a place in what would be a far better approach. It was genuinely nice to see him again, but he's definitely a far cry from the forward threat he once was.

Bringing back the true pivot runner

Re-introducing 36-year-old Makoto Hasebe into the back-three may, by definition, seem to work counter to the stated goal of speeding up the midfield link-up play. Counterintuitively enough, it should work. Against Wolfsburg, Hütter's men simply had no ideas how to work the large gaps between the middle axes and their center-forward. Unimaginative chip balls were the order of the day.

VfL center-back John Anthony Brooks cleared hopeful over-the-top catapults played directly to him all night long. With all due respect to one of the league's finest central defenders, even non-mobile center-halves will have zero difficulty dealing with such an approach. It's lazy, amateurish, and all-too-predictable. A more creative presence is needed at the top of the triangle should Hütter wish to roll out a back-three.

The vertical axis pairing of Hasebe with his countrymen and protege Kamada worked well in the early stages of the campaign and it remains unclear why Hütter opted to break it up. Hasebe's benching coincides with the descent of this team into a slower and far more irksomely tedious "chip" offense. It's difficult to view this as mere coincidence.

The courage to sit the odd-man out

Bringing Hasebe back leaves one with a personnel issue. Namely, which defender needs to take a seat? Unfortunately, the man who must make way is the captain, David Abraham. His retirement imminent, one certainly doesn't wish to fault Hütter for wishing to give such a valued player a proper send-off. Such an aim can still be achieved by bringing him on for a late curtain call as a sub. The SGE must prepare for life without him anyway.

Taking all of these recommendations together, one envisions a 3-5-2 (or 3-6-1 of Silva turns out to be out long-term) not unlike that utilized earlier in the season. Some final notes of quasi-importance emphasizes that the likes of Sebastian Rode, Stefan Ilsanker, and Dominik Kohr should always find rearward defensive deployments and that, if Aymen Barkok is to serve on the right-wing, Almamy Touré probably works as his best direct backer.

How did Bayern stall?

Somewhat obscured by all of the tumult surrounding Dortmund, the German giants delivered some more marked underachieving this weekend. In this case, most of the reasons center around what is perfectly normal for this stage of the season; not to mention fully justifiable in an insanely abnormal campaign such as this one. Football remains a game of ideas. Not given proper time to recharge, the FCB find themselves lacking in this area at the moment.

Beyond that, we have a strong Union Berlin back four--anchored impressively by Marvin Friedrich and Robin Knoche--to credit with shutting the Bavarians down in the offensive third. Hansi Flick's pressing game also carries with it pronounced risks. Seventeen goals conceded remains a very high number for a team hovering at the summit of the table. When the high-press doesn't lead to lethal counter-attacks at the other end, it skips two gears in the offensive build-up and the antsy attacking actors direct too many efforts miles wide of the target. We saw some of that this weekend.

One should nevertheless call attention to a developing trend covered multiple times in recent weeks. Leon Goretzka's inability to find any rhythm absent midfield partner Joshua Kimmich continues to loom large. His play on the final midfield axis makes or breaks many sequences. Flick attempted to address the deficiency this week by lining his men up in their old 4-2-3-1 and pairing Goretzka with Jamal Musiala.

This actually produced some promising play over the course of the fixture's first hour. An intelligent aspect of the system sometimes saw the duo work with Thomas Müller slightly further afield in a simple rotative-eight-cyle set-up. Flick might have still gotten his interpretation of its potential wrong when he made his first substitution.

Lineup—Bayern München—66th minute (4-4-2)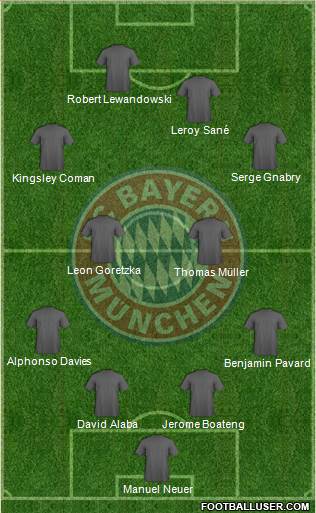 Two problems here. First, Müller and Goretzka simply don't retain the sort of chemistry to run a midfield engine together. Perhaps the reason relates to their radically different playing styles. Müller, at this stage of his career, thrives on improvisation as opposed to orchestration. That brings us to the second obstacle: Leroy Sané (on for Musiala) is playing Müller's position.

One can hardly fault Flick for trying something, anything, to get Sané going. For reasons unknown, he just hasn't been able to find his stride after the latest return from injury. After seemingly finding a groove of sorts two weeks ago against Stuttgart, he tanked badly in the Leipzig match. Thus, we witnessed a short-striker deployment in this one.

If Sané appeared lost on the right wing last week, he was practically invisible here. This misplacement led to the match grinding to a full stop. Bayern completely seized up from the 66th minute onwards; unable to produce anything of note. For the FCB's sake, one hopes to have seen the last of this experiment. For Germany's sake, one hopes Flick can figure out some way of getting Sané's play straight.

Weekly Tactical Focus: The Silenced Favre Apologists

Even those of us highly proficient in the art of making excuses for a likable trainer found ourselves speechless after Saturday's debacle. Many a backer of the technocratic Swiss tactician surely stared at an empty screen for hours on end. What possible justification could we come up with in this instance? Lucien Favre sunk his own ship.

A week of dubious jawboning didn't help. A well-intentioned coach backing underperforming players often gives the impression that he's out-of-touch with the real issues facing the team. Declaring oneself satisfied with poor performances never bodes well. It happened last weekend. It repeated itself mid-week. Fans don't stand for such complacence. Neither does a club's board.

Favre's sacking had as much to do with his foot-in-mouth public presentations as it did with his team's systematic dismantling at the hands of Stuttgart. One can make all the wrong moves both on and off the pitch. So it was that the premonitions were proved correct. The BVB trainer suffered the same fate as Bayern's Niko Kovac barely one year after his high-profile team fell by the exact same scoreline.

What went wrong at Signal Iduna Park this weekend? We might as well begin with how Favre was systematically out-coached.

Lineup—VfB Stuttgart—Match 11 (3-4-3)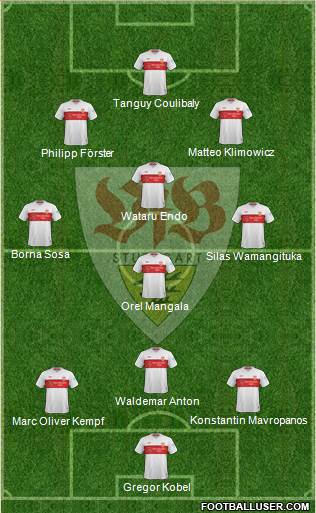 Simply stated, Pellegrino Matarazzo is a post-modern trainer who always does his homework. Comprehensive analysis of all of his tactical constructs thus far this season demonstrate as much. In this well-tailored construct, he anticipates a Dortmund 3-4-3 and adjusts his weapons accordingly.

Endo: The Bundesliga's best cog

It shouldn't be too long before the name Wataru Endo becomes a household one. The 27-year-old Japanese international serves as Matarazzo's most flexible piece. The mere act of watching Endo's early movements proves the key to cracking whatever the American coach's plan is for the week.

In this particular fixture, he played further forward than he had all season. He also happened to turn his most sensational work all year. Such a statement isn't easily written, given that he's furnished a number of gems through the first eleven rounds.

Matarazzo knew that Dortmund would present an exploitable soft underbelly through the middle. He wisely threw his most unpredictably versatile actor directly at it.

Sosa: Two reliable roles

After carefully keeping tabs on Endo, the next task for anyone seeking to figure out the Stuttgart system in a given match needs to turn an eye to the left-hand side. Matarazzo's use of 22-year-old Croatian international Borna Sosa isn't quite as mysterious, but does supply plenty of intrigue.

Essentially, Sosa will fulfill one of two roles. Either he will work as full-back or a genuine attacking winger. There's no "wing-back" middle ground insofar as this player is concerned. His function mirrors that of Angelino at Leipzig, only turbocharged to the extreme.

Much of Sosa's placement appears contingent on the position that Silas Wamangituka is assigned. The Congolese phenom can work virtually anywhere on the top two attacking axes. This time he was deftly stationed to the right. Sosa worked as a semi-staggered partner.

Favre's Last Stand: A look at the final method

It would be grossly unfair to aver that Favre didn't enter this fixture without some halfway decent strategies of his own. Though they might have all gone horribly awry, they were still possible to divine. We'll take a look at what he hoped to accomplish.

Lineup—Borussia Dortmund—Match 11 (3-4-3)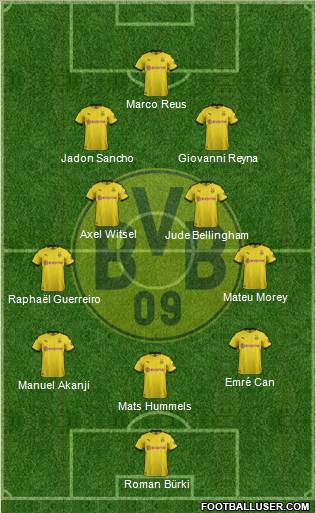 The tight triangle

Solutions to Erling Haaland's absence mostly centered around the use of Julian Brandt as a malleable front man dipping in and out of a false-nine role. Favre also used Marco Reus and Giovanni Reyna to center the attack in recent matches, with both players also sometimes pocketing deep depending on the nature of the charge.

One doesn't wish to give the impression that the suppleness was always the result of specific instruction. On the contrary, whatever triad Favre used up front probably operated on no real principles other than to be as fluid as possible. As is often the case with an ad-hoc attack, only subtle guidance finds its way into the direction.

Here, one could clearly see that Reyna and Jadon Sancho were supposed to play a bit more inwardly. It also appeared evident that Sancho received a bit of encouragement to try to work the left more often. This logically stemmed from his prolonged slump in open play. The three players were grouped tightly together on the prep board to preserve the potentiality for extemporization.

Spread of the support structure

This was novel. Axel Witsel ordinarily occupies a much deeper space. Jude Bellingham, increasingly used as a super-sub in this campaign almost always occupies his own individual plane. It came as a surprise to see him assigned to a direct partnership so high up the pitch. The execution of this pairing necessitated nuanced choreographed movements that the two players couldn't quite get right.

It's easy enough to see why Favre wished to give this a shot. The two wingbacks, courtesy of the Thomas Meunier injury, were also unaccustomed to one another and, consequently, had their own difficulties synchronizing their own forward/rearward movements. It made sense to insert another inwardly focused layer of support beneath the attack and hope that errors wouldn't occur on the two coupled axes simultaneously.

Naturally, there would be a risk that mistakes would ripple down through the shape. An unfortunate reality of football, and life for that matter, is that all that can go wrong periodically does.

Match Flow: 1st to 32nd minute

Right from the beginning, we've what may be the season's largest swath of time to discuss. It's almost comical how Stuttgart utterly dominated such a prolonged stretch with one-way traffic. Something one can unequivocally fault Favre for is his non-response to the unfolding disaster. Nothing was done to reverse the hammering.

Stuttgart began by asserting themselves on both flanks. Wamangituka and Sosa pressed high early, completely pinning the BVB back for the opening eleven minutes. A Bellingham tear on the right flank immediately got immediately shut down by Marc Oliver Kempf and Endo intercepted two attempts by Hummels to drive central. Sosa also cancelled out Raphaël Guerreiro rather easily on an attempted touchline run.

Whilst the BVB got stymied from every point of attack, the VfB began racking up the chances. Endo got a shot on target in off the turn in the 3rd. Sosa forced Roman Bürki into a tip-over with a strong free-kick in the 7th. Tanguy Coulibaly forced another save one minute later and wasn't far off with another effort in the 13th.

By the 15th minute of the match, the Swabians had amassed five shots to Dortmund's none. Endo and Orel Mangala won virtually all the midfield balls whilst Witsel and Bellingham flailed. This had an enormous psychological effect on the hosts, who frustratingly looked embarrassingly outclassed.

Noting worked for the Schwarzgelben. Sancho and Reyna couldn't break through on a leftward cycle in the 17th and then got thwarted on a rightward one in the 20th. Amazingly, both Sosa and Wamangituka were always back to do the defensive work on every Dortmund build. They were, of course, assisted somewhat by the fact that their hosts were fairly slow getting upfield.

Orel Mangala did an excellent job marking Witsel while Bellingham effectively stutter-stepped his way to a perfectly torrid combination of blown defensive assignments and unsteady touches. Mats Hummels finally got so frustrated that he stepped forward and played a risky forward ball for Mateu Morey. The ensuing Stuttgart counter yielded the 25th minute penalty kick after Emré Can couldn't catch up with Matteo Klimowicz.

Wamangituka's conversion ensured that matters went from bad to worse. Favre's men wilted. Klimowicz somehow skied a sitter in the 30th, missing a wide open net after Bürki spilled a Coulibaly rebound. That instance constituted one of many in which the BVB got absolutely crushed in their own box. The scoreline definitely should have been 2-0 by the time a few fouls slowed down play.

Match Flow: 32nd to 38th minute

A vital short stretch illustrated just how burnt out the BVB were. Hummels in particular, having been stretched far too much in the early going, began to observably fray. Moments after hustling back to cut out a Sosa ground cross, he couldn't get himself back in position to receive a ball back the other way from Bürki. The Badeners kept close tabs on all three Dortmund defenders as they fanned out in an illogical fashion.

A pair of Dortmund dead ball opportunities within these six minutes ended with registered shots on target. They still hardly counted as true scoring opportunities. Overall, one could see that Favre had no more designs from the set-piece playbook left. The body language from both Reus and Sancho were fairly crestfallen after they both failed to make decent use of the stoppages.

Sancho broke through on the left in the 34th, only to give the ball away to Konstantinos Mavropanos. VfB keeper Gregor Kobel then kick-started a vicious counter. A protracted and elegant attack sequence ended with Coulibaly flashing across the face of goal on what should have been the 3-0 in the 36th. Klimowicz would then miss the 4-0 after an very sloppy early switch from Reyna led to another dangerous counter.

Match Flow: 38th minute to half-time

Reyna would quickly redeem himself against the run of play with a spectacular goal out of nothing in the 39th. Latching onto Reus' hopeful long through ball, he applied one perfect first-touch to set himself up for the even more sensational finish. The score was suddenly level and the throughly man-handled team had themselves a most improbable way back into the match.

Manuel Akanji charged forward with some confidence in the 40th, drawing a frustration foul out of the beaten Endo. Reyna, Morey, and Guerreiro--with a Sancho leave--also put together a nifty sequence in the box in the 44th. Other than that, however, all the tell-tale signs of an impending route were still there. Wamangituka torched through the disorganized ranks in the 43rd. BVB players on the ball stopped dead in their tracks on more than one occasion in a desperate attempt to get into the dressing room and re-group.

Match Flow: 46th to 52nd minute

Favre might have sealed his fate by his decision not to employ any changes at the half. An indefensible decision. All signs pointed to the fact that the scoreline would not remain level for long. Matarazzo's men stood poised to initiate a rout. They had dominated Favre's team at every position and generated four authentic scoring chances to Dortmund's none. Reyna's moment of brilliance wasn't something that would fall under the xG classification.

While Favre certainly had a plan entering the match, he had nothing in place for the final 45 minutes. In a match in which the wheels were coming off, what did he honestly have to lose by inserted Youssoufa Moukoko? Bellingham was basically screaming to be taken off. At the very least, he could have brought on Felix Passlack for Morey, introduced Brandt for Reus, or tried to bolster his defensive ranks by sacrificing an attacker for either Dan-Axel Zagadou or Lukasz Piszczek.

Alas, he trotted out the same beaten team. The tired and depleted XI didn't even get a touch in until the 48th. Reyna gave the wizardry one last go one what would prove his squad's only real bright spot of the whole fixture. A very deft back heel to Witsel in the 49th followed by an expert stop-and-go allowed him to receive a nice return on the overlap. No one was in place to collect his cutback seconds later.

After that, an extended Stuttgart possession sequence made a mockery out the Dortmund defensive ranks. Wamangituka scored the second goal following a horrible giveaway on which both Bellingham and Guerreiro were at fault.

Match Flow: 52nd minute to full-time

Another large swathe of time bookends the match. In all seriousness, one must report that the heavily favored hosts completely fell apart, then proceeded to give up. After an eight-minute long spell during which an insecure Dortmund managed nothing but half-hearted diagonals and got pummeled on the break, Philipp Förster scored the the third goal in the 60th. Four defenders watched helpless in the lead up, distracted by a simple right-left-center passing switch.

Favre's first change came one minute before what one may term the game-ending goal. Reiner for Emré Can. Ridiculous. This would have been the type of "cruise-control" sub one might have expected had the team been comfortably ahead. Favre appeared oblivious to the meltdown taking place before his eyes.

Wamagituka couldn't find the finish on a wide-open net in the 61st. Klimowicz missed his third sitter of the game with a strike of the post in the 62nd. One minute later, Coulibaly put the completely blown apart BVB shape by finally adding the fourth goal. Hummels didn't even bother to pressure him on the approach.

By that time, Favre had his second substitution ready. Nico Shulz for Bellingham. Zero urgency. Again, this were not the actions of a trainer cognizant of the fact that the match was being lost. Broadcast cameras focused in on sporting director Michael Zorc in the stands. One could read the sense of disbelief on his face despite the fact that he was masked.

Game over. One final matter of interest. While Favre sleepwalked through his personnel changes, Matarazzo put into place what had been his match plan from the start.

Lineup—VfB Stuttgart—68th minute (5-2-3)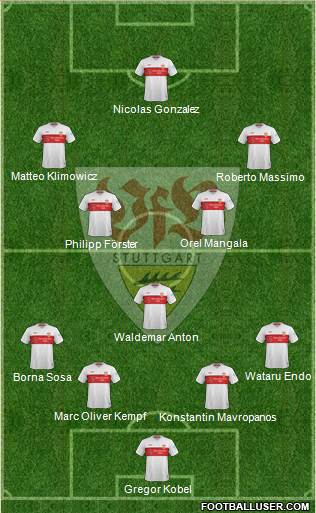 Note how the flexibility of his players enable him to do this. This entire shift was accomplished with only two subs. Nicolas Gonzalez and Roberto Massimo replaced Coulibaly and Wamangituka. Sosa and Endo, our two most important actors, move all the way back. In addition, Klimowicz switches, Mangala joins the attack, and Anton settles into a sweeper role.

It's a nice little "lockdown rearrangement" to effectively kill a match off with; a sensible and attentive conversion from a coach who still has a job.

Concluding Thoughts: Was it the right move?

There were plenty of other interesting ideas to close with this week, but it looks as if one can't reasonably hope to escape a weekly Bundesliga column without offering some thoughts on the biggest story of the weekend. Other intriguing football-related subjects are thus deferred to future columns; of which there shall be plenty.

Well then. What can the BVB hope to achieve through this change? In principle, something had to be done. A trainer exhibiting the casually blasé attitude of Favre cannot be allowed to hold the reins of a team that maintains more immediate goals. Emphasizing longer-term development over the more imperative objective of making a run at the title counted as a slap in the face to the fan-base.

No dedicated group of supporters, especially in a year in which they've been deprived of the joy of watching their team in person, deserve to be treated in such a fashion. The club really had no choice. To permit it to stand would be tantamount to capitulation. Label it a harsh messaging flaw if you wish, but the fact remains that messaging matters.

That being said, the options out there aren't great. Favre's departure after the expiration of his contract has long been common knowledge. One of our Bulinews' staff writers even wrote an entire column on the potential replacements last month. The conversation takes place every week in German footballing circles. Who will helm the team next summer?

Now that discussion gets turned on its head. "Next summer" arrives now. Up until this point, chances were good that a nice and tidy shift to Marco Rose could take place after the season. That's probably still the most likely scenario. Rose won't leave Gladbach on the historic year that he led them to their first ever UCL knockout. Virtually no one would be interested in serving as a place-holder for him for six full months. That's why Dortmund promoted Edin Terzic, who has never actually coached a professional match, as the caretaker.

Onward to other potential future candidates, keeping in mind the central requirement for the job. German clubs, at this juncture, generally want a coach who speaks the language. Even Bayern made this demand with the likes of Louis van Gaal, Carlo Ancelotti, and Pep Guardiola. The infamous Giovanni Trappatoni press conference influences Bundesliga administrative decisions to this day.

With that in mind, one can likely exclude an appointment for Mauricio Pochettino. Jesse Marsch also comes too soon. Dortmund doesn't wish to angle for a "Red Bull System" coach anyway, at least not until he's, like Marco Rose, been in another job for some time. A tradition club like the BVB is simply too proud to appear to be desperately appealing to the "noveau riche" for assistance. Difficult to explain to non-Germans, but it's a something of an important divide.

Alsatian oracle Arsene Wegner actually being a fluent German speaker, one can expect there to be some romantic speculation about it in the coming days. It's a wonderful fantasy to indulge in for a while. That doesn't mean it has any chance of happening.

Who does that leave? Ralph Rangnick appears the only other target BVB may aim for. He's the best that's available immediately and he's had 18 months or so to rid himself of that "Red Bull" sheen.

Note that if they wish to formalize matters with Rangnick, they'll have to get him signed as soon as possible. The 62-year-old wants to return to the pitch and has many other potential suitors.

Is it the right move? Ehh..we'll have to save that for another column. For now it doesn't really appear so. Can a rookie head-coach really lead Dortmund to the title? In they unlikely event that he does, Terzic gets a permanent appointment.

It might be the case that matters get worse before they get better.




Related stories