Van Bommel speaks on Weghorst's place in XI:
"Wout must and would accept a move to the bench."
By Peter Vice @ViceytheSS
From his long awaited breakthrough into the Dutch national team's starting XI to a disconcerting start with his German club team, Wout Weghorst has gone from peak to the valley in the last four months. 

VfL Wolfsburg trainer Mark van Bommel spoke on his lead-striker's slump when speaking to German reporters on Thursday and Friday. 

At Friday's press conference, Wolfsburg's Dutch trainer even hinted he might bench his countryman.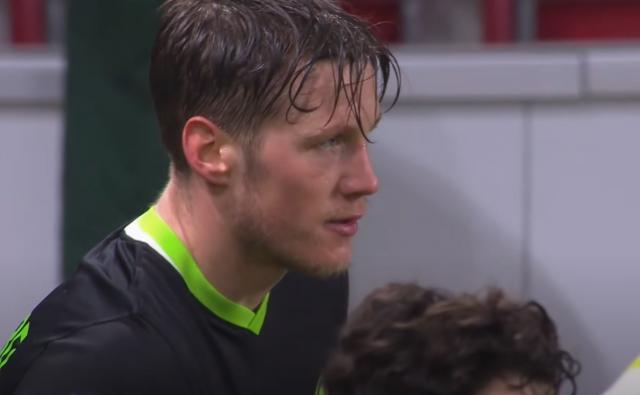 Ever the emotional type, Wout Weghorst has been known to let his frustrations boil over when things aren't going particularly well. The current state of affairs with his German club team seems to qualify as such a situation. The 29-year-old forward is accustomed to scoring for Germany's green company team.


The target-man who netted 17, 16, and 20 in the previous three campaigns has tallied three times in the current season, but still seems adrift from the rest of his teammates in the team's awkward offensive pushes.

After the German Wolves dropped a crucial game to Gladbach at home in round seven, Weghorst was not among the players headed to the stands to thank the ultras in the Kurve. Though not subbed off, the veteran had already disappeared down the tunnel in a huff.

"A coach needs tact," VfL trainer Mark van Bommel said on Thursday when discussing his forward, "With a striker, it's sometimes the case that things don't go your way. He has to stay calm."

There are actually some signs that Weghorst's attitude may accelerate personnel trends within the team. The manner in which executives Jörg Schmadtke and Marcel Schäfer have re-tooled their club for Champions' League play this year means that van Bommel--unlike previous coaches in charge of the club--has options other than Weghorst.

Luca Waldschmidt and Maximilian Philipp have evolved more into advanced anchoring midfielders at this stage in their career, yet can still work as the nine. The trajectory of Weghorst's longer-term replacement Bartosz Bialek has been slowed by injury, but the very promising young Polish prospect should be available for the Rück-runde.


Most significantly, Germany U21 international Lukas Nmecha can function as a center-forward. The 22-year-old, acquired this summer from Man City, has already scored twice this season. Whilst sitting out the most recent international break for both Antoni di Salvo's U21 and Hansi Flick's senior team, Nmecha scored a hat trick in a test-match.

"My chance up front will come," Nmecha told German footballing magazine Kicker after the exhibition game, "I know I can do it."

For his part, van Bommel stressed that he wished to utilize "tact" with Weghorst during this "difficult phase."

"We talked about it," the VfL trainer said on Thursday, "Wout has three goals. It should be more. Slumps aren't a bad thing. When the team plays well and wins, it all comes back on its own."

The rookie trainer nevertheless pricked some heads up when addressing reporters at his final pre-match press conference before the weekend duel against Union.

"Wout must and would accept it if he moves to bench," van Bommel said, "of course, it has to be more goals for Wout."



More about the match
More about the teams