Brandt: 'I'm not a number 10 like Ronaldinho or Özil'
Julian Brandt is Germany's new number 10 - and he admits that he's not a player in the mold of neither Ronaldinho or Mesut Özil.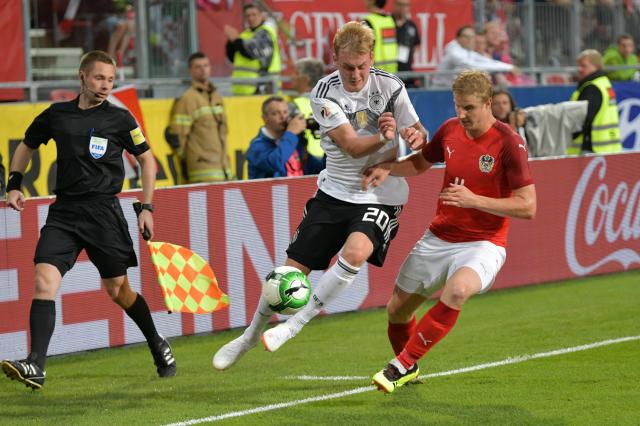 | | |
| --- | --- |
| Julian Brandt (left). | Photo: Granada, CC-by-SA 4.0 |
Following Mesut Özil's decision to quit the national team, Bayer Leverkusen star Julian Brandt has taken over the number 10 shirt for Germany.

And while Brandt is proud to have been given the honor, he admits he is neither like Özil or former Brazilian international Ronaldinho whom he looked up to while growing up.

"Every number 10 is different. Ronaldinho was a magician. There are number 10's like Mesut who has fantastic vision, but who is not a big trickster. He distributes the ball more and sets up goals. I'm neither like Ronaldinho or Özil. I'm flexible," Brandt told Bild and continued:

"I'm more of a winger, but I can also play in the central as a 'real' number 10. But because I often go forward over the wing, you probably don't see me like a classic number 10."

Still, Brandt underlines that he feels worthy of wearing the number on his back.

"I have played a number of international games and played at a World Cup. That makes you feel comfortable in the national team and increases your confidence. I want to be part of what lies ahead. The number on the back is not the most important thing - after all, it's just a number. But if the DFB had thought that the shirt wouldn't fit me, they would have chosen somebody else," he said.

The 22-year-old has made 20 appearances for Germany, scoring two goals.