Two of nine Bundesliga fixtures sell out in week nine
By Peter Weis @PeterVicey
In terms of footballing attendance, one European League once always stood head and shoulders above the rest. Germany's Bundesliga reliably bested all other competitors for well over a decade before the onset of the global pandemic.

This week's installment of our attendance column arrives a little early as we plan on releasing another one detailing the Pokal attendance figures on the day that this feature ordinarily debuts.

From a straight perspective of selling out, only Hertha and Leipzig were able to sell their full allotment of tickets this weekend. Köln and Bielefeld still came close.

We will once again look ahead to the "plans for fans" in the next round of fixtures. In this case, those are the 16 domestic cup ties scheduled to take place today and tomorrow.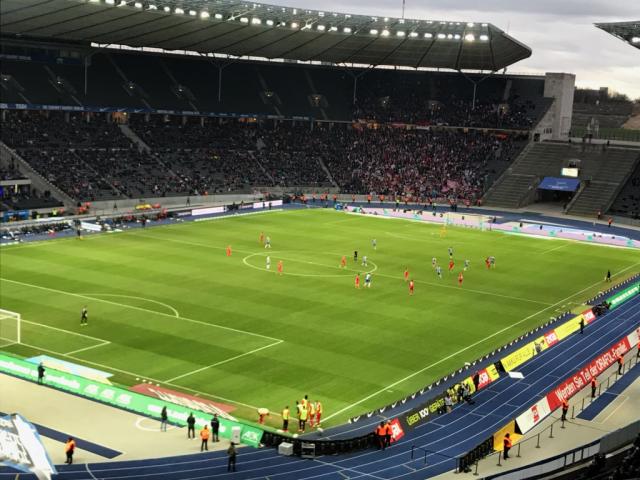 Our weekly look at the state of fan re-entry in Germany's top footballing division comes a little early this week. With the second round of Germany's DFB Pokal set to kick off this evening, we wanted to incorporate the 16 fixtures scheduled to take place midweek. Like a feature we were able to present in September 2020, this will include some clubs in the lower divisions.


The political battle between "2G" and "3G" continues. It rages on not only with respect to the turnstiles of the football stadiums, but on the pitch as well. The German footballing public found itself rocked by the news that Bayern/German national team midfielder (a co-founder of the "We Kick Corona" Fund with teammate Leon Goretzka) had opted not to get vaccinated.

This pressured the DFL (which governs Germany's top two footballing divisions) into a response. The DFL released data this week saying that the vaccination rate among players, coaches, and staff at all 36 professional clubs contesting the top two divisions stood at over 90 percent. The league FA went even further in specifically stating that at some clubs, such as FC Augsburg and Borussia Dortmund, 100 percent of actors had been vaccinated.

The league FA was forced to address a lack of a "2G" concept itself. In a statement, the league stated that it did not institute "2G" because "it would be tantamount to a workplace vaccination obligation." This is sure to ignite more controversy still, as many German businesses have instituted a vaccination mandate.

As always in this space, we'll repost a reminder as to what "2G" and "3G" stand for in the event that anyone is unfamiliar with the concepts. For the sake of simplicity, we'll omit some of the more complicated hybrid schemes that some Bundesliga clubs are currently using to regulate fan re-entry.

I. "2G" ("Geimpft" (vaccinated), "Genesen" (recovered)


Only spectators demonstrating proof of vaccination and recovery may attend.

II. "3G" ("Geimpft" (vaccinated), "Genesen" (recovered), "Getestet" (tested)

Fans vaccinated, recovered, or tested may attend. A smaller proportion of seats are reserved for the tested.

Some features--such as the planned capacity for the next home match, the maximum stadium capacity, and the local RKI incidence rate--will not be included in this edition of the column. We plan on reinstating these features once the focus shifts solely back to the top footballing flight.

We will continue to assess the state of Ultra return among the Bundesliga clubs, emphasizing that the "Yes" or "No" answer is based on whether the vast majority of fan societies have endorsed a return to the stadium. Every club still has some holdouts and matters continue to change rapidly.


---


FC Augsburg (at) FSV Mainz 05

Maximum Spectator Allowance = 24,000

Planned Capacity = 24,000

Attendance = 19,400 (80.8%)

Concept = 3G

The "2G+" attendance model was eventually dropped by die Nullfünfter. Despite the fact that entrance to the MEWE Arena can be easily controlled by the nature of access to separate blocks, spectators could still select which seats in the stadium they desired when purchasing tickets. The ultra blocks appeared to be mostly full on Friday night.

Many of the fan groups also set up booths inside the stadium and one of the main fan-published magazines was freely distributed again for the first time since the pandemic. There are reportedly still some hold-outs among the supporter societies who did not care for the restrictions of "2G+". The Pfälzer club may have ended up ditching just a bit too late to satisfy some groups.

The attendance figures from this evening's DFB Pokal fixture against Bielefeld should provide an interesting window into the state of fan return.

Coordinated Ultra Return = No


---


TSG 1899 Hoffenheim (at) Bayern München

Maximum Spectator Allowance = 75,204

Planned Capacity = 75,204

Attendance = 60,000 (79.8%)

Concept = 3G

The Allianz hosted its largest crowd since the onset of the pandemic on Saturday, though there remained plenty of tickets available that were not bought up. Overall, the figure was quite low for a Bayern home fixture; even one against an opponent known to generate less interest. As discussed last week, the incidence rate in Bavaria is higher than anywhere else in the Bundesrepublik. Just south of Munich, there are several districts with incidence rates as high as 460 per 100,000.

When it comes to the state of the Bayern ultras, there are still hold-outs. Moreover, there is the noticeable absence of the famous choreo many fan groups are known for. Many societies take stances in line with that of the Union Berlin ultras. While not advocating full atmosphere boycotts, the groups call for restraint in honor of the fans who either aren't allowed in or have access to fewer tickets. In the case of Bayern, the promotions obviously matter. A far greater number of the hundreds of groups seem to be behind a return.

Coordinated Ultra Return = Yes


---


SpVgg Greuther Fürth (at) RB Leipzig

Maximum Spectator Allowance = 24,758

Planned Capacity = 24,758

Attendance = 24,758 (sold out)

Concept = 3G

As we've been chronicling in recent weeks, Leipzig are the only club to have taken a giant step backward when it comes to the issue of fan return. The politics of both the city and the federal state of Saxony (proper) compelled the club back to a 50 percent cap. The incidence rate in this part of the former East still matters. Like Munich, Leipzig has several high-contagion areas located to its South. In this case, many districts are at over 300 per 100,000.

Given that RB were almost filling the Red Bull Arena back in round four, many Ultra groups are understandably upset with this. Some societies currently boycott the home fixtures and protest banners from those who do attend are present. It's worth noting that the fan-base among this club exhibits special divisions. Those with members old enough to recall the former East Germany (D.D.R.) remain strong vaccination proponents as this was always the policy of their former government.

Coordinated Ultra Return = No


---


SC Freiburg (at) VfL Wolfsburg

Maximum Spectator Allowance = 30,000

Planned Capacity = 25,000

Attendance = 10,251 (41%)

Concept = 2G

This is a pretty sad number even by Wolfsburg's standards. One genuinely felt sorry for now former trainer Mark van Bommel. The Dutch trainer issued a specific call for fans to come out during his Friday presser. As it turned out, almost no one did. The Wolfsburg ultras--who always earn deserved praise for being among the most likable and consistently funny fan groups in the entire country--remain behind their team and seem to have no real problem with "2G"

Coordinated Ultra Return = Yes


---


Borussia Dortmund (at) DSC Arminia Bielefeld

Maximum Spectator Allowance = 27,500

Planned Capacity = 27,500

Attendance = 25,000 (90.9%)

Concept = 3G

Very surprising to see that the Bielefelder Alm did not sell out for an opponent such as Dortmund. The Arminia fan groups are among the most loyal in the Bundesrepublik. As noted several times before in this column, it was the locals who financed the teams stadium renovations through bonds that the club later defaulted on. It is for this reason that this writer typically refuses to refer to the venue as the "Schüco Arena".

In all candor, there may still be some ultra groups that hold out on a return. The author simply hasn't been able to find them. If some DSC supporters presently wage protest, they appear to be rather quiet about it. Practically all football lovers across the Bundesrepublik root for high attendance rates here as the supporters waited 11 years for their team to return to the top flight, then weren't allowed in last season during the pandemic.

Coordinated Ultra Return = Yes


---


Borussia Mönchengladbach (at) Hertha BSC

Maximum Spectator Allowance = 25,000

Planned Capacity = 25,000

Attendance = 25,000 (sold out)

Concept = 3G

One would definitely like to see a higher capacity cap for the Olympiastadion soon. It no longer makes sense for such a large venue (nearly 75,000 capacity) to be constrained by rules that were drawn up last July. As is the case with cross-town club Union Berlin, the city's senate has given approval for Hertha to operate at a significantly higher capacity if the club switches to "2G". In this case, "die alte Dame" can host up to 50,000 patrons. There may be another compromise hammered out soon.

Leaving the messy world of politics aside for a moment, the fan presence at the Saturday night kickoff against Gladbach was simply amazing. It proved a special treat, after the sell-out figure was announced, to hear 25,000 spectators belt out club anthem "Nur nach Hause" ("We're headed home"). This particular rendition of the anthem had special resonance after the entire team and staff got quarantined late last season in the middle of a relegation fight.

Most all German football lovers genuinely care about the players as well. Practically all of us had "Nur nach Hause" stuck in our heads during those final two weeks in April when it almost felt trivial that we were playing football at all. Chilling stuff that the club anthem had unintentional connotations of quarantine in it. That made the first mass audience version of the song all the more special.

Returning to the world of politics, there are several ultra societies that sit out the 25,000 capacity cap. Again, we may see something similar to what's going on in the city's Köpenick quarter unfold here. There will likely be some calls to avoid choreo in the stands until more supporters are allowed in.

Coordinated Ultra Return = No


---


Bayer 04 Leverkusen (at) 1. FC Köln

Maximum Spectator Allowance = 50,000

Planned Capacity = 50,000

Attendance = 49,600 (99.2%) 

Concept = 2G

The first fixture at the RheinEnergieStadion to go for full capacity came agonizingly close to getting there. Only four hundred seats were left unfilled. That's a shame as the two teams most assuredly delivered the best fixture of the weekend. There looked to be some initial resistance among fan societies when Köln became the first club to commit to "2G".

By and large, however, it didn't really materialize. Note that there's been a great deal of local solidarity in this region following the July floods in part of Nordrhein-westfalen and the Palatinate. The ultra groups have things other than protest on their mind at the moment. Charity drive booths are commonplace outside the stadium.

Coordinated Ultra Return = Yes


---


FC Union Berlin (at) VfB Stuttgart

Maximum Spectator Allowance = 60,441

Planned Capacity = 60,441

Attendance = 32,535 (53.8%)

Concept = 2G

The Swabians have put themselves front and center of the "2G/3G" controversy by acceding to Baden Württemberg's request to trade "2G" for full capacity. Stuttgart hosted by far their largest crowd since the onset of the pandemic, but the Mercedes Benz Arena stood just a little over half full. Do note that the club sometimes has difficulty selling out in normal circumstances.

The BaWü "2G" mandate has a lot of the population feeling alienated. The Stuttgart Ultras are no exception. When it became clear that the club would move to 2G, there were some complaints and protests. Other clubs in the region playing in the lower tiers are experiencing similar problems.

Coordinated Ultra Return = No


---


Eintracht Frankfurt (at) VfL Bochum

Maximum Spectator Allowance = 22,000

Planned Capacity = 22,000

Attendance = 19,510 (88.6%)

Concept = 3G

Another surprise here as the Castroper didn't sell out. There are some ultra groups dissatisfied with the fact that the standing bleachers, under NRW protection ordinances, aren't opened up yet. One still expected the Ruhrstadion to fill to what is after all only roughly 80 percent of its capacity. The upcoming Pokal fixture against Augsburg might have played a role here as well. It's entirely possible that local supporters preferred to save their money for that.

Coordinated Ultra Return = No


---


We arrive at the section of the column where we look at the comprehensive "fan plans" across the Bundesrepublik. Note that there are some omissions this time. Since we wished to list numbers for all 16 fixtures taking place in the second round of the country's domestic cup, we didn't include each club's specific concept nor did we list the local RKI incidence rate.

Researching the plans of many clubs in the lower divisions proved very difficult. When it was not possible to directly glean information from German news sources, the existing corona-regulations of the federal states in question were inserted. As always, corrections are appreciated in the event that there exists some misinformation.

Tuesday,  October 26th

Hertha BSC (at) Preußen Münster

11,000 tickets (76.9% capacity)

RB Leipzig (at) SV Babelsberg 03

6,000 tickets (55.6% capacity)

Holstein Kiel (at) TSG 1899 Hoffenheim

15,075 tickets (50% capacity)

Schalke 04 (at) 1860 München

15,000 tickets (100% capacity)

FC Ingolstadt (at) Borussia Dortmund

67,028 tickets (82.3% capacity)

SC Freiburg (at) VfL Osnabrück

16,100 tickets (100% capacity)

Hamburger SV (at) 1. FC Nürnberg

25,000 tickets (50% capacity)

Arminia Bielefeld (at) FSV Mainz 05

24,000 tickets (72.1% capacity)

Wednesday,  October 27th

FC Union Berlin (at) Waldhof Mannheim

14,561 tickets (53.8% capacity)

FC Augsburg (at) VfL Bochum

22,000 tickets (79.7% capacity)

FC St. Pauli (at) Dynamo Dresden

16,000 tickets (50% capacity)

Karlsruher SC (at) Bayer 04 Leverkusen

29,542 tickets (97.8% capacity)

Fortuna Düsseldorf (at) Hannover 96

40,000 tickets (81.3% capacity)

Bayern München (at) Borussia Mönchengladbach

46,000 tickets (85.1% capacity)

Hansa Rostock (at) SSV Jahn Regensburg

15,210 tickets (100% capacity)

FC Köln (at) VfB Stuttgart

60,449 tickets (100% capacity)

Thanks so much for reading!

You can occasionally catch Peter on twitter, @ViceytheSS.

Twitter DMs are open for football conversations, corrections, and (if you truly insist) general abuse. 

All columns debut on Bulinews before appearing on Peter's website later in the week.



Related stories