Fantasy Bundesliga:
Must-haves and differentials for Matchday 11
By Christian Andrick
Ahead of Matchday 11, we have highlighted a must-have player (M) and a differential pick (D) from each game that you should consider for your Fantasy Bundesliga team.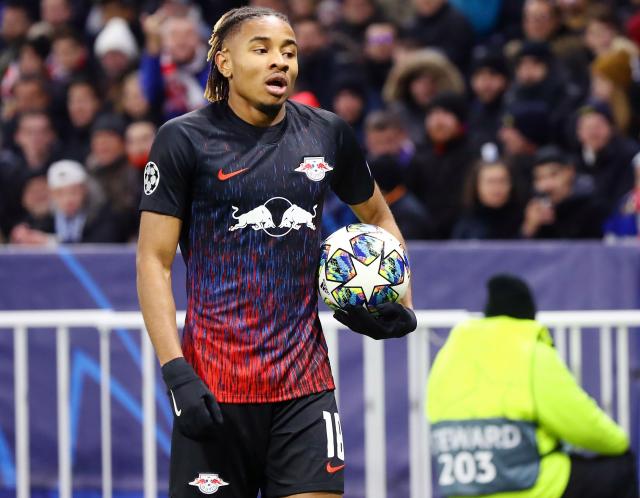 | | |
| --- | --- |
| Christopher Nkunku | Photo: GEPA Pictures/Roger Petzsche |
1. FSV Mainz 05 v. Borussia Mönchengladbach:


M: Breel Embolo, Forward (BMG, 10.5M, 4%) - It was a tale of the two wingers in Gladbach's last match against Bochum. Both Hofmann and Plea managed to get on the scoresheet in their 2-1 win. Embolo will be looking to make sure this weekend it his name in the books and his chances look very good to do so.

D: Jonathan Burkardt, Forward (M05, 7M, 2%) - Burkardt is playing his best football at the moment, scoring four times and assisting once in his last three matches. After a slow start to the season, the 21-year-old is finally rounding into the form that Mainz was hoping for as they will rely on the young German a lot this year.



VfL Wolfsburg v. FC Augsburg:

M: Wout Weghorst, Forward (WOB, 15.1M, 6%) - Weghorst will be back in the starting lineup after missing some games due to covid. He was able to get his timing down in the midweek Champions League match against Salzburg so he should be fit in his first Bundesliga start in almost a month.


D: Arne Maier, Midfielder (FCA, 5.1M, 0%) - Since working his way into the starting lineup in the beginning of October, Maier has diligently gotten better as each week has gone along. He has also taken a larger role in set pieces which resulted in an assist last week off his corner kick.

VfB Stuttgart v. DSC Arminia Bielefeld:

M: Hamadi Al Ghaddioui, Forward (VFB, 4.2M, 1%) - Both Stuttgart and Bielefled are coming off of bad losses, however, Al Ghaddioui can say he had probably his best match in months not considering the result. Playing 90 minutes while creating chances and taking shots is something that hasn't happened since August. He will have another great opportunity to improve this weekend.

D: Fabian Klos, Forward (DSC, 8M, 1%) - Stuttgart's defense has been very leaky at the moment and the Bielefeld veteran has worked his way back after a few games on the bench. There should be a few goals in this game as Bielefeld is in serious danger of falling too deep into a hole to dig out of if they don't get some results immediately.

FC Bayern München v. Sport-Club Freiburg:

M: Leroy Sane, Forward (FCB, 15.2M, 6%) - Sane has scored double digit Fantasy points in three of his last four games. At the same time, Bayern have been on a roll, scoring 14 goals in their last three league games. Sane has played much better in the Champions League but will need to put in a strong performance against an unbeaten Freiburg squad who is looking to knock them out.

D: Maximilian Eggestein, Midfielder (SCF, 7.1M, 0%) - If Freiburg have a chance against Bayern, they will need some strong play from their midfield. Eggestein is usually good for a couple goals a season but has not scored one yet for his new squad. If there was a time to do it, now would be good.

VfL Bochum 1848 v. TSG Hoffenheim:

M: Christoph Baumgartner, Midfielder (TSG, 11.7M, 2%) - Baumgartner should be back in the starting lineup for this one after missing out the last couple matchdays. It has been a productive start to the season so far with three goals to his name in eight appearances but it honestly could and should be more with his expectations.

D: Ihlas Bebou, Forward (TSG, 8M, 0%) - Bebou needs to start producing more often in games and this matchup will be one of his best opportunities of the season so far. With a brace during match week eight his only contribution so far this season, a positive showing is a must against Bochum.

RB Leipzig v. Borussia Dortmund:

M: Christopher Nkunku, Midfielder (RBL, 15.9M, 24%) - Leipzig are coming off a much better performance midweek where they almost took out PSG. Dortmund on the other hand were demolished yet again by Ajax. Expecting a much better performance from the Red Bulls and their maestro.

D: Yussuf Poulsen, Forward (RBL, 11.1M, 1%) - Poulsen has scored in each of the last two league games for Leipzig and has every chance to make that three in a row this weekend. Poulsen is starting to find his feet under Jesse Marsch.

Hertha BSC v. Bayer 04 Leverkusen:

M: Jeremie Frimpong, Defender (B04, 7.8M, 10%) - Frimpong has been a solid addition to Leverkusen and has started every single one of their league matches so far. He has three assists on the season and is getting closer to grabbing his first goal as well.

D: Lucas Alario, Forward (B04, 9.5M, 0%) - Alario should get the start again with Schick out with an ankle injury. Nowhere near as effective as he was last season, Alario could get this year turned around with a big game against a side they should beat.

1. FC Köln v. 1. FC Union Berlin:

M: Anthony Modeste, Forward (KOE, 8M, 7%) - Modeste took an impressive seven shots against Dortmund last matchday without hitting the back of the net. He scored two on four shots the week before so either way you put it, he is on a mission to make amends with the Billy Goats.

D: Sheraldo Becker, Forward (FCU, 5.6M, 0%) - Becker should get the start again with Kruse missing time. He has a goal and an assist in his last three games and makes a deadly quick duo with Awoniyi.

SpVgg Greuther Fürth v. Eintracht Frankfurt:

M: Filip Kostic, Midfielder (SGE, 15.6M, 15%) - After getting a rest from their midweek match in the Europa League, Kostic should be in great form come time for the Sunday night fixture. Kostic has yet to hit his full stride as Frankfurt are relying on him too much, drawing all defenders to him. However, he should still have a great match against Furth.

D: Aymen Barkok, Midfielder (SGE, 3.3M, 0%) - Barkok is a very dangerous player out on the wing and always brings an extra flair to the team when on the pitch. After a long injury absence, Barkok got the start midweek and can continue to work his way back into the first team.

Looking for other Fantasy Bundesliga articles ahead of Matchday 11? Check out all of our Fantasy Bundesliga tips and information here.




Related stories