Richter scores two as Dortmund humbled by Hertha
By Scott Reynolds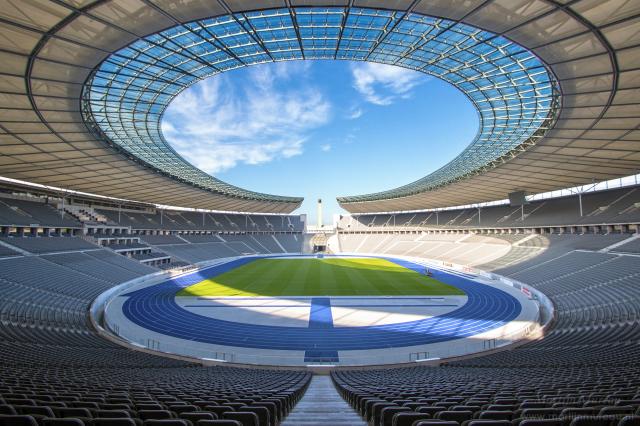 | | |
| --- | --- |
| Olympiastadion Berlin | Photo: Martijn Mureau, CC BY-SA 4.0 |
As jubilant fans filed out of the cavernous Olympiastadion into the cold, spitting rain of another dreary Berlin winter, some could be heard finding a reason to complain despite a convincing home win over Germany's incumbent second-best team.


"That's it for the title. Nine points, they'll never make that up. **** Bayern."

Hertha BSC, often ridiculed from afar in recent years for their "Big City Club" aspirations, for one night at least managed to play a significant role in the upper ranks of the Bundesliga standings-and maybe, despite the defiant stance of Dortmund's sporting director Michael Zorc, the future of Erling Haaland. The now and future king of European football could be seen standing impatiently with his hands on his hips at the centre spot hardly one second after Hertha's Marco Richter blasted home the goal to make it 3-1 for the home team-almost as if to emphasize its inevitability.

It's difficult to imagine Haaland will be looking forward to a second half of the schedule where his team has little to no chance at the Bundesliga title and has already been dispatched from the Champions League.

Though Zorc has clearly stated that Haaland will stay, one can't help but think that the man doth protest too much. If Dortmund can collect a much larger fee than they would get in the summer when his release clause kicks in, and Haaland can spend the first half of his 2022 chasing glory (instead of the Europa League and Vizemeister titles), is that not better for all parties involved? Zorc knows that this is the twilight of his control over Haaland's future, and by drawing a line in the sand about the possibility of his departure this winter, he is doing what he can to drive the price up. For teams with deep pockets, such as rumoured suitor Manchester City, the opportunity to jump the line and beat out their cash-poorer competitors could drive them to make BVB an offer so lucrative that they can't refuse. To think that Zorc doesn't know exactly what he's doing when the Sky microphone is in his face would be naive.

Zorc's counterpart at Hertha, Fredi Bobic, could similarly be credited with using the media to influence prices when he claimed after the closing of his first transfer window in Berlin that he didn't have much or any more money available, even though a bit of light research and basic arithmetic shows that Lars Windhorst's gargantuan investment in the club should leave a rough 100 million Euros laying around. The very, very public influx of cash in 2019 can not have helped Hertha in their negotiations when they gave out hellishly over-inflated fees in January 2020 for Krzysztof Piatek and Lucas Tousart; both are rumoured to be candidates to be sold at a net loss of close to 20 million. Each.


By contrast, Bobic's lesser heralded buys from this summer-each acquired for a mere seven-figure sum-were driving forces in Hetha's impressive win to close out the Hinrunde. Marco Richter scored twice; Jurgen Ekkelenkamp and Myziane Maolida were dangerous and drove offensive play throughout, with Maolida providing an assist; and Ishak Belfodil showed he still belongs in the Bundesliga by scoring a beautiful breakaway goal to bring it to 1-1 shortly after halftime.

The impact of this goal can't be overstated. The mood in the stadium going into the break was dark, with a previous Maolida goal being (inexplicably) called back for offside by VAR, and Dortmund taking the lead after a bad defensive misplay from the Berliners. Missed passes were greeted with vocal dismay by the (maximum allowed) 5000 fans present; the officials were treated to chants of "Schieber" (implying corruption or match-fixing) at every call that went against the home side. Belfodil's thrilling equalizer turned the stadium on its ear, where it stayed until the final whistle.

It must be mentioned that Dortmund was playing without key players Mats Hummels, Gregor Kobel, and Jude Bellingham.

It must equally be mentioned that Hertha was without top scorer Stevan Jovetic, their best midfielder in Suat Serdar, and best defender and captain, Belgian international Dedryck Boyata.

Almost more surprising than Hertha outscoring Dortmund was the fact that they even outshot them, 13-11. Hertha was the better team with the better chances. After their disastrous effort in Mainz earlier this week, fans of the blue and white will go into the break with a more comfortable distance from the relegation zone, as well as some optimism that the team may finally be on the upswing.

Dortmund, on the other hand, will have to deal with the anxiety of possibly losing their best player, resignation to being out of the title race even earlier than usual, and the uncomfortable question of whether Marco Rose is the right manager to bring the team forward in the coming years.

Either way, both teams can surely agree on one thing: **** Bayern.




More about the match
More about the teams