Germans abroad: Weekend Round-up
By Rafael Garrido Reinoso @RGarrido2210
Performances and player ratings of the German players abroad: Very good performances from the ones in the Premier League and Ligue 1, Toni Kroos was the only one with minutes in Spain, while the Germans in other leagues had mixed performances.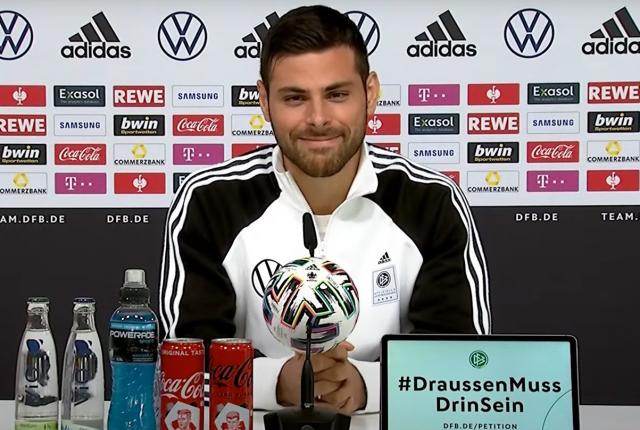 Premier League

Timo Werner
Chelsea 2-2 Wolverhampton


•Player Rating: 6.7
•90 minutes
•Had a couple of good shots

Werner performed well given the recent level the whole Chelsea squad have had since Roman Abramovich's suspension.

The forward tried to create spaces and passing options with his constant runs behind the Wolves' defense, trying to allow Lukaku to receive the ball comfortably or to attack the space left by Werner's marker.

He also did well coming down to receive the ball near the midfield at times.


Had 2 great shots saved in a good manner by the keeper, he then scored a goal, but it was ruled out for a slight foul. Missed one very clear opportunity.

Antonio Rüdiger
Chelsea 2-2 Wolverhampton

•Player Rating: 7.0
•90 minutes
•Solid in defense
•Tried to find the attackers behind the defense with long passes, but was not as accurate as usual in the build-up.

The reportedly soon-to-be Real Madrid player had a quite good game against the Wolves despite the result.

The ex-AS Roma defender provided insurance for Chelsea, closing the spaces behind the defensive line and being strong on the 1v1 duels.

He was not challenged much throughout the game and could not do much more in either goal.

Offensively he continued to be Chelsea's first passer, going long to reach either forward or Reece James' runs; Rüdiger was successful in several of these passes, but made some mistakes when being pressed.

Pascal Groß
Brighton 4-0 Manchester United

•Player rating: 8.0
•90 minute
•Scored
•Great match

Groß played a superb match as a right attacking midfielder/winger. He was very active on the pressing, trying to deny United from interior passes while constantly being aware of Matic; At times exchanging positions with the wingback March when the play demanded it.

The midfielder completed good crosses and scored a great goal after cutting down United's center defense, receiving a pass from Marc Cucurella, faking Varane, and finishing sweetly with his left foot against De Gea.

He also assisted Danny Welbeck with a very good through ball, his shot went past de Gea, but was blocked by Dalot and Trossard pushed it home.

He is gathering arguments for a shot at Die Mannschaft - and deservedly so.

Ilkay Gündogan
Manchester City 5-0 Newcastle United

•90 Minutes
•Played a great game
•Player Rating: 7.8

Gündogan occupied his usual position on the left side of the central midfield, continuing to show his great understanding with Rodri.

The German midfielder controlled the flow of the attack, he created the first goal after sending a great lob pass behind the defense to Cancelo for the Portuguese to assist Sterling.

Had a lot of time to think after receiving the ball and had a comfortable match balancing the team.

Laporte's goal came from Gündogan's second shot of the game after the German's volley was poorly blocked by the keeper.

Robin Koch

Arsenal 2-1 Leeds

•Player Rating 6.4
•90 minutes
•Bad awareness in the second goal

Paired with Diego Llorente in the central defense, The German had a regular match, suffering like the whole Leeds, especially after Ayling's sent off.

Koch had very bad positioning in the second goal, sticking very close to his teammate, not covering anyone or the spaces, and not giving a sense of safety during the match.

Offensively, he was participative with the ball, offering himself constantly and trying to break the lines, but lacked accuracy at times.

La Liga

Toni Kroos
Atletico de Madrid 1-0 Real Madrid

•Rating: 6.7
•67 minutes
•Regular to good performance

Kroos played 67 minutes in a heavily rotated and on cruise control Real Madrid against Atlético in the Madrid derby.

He was the main helm in Madrid's offensive game and was well aware defensively, closing the spaces and taking turns to press Kondogbia at times.

Kroos directed the team's offense, although he could not find the attackers in good positions often.

It was clear Los Blancos were managing efforts, thinking already of the UCL final against Liverpool.

Ligue 1

Kevin Volland
Lille 1-2 AS Monaco

•Player Rating: 7.4
•Continues with his great form
•80 Minutes

Volland continues his great season with another solid performance, visiting Lille.

The forward had a close one after his shot went a bit off, won some areal duels from long balls, and tried to be a difference maker with every ball, pushing the play forward at all times.

He tended to drop to the left side of the attack to link up with Golovin and Caio Henrique or to attack the half-spaces of that side.

Had good ideas with through balls and crosses, but didn't materialize.

Off in the 80th minute after a quiet second half.

Alexander Nübel
Lille 1-2 AS Monaco

•Player Rating 6.6
•90 minutes
•4 saves

The German keeper just was challenged once with a save in the first half, then just a spectator even in the goal.

Ismail Jakobs
Lille 1-2 AS Monaco

•Player Rating: 6.8
•Entered at the 56th minute
•Good presence and movements

Jakobs entered for Golovin in the 56th minute and acted as a left midfielder, although he had the role of a double full-back along with Caio Henrique at times.

Good presence by the youngster, showed a lot of will and was very active, launching forward every time he could, attacking the space and challenging the defender in the 1-vs-1 situations.

Swung in a couple of crosses, but could not find a receiver.

Jerome Boateng
Metz 3-2 Lyon

•Player Rating 5.9
•45 minutes
•Poor game

Once more substituted early, this time at half-time as a part of a four-man substitution window made by Peter Bosz.

Boateng hasn't been able to improve his form in the second half of the season. He was very good on the ball, but continues to be a liability in the defensive transition or whenever he has to rely on speed to close spaces or anticipate passes.

Serie A

Koray Günter
Verona 1-3 AC Milan

•Player Rating: 6.5
•90 minutes
•Battled with Giroud

Günter performed at the center of the 3-man defense again and battled with Giroud throughout the match.

The central defender stuck close to the Frenchman, stepping up with him when the French came down to receive and fought and won several aerial duels against the forward, but could not totally control him.

Like the whole Verona team, he was slow in the defensive transition to stop the counter-attack that led to the second goal and seemed to lose focus after it, appearing to be tuned out at times.

Nadiem Amiri
Genoa 2-1 Juventus

•Player Rating 7.0
•90 minutes
•Good performance, assisted the first goal.

Amiri helped Genoa to live to fight another day by surprisingly beating Juventus 2-1 at home.

The midfielder was isolated most of the match, Genoa's lack of ball control continues to harm the loan player, as he and Destro are left alone in the offensive transitions and have to wait for the arrival of the rest of the midfielders.

He tried to push and produce opportunities for some runs with the ball, but was dispossessed.

Amiri assisted Gudmundsson with a beautiful through ball; minutes later he threw away an incredibly clear chance to score the tying goal by shooting straight at Szczezny's body.

Eredivisie

Mario Götze
Feyenoord 2-2 PSV

•Player Rating: 7.0
•90 minutes
•Good match

Götze produced some good combinations that ended up being good opportunities for PSV.

He was active during the match and acted as a link to organize the offensive transition, doing more damage when dropping a bit to the left and exploiting the space in the pocket.

He was booked in the last minute after protesting heavily against the penalty awarded to Feyenoord.

Phillip Max
Feyenoord 2-2 PSV

•Player Rating: 6.8
•90 minutes

Max was not playing his best game. He was easily dribbled past before the first goal. Offensively, he was his usual self, but could not be decisive.

Liga NOS
Julian Weigl
Benfica 0-1 Porto

•Player Rating: 6.9
•90 minutes
•Good performance in a very hard fought match

Weigl completed the game and was superb with his passes, extending Benfica's possessions and dropping in between the centre-backs.

The holding midfielder was strong in the duels, winning half of them, and was booked in the 85th minute.



Related stories