Germans abroad: Weekend Round-up
By Rafael Garrido Reinoso @RGarrido2210
Player ratings and performances of the German legion abroad: With most leagues reaching the second to last fixtures, a lot of teams elected to rotate their squad.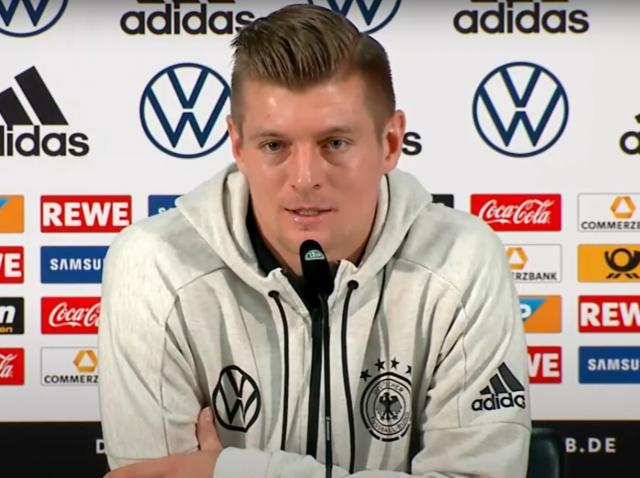 Premier League

Antonio Rüdiger
Chelsea 2-2 Wolverhampton


•Player Rating: 7.2
•120 minutes
•Very solid in defense
•Canceled every Liverpool attacker down his side

Rüdiger performed solidly throughout the final despite Chelsea's loss on penalties.
The German defender handled Mo Salah perfectly the few minutes the Egyptian was on the pitch and proceeded to cancel most of the 1vs1 proposed against him.

It is true that Liverpool heavily charged their attacks through their left flank, but the starting centre-back for Die Mannschaft was very aware during the match to close up the space, as well as stepping up well to press any Liverpool player that tried to position himself in the half-spaces.

Rüdiger was very accurate as usual with his passes, connecting well with long launches.


Pascal Groß
Leeds 1-1 Brighton

•Player rating: 6.8
•90 minute
•Had some difficulties getting the pace of the match

Groß continues to play a crucial role in Graham Potter's squad.

The midfielder, whose future is still unclear, performed again as a right attacking midfielder with some particular directions for the very even match.

The midfielder linked recently with Werder Bremen jumped quickly to press Leeds defenders during the first half. In the second half and with the 0-1 lead in hand, Groß moved down to form a 3-man midfield line.

Offensively, The German tried to occupy and take advantage of the spaces between the lines, not trying to stretch Leeds' defense, leaving that role for March's runs.

Instead, Groß intended to help the construction of the play, but was not as influential to the game as he usually is.

Robin Koch
Leeds 1-1 Brighton

•Player Rating 6.7
•67 minutes
•Played as a right-back

Jesse Marsch elected to change his team's display and lined a 4-3-3 with Koch as a right-back.

The ex-Freiburg player did ok despite not playing in his preferred position, providing the team with width and being very safe with his passes.

He performed a very good tackle when Alexis Macallister was about to shoot right in front of Meslier.

Lacked offensive runs, although they were not his main task.

Vitaly Janelt
Everton 2-3 Brentford

•Rating: 6.6
•45 minutes

Janelt started on the bench for the second fixture in a row, coming in at the start of the second half and acting as a left centre-back in a line of three.

Was not in his usual place, but seemed comfortable enough to do the job, had to limit his usual runs forward, but took good decisions with the ball and give width to the team offensively while maintaining awareness on the defensive side.

La Liga

Toni Kroos
Cadiz 1-1 Real Madrid

•Rating: 7.2
•90 minutes
•Good performance

Toni Kroos and Real Madrid continue with their own little pre-match preparation for the Champions League final.

The 2014 World Cup champion played the full match and did it so in his usual position and manner and at a good level without much effort.

Ligue 1

Kevin Volland
AS Monaco 4-2 Stade Brestois 29

•Player Rating: 7.8
•Scored and assisted
•90 Minutes

Volland keeps on with his great 21-22 season, this time helping Monaco to turn around a 0-2 deficit to keep his team in the UCL spot just in front of Marseille.

The German assisted Ben Yedder for the tying goal and scored the definitive 4-2 after quickly taking advantage of a bad block by Brest's keeper, beating the defender to tap it in.

Alexander Nübel
AS Monaco 4-2 Stade Brestois 29

•Player Rating 6.5
•90 minutes
•3 saves

The German keeper made 3 good saves, but was left completely helpless when the first goal was scored. As for the second one, Monaco's defense weas completely asleep again, but Nübel could have done more to close down the shooter as the shot was taken from inside the goal area.

Ismail Jakobs
AS Monaco 4-2 Stade Brestois 29

•Player Rating: 7.0
•34 minutes
•Good performance

Jakobs continues with his recent dynamic, coming in as a substitute in the second half and giving Monaco another gear down the flank.

A cross from him led to Volland's goal.

Jerome Boateng
Lyon 3-2 Nantes

•Player Rating 6.2
•27 minutes

Nothing too relevant to say about his performance, had no role in any of the two goals and was not challenged too much.

Thilo Kehrer
Montpellier 0-4 PSG

•Player Rating: 7.4
•Good match as a right-back for Kehrer, certainly good for him to enjoy minutes before the Nations League

Kehrer acted as a right-back, although he moved through the inner halls, leaving the flank for Di Maria, acting in a similar manner to a three-man line in the build-up, but going forward with certain freedom at times.

Serie A

Koray Günter
Verona 1-3 AC Milan

•Player Rating: 6.2
•45 minutes
•Once again substituted due to a yellow card

For the third time in recent weeks, the central defender was substituted at the start of the second half after being booked very early in the game.

Nadiem Amiri
Napoli 3-0 Genoa

•Player Rating 6.7
•90 minutes
•Relegated

With Genoa and Amiri officially relegated to the Serie B, we'll see what the future holds for the Bayer Leverkusen midfielder.

During the game, he did what he could; trying to participate actively in the offensive phase.

On defense, Amiri tried to cut Napoli's first build-up passes, but could not do much more to prevent his team's destiny.



Related stories