Svenja Huth named squad captain for Germany's Euro opener
By Peter Weis @PeterVicey
German Women's national team trainer Martina Voss Tecklenburg has named Svenja Huth squad captain for Friday's European Championship Group Stage opener against Denmark.

Huth and teenage phenom Jule Brand answered questions ahead of the tournament at a Monday presser in London's Brentford district. 

The German women's team remains riddled with question marks and has much to prove after not winning a major tournament since 2016.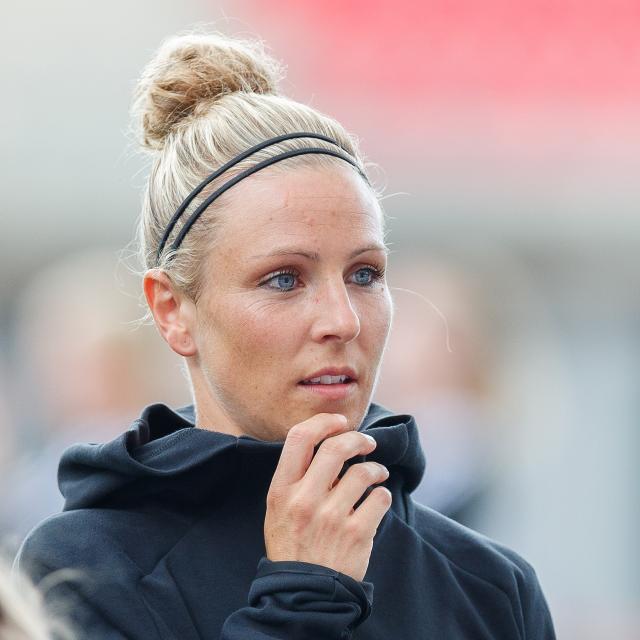 | | |
| --- | --- |
| VfL Wolfsburg attacker Svenja Huth | Photo: Wikimedia Commons, Steffen Prößdorf, CC-BY-SA 4.0 |
While it remains unclear as to whether normal team captain Alexandra Popp will be available for the German Women's National Team's opener on Friday, the squad's normal skipper will cede her armband to VfL Wolfsburg teammate Svenja Huth for the time being. This was confirmed at a Monday press conference at Brentford's London facilities on Monday.


Popp--Germany's most experienced player at the tournament with 114 total caps--has seen her rehab from a knee injury further delayed by a case of COVID. Absent since the latter stages of the season, Huth and PSG attacking midfielder Sara Däbritz have been taking turns wearing Popp's armband in recent weeks. 

"I want to lead the way on and off the pitch and do my part to help us achieve our goals," Huth noted at the presser, "I also want to take the pressure off some of the younger players. We need to bring the hype back to Germany." 

Interest in the "Frauennationalmannschaft" remains high in the Bundesrepublik, though optimism about the team's prospects in the competition remains somewhat scarce. The German Women have not won a World Championship since their back-to-back titles in 2003 and 2007. 

Once the undisputed "Queens of Europe", the DFB-Frauen saw their long reign of six consecutive European Championships come to an end in the last Euros, captured by the hosting Dutch. The Germans were actually ousted in the upcoming quarterfinals by their upcoming opponents Denmark in 2017. 

Former long-time national team trainer Silvia Neid led the team to their first ever Olympic Gold Medal in 2016 in her final major tournament. After Neid's retirement, the tenure of popular former national team player Steffi Jones was abruptly cut short not long before the 2019 World Cup. 


Some argue that Jones' dismissal so close to the tournament didn't give successor Martina Voss-Tecklenburg enough time to put together a coherent concept in time for the summer tournament in France. The German women were eliminated in the quarters by Sweden, thereby missing the 2020 Olympics. 

Voss-Tecklenburg's charges have, in point of fact, not looked very coherent in their most recent fixtures. They made a rather poor showing in a recent England-hosted invitational in February and dropped a recent World Cup qualifying fixture against Serbia. 

The German Women enter the forthcoming tournament without key players Dzensifer Marozsan (injured) and Melanie Leupholz (pregnancy leave). Popp's injury causes former problems, as does Marina Hegering's fitness issues in Voss-Tecklenburg's notoriously thin central defense corps. 

Few tap the Germans as favorites in this tournament; something that would have been unthinkable at most any of the previous Women's Euros. The team does have several budding young stars in addition to reliable veterans such as Huth, Däbritz, Lina Magull and Linda Dallman. 

Exciting young players who have actually already proven themselves on this level include Giula Gwinn, Klara Bühl, Laura Freigang, Lea Schüller, and Tabea Waßmuth. Twenty-year-old midfielder Lena Oberdorf happens to be an immensely impressive player whom many believe can carry this team despite her young age.

Oberdorf is one of eight players on this team from the domestic-double-winning VfL Wolfsburg. The powerhouse "She-Wolves" have often formed the backbone of this team, perhaps the biggest reason why Huth was selected over Däbritz as the de-facto squad captain.

A player even younger than Oberdorf stood by Huth's side at the presser. Nineteen-year-old attacker Jule Brand of TSG Hoffenheim has scored 12 goals and chipped in 10 assists for club and country across all competitions this season. She could be thrown in the starting XI on Friday as well.

"It's a dream come true for me to be here, I've been dreaming of this since I was a kid," Brand remarked at the presser, "I'm nervous within reason. This is a significant platform for us female players. We can show that we can play and that women's football is an attractive sport."



More about the match