Farke talks tactics and comments on Weigl rumors: "Our financial options are limited."
By Peter Weis @PeterVicey
New Borussia Mönchengladbach trainer Daniel Farke didn't deny his need for a more defensively minded player in the six slot at a Thursday presser.

As to whether the foals could hope to acquire former German international Julian Weigl, the BMG head-coach acknowledged that securing a loan deal would be difficult.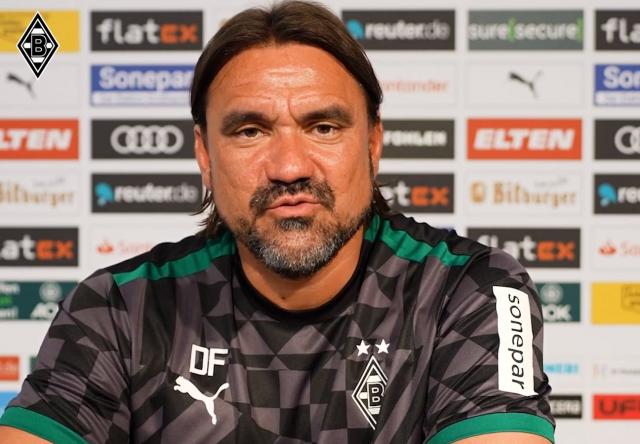 Daniel Farke earned plaudits in most German footballing circles for his successful tactical set-up in the opening day victory over Hoffenheim. Missing captain Lars Stindl due to injury, Farke brought in Manu Kouadio Koné to work together with Christoph Kramer in a double-six set-up. Florian Neuhaus moved up to serve as the ten in a 4-2-3-1.


The lively Koné covered quite a bit of ground and was widely regarded to be one of the best Bundesliga performers of the opening round. Speaking at a Thursday presser, Farke acknowledged that the 21-year-old Frenchman had proven a decisive factor.

"I'm glad that Manu Koné went the full 90 minutes and played an outstanding game," Farke noted, "but in general it's not an ideal solution to have a player on the field right away in the first game without much preparation. Our alternatives there aren't that broad. Another player for that position would do us good."

The rumors cropping up at the beginning of the week that former Dortmund man Julian Weigl might be headed over to Germany's other West Prussian club on loan seemed almost too perfect to be true. Farke, once a BVB II trainer, likely remains intimately familiar with Weigl's abilities as a defensive midfielder at the top of his game.

The foals certainly need a defensive-minded midfielder in the medium term. Kramer, Koné, and Neuhaus are more natural eights. A holding anchor capable of helping out the team's new central defensive pairing would be most desirable.

"We don't comment on names," Farke said when asked specifically about the Weigl rumors, also adding "Our financial options are limited."


Since resurrecting his playing career at Benfica Lisbon, Weigl has congenitally been linked with a return to the Bundesliga. The latest on Weigl nevertheless holds that several other European clubs have interest, not to mention deep pockets, to potentially pay for the €22-million-valued player outright.

A loan truly seems like the only way Roland Virkus and the Gladbach administrative team can swing Weigl's obtainment. Virkus and company were able to achieve a slender positive transfer balance of plus €7 million this summer, but that barely makes a dent in the organizations net revenue losses caused by ill-timed over leveraging just ahead of the global pandemic.

Farke still stated his case to all listening for help both in defensive midfield and in the attack as the presser wound down.

"After Stindl's injury, we had to push Florian Neuhaus into the more offensive position after he played more defensively for the whole of training camp," the coach noted," If you look at our offensive positions, the forwards, the wingers, or even Lars Stindl's key position, one or two offensive alternatives would look good to us. That we still need to strengthen our squad is absolutely clear."



Related stories