Matarazzo and Mislintat lament decisive defensive breakdown in loss to Freiburg
By Peter Vice @ViceytheSS
VfB Stuttgart trainer Pellegrino Matarazzo was left to lament the fact that, despite his specific call for attentiveness, his defense ranks ended up conceding another early goal on Saturday. 

An early meltdown that began with some bad decision making ended up proving the difference in the 0-1 loss to Freiburg. 

Matarazzo and Mislintat spoke on the fixtures lone-goal after the full-time whistle.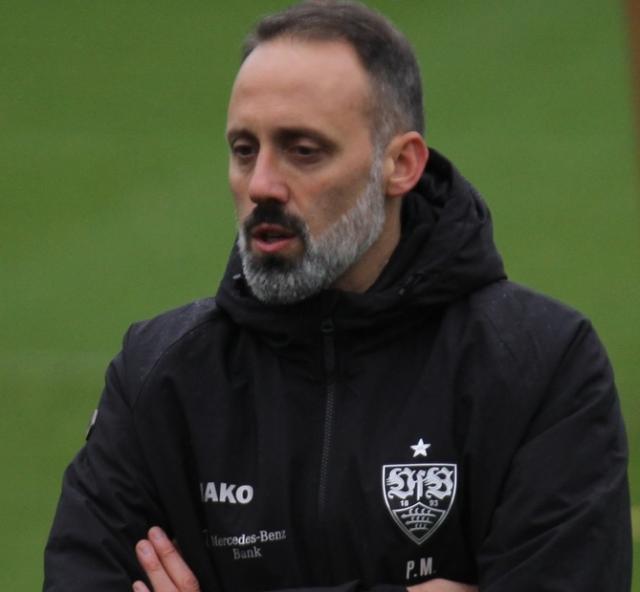 | | |
| --- | --- |
| Pellegrino Matarazzo. | Photo: Jeollo, Vfb-exklusiv.de, CC BY-SA 3.0 |
The ever-affable Christian Streich was sure to pass his compliments onto opponents VfB Stuttgart after his visiting Breisgauer eked out a 1-0 victory at the Mercedes Benz Arena in Stuttgart on Saturday. Streich conceded that his team hadn't played its best game and labelled the win "a bit lucky".


For VfB Stuttgart trainer Pellegrino Matarazzo and club sporting director Sven Mislintat, questions about the defeat centered around recurrent defensive problems. The Swabians have now conceded an early goal in all three of their 2022/23 Bundesliga fixtures. What happened against Leipzig and Bremen repeated against Freiburg.

In what would end up being the decisive scene during the game's lone goal, three Stuttgart starters did not look good at all. Waldemar Anton opted to lay off a Kiliann Sildillia cross. Joshua Vagnoman and Kostas Mavropanos then permitted Vincenzo Grifo to split their ranks far too easily.

"We didn't defend that situation cleanly at all," Mislintat remarked when standing at the Sky mics after the match," that has to be said quite clearly. This Freiburg side knows how to hit good crosses, occupy spaces well, run through to the second post. That's one of their greatest strengths."

Head coach Matarazzo, asked if his pre-match call for "Maximum [defensive] attentiveness" had not been heeded, related the scene more to mistakes decision-making.

"Waldi [Anton's] choice let the ball go through. It was more of a decision-making error," Matarazzo noted, "It has nothing to do with our attentiveness. We certainly didn't always make the right decisions today."


It's possible that Matarazzo was not only referring to his defenders, but also the manner in which the VfB attack consistently lacked structure and possibly to even some of his own personnel decisions. Despite being the better team for much of the second-half, the Swabians simply weren't able to generate enough quality in front of goal.

"In the second half, I only saw one team play," Mislintat added, "We also stabilized near the end of the first half. We finished 15th last year and Freiburg play internationally [as part of their qualification for the Europa League}. It didn't look like there was a big difference between the teams today."

Mislintat was offered a chance to comment on a controversial refereeing decision near the end of the fixture. Match official Dr. Felix Brych could have awarded Stuttgart a handball penalty when Nicolas Höfler touched a ball in the box in the 82nd. Instead, Brych opted to call an offensive foul on VfB substitute Luca Pfeiffer for a light shove in the back.

Mislintat appeared very angry on the sidelines, yet sidestepped the question in his interview.

"I'll bite my tongue there," the club executive noted.



More about the match
More about the teams