Bobic speaks on final days of transfer window: "The market is crazy right now."
By Peter Weis @PeterVicey
Speaking to Steffen Rohr of German footballing magazine Kicker, Hertha sporting CEO Fredi Bobic discussed the challenges up wrapping up his roster before the summer transfer window slams shut in seven days time.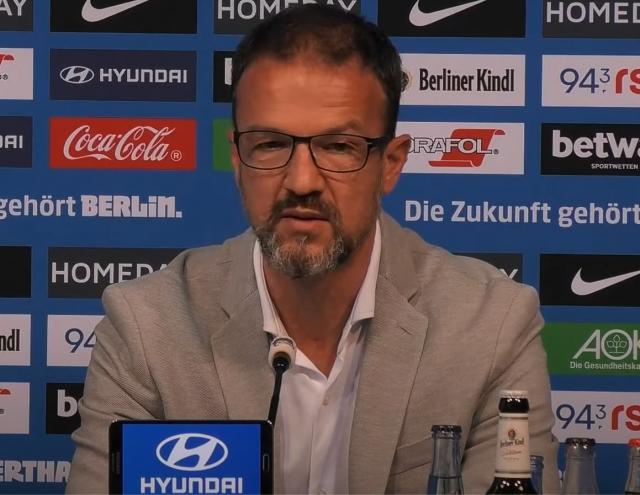 The question as to whether Hertha BSC will be looking to add or subtract players from their roster at the tail end of the transfer window definitely tends towards the latter. The capital city's Charlottenburg side currently sports a 34-man-roster; the largest in the Bundesliga and far too bloated a payroll for a club not competing in the European club competitions.


The quest to find a taker for Polish striker Krzysztof Piatek continues. Ostensibly, Hertha chief sporting executive Frei Bobic would be willing listen to offers for Davie Selke, Stevan Jovetic, and Myziane Maolida if anyone expressed interest. When conducting an interview with German footballing magazine Kicker, Bobic was still asked about the additions, rather than subtractions, he wished to make.

The Charlottenburgers have an acute need for extra bodies in central defense. Moreover, the incident leading to the presumed release of backup keeper Rune Jarstein leaves the squad in need of a new, experienced #2 between the sticks. Bobic tried to temper expectations when speaking to journalist Steffen Rohr.

"The market is very crazy right now," Bobic noted, "There's an incredible number of players on offer. If you say you're thinking about filling one position or another, you'll get a hundred players on offer. It's nuts."

"We're looking around at that position," Bobic said of the keeper search, "We're currently weighing options on the market as to which goalkeeper might be the best fit: a younger or an experienced one. We'll see if we can come up with something by September 1st. If it doesn't fit, it doesn't fir. But we're confident we'll complete that."

The need in central defense quickly becomes more glaring. Even after starter Filip Uremovic serves his one-game suspension this weekend, the newly acquired Croat may be out for some time after sustaining and injury in training.


Youngsters Marton Dardai and Linusn Gechter can fill in for the time being. In his Thursday presser, head-coach Sandro Schwarz seemed to suggest that Gechter would get the nod against Dortmund this weekend.

"Of course, we're thinking about maybe doing something - but not out of panic," Bobic said in response to the CB situation "You don't have to bring in a new player right away. If we can improve our squad and it makes sense, we will do something - if not, not. At the end of the day, the coach has a good selection."

Despite losing to Borussia Mönchengladbach in their most recent league encounter, the Hertheraner did win praise in some footballing circles for a spry first half against the foals. Sandro Schwarz's had their bright spots in the opening 45 against Eintracht Frankfurt in round two as well. 

Hertha kick off against the BVB at home Saturday at 15:30.



More about Hertha BSC