Konrad Laimer, The Pressing Machine
By Rafael Garrido Reinoso @RGarrido2210
Earlier this month, RB Leipzig announced that one of their best players, Konrad Laimer, will be out longer than expected with an ankle injury.

The Austrian is not only a key part of Die Roten Bullen, but is getting closer and closer to the elite and has earned the interest of the best clubs in the world.

But what makes him so wanted by other clubs?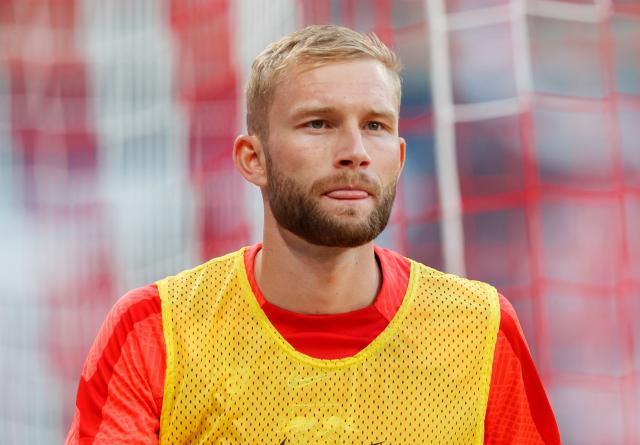 | | |
| --- | --- |
| Konrad Laimer. | Photo: Steffen Prößdorf, CC BY-SA 4.0 |
Developing into a top-level player


Laimer has skyrocketed with his performances at Leipzig, and having turned just 25 years of age, he's getting closer to his prime.

If we check his numbers, Laimer is among the best players in Europe's top 5 leagues defensively.

He's the player with the most pressures, most successful pressures, and pressures in the mid-third the last year.

He's also incredibly high in pressures in attacking and defensive thirds, dribbles contested, and tackles.

Laimer's motor and verticality make him an extremely useful player in a variety of schemes.


The Austrian is well sounded with his passes, although he is sometimes too ambitious on his mission of breaking the lines by finding a progressive pass, and it's a force during both transitions.

His verticality also allows him to finish a lot of plays, whether it be shooting or crossing the ball, and attack spaces down the flanks.


The perfect fit

The Austrian's role with Die Roten Bullen fits perfectly with his characteristics.

The high pressing and his partnership with Kampl give Laimer the freedom to be the defensive disruptor.

The environment the Red Bull style makes for him it's ideal, helping Laimer to play at the peak of his abilities and boost his stats as a consequence.

Either playing in a double 6 or in the midfield diamond, he's always playing the role of the hunting dog.

Always first to press when the possession is lost, always going for the 50-50 challenges, he is the one that tries to disrupt the opponent's attacks wherever they're taking place.

However, if Leipzig are not organized well enough and he isn't joined in the pressing process, Die Roten Bullen can suffer if Laimer fails to retrieve the ball.


Not only a defensive player

Every statistic must be seen through the right lens.

As mentioned, Laimer surely wouldn't have such high stats if he was playing with a team that sit deep; his skills and traits would be there, but not the stats.

The same goes for the offensive ones, Laimer sits in very high percentiles when it comes to carries into the penalty area, crosses into the penalty box, assists, dribbles, and goal-creating actions.

The Austrian provides a good set of offensive traits, he's capable with the ball, very good at breaking lines with his dribbles, and looks to finish the plays.

On the downside, his passing is not top-level, his vision is limited, and Laimer isn't really a creative master.

His offensive statistics are attached to his traits, positioning, and Leipzig's football.

The fact that Laimer regains the possession of the ball high quite often, that Leipzig intend to play very quick offensive transitions that allow him to carry the ball forward, and his ability to attack the spaces are all factors that contribute to his numbers.


Summer saga and links to FC Bayern

Bayern coach Julian Nagelsmann has failed to prove the worth of the signings from his ex-team.

Dayot Upamecano and Marcel Sabitzer haven't lived up to the expectations and the level required to play in the elite, whether it be due to a lack of fit in the scheme and style or due to their personal performances.

But the signing of Laimer certainly would have been a great addition for Der Rekordmeister, as the fit is great and the team have showed a lack of intensity and presence in the midfield.

Bayern are lacking that midfield dynamo that presses and is able to reach both boxes, as Leon Goretzka is still returning from injury and Nagelsmann seems to think Gravenberch is still not there yet. In addition, the Austrian midfielder is a bit more versatile with his movements than the two current FC Bayern players.

His pairing with Kimmich should work very well, as Laimer's physical display should allow one of the best CM's in world football to keep a more positional role and be more effective when jumping out to press.

However, with his contract running out next summer and the interest for other world-class clubs like Liverpool, it's safe to say Bayern need to move quick if they want to secure the signing of Laimer.

Despite his recent injury, one shouldn't worry about if Laimer will return to his best form; He is in no rush to do so as we're getting closer and closer to the World Cup, meaning he'll have almost two months without Leipzig competing.

Next summer should be a decisive one in Konrad Laimer's career, and there will surely be a battle for his services.



More about Konrad Laimer
More about RB Leipzig