Bochum issue statement on altercation between Riemann and fans
By Peter Weis @PeterVicey
VfL Bochum trainer Thomas Letsch admitted that keeper Manuel Riemann "didn't make the best decision" when on the pitch when it came to a crucial goal that helped Stuttgart secure a two-goal-advantage. 

The club itself, meanwhile, has taken a clear stance on the fans that heckled Riemann toward the end of the match; badgering that ultimately caused sent Riemann into the stands after the full-time whistle.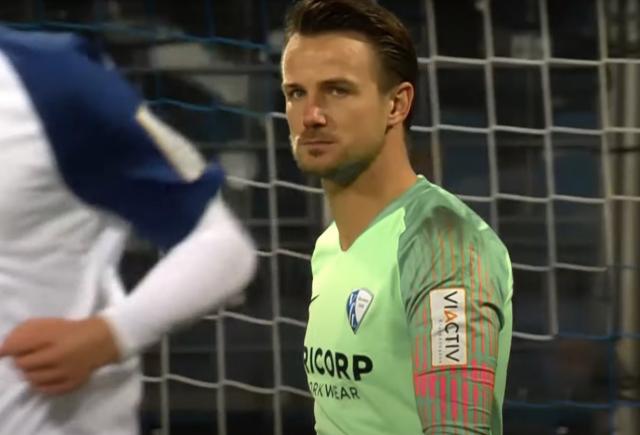 VfL Bochum had just equalized in a crucial home relegation six-pointer against VfB Stuttgart when the wheels suddenly came off. Less than two minutes after Kevin Stöger drew the Westphalians level 1-1 from the spot in the 58th, Manuel Riemann was beaten directly by Serhou Guirassy for the 2-1. Three minutes after that, Riemann made a questionable decision coming out to meet an Enzo Millot cross. Riemann flapped past the service. Josha Vagnoman polished off the 3-1.


"Manu [Riemann] decides to come out," Letsch conceded later in his post-match interview with German broadcaster DAZN, "It wasn't the best decision "We gave the game away within five minutes. We weren't on the ball in the decisive moments."

Riemann had to endure persistent heckling from the disappointed fan block over the course of the final half-hour. The keeper actually ended up entering the stands to directly confront the fans afterwards. VfL striker Philipp Hofmann - who did pull a goal back late on for the Revierklub - went in behind Riemann as back-up.

"I joined in afterwards," Hofmann noted afterwards "I wanted to back the boys up because something like that just doesn't belong, because we still have everything in our own hands. There's no point in being abusive or insulting now."

On a statement published on the club's website later in the evening, Bochum condemned the behavior of the fan block. The statement cites "clearly violated boundaries" and expressed support for Riemann having to endure "massive and intolerable verbal abuse."

The club also noted that a detailed investigation of the incident was still pending. The keeper could still face an internal fine.



Es geht nur gemeinsam!🤝🔵⚪️

Unser Statement nach #BOCVfB und zur Auseinandersetzung nach Abpfiff.https://t.co/qf2DjqqWMy

— VfL Bochum 1848 (@VfLBochum1848eV) April 9, 2023
More about the match
More about the teams