Hertha after crucial win:
"We're still alive as a team."
By Peter Weis @PeterVicey
Florian Niederlechner certainly picked the perfect time to finally open his Hertha BSC goal-scoring account on Saturday afternoon. 

The oft-criticized striker offered up measured words afterwards, as did fellow goal-scorer Marc Oliver Kempf and Hertha trainer Pal Dardai.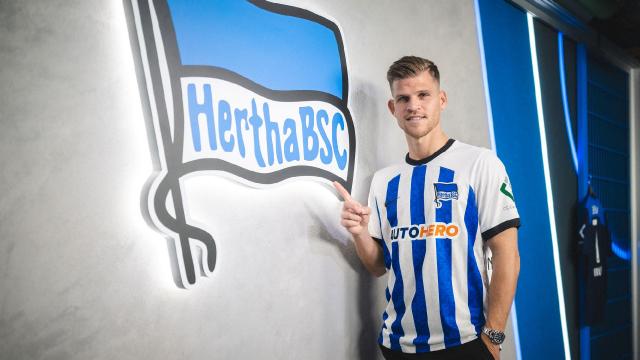 Photo: City-Press GmbH/Hertha BSC

The mood, while jovial, was still somewhat restrained at the Olympiastadion on Saturday afternoon. Berlin's Charlottenburg capital city side saved themselves from what would have almost certainly been all-but-statistical relegation with a surprise 2-1 win over visiting VfB Stuttgart.


Defender Marc Oliver Kempf opened up the scoring with his first goal of the season, coming against his former club no less. At long last, much-maligned January acquisition Florian Niederlechner finally scored for his new club. A delicately executed deflection ended up being the match winner.

"[This result] brings with it enormous strength and encouragement," Niederlechner remarked in his post-match interview with Sky Germany afterwards, "How we performed today and how we performed last week against Bayern. That's how one is supposed to perform in a relegation battle."

Both goal-scorers also noted that, still in last-place, Hertha certainly still had their work cut out for them. Trainer Pal Dardai referenced next week's league fixture against Köln, saying "we can talk after that."

"The situation hasn't necessarily become that much better," Kempf remarked in his post-match interview, "It's only three points. We've managed to turn the rudder around and give ourselves a chance in the final three games. We did show that we're still alive as a team."

Whilst Dardai insisted that "what's to come" must take precedence over what just transpired, Niederlechner offered up a battle cry for the Köln fixture to take place next Friday night. Hertha can draw level with Bochum on 28 points with a win against a Geißböcke side now officially safe from relegation.

If Bochum lose against an Augsburg side still playing for safety, Hertha can even pull themselves off the bottom.

"Everyone knows that if we get three points, we're right back up there," Niederlechner noted.



More about the match
More about the teams