Americans in the Bundesliga:
Four actors receive sections in week 32
By Peter Weis @PeterVicey
The Bulinews "Americans" deep scout feature returns with four sections covering the 2022/23 German Bundesliga's antepenultimate matchday. Gio Reyna and Jordan Pefok receive ungraded sections for late relief work before we assess John Anthony Brooks and trainer Pellegrino Matarazzo.

The absences of Kevin Paredes, Joe Scally, and Paxten Aaronson are explained in the introductory paragraphs. Now ex-Hoffenheim prospect Justin Che also gets a mention.

There's no shortage of interesting things to talk about when it comes to the Americans of Germany's top footballing flight, so do come along for the latest look.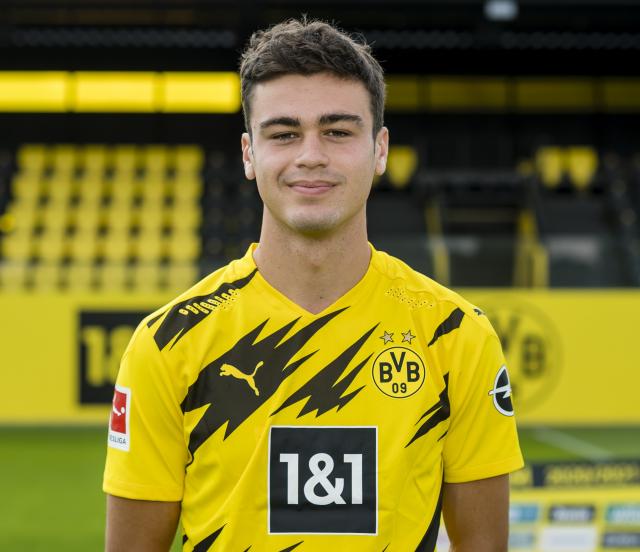 | | |
| --- | --- |
| Giovanni Reyna. | Photo: Borussia Dortmund |
The latest edition of our "Americans in the Bundesliga" deep-scout leads with two ungraded sections. Giovanni Reyna and Jordan Pefok both factored into their respective team's victories with seeing enough total involvement to receive grades. Reyna even got his name on the scoresheet, both in a positive and negative sense. John Anthony Brooks and his American trainer earn graded sections after Reyna and Jordan are addressed.


Much to the chagrin of German league watchers, the rising Paxten Aaronson didn't log any meaningful minutes for Eintracht Frankfurt this time. The Philadelphia Union academy product only entered for the final five minutes of the SGE's 3-0 win over Mainz, putting in some mop-up work alongside fellow U.S. international (and column-favorite) Timmy Chandler.

Kevin Paredes - after a suspect outing last week - went unused on the VfL Wolfsburg bench. The same applied to Borussia Mönchengladbach's Joe Scally, who forfeited his spot in the BMG starting XI to Stefan Lainer for the third consecutive match. Some fairly big news coming out of Sinsheim this week as it was revealed that the Kraichgauer have given up on young defensive prospect Justin Che.

The 19-year-old heads back to FC Dallas.

Giovanni Reyna, Borussia Dortmund

Minutes played = 21/90, Positions played = LW, RW

Grade = N/A

In a normal match, Gio's latest relief shift would have certainly merited a graded section. The "American Dream" scored his seventh league goal of the season in Dortmund's 5-2 victory over Borussia Mönchengladbach last Saturday night. Reyna also happened to be the BVB actor responsible for conceding the 75th-minute that allowed Gladbach a way back into the match. All told, our subject here recorded three shots, 20 touches, and six sprints.


Reyna remained active on both flanks during most every attack charge for his club, connected with all of his passes, and won all but one of his ground duels. It counted as a spirited performance for the underutilized American performer near the end of what has been another frustratingly difficult season for him. The columnist considered ascribing marks merely as a signal of respect toward him. On balance, however, Dortmund-Gladbach at the stage of Gio's entry could hardly be described as "normal".

The match basically wasn't being played with the proper amount of competitive intensity at that juncture. Gio didn't have much of a press to contend with and was permitted to roam about largely unchallenged. The seventh league goal of the season maintains some significance in that Reyna is now tied with Youssoufa Moukoko and Sebastien Haller for third place on the club's scoring chart. Donyell Malen, Julian Brandt, and Jude Bellingham are the three ahead of him, and - as it turns out - the real reason Reyna isn't playing much.

It shall prove most interesting to see what occurs with Gio this offseason. Surely, he, his family, and his representation can't be pleased with this situation. When it comes to transfer rumors, however, there isn't so much as a whisper involving this American. Very strange considering the fact that he's gifted enough to start for just about any other Bundesliga team outside of Bayern, not to mention even a Premiership side or two. The whole post-World Cup media fiasco must have really damaged his brand.

The columnist - who won't stop rooting for all the players covered in this now nearly four-year-long-project - probably has to acknowledge the fact that the way Reyna's family got involved in the shouting match this past winter constitutes the real reason he's been semi-blacklisted. Not fun words to type at all considering what a big fan of Claudio and Danielle the writer is. A simple fact of life remains the fact that overly-protective and defensive families sometimes get in the way of their own progeny.

Sometimes kids really need to fend (and learn) for themselves.

Jordan Siebatcheu, 1. FC Union Berlin

Minutes played = 28/90, Positions played = LS

Grade = N/A

Our second ungraded section covers the work of Jordan in what was unquestionably the most exciting match of last weekend. This American's stats aren't too terribly impressive. He only accrued a dozen touches, won just two of his eight ground duels, and lost all four of his battles in the air. It wasn't anywhere near as relevant enough of a showing to merit a grade. Moreover, the player would probably prefer to forget most of what transpired on the pitch. There does exist one exception.

Jordan initiated the counterattack that led to Aïssa Laïdouni's decisive fourth Union goal. The D.C. native won a ball spectacularly deep in his own are before sending Sheraldo Becker on his way. The sequence counted as one of those cases in which an additional assist credit should have been added. Perhaps we'll get there in football some day. With this exceptional piece of work noted, our subject here looks to maintain his place on the bench for the final two round of the season.

Nothing much else to report here.

John Anthony Brooks, TSG 1899 Hoffenheim

Minutes played = 90/90, Positions played = CB

Grade = A-

The baffling number of missed opportunities from this relegation-threatened side found some mention in the tactics column. Our subject here miffed up three clear chances in the latest match: A poor wide finish off a corner in the 41st, a decent (yet easily blocked) first-time boot outside the box in the 50th. and a very poor header over the bar off a corner in the 89th. Brooks' involvement in Wolfsburg's first goal (15th) began with a nice defensive touch, but ended with him failing to clear and pick up his mark on the tally seconds later.

On the second Wolfsburg goal (75th), Brooks' mark proved way too slack. There were other cases of loose marks and poor track back runs in the 4th, 20th, 31st, 43rd, 71st, and 82nd. Duel losses actually occurred only very rarely. They came in the 24th, 55th, 74th, and at 90+4. A couple of weak headers forward (16th, 17th) and some more offensive mistakes on dead-ball situations (21st, 36th, 52nd) don't really drag his grade down much. For the most part, the Berliner performed well in this:

Lineup—TSG Hoffenheim—Match 32 (3-3-2-2)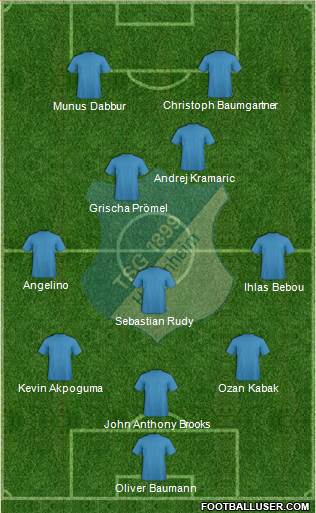 TSG trainer Pellegrino Matarazzo got the team out of the diamond-box back-four from last week via a more advanced deployment for new starer Sebastian Rudy. Brooks assumed responsibility for deep-lying dead-balls and did a magnificent job. One can watch him execute gorgeous switches off free-kicks in the 1st, 6th, 32nd, and 69th. Technically solid out-swingers from open play came in the 8th, 25th, and 48th. With a little extra space in which to operate, he completed some great step-forward headers in the 5th, 14th, 23rd, 56th, 63rd, 79th, and 85th.

the additional pocket of space also helped Brooks do a superb job passing the team out of the back. The best examples came in the 26th, 27th, 62nd, and 71st. Calm touches back, with head feet and chest, proved immeasurably useful for his team. Cases in the 2nd, 13th, 29th, 37th, 42nd, 46th, and 67th illustrate this. Matters could have been much worse for the Sinsheimers had Brooks not produced top-notch defensive work and clearances in the  35th, 40th, 45+1, 45+2, 54th, 57th, 61st, 64th, 65th, and 81st.

Given some of the mistakes noted in the opening paragraphs, the temptation to drop Brooks' grade down a notch from last week did exist. The columnist simply finds it unconscionable. This American turned in another great day. He fully deserves to remain on "A-Level". If die Kraichgauer manage to avoid relegation, they'll have the much improved play of the Berliner to thank for it. Brooks has steadily improved to the point that one might consider him one of the most effective January singings for any Bundesliga club.

Pellegrino Matarazzo, TSG 1899 Hoffenheim (Trainer)

Matches = 1, Result = L

Grade = B+

Not necessarily too much fault one can find with the TSG trainer in the latest loss, apart from the fact that all that woeful finishing might have been better addressed with some more target-drills on the training pitch. The move that placed the slumping Ihlas Bebou back to the wingback slot also seems less adroit now. The Togolese attacker continues to struggle. To Matarazzo's credit, he did turn to his bench soon enough to help swing the latest result. Robert Skov relieved Munus Dabbur in the 62nd. Kasper Dolberg then came on for Angelino ten minutes later for the re-set.

Lineup—TSG Hoffenheim—74th minute (3-3-4)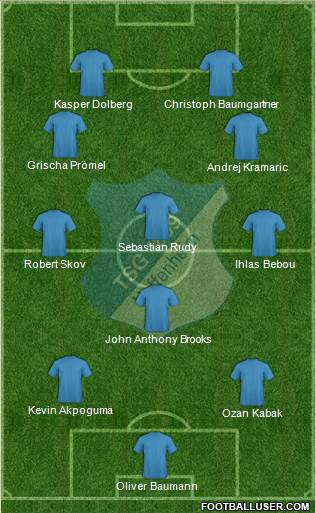 This arguably should have worked much better, particularly after Brooks moved up to take the third attacking slot in the final five minutes. The passing game remained largely okay, yet failed to produce anything of real note. Joshua Guilavogui's own-goal at 90+3 was a total fluke. Final subs Tom Boschof and Finn Ole Becker - apart from the cross on Guilavogui's turn-in yielded nothing.

The lack of fear concerning this club's relegation from club management is pretty understandable. They just need that final win to get over the line. Even if upcoming opponents Union Berlin and VfB Stuttgart hardly make it easy for them, Matarazzo appears to have most of the pieces in place to make it happen. One can't really find much to criticize him for in any case.

Thanks so much for reading! You can catch the release of all Peter's columns on twitter, @ViceytheSS.

Twitter DMs are open for football conversations, corrections, and (if you truly insist) general abuse. 

All columns debut on Bulinews before appearing on Peter's website as the season progresses.



Related stories