Top 5 – the Bundesliga's dribble kings
By Rune Gjerulff @runegjerulff
Who tried the most dribbles, and who made most successful dribbles in the past Bundesliga season? Find out here!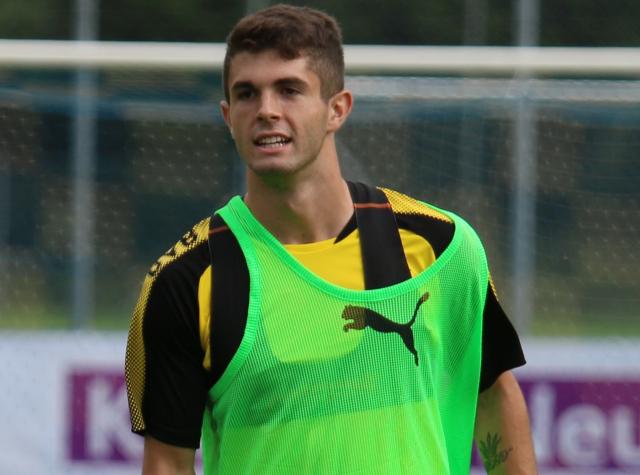 | | |
| --- | --- |
| Christian Pulisic. | Photo: Reto Stauffer, Wikimedia Commons, CC BY-SA 4.0 |
Can you use statistics to determine the Bundesliga's top dribbler? And in that case, which parameter is the most deciding?


If we look at the player who attempted the most dribbles, Borussia Dortmund starlet Christian Pulisic comes in at first place with 217 dribbles. He is followed by Schalke 04 wizard Amine Harit who tried to dribble past an opponent 204 times.

However, looking at the success rate, Harit clearly takes the first place as he has been successful with 56,37% of his dribbles. In comparison, Pulisic has a success rate of just 41,47%. When it comes to this parameter, RB Leipzig midfield Naby Keita comes in at second place with a success rate of 49,17% out of 181 total dribbles.

Here are the Bundesliga players who attemped most dribbles during the 2017/18 season:

Christian Pulisic, Borussia Dortmund
Total dribbles: 217
Successful dribbles: 90
Success rate: 41,47%

Amine Harit, Schalke 04
Total dribbles: 204
Successful dribbles: 115
Success rate: 56,37%


Ihlas Bebou, Hannover 96
Total dribbles: 195
Successful dribbles: 76
Success rate: 38,97%

Naby Keita, RB Leipzig
Total dribbles: 181
Successful dribbles: 89
Success rate: 49,17%

Thorgan Hazard, Borussia Mönchengladbach
Total dribbles: 180
Successful dribbles: 78
Success rate: 43,33%

Source: Bundesliga.de.