10 things you may not know about Kai Havertz
By Rune Gjerulff @runegjerulff
Here are 10 things you may not know about Bayer Leverkusen starlet Kai Havertz.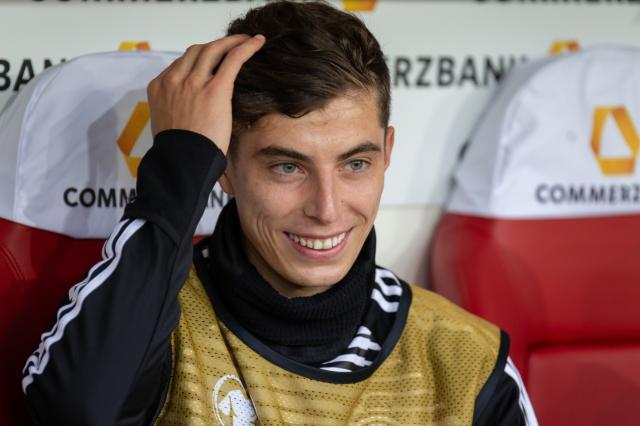 | | |
| --- | --- |
| Kai Havertz. | Photo: Steffen Prößdorf, CC BY-SA 4.0 |
1. From Aachen to Leverkusen
Havertz played for local side Alemannia Aachen before joining Bayer Leverkusen in 2010. He moved to the city of Leverkusen at the age of 15. According to Bundesliga.com, Havertz spent a year living with a former Leverkusen stadium announcer and his family. He then moved in with his brother for a year before finding his own place.


2. His grandfather nurtured his talent
Where does Havertz's huge talent come from? The youngster himself says he owes a lot to his grandfather.

"My talent is pure coincidence. My father was not a gifted player. My grandfather, on the other hand, used to play in the area and always threw balls at me, which I was supposed to shoot into his arms, in the garden," he has said in an interview with Spox.

3. The winner of two Fritz Walter Medals
Havertz has won two so-called Fritz Walter Medals. Each year, the German Football Association hands out the medals to the most promising talent of the country in the two age categories. In each of the categories, the medals are divided into gold, silver and bronze with their worth logically in that order. Havertz won the silver medal in the under-17 category and the gold medal in the under-19 category.

4. Record breaker
Havertz became the youngest player to ever feature for Bayer Leverkusen in the Bundesliga when he made his league debut in October 2016 at the age of just 17 years and 126 days. In April 2018, he became the youngest player of all time to reach 50 Bundesliga appearances at the age of 18 years and 307 days, taking over the record that was previously held by Timo Werner. He became Leverkusen's youngest ever player to score from the penalty spot at the age of 19 years, seven months and 16 days as he netted in a 3-0 win over Wolfsburg in January.

5. Missed games due to school
The youngster missed a couple of key matches during the 2017/18 season - including Leverkusen's Champions League round of 16 game against Atlético Madrid - because he needed to focus on finishing his high school education.


6. Looks up to Özil
Havertz has admitted he considered Arsenal star Mesut Özil a role model while growing up.

"It's safe to say that I copied a lot from him. I just like how he plays," the Leverkusen starlet has said in an interview with Sport1.

7. Comparisons with Ballack and Kroos
Havertz has been compared to a lot of players - including Mesut Özil, Michael Ballack, Toni Kroos and Arturo Vidal.

8. An 'Alleskönner'
Havertz is good with both feet, he's quite big, knows how to head the ball, is technically gifted and is able to play in multiple positions in midfield. Because of his versatility and many different qualities, the youngster has been described as an 'Alleskönner' - a player who can do everything.

9. Older players learn from him
Bayer Leverkusen keeper Lukas Hradecky has said Havertz is the most talented player he has ever seen and that the youngster is an inspiration to older players.

"I've never seen a more talented player in my career. The boys learn from him, even if he is one of the youngest players. They look up to him," Hradecky explained in an interview with Kicker.

10. Skipped a level
Havertz has represented Germany's under-16, under-17 and under-19 team, but he never got to play for the under-21 team before he was called up for the senior side by Joachim Löw. He made his international debut on 9 September 2018.



More about Kai Havertz
More about Leverkusen