Bundesliga Round Four:
The comprehensive "fan plans" across Germany
By Peter Vice @ViceytheSS
New COVID infection rates in the Bundesrepublik rose by over 1,000 cases for the third consecutive day. After recording over 5,000 nationwide cases
on Wednesday
, 6,000 new cases
on Thursday
, the totals on Friday pushed Germany well-above the 7,000 mark heading into the weekend. The number of new infections constitutes a record. No single day saw as many new infections since the pandemic began.
As alarming as such a statistic can be, there exists plenty of positive news concerning the pandemic in Germany. Many sections of the country remain stable. Six of the 16 Bundesländer (states) still report infection rates that take more than ten days to double. Moreover, the critical R-naught metric (a difficult to measure assessment of the virus' reproduction rate via cross contagion) remains at a manageable, if not conjectured, 1.25.
A nation of over 83 million inhabitants heads into a dangerous cold/flu season, but does not do so blindly. The data-driven stabilizers guide the policies of local officials. One can observe how they work by taking a look at how the footballing fan landscape has shifted.
Comparing this column with
the one written shortly before the Bundesliga's third round
 demonstrates how much matters have changed. Back then, only three of the rounds nine fixtures were played behind closed doors. That number has risen to four. A further three matches will feature audiences so small that they might as well be considered spectator-less. In fact, only two clubs shall dare to allow in more than 1,000 fans.
The trends are clear. After
the Bundesrepublik's 20-percent-capacity countenance
expires on October 25th, it appears very likely that Germany will once again batten down the hatches. That means that this round and the next one may be the last to feature any fans at all.
We'll once again take a look at the infection rates in each of the nine hosting locales, using the Robert Koch Institute's stabilizer. The RKI Stabilizer recommends canceling public gatherings when new infection rates exceed a seven-day-average of 35 per 100,000 inhabitants. A number above 50 labels a locale a COVID "hot spot".
All data is provided by Germany's Süddeutsche Zeitung.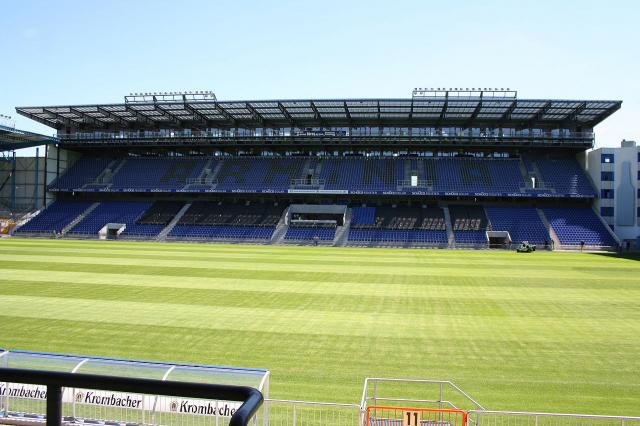 Photo: Andy1982 ,CC BY-SA 3.0
Saturday, October 17th

Borussia Dortmund (at) TSG 1899 Hoffenheim (6,030 spectators)



Local COVID Incidence Rate Average = 30.45  (-4.55 RKI Stabilizer)

We'll begin with some comparatively good news. Though infection rates are on the rise in the Rhein-Neckar-Kreis, Sinsheim's district remains below the RKI stabilizer. Plans to allow over six-thousand spectators through the turnstiles should not be affected; at least not this weekend.

Westward neighboring Mannheim counts as a hotspot with a 56.55 average. A little to the South, Heilbronn also flares up with a 58.46 rate. To the immediate East, the Neckar-Odenwald Kreis sits at 36.2. Matters are a little clearer to the Southwest until one hits Baden Baden with a 52.55 rate.

Krachgauer fans will thus likely get one last chance to see their team live this weekend before the virus enters from the surrounding areas. The teams themselves must make do without some of their players. Hoffenheim won't have Andrej Kramaric or Kasim Adams after both returned from national team duty with the virus.

Dortmund must make do without defender Manuel Akanji, still recuperating from the virus. TSG's Pavel Kaderabek has been quarantined as a precaution.


SV Werder Bremen (at) SC Freiburg (Geisterpiel)


Local COVID Incidence Rate Average = 37.2 (+2.2 RKI Stabilizer)

No one will be allowed into the Schwarzwald-stadion after the city of Freiburg passed the threshold this week. Breisgau regional officials stood very critical of the club after it proceeded with plans to allow in over 3,000 supporters for a round two encounter.

At that time infection rates stood in the low twenties. Outside of Freiburg, in the larger Breisgau region, they apparently still do. It can be argued that the act of permitting fans to congregate contributed to the rising total. Conversely, it can also be asserted that Freiburg still maintains the right to allow in fans since the surrounding region remains largely clear.

At the end of the day, the Freiburg board opted not to lodge the same protests as that of Köln and Augsburg. The venue's doors were simply locked.

VfB Stuttgart (at) Hertha BSC (4,000 spectators)


Local COVID Incidence Rate Average = 67.2  (+32.2 RKI Stabilizer)


Hertha presses on with plans for fans despite the capital's unequivocal classification as one of the country's biggest "hot spots". As should be obvious enough, the raw data from Berlin fails to tell the full story of precisely where the more dangerous districts are in a city of over three million.

Merely passing the data-driven stabilizer does not trigger any ironclad federal action. It rather serves as a guiding metric for local officials to craft policy.

In the case of Hertha, the fan-concept keeps onlooker groups very distant from one another in the huge Olympiastadion. The arena, filled to only about 5 percent capacity, allows the club to separate groups adequately. Hence, club officials see no reason to change the plan they implemented in round two.

The club does adhere to the municipal ordinance expressly forbidding any public gathering of over 5,000 people.

Bayer 04 Leverkusen (at) FSV Mainz 05 (250 spectators)


Local COVID Incidence Rate Average = 65.42 (+30.42 RKI Stabilizer)

As reported in an article earlier in the week, Germany's Rheinhessen called off plans to allow in 6,000 spectators four days ago. The COVID average climbed up a bit since then before stabilizing around 65.

Mainz will likely remain in lockdown for quite some time. All of the neighboring regions--Frankfurt, Offenbach, and Wiesbaden--are certified hot spots as well. The only potential relief for the Pfälzer lies to the southwest, where large portions of the pastoral Pfälzer Wald and Deutsche Mittelgebirge remain mostly clear.

RB Leipzig (at) FC Augsburg (Geisterspiel)

Local COVID Incidence Rate Average = 55.3 (+20.3 RKI Stabilizer)

Another fan cancelation reported on by Bulinews earlier in the week. The average has increased steadily since that article. Much of rural Bavaria sports low infection rates whilst the larger settlements host the clusters.

In light of that information, one should expect administrators like Stefan Reuter to continue to push for wide-area metrics as the Bundesrepublik ponders its next set of policies.

FC Bayern München (at) Armenia Bielefeld (Geisterpiel)

Local COVID Incidence Rate Average = 51.47 (+16.47 RKI Stabilizer)

Yet another cancellation that has received Bulinews coverage. Until this Friday evening, moments ago as a matter of fact, the club kept quiet as to whether it would go ahead with a plan to let in a couple hundred season-ticket holders just like Mainz did.

The absolutist news arrived. Bielefeld takes no chances in the wake of rising statistics.

VfL Wolfsburg (at) Borussia Mönchengladbach (300 spectators)


Local COVID Incidence Rate Average = 36.78  (+1.78 RKI Stabilizer)

The town of Mönchengladbach straddles the line. This particular fixture kept the attention of German football watchers all week long. As recently as three weeks ago, new infection rates in this part of Nordrhein Westfallen were as low as 8 per 100,000 inhabitants.

The Ruhr region of Germany provides an interesting case study in the long-term affects of this pandemic. The region got particularly hard hit early on, then boasted some of the lowest rates throughout the summer and early autumn.

As this case sadly illustrates, the mere fact that the virus swept through hard and fast during the first wave does not by itself provide a locality with the so-called "herd immunity". Rates rose back up quickly here. The club reduced its plans from 10,000 down to 6,000 and eventually down to 300 over the course of this week.

Sunday, October 18th

Eintracht Frankfurt (at) 1. FC Köln (300 spectators)


Local COVID Incidence Rate Average = 75.38 (+40.38 RKI Stabilizer)

Köln stands at the center of all of this, having just hosted two national team games. The first match, a friendly against Turkey, did allow in approximately 250 spectators. Six days later, even a tiny amount of live fans were ruled out for the Nations League clash against Switzerland.

The club will now try again to at least get a few supporters in despite the fact that the rates continue to climb rapidly. The Cathedral City doesn't have much hope of reducing infection rates soon. Cologne stands literally surrounded by hot spots.

FC Union Berlin (at) FC Schalke 04 (Geisterspiel)

Local COVID Incidence Rate Average = 78.57 (+43.57 RKI Stabilizer)

Schalke 04 and FC Bayern München remain the only two Bundesliga clubs who have not even attempted to experiment with a minuscule amount of fans. With the Bavarians set to play only home Geisterpiele until at least late November and the persistently high rates in Gelsenkirchen being some of the worst in the nation, this looks to be the case for some time to come.

Schalke's area of NRW now contains 18 certified "hot-spots", by far the largest cluster in the country. It also happens to be packed into a small area only several hundred kilometers wide. It stands to reason that neither Schalke nor Dortmund will welcome fans in until well after the New Year.



Related stories