Fantasy Bundesliga:
Must-haves and differentials for Matchday 21
By Christian Andrick
Ahead of Matchday 21, we have highlighted a must-have player (M) and a differential pick (D) from each game that you should consider for your Fantasy Bundesliga team.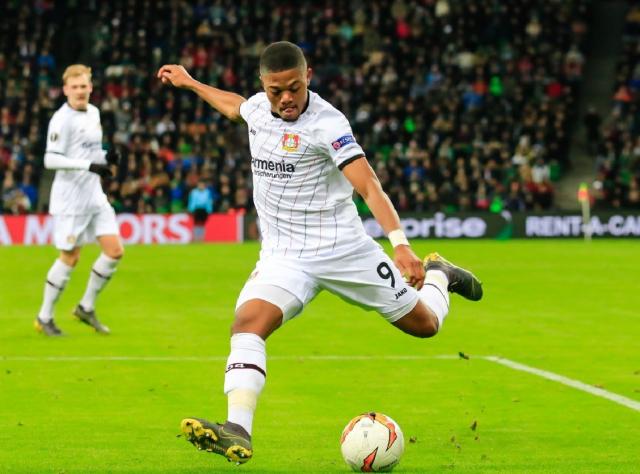 | | |
| --- | --- |
| Leon Bailey and Leverkusen aim for back-to-back wins. | Photo: Дмитрий Пукалик/Soccer.ru/CC-by-SA 3.0 |
RB Leipzig v. FC Augsburg:


M: Christopher Nkunku, Midfielder (RBL, 15.6M, 5%) - Playing much better football at the moment, Leipzig have bounced back with three clean sheets in a row in all competitions after surprisingly falling to Mainz a little over two weeks ago. Nkunku has especially been on the upswing. He has a goal and an assist in his last two matches and has scored double digit Fantasy points in three out of the last four.

D: László Bénes, Midfielder (FCA, 4.8M, 0%) - The recent Gladbach loanee had a decent match in his Augsburg debut as he was immediately thrust into the starting lineup. If given actual playing time, he has been able to produce attacking returns. In his first 10 games for Gladbach last season where he had substantial minutes, Bénes registered four assists. Let us hope Bénes can once again find that form.

Borussia Dortmund v, TSG Hoffenheim:

M: Marco Reus, Forward (BVB, 18M, 3%) - Dortmund is sinking and their captain must right the ship. Dortmund internally collapsing seems to be a yearly trend but this year could be the worst of them. With no goals in the Rückrunde so far, the captain could help in changing their course with a strong performance this weekend.

D: Sebastian Rudy, Midfielder (TSG, 7.1M, 2%) - Rudy has started and played the full 90 the last five games in a row. In that time frame, he has scored one goal and sent in 29 crosses. Rudy's main appeal and value comes from his set piece duties. We have seen lately that players that contribute the most Passes to a Shot, tend to score the best for the matchday. Set piece taking is a key component to the outcome of that stat.


Bayer 04 Leverkusen v. 1. FSV Mainz 05:

M: Leon Bailey, Forward (B04, 14.4M, 4%) - Bailey's career season continues. He is now up to 11 goals and nine assists in all competitions. He had a goal and an assist last weekend against Stuttgart. With 19 Fantasy points in just 74 minutes of play time last match, Bailey earned a bit of rest. The prior six games he had played the full 90.

D: Ádám Szalai, Forward (M05, 2.9M, 0%) - Szalai looks to have finally worked his way back from his knee injury and started his first game of the season last weekend. An extremely missed player by the Mainz faithful, the impact Szalai had was certainly felt on the pitch. If Mainz have any intentions of getting out of the relegation zone, Szalai will need to make an impact the rest of the way.

VfB Stuttgart v. Hertha BSC:

M: Silas Wamangituka, Forward (VFB, 9.5M, 6%) - With Nicolas Gonzalez scheduled to miss the next 5-6 weeks, Wamangituka will be the main man going forward. Although he did not score last week, he has still been in great form and managed three shots in Stuttgart's loss to Leverkusen.

D: Krzysztof Piątek, Forward (BSC, 10.7M, 1%) - Piątek has started the last two games in a row and has made a decent showing over that time. In those two games, he has registered one goal on nine shot attempts. It had taken him a total of five games previous to match that same output. Hertha will need every ounce of effort from their players if they are to avoid relegation.

SV Werder Bremen v. Sport-Club Freiburg :

M: Ludwig Augustinsson, Defender (SVW, 9.3M, 3%) - In his first game back from injury against Schalke, Augustinsson had an amazing 12 crosses in just 45 minutes of play. He was able to play another 70 minutes in their midweek Pokal match against Greuther Fürth before last weekend's game against Bielefeld was postponed due to snow. With the extra time off to continue getting healthy, a near 100% Augustinsson is one of the best attacking backs in the league.

D: Kevin Möhwald, Midfielder (SVW, 2.2M, 0%) - Möhwald has scored in two games in a row including the Pokal match against Fürth and matchday 19. Every game he seems to get better and he is really becoming an influential and active player in the midfield for Bremen. With a price tag of 2.2M as well, you can't find much better bang for your buck.

1. FC Union Berlin v. FC Schalke 04:

M: Christopher Trimmel, Defender (FCU, 10.5M, 4%) - Moved up to the midfield as Union now operate with a back three, Trimmel continues to wreak havoc down the wing as one of the premier crossers in the game. In his first game back from suspension he sent in six crosses with three set piece attempts. There is also a chance for a clean sheet bonus as Schalke have only scored once in their last four games including the Pokal.

D: Taiwo Awoniyi, Forward (FCU, 7.5M, 1%) - The Liverpool loanee has hit a bit of a dry spell after scoring four in five games immediately before and after the winter break. The six games he has now gone without a goal is his longest all season. Up against an inept Schalke defense, now is a perfect time to get back on the scoresheet.

Eintracht Frankfurt v. 1. FC Köln:

M: Daichi Kamada, Midfielder (SGE, 13.4M, 8%) - It had been a mixed bag of results for Kamada since coming back from the winter break, missing out on starts two games in a row for the first time all season back in mid-January. However, as Frankfurt seems to have hit their stride, Kamada looks to be back to his old self. With starts in the last three games in a row and an assist to boot, it looks to be Kamada's time to reap some of the rewards that have come Frankfurt's way lately.

D: Ondrej Duda, Midfielder (KOE, 8.7M, 1%) - Duda continues to be deployed in a very forward attacking role which always is a plus when players get moved up in a position. He has recorded an assist and attempted eight shots in his last four games, scoring double digit Fantasy points in two of them.

VfL Wolfsburg v. Borussia M'gladbach:

M: Ridle Baku, Midfielder (WOB, 8.9M, 3%) - Like most Wolfsburg's players, Baku is playing light's out at the moment. In his last three games, he has two goals and an assist on four shots with six crosses attempted. No question as well that he scored double digit Fantasy points in all three. At a price tag of only 8.9M, he is also one of the most affordable players with tremendous upside.

D: Renato Steffen, Midfielder (WOB, 11.4M, 1%) - Steffen just had one of his best months as a professional in January, scoring twice and assisting twice in six games. Registering 18 crosses in that time while barely taking any of the team's set pieces is impressive as well.

FC Bayern München v. DSC Arminia Bielefeld:

M: Serge Gnabry, Forward (FCB, 18.7M, 15%) - It has been an extremely subpar season for Gnabry. He has just five league goals and only one in his last 17 games. However, against a side like Bielefeld, no matter how well they have played lately, it could be the prime chance for Gnabry to get back into his groove. With news that Thomas Müller has tested positive for Covid, even more responsibility will fall upon Gnabry.

D: Fabian Klos, Forward (DSC, 9.8M, 1%) - With Bayern coming off the high of winning the Club World Cup, Bielefeld can only hope that their guard will be somewhat down. Bayern have definitely solved some of their defensive weaknesses that were plaguing them earlier in the season but this may be the most vulnerable they will be the rest of the season.


Looking for other Fantasy Bundesliga articles ahead of Matchday 21? Check out all of our Fantasy Bundesliga tips and information here.




Related stories