Eintracht Frankfurt's future attacking set forms around three players of great promise
By Peter Vice @ViceytheSS
The wings of change prepare to sweep through Germany's commercial capital after the season concludes. Eintracht Frankfurt is set to lose both top sporting executives in the form of the retiring Bruno Hübner and the departing Fredi Bobic. 

As for Adler head-coach Adi Hütter, it appears as the eminently successful gaffer plans to rebuild around a new core on the pitch. Hübner and Hütter spoke with Daniel Schmitt of the Frankfurter Rundschau.

There's an exciting trio of players to discuss.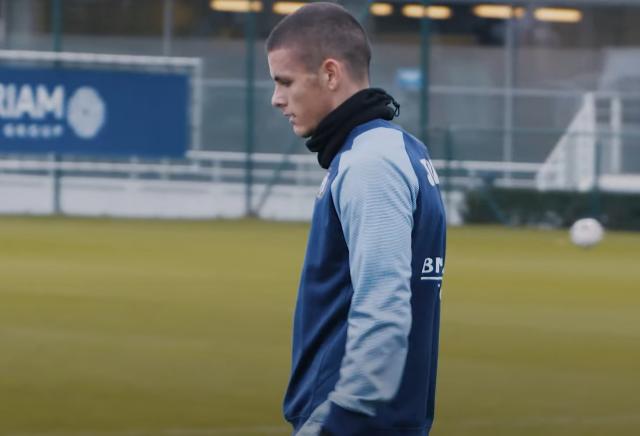 Decisions. Decisions. The rise of striker André Silva (21 league goals through 26 Bundesliga rounds) surely renders Frankfurt's Portuguese attacker one of the most sought-after commodities in this summer's transfer market. Various reports have Silva linked with FC Barçelona, Manchester United, and Athletico Madrid.


Frankfurt, at least under Bobic, has never been shy about taking advantage of lucrative opportunities to sell off valued strikers. Whether it was Sebastian Haller, Luka Jovic, Ante Rebic, Mijat Gacinovic, or (most recently) Bas Dost, the club isn't shy about pulling the trigger on a deal. There's always a new nickname for the attacking corps; the "Buffalo herd" becomes "the crocodile" becomes the "ten triad".

Frankfurt's two main national newspapers of record, the Allgemeine Zeitung and the Rundschau, are always pleased to christen the SGE's next step. Some of Germany's best footballing journalists work in the Bundesrepublik's commercial capital. One of them, Daniel Schmitt, spoke to club decision makers for a recent article.

It doesn't take much journalistic sleuthing to see that Frankfurt are grooming a new generation of attackers. In point of fact, they have little choice. Barring something unforeseen, Luka Jovic will be heading back to Real Madrid this summer. Most reporters are certain the Jovic's loan-deal doesn't even contain a purchase clause. Eintracht will hardly wish to their own loan-returnee, Gonçalo Paciencia, after the controversial manner in which the player handled his latest injury.

Enter a brand-new trio. The highly-touted Ali Akman. The increasingly utilized young German talent Ragnar Ache. Last but not least, 21-year-old Serbian sensation Dejan Joveljic, finally clicking out on loan in the Austrian Bundesliga.

Ache, purchased during the January 2019 transfer window, first had to conclude his contract with Sparta Rotterdam before joining the club this autumn. A long injury layoff saw the 22-year-old miss out on most of the campaign. Youssoufa Moukoko's rise also cost him his place with the German U21s.


The Frankfurt native nevertheless has had a chance to showcase his skills in recent relief appearances. Only a David Alaba tactical foul prevented him from scoring during the round 22 upset victory over Bayern München. A maiden Bundesliga goal should be forthcoming soon as Hütter has used him as an attacking joker in three of the last five matches.

Akman, purchased during the January 2020 transfer window, initially found himself in a similar position to that of Ache. The 18-year-old is already training at Rhein/Main, however, after his Turkish parent club reacted with hostility to his move and terminated his contract early. Though the teenager isn't eligible to play until next season, Hütter acknowledged his potential after watching the long-haired prodigy in training.

"Al is a very warm character. Everyone noticed immediately that he was grateful to come to Frankfurt," Hütter told Schmitt, "Of course, there's still a lot of physical work to be done. One has to have patience with such a player."

Regarding Jovelijic, it appears as if some previous patience is finally paying off. Filip Kostic's highly talented young countryman has already scored for Frankfurt, netting a game-winning goal during the qualifying stages for the 2019/20 Europa League. After a brief loan to RSC Anderlecht in last season's Rück-runde led nowhere, the 21-year-old has been lighting it up for Wolfsberger AC this year in neighboring Austria.

Jovelijic has netted 13 goals and racked up five assists in 34 appearances for the Austrian Wolves. Hübner divulged to Schmitt that the club sees a familiar pattern in the young Serb's development. Another player broke through after a short-term loan to a nearby country.

"We're hoping for a similar trajectory as that with Daichi Kamada," Hübner noted, "That loan made perfect sense. Our thinking played out. It was the right decision."

There are many more decisions to come. Among them, is it wise to sell off Silva and play Champions' League football next season with this new trio? The youngest, if not prone to the overzealous confidence of youth, member of the trio declares himself fully prepared for the challenge to come.

"Frankfurt was the best decision of my life," Akman said in a separate interview, "Of course I want to play in the Champions' League. I also want to be the top scorer here at some point."



Related stories