Bayer Leverkusen Season Review:
How a ten-second spell changed Die Werkself's fortunes
By Frankie Burton
Frankie Burton, part of the English-language 'Neverkusen Podcast' dedicated to Bayer Leverkusen, reviews Die Werkself's 2020/21 campaign from a fan's perspective.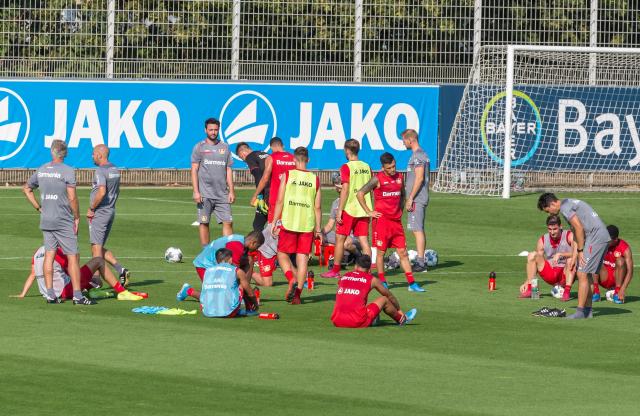 Bayer Leverkusen fans are accustomed to their fortunes being very up and down. This season, however, has been a tough one even for the most hardened fans. One moment appeared to change the whole fortunes of this club. One ten-second spell just prior to Christmas 2020.




Losing Kai and Kevin
Expectations for the new season were not hugely optimistic back in September 2020. After almost inevitably losing star man Kai Havertz to Chelsea, along with club favourite Kevin Volland, who left for Monaco, fans were expecting a season of potential struggle. There was hope in the young squad, however. Florian Wirtz had announced himself as a youngster to watch in the previous season, Edmond Tapsoba had impressed since he was signed from Guimaraes and Patrik Schick had been signed from Roma in an attempt to replace the goals lost by the sale of Havertz and Volland.

First third of the season
After a somewhat underwhelming start to the season, with three straight draws against Wolfsburg, Leipzig and Stuttgart, Bayer gradually found their stride. There had been glimpses of good football, particularly in the Leipzig match, but the lack of goals feared by the fans came to fruition after scoring just twice in the first three matches. A hard fought 1-0 win away at Mainz was then followed by four consecutive wins, scoring 12 goals in the process. An injury to Patrik Schick had given Lucas Alario his chance in the starting eleven and he took it convincingly. 7 goals in the five wins was a prolific return for a striker that had spent much of his Leverkusen career on the bench.

Lucas is a poacher, a fox in the box. There's no doubt he will score goals in a team that creates chances, the criticism often levelled at him is if he does enough work in the build up play and offer enough to the team to be a regular starter. He had played second fiddle to Kevin Volland for much of his time at Bayer, but now he was taking his chance after being given a starting role for several consecutive matches.
The highlight of the five-match winning run was probably the 4-3 win over Gladbach. A proper good game of attacking football was on show. It was a shame no fans were allowed in the stadium as this was a feast of football, Bayer twice coming from behind to take all three points.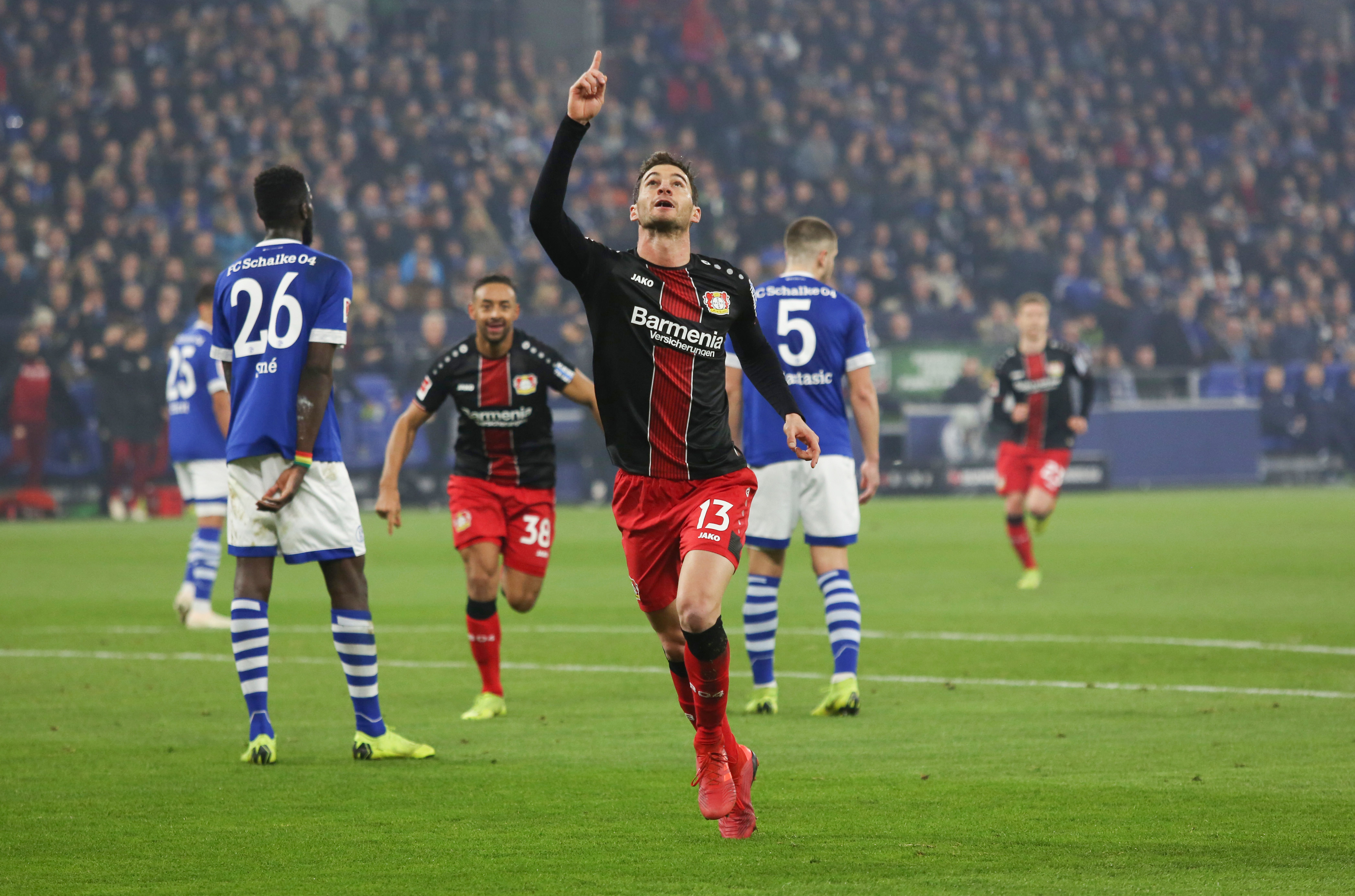 Lucas Alario (Photo: Bayer 04 Leverkusen).

An uninspiring 0-0 draw against Hertha BSC followed. Many fans were disappointed with the result against a team we expected to beat. I did, however, think back to the previous season where we had lost to Hertha 0-1 at home. It appeared we had made progress. We didn't play well in this match and no fan would say we did, but the key was not conceding. It's almost felt like it was in the DNA of the team to give the other side a chance and make a silly mistake, however it appeared the mistakes were being eradicated.




Three matches later and the point against Hertha didn't look too bad. Three more wins, scoring eleven goals in the process took Bayer to the top of the Bundesliga. Against all the odds, Bayer were flying. They were playing some great football, and this was highlighted in the 4-0 "Derbysieg" against FC Cologne. Bayer had performed disappointingly in recent years in what for the fans was the biggest game of the season. They repaid the fans faith here with a scintillating performance, scoring four goals inside the hour. It could have been seven or eight quite easily. It didn't seem to matter which eleven Peter Bosz put on the pitch either. In this match, Tah and Dragovic played at centre half, Mitchell Weiser played right back and even scored a goal. They looked a strong unit and with the pace of Moussa Diaby and Leon Bailey on the wings, it felt like Bayer were a match for anyone.

The big test for Bayer was the last match before the shortened winter break. The champions, Bayern Munich, were in town and this would be the acid test of the progress Peter Bosz's young squad had made. It was a match which at the time felt like a harsh defeat but not the end of the world. On reflection, something happened this day that caused a major problem with Bosz and the squad. The match itself was even. Bayer played well and took the lead early. Lewandowski levelled for Bayern just before half time. In the second half Bayer continued to push and were having the lions share of possession. With the game twenty seconds from the end of injury time, Jonathan Tah tried one pass too many on the edge of his own box and a split second later, Lewandowski had his second. It was cruel and not what Bayer deserved for a measured and spirited performance.

Bayer went into the winter break in second place and despite the defeat, there was an air of optimism. The boys had outperformed expectations and there was excitement for the remainder of the season. They had qualified from their group in the Europa league, scoring an incredible twenty-one goals in six matches. This should have been the break they needed to recharge for a big push after the break.

Post-Christmas Meltdown
What took place over that winter break is bemusing to the fans. Either the Bayern game completely knocked the stuffing out of the squad, or something took place which rocked the fundamentals of the team spirit and togetherness. In the six league games which took place in January, Bayer picked up four points. A poor run, only briefly halted with a 2-1 win at home to Dortmund saw a return of four points from six matches. February was arguably even worse. Bayer won one of their four league matches and were knocked out of the Europa League 6-3 on aggregate by Young Boys of Bern, a team they were much fancied to progress past. They were also famously knocked of the DFB Pokal after losing in extra time to Rot Weiss Essen, a team in the fourth tier of German football.

There were mumblings of discontent with the head coach, but in the main the fans were behind Bosz. Nobody though, could really explain what had happened to performances. Injuries had not helped. The Bender twins had missed several games, Julian Baumgartlinger, who was excellent pre-Christmas, injured his cruciate ligament and would miss the rest of the season. New signing Timothy Fosu-Mensah suffered the same fate. Add to this people missing with Covid, it was a tough time for the squad. Goals had dried up and the defensive errors from the previous season had returned.
The pressure was lifted slightly early March when Bayer grabbed a 1-0 away win at Gladbach. It felt like this could be the turning point. Confidence had been at rock bottom and there was hope that this would be a big boost to the team. It wasn't. The following two games saw the end of Bosz. A humiliating 2-1 loss at home to Arminia Bielefeld was followed by an abject display and a 3-0 loss away to struggling Hertha Berlin.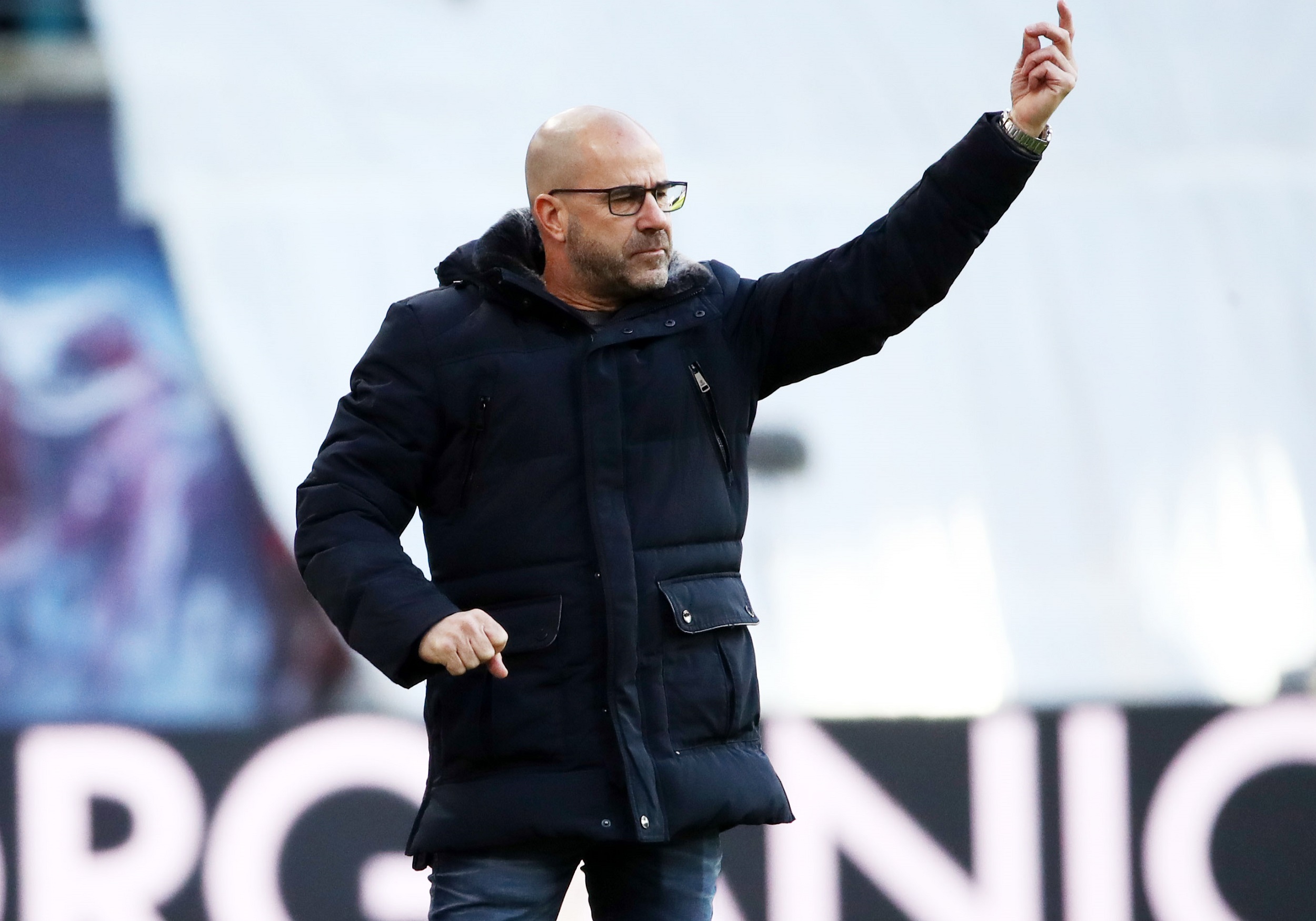 Peter Bosz was sacked in March (Photo: Sven Sonntag/GEPA Pictures).

The fans were still behind the coach, but the board were not. The performance at Hertha was that bad they felt they had to act. Something had clearly gone wrong with the relationship between the coach and the players. They were not only making mistakes, but they appeared to give up in this match. There was a visible lack of effort which was hugely disconcerting. I felt sad watching it as it felt like the end of an era. Admittedly, two years is not a huge length of time, however the great work Bosz had done in turning a young squad into a team which had hit the top of the league weeks earlier, had performed with credit the previous season in the Champions League and also reached a DFB Pokal final, had been undone in the space of a few weeks.

The general consensus from the fans was "thanks for the memories". Bosz seemed like a nice guy, he had won over the fans quickly in 2019, when the team rattled off a series of great performances and made the top four on the last day of the season, despite being a long way off with six games to go.

The possession football remained until the end, however the defensive frailty had returned and the quick, sharp, attacking football had become slow and predictable. It was a rather sudden ending and I would say one which nobody could have predicted, however this is an all too familiar process for Bayer fans. The club appears to be stuck in a cycle of having a coach for two years. The first eighteen months bring positivity, optimism and hope, but then this quickly disappears, and the cycle starts again. Is it a problem with the board? Is it something deep rooted in the club?

Hannes Wolf
The fans were hardly overwhelmed when the club appointed Hannes Wolf as interim coach until the end of the season. Hannes has a CV which wouldn't blow anyone away, but he is being assisted by Leverkusen favorite Peter Hermann. His results have been average. In the seven games since he took charge, Bayer have picked up twelve points. Before the Bremen match on 8th May, there were rumors Wolf may keep the job. The problem for the fans is around performance and style of play. Wolf has without question tightened up the defence, but it appears to the detriment of the attack. Finding the balance to this is key and will be the difference between success and failure for the new coach, whether that be Wolf or someone else. Two away lacklustre 0-0 draws away at Hoffenheim and Bremen brought a lot of criticism for Wolf. Bayer were poor against teams they would expect to beat, and it was the flat, slow, uninspiring performances when challenging for European places which left the fans frustrated.

Wolf has chopped and changed his team considerably. Bizarrely, after virtually not playing a game all season under Bosz, Exequel Palacios has become the only mainstay in the outfield ten. A total of twenty players have seen game time under Wolf, which in seven matches is significant. He has also made substitutions at half time regularly. Results wise, he has been helped by the return of Lukas Hradecky in goal. Bayer struggled towards the end of Bosz's era in the goalkeeping position, Niklas Lomb making some high-profile mistakes in his short tenure, before being replaced with Lennart Grill.

Summer of change?
This feels like a huge summer for Bayer and one which will shape the next few years. Will Bayer become part of the managerial merry-go-round in Germany? Currently, there are many rumors about the new coach. Could Wolf keep the job? Could it be Edin Terzic who has had a successful interim spell as Dortmund coach, leading them to the Champions League places and a DFB Pokal win? Could it be Gerard Seoane who downed Bayer in the Europa League with his impressive Young Boys of Bern?

On the pitch there is much to deliberate. The Bender twins will retire at the end of the season. Both have had a huge impact on the team, even when not playing. Their experience and leadership skills have been so important for a squad which is young and learning. Bayer have struggled this season when both Bender's have been unavailable. It is a shame that the fans cannot give them a send off they deserve. Lars has played 255 games for Bayer and this would have been many more if he wasn't constantly plagued by injuries. The signing of an experienced centre half maybe the key to success going forward. Edmond Tapsoba has undoubted potential, but there is a feeling he needs an experienced head alongside him. Jonathan Tah has not progressed as the club or the fans would like and continues to frustrate. The return of Santiago Arias for next season should hopefully boost the defence. He injured his cruciate on international duty and has not yet been seen in a Bayer shirt.

With Arias, Fosu-Mensah, Frimpong, Tah, Tapsoba, Sinkgraven and Wendell, it feels like Bayer have the basis of a good defence. The signing of an experienced centre half is the key to bolster this.

In the midfield, Bayer have lots of options, but I don't think anyone could predict what the line up will look like in August. Julian Baumgartlinger was excellent before his injury. Can he return to the team and be a key player at 33 years old? Charles Aranguiz, the skipper, has been disappointing in the second half of the season. He missed several months through injury and didn't return at the same level. Wolf has benched him in recent games and there is a question mark about his future.
Kerim Demirbay continues to frustrate. Bayer's most expensive purchase at €32m shows occasional brilliance, but consistent underperformance. Nadiem Amiri was also excellent pre-Christmas. He contracted Covid and has not been close to the form he showed in the second half of the season. Hopefully a summer break will freshen him up and at 24, he still can be a big player. Palacios has done well in recent matches and at 22 he could also be key going forward. A steady, neat and tidy midfielder and offers protection to the defence, his presence in the team in recent matches has been integral in the improved defensive displays.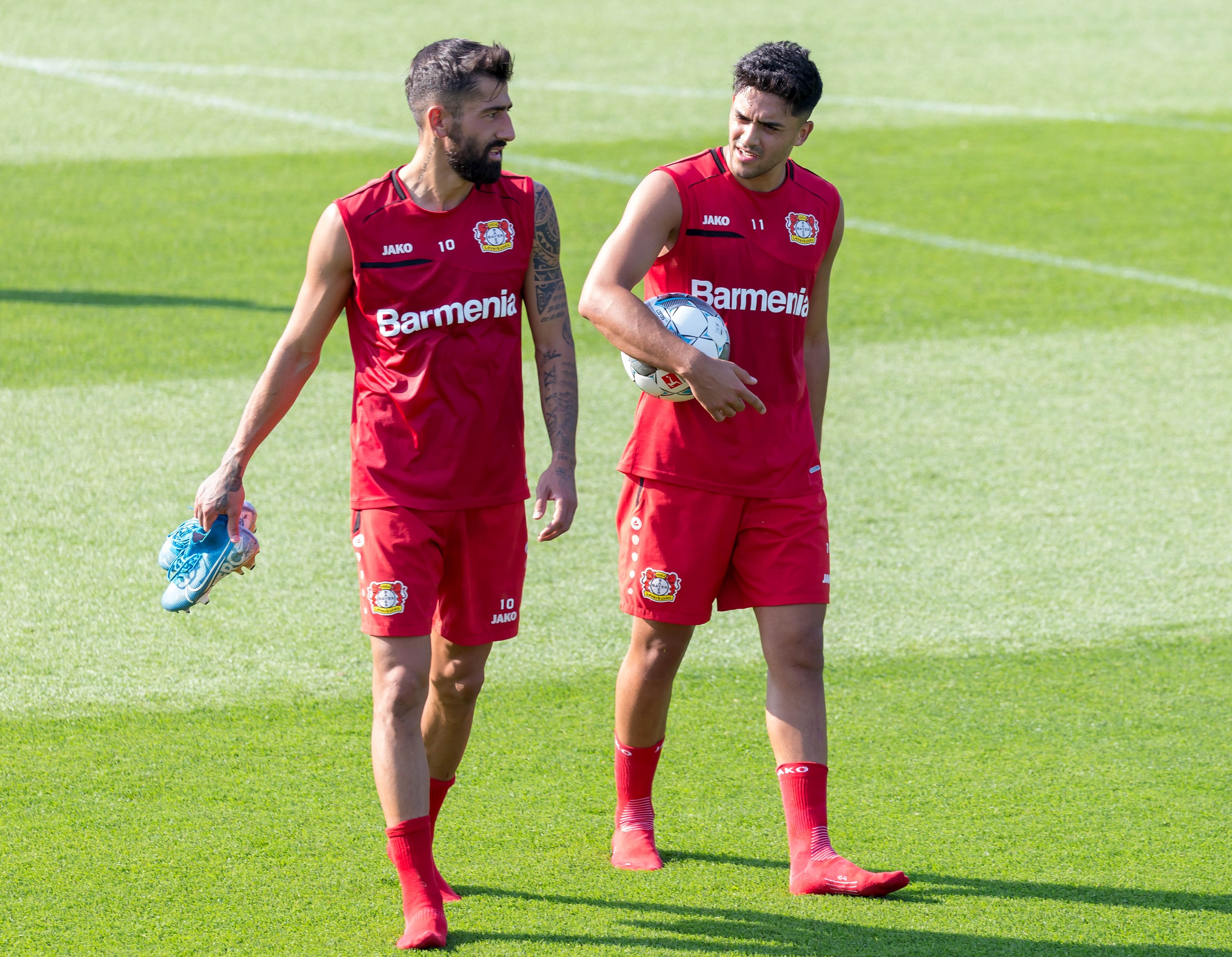 Kerem Demirbay and Nadiem Amiri (Photo: Marco Verch/CC BY-SA 2.0).

Florian Wirtz is undoubtedly a star in the making. He has already set many records in his sixteen months with the club. Wirtz only turned eighteen in Early May and appears to have all the tools to become a great for club and country. There is a view that he has been called upon too much this season for such a young guy, however his performances made him difficult to leave out of the team. His future potentially lies in a similar role to that of Havertz, playing just ahead of a midfield two. He could be the creative playmaker Bayer need for many years to come.

Out wide, Bayer have plenty of options. Moussa Diaby has been excellent at times this season, but his finishing continues to undermine his performances. His speed is always an asset and at only 21, he still has the potential to become a star. Leon Bailey is an interesting one. Again, at times he shows glimpses of genius. People forget he is only 23, as he has been at Bayer since he was 19. There is always a question mark in every transfer window about his future. Will he stay at Bayer or will he seek his dream move to the Premier League in England? Bayer have potentially a world class player on their hands. If he stays, he must progress further and be one of the top players in the league. If he leaves, Bayer must demand a large fee and use the money wisely to invest in the squad.

Kimo Bellarabi and Demarai Gray provide further options on the wings. Bellarabi has been at the club for many years and is always a good option from the bench. Gray has not had the best of starts since his move from Leicester City in January. Initial success was followed by injury and a lack of game time. He seems to be out of favor with Wolf and it will be interesting how his Bayer career progresses.

In attack, there are still big question marks. Patrik Schick has not been the success the fans hoped for from a guy who cost €30m. He is not the type of striker to score twenty goals per season, however if he is to remain in the team, he will be required to get into the six-yard box more than he does and chip in with more goals. Having Schick in the team also puts a demand on more goals from midfield. This is where the likes of Diaby, Demirbay, Amiri and Wirtz need to improve their goal return. Lucas Alario continues to be Lucas Alario. He has spells on the bench and chips in with vital goals, but when he starts, there is a feeling that he doesn't offer enough to the team. He potentially may move on in the summer and fans would like a star striker to be one of the main signings. Whether this will happen after spending €30m on Schick last year is another question.

It's been a funny old season. The hope and expectation which surrounded the club at Christmas has been replaced with negativity and caution. The retirement of the Bender twins is a huge blow for the fans, Lars has been a leader and a legend in his twelve years with the club. The board have some huge decisions to make in the coming weeks. Fans will not accept the stale, negative style of football which we have seen in recent weeks.

One thing is certain as a Bayer Leverkusen fan, you are guaranteed a crazy ride. In what has been a very tough sixteen months for so many people, football has been a great distraction. I, along with thousands of other fans, cannot wait to be part of the matchday experience again next season, hopefully back in the stadium, cheering on the team.


Did you like what you read? Be sure to follow Frankie Burton and the Neverkusen Podcast on Twitter.



More about Leverkusen