Bundesliga 2021/22 Tactical Previews: "The Big Three"
By Peter Vice @ViceytheSS
The anticipation builds as the 2021/22 Bundesliga Campaign draws nearer! Just like last year, we'll be hosting our weekly "tactics talk" column here at Bulinews.

As always the column will comprehensive look at the central talking points of all nine weekend fixtures and include an in-depth breakdown of the most intriguing match.

For the non-tactics-heads, there's plenty of fun commentary and footballing satire as well!

In preparation for the new season, we're pleased to help get everyone psyched for the new campaign with a series of preview installments. These will group together teams likely to be competing for certain spots in the table.

First up, it's the perceived "Big Three": Bayern, Dortmund, and Leipzig.
---
Introduction: The Big Three
---


Our preview journey begins with what we'll classify as the "Big Three". Every German of the non-Bayern ilk certainly wants to believe that the Bundesliga shall have some surprises in store for us this year. Those of us who have maintained the proud tradition of playing die Toten Hosen's "Bayern" before the start of each new campaign must nevertheless begrudgingly admit that this superstition is absolutely not working. It hasn't worked for the last nine years. There's little reason to think it will this time.

The pandemic has actually affected Bayern München. The thirty-one-times German champion hasn't been able to spend as profligately this summer as in summer's past. Unfortunately for those craving novelty, that doesn't mean a great deal. They still have the strongest team and, despite his age, the league's sharpest tactical mind. Dortmund and Leipzig, both with new high-caliber head-coaches of their own, also appear secure enough to hold off a comparatively weak field of opponents and cement a top three finish.

Matters get a little more interesting when it comes to the race for the final Champions' League spot. We'll get there in the next installment. Let it be known that, by virtue of Rudi Völler and Simon Rolfes' massive summer spending spree, appear the strongest candidate. Some thought was given to including them in this initial column, but we just don't know how matters will coalesce on the pitch. Völler has spent like a drunken sailor before with poor results.

FC Bayern München

Germany's "boy-wonder", or "mini-Mourinho" as some like to call him, gets his chance at launching a legendary coaching career with German football's highest profile job. Believe it or not, Julian Nagelsmann isn't the youngest trainer in Bayern's history. That distinction belongs to Reinhard Saftig, who was only 31 years-of-age during a three-match caretaker spell in 1983. Denmark's Søren Lerby was also slightly younger than Nagelsmann during a five-month-stint in 1991/92.


Obviously, the 33-year-old Nagelsmann will be looking for a longer tenure than this pair of interim head-coaches. One thus predicts that he will play it relatively safe in the early going. Germany's record champions have certainly undergone a radical coaching regime change. Hansi Flick's FCB predominately ran in a "self-coached" 4-2-3-1. The new trainer, as everyone familiar with the Bundesliga knows, runs highly complex tactical schemes. At Hoffenheim and Leipzig, he even went so far as to build match-specific obstacle courses on the training pitch to prepare his players differently each week.

Nagelsmann has every reason to cool his jets a bit at "FC Hollywood". While not unfamiliar with the art of managing egos, he's definitely shrewd enough to take a step back from the higher grade superstars before engaging in some of his specialized tinkering. There are those in German footballing circles who believe that, once he does get a bit more nuanced with his tactical demands, an internal rebellion could result. That essentially amounts to wishful thinking. Bayern's stars excelled under "über-tinkerer" Pep Guardiola and should have little difficulty adjusting to life under this one.

Projected Opening Day Lineup, Bayern
Lineup—Bayern München—PROJECTED (4-3-3)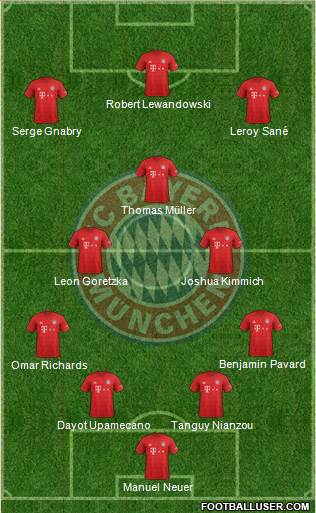 For all the talk of postmodern tactics, Nagelsmann has publicly stated that he aspires to construct a 4-3-3. He revealed this in an extended interview with German footballing magazine Kicker appearing in the mammoth pre-season preview print edition that everyone football lover in the Bundesrepublik can't wait to get their hands on every year.

We've seen some glimpses of the basic structure Nagelsmann wishes to build during the preparation. Generally, he's lined the team up in a 4-1-4-1 before getting everyone re-ordered into the aspired to constellation by the half. The fact that Bayern haven't won any of their exhibition matches is immaterial. The young coach test drives all players on his roster in matches that don't limit subs.

The projected lineup above takes current injuries into account. This is obviously not the back four Nagelsmann would prefer. Ideally, Alphonso Davies starts at left back and either Lucas Hernandez or Niklas Süle works alongside Dayot Umpamecano. The six players ahead of the defense, on the other hand, do constitute his favored players.

French internationals Kingsley Coman and Corentin Tolisso could very well be on the way out as there's simply no space for them in the top XI. The incredibly talented German phenom Jamal Musiala can serve as the primary back-up on both wings and also for Thomas Müller. Once healthy, Davies can also be deployed as a winger. This was actually the Canadian's primary position until the Niklas Süle injury in October 2019 moved him back.

Three Burning Questions, Bayern
How long until we see a back-three?

If the record champions get off to a sluggish start, relatively soon. When one considers how many center backs Nagelsmann has at his disposal, the roster rather screams for one. Davies and Benjamin Pavard function well as advanced wingbacks. A three-man chain with Tanguy Nianzou and Süle/Hernandez working behind pivot runner Upamecano carries with it menacing potential.

A back-three might also prove necessitous if Müller finds himself too far separated from the forward link-up play. Such a possibility counts as the biggest danger in the above draw up. "Radio Müller" needs to work closer to the lead striker and flankers, as he did in the previous "self-coached" 4-2-3-1. Keeping one of German football's best ever satisfied remains a top priority for Nagelsmann.

He'll have to keep Müller happy in order to keep his job.

Is there any danger or losing Goretzka?

None whatsoever. Touching the Goretzka-Kimmich midfield partnership would be thoroughly insipid. This pair close friends have put in so much time together and are now unquestionably the best midfield axis in German football. The next step for them concerns further refining their synchronization game until they compete for the title of being the best in all of Europe.

Tinkering with this would be tantamount to taking a sledgehammer to your car's engine. Bayern stand to lose a lot if they allow Goretzka's contract to run down without selling him. They nevertheless stand to lose everything if they liquidate him without a back-up plan. We can revisit this question in the January transfer window.

How many dopey outfits will Nagelsmann wear this season?

Should you care to make a prop bet with your friends, the over/under on this query will be one. The "boy-wonder" isn't in Sinsheim anymore. He's progressively grown up while climbing the professional latter. After taking some heat for wearing ill-fitting suit pants in the 2020 Champions' League Lisbon knockouts and getting visibly angry when reporters questioned his handkerchief coordination following Leipzig's loss to Manchester United last autumn, he appears to have gotten the message.

The last thing the 33-year-old needs in the biggest pressure-filled gig of his career is any additional distractions. That being said, he'll probably dress loud for at least one UCL fixture in the coming months. One bases this conjecture on the fact that he already pre-ordered some outrageous suits for last year that are now sadly collecting dust in the closet. The sight of unused expensive clothes in one's wardrobe eventually leads to at least one annual fashion faux pas.

The "Pick to Click", Bayern: Tanguy Nianzou

A very tight call here as Omar Richards will get a shot at an early audition as well. Naturally, there's also the case of Musiala. Every German hopes that the 18-year-old has a breakout year. After giving it some thought, Musiala seems a sentimental pick and Omar will likely return to his seat on the bench once some of the squad's injuries clear up.

A center-halve tandem of Nianzou and Upamecano might end up being something Nagelsmann wishes to stick with if they manage to gel early. As noted above, the two of them could also work well together in a back-three. We'll thus tip the 19-year-old French international for a probable breakthrough this year.

Borussia Dortmund

Two years later than they initially wanted him, Dortmund finally have their desired trainer in Marco Rose. Die Schwarzgelben had been courting the 44-year-old for quite a long time. Rose is ideally the man who can lead the BVB back to glory. Just to be on the safe side, Acki Watzke and the rest of the bosses made sure to move popular interim trainer Edin Terzic off the sidelines and into the front office. The club finds itself in no mood to risk fans calling for Terzic's reinstatement. Rose will get plenty of time and space.

Time and space looks to be crucial for the new gaffer as few can make heads or tails of his preferred set-up after watching the pre-season friendlies. It's very possible that Rose stands nowhere near his go-to-system. Some of this has to do with the fact that several key players are out and more keep having to withdraw with injuries seemingly every match. Despite his penchant for radical late-match tweaks, Rose remains something of a straightforward 4-2-3-1 "double six" man. It seems almost certain that we won't see that with his new club.

In a recent interview with German footballing magazine Kicker, the BVB trainer spoke of an affinity for the 4-4-2. Rose evidently likes the flexible possibilities this offers in the context of his current crew. Tempting though it may be to take him at his word, the act of deploying a second striker alongside Erling Haaland borders on the ludicrous. The puzzle pieces fit together much easier if one builds with Haaland alone up top. The use of a sweeper provides a direct vertical path to Haaland while keeping wide options open.

Projected Opening Day Lineup, Dortmund
Lineup—Borussia Dortmund—PROJECTED (5-1-4)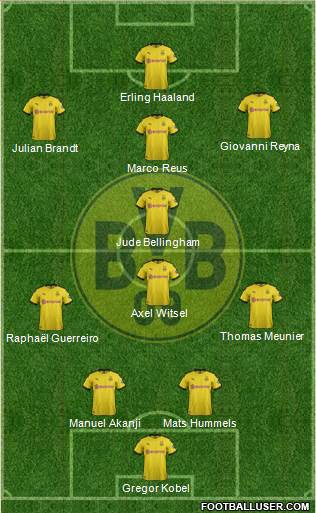 The key here is to get Jude Bellingham on his own axis while simultaneously ensuring that he has sufficient support in coverage; a strategy that worked out rather well last year.  The 18-year-old English phenom--everyone agrees by now--needs freedom to roam box-to-box without concerning himself to much with a horizontal partner tether. This can be accomplished by installing a sweeper and a ten in back of and in front of him, respectively.

At some point, Donyell Malen should take over on the left flank. If Brandt experiences something of a renaissance whilst the new Dutch acquisition gets up to speed, a 4-4-2 might be possible. In this case, Malen would be better suited to work as the service striker with Haaland slanted out left. Another great option would be to swing Reus out to the left flank where he can work overlaps together with Raphël Guerreiro behind Haaland.

Note that Thorgan Hazard could just as easily be the starting left winger too. The reasoning here is that coach and club wish to showcase Brandt first for a possible big money transfer. If we are to see a back-three--which will require the purchase of more center backs no matter what the higher ups say--Meunier and Hazard will work as wingbacks and Raphaël Guerreiro becomes expendable if they succeed.

Three Burning Questions, Dortmund
What if Rose does need a double-six?

Not an easy question to answer if, as is rumored, Thomas Delaney is on his way out. Delaney and Axel Witsel together constitute the most experienced option for such a partnership. Witsel and Emré Can has a nice ring to it, but the duo exhibit perhaps too contrasting playing styles. Mahmoud Dahoud works better as a pocketed sweeper himself since his specialty remains long balls.

The writer thinks a midfield diamond, like the one utilized in the recent exhibition match against Bologna, will be attempted much sooner than a double-six. A priority for Rose shall be ensuring that this squad doesn't get bogged down in tentative approach play. If there's too much horizontal bloat on the midfield axes, it could lead to many of the same problems as we saw last year.

Are any of the youngsters on the camp roster here to stay?

Doubtful. Not even a wealthy club like Dortmund can afford to carry a 37-man-roster into the regular season, especially not in corona times. It was a good idea to get everyone in on one training pitch. Many new arrivals accrued the benefit of first team training right away whilst the returning European Championship players required a bit of extra rest. PSG newcomers Soumaïla Coulibaly and Abdoulaye Kamara are headed straight for BVB II. So is everyone else.

Cutting down will involve younger and veteran players alike. Steffen Tigges, Felix Passlack, and Tobias Raschl are good candidates for loan outs. We could potentially see another two or possibly three sales of higher value assets like Brandt or Delaney. It wouldn't surprise this writer at all to see "Reinier" Jesus Carvalho called back to Real Madrid early. There might be takers for Nico Schulz or Roman Bürki out there.

How much hair will Marco Rose lose this year?

Should you care to make a prop bet with your friends, "the race of the evaporating scalp follicles" is on amongst the Bundesliga trainers. It's a three horse race at the moment, with Pellegrino Matarazzo of VfB Stuttgart out to a pretty decent sized lead. Rose still stands a chance of catching up, but new Gladbach gaffer Adi Hütter nips at his heels. Matarazzo remains the safest bet. Rose is the dark horse pick. Hütter is the "dark foal" pick.

Matters are somewhat closer in the "greying beard competition" between the exact same three trainers. Again, Matarazzo is the front runner. At last check, the VfB head-coach is rocking about 67% salt and 33% pepper. Rose isn't as far behind, though. Moreover, the stress associated with the BVB job might accelerate the process. Stay tuned.

The "Pick to Click", Dortmund: Jude Bellingham

Germans have very high hopes for their three internationals, Mahmoud Dahoud, Youssoufa Moukoko, Ansgar Knauff. Some may not have even heard of the last name on that list. The 19-year-old Knauff really came on in the final stages of last season, scoring a brilliant goal and bagging another brilliant assist in three relief appearances between the 26th and 29th rounds. All three of the Germans are definitely worth keeping an eye on.

Alas, who are we really kidding? It will be Bellingham who has the breakout campaign by virtue of the fact that he's likely nailed down a starting place. The Birmingham native is so ridiculously ahead of the curve in almost every aspect of his game that it's absurd. Watch him score, set-up, and tear up nearly every blade of grass on the pitch this year.

RasenBallSport Leipzig

A third coaching change amongst the top three sees the man who succeeded Marco Rose at RB Salzburg make a lateral move within the Red Bull GmbH to come coach in Saxony. A warm welcome to Jesse Marsch, only the second American trainer in all of Bundesliga history. Matarazzo broke the barrier last year. Now the floodgates are open. It translates to extra work for a writer of an "Americans in the Bundesliga" column, but so what?

Marsch slots right in to a cushy positions with many of the same players he coached in the Austrian Bundesliga. Unsurprisingly, he's had nothing but the kindest things to say about his team in the German press and exudes confidence about taking the title. A Meisterschale win remains entirely possible. This team sported the deepest striking corps in the league even before they acquired André Silva. An embarrassment of riches.

What to do with all of this surfeit of talent? Marsch himself appears starstruck and uncertain. RBlive recently hosted a virtual event with their new coach, who proudly proclaimed that he had enough talent too build "two Bundesliga XIs". There wasn't the slightest tone of hubris in that statement either; merely the radiant gushing of a man who knows he lords over depth at every position.

Lots of variety thus far in the pre-season constellations. We'll nevertheless do our level best to forecast.

Projected Opening Day Lineup, RB Leipzig
Lineup—RB Leipzig—PROJECTED (4-2-2-2)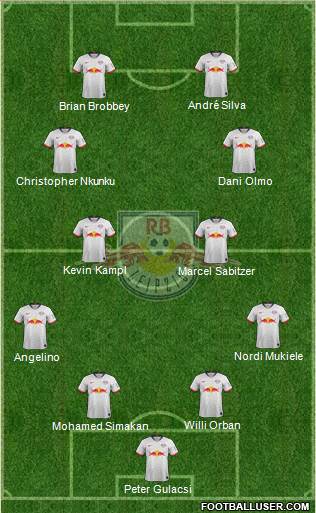 Very much a shot in the dark, this projection. To be perfectly candid, it's largely based on Julian Nagelsmann's preference for a 4-2-2-2 way back when he had Timo Werner to sit in the spot Brian Brobbey currently occupied. That's how far one has to reach to find even a starting point for Marsch. Given that all of this reasoning is long gone, don't be surprised at all if the actual lineup looks completely different. The one you see above is built on plenty of sand.

One assumes that the Kevin Kampl-Marcel Sabitzer partnership remains the best option for the center-of-the-park. Stacking Angelino, Brobbey, and Nukunku on the left puts the paciest crossers on the team in the right position to supply Silva with plenty of service. Dani Olmo can literally play anywhere on the top three axes. We'll put him in the best position to do some ranged damage with his favored right foot while Sabitzer draws coverage behind him.

There's logic behind the prognostication. That notwithstanding, it's impossible to field an XI without illogically dropping players who deserve to be there from it. Yussuf Poulsen would work just as well alongside Silva. Why not him? Surely there must be place for a fit Konrad Laimer? How does a presumably fit Dominik Szoboszlai not get a chance here? Where is Emil Forsberg? Where's Amadou Haidara?

The constellation already raises five questions before we even get to the section with the questions.

Three Burning Questions, RB Leipzig
Will Sørloth be offloaded?

In a word, yes. This offloading has been "in the offing" for sometime. The insider information leaked shortly after the conclusion of the season more or less accurately conveyed what Marsch needed to do with a team structured for a two-striker-set. The Norwegian remains a lone target forward on a team that doesn't need him.

If the diminished RB administrative apparatus can't find a suitable buyer or loan destination for Sørloth, Marsch could built the occasional 4-2-3-1 around him. With Dani Olmo functioning as the ten and Forsberg wide left, any one of the strikers could work as a short-striker/winger hybrid to Sørloth's right.

Of course, one still runs into the problem of way too much talent being squeezed out of the lineup for this. The German Red Bulls will find a buyer.

What crushing injury could sink this team?

None. That's the problem. We discuss the depth at attacking positions above. Marsch also has quality alternates at every defensive spot. Lukas Klostermann and Marcel Halstenberg still play for this side. The former German national team starters can and have played all along the line. Benjamin Henrichs, Tyler Adams, and newly arrived phenom Josko Gvardiol can also fill in at either fullback or center back.

It's madness. Perhaps if keeper Peter Gulacsi got hurt some vulnerability might arise deep. An accumulation of injuries at precisely the wrong time might set them back a bit, but one shouldn't forget that the schedule is far kinder this year. The winter break isn't quite as long as usual. Bundesligists still get three full weeks off to heal and regenerate before the Hinrunde and the Rückrunde

Will there be atmosphere boycotts this year?

Should you care to make a prop bet with your friends, this one is leading to towards a hard "no". If you're unfamiliar with the "atmosphere boycotts", these were the traditional means by which German football fans registered their discontent with the concept of RB Leipzig. These began in the 3. Liga shortly after the club's founding and continued as what Germans termed the "Marketingklub" rose up through the divisions.

Practically every club who hosted Leipzig in the 2. Bundesliga held one of these 15-minute-protests in which the ultras remained silent as a demonstration against a club that not-so-creatively skirted 50+1. It continued in some cities in the Bundesliga. Then corona came. After German fans were shut out of the stadiums last November, every match inadvertently featured an "atmosphere boycott". Even before spectators were banned, some ordinances forbade them from chanting, singing, and shouting. Another sadly consequential "atmosphere boycott".

Such a topic is broached to remind all that what many consider to be the best part of the Bundesliga remains far from full strength. German supporters will gradually be allowed back into the stadiums. The unrivaled choreography and deeply treasured uniquely German stubborn spirit of perpetual protest will have to wait a while longer. In other words, the true Bundesliga atmosphere remains a long way off. One can't really boycott an incomplete atmosphere. Hence, the writer thinks the Kurven will be a bit more docile. We probably won't see any Dietmar Hopp protests this year either.

The "Pick to Click", Leipzig: Dominik Szoboszlai

Finally! Do we get to watch this pricey addition from last January's transfer window or what? There may not be another player written about so extensively here at Bulinews who has not yet touched a ball on a Bundesliga pitch. Every new injury report leaves one feeling increasingly in the mood to laugh into a Trappatoni-at-Bayern style rant. We must see the €20 million Hungarian at some point. Here's hoping that point draws near.

There are actually several new Leipzig players that German football fans are eager to see. Some of the sentiments surrounding the team notwithstanding, many in the Bundesrepublik keenly anticipate seeing Brobbey, Gvardiol, and Simakan in action. Either one of those young guns also make for excellent "picks to click".

With some heroics in the Champions' League fixtures, the country will (of course) get behind this team broadly talented team on certain Tuesdays and Wednesdays.

This writer sends friendly greetings to all Bundesliga fans out there ahead of another fantastic season! You can catch Peter on twitter, @ViceytheSS.

Twitter DMs are open for football conversations, corrections, and (if you truly insist) general abuse. 

All columns debut on Bulinews before appearing on Peter's website later in the week.



Related stories