Bundesliga 2021/22 Tactical Previews: "European Contenders"
By Peter Weis @PeterVicey
The anticipation builds as the 2021/22 Bundesliga Campaign draws nearer! Just like last year, we'll be hosting our weekly "tactics talk" column here at Bulinews.

As always the column will comprehensive look at the central talking points of all nine weekend fixtures and include an in-depth breakdown of the most intriguing match.

For the non-tactics-heads, there's plenty of fun commentary and footballing satire as well!

In preparation for the new season, we're pleased to help get everyone psyched for the new campaign with a series of preview installments. These will group together teams likely to be competing for certain spots in the table.

Time to check up on three teams who stand a great chance of competing for the top-seven:

SC Freiburg, Hertha BSC, and TSG 1899 Hoffenheim.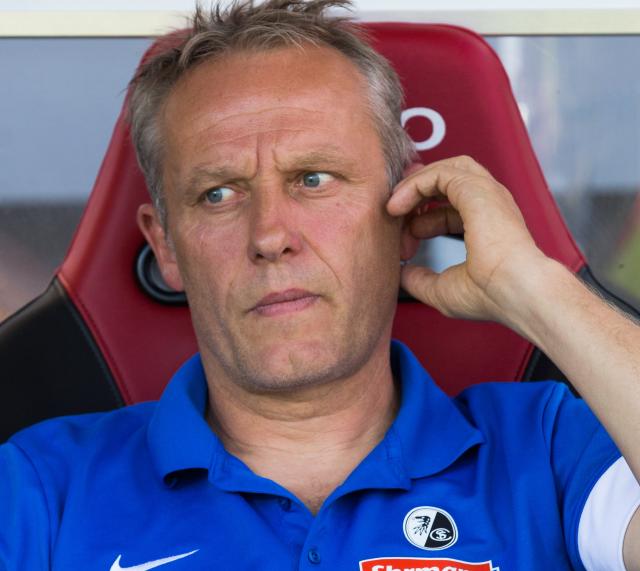 | | |
| --- | --- |
| Christian Streich. | Photo: Ctruongngoc/CC-by-SA 3.0 |
---
Introduction--"European Contenders"
---


Time to handicap the 2021/22 prospects of the next three Bundesliga teams. It took us three installments, but we've finally managed to step off the coaching merry-go-round! The projected top three teams in the German Bundesliga all have new trainers. That applied to the next four as well. Today, we've two "club men" leading a couple of teams that enjoy widespread respect among the country's footballing public. Christian Streich and Pal Dardai also happen be eminently likable characters as well. Sebastian Hoeneß and Hoffenheim are here too. One can insert one's own joke after that sentence.

None of the three clubs we'll be covering today shall be participating in either of UEFA's Europa Leagues this year. In the event that statement confuses anyone, the writer will briefly clarify. There are now two Europa Leagues. The current UEFA Europa League (UEL) gets a reduced field. There will now be a round-of-sixteen as opposed to a round-of-32. The new third-tier UEFA Europa Conference League (UECL) debuts. There are many benefits too this approach, even if it would have been more exciting to just bring back the old Cup Winners' Cup instead.

Freiburg, Hertha, and Hoffenheim are considered prime candidates to compete with the teams we've already covered to finish in the top seven precisely because they won't have the added strain of hectic midweek travel schedules this year. While such schedules shouldn't adversely affect a deep squad like Leverkusen, it's almost certain--assuming they take the final qualifying legs--likely to lead to a lower table finish for 1. FC Union Berlin this year. Hence, it's not quite time for die Eisernen yet.


Some will tip VfB Stuttgart or perhaps even FSV Mainz 05 to make a play for Europe this year. With a solid start and a lot of luck, that might be possible. Some though was given to including both those teams in this installment. The conclusion ultimately drawn held that more needed to be invested before it's considered safe to exclude these teams from the relegation race.

SC Freiburg

Surprised to see this sleepy little team from this sleepy little town leading the pack? A writer who, admittedly maintains some Schwarzwald bias, has his opinion. They're a fabulous "sleeper pick". Freiburg are too often mistaken for an insignificant yo-yo club even though they've only been relegated once in the last twelve years and have qualified for Europe twice. For some unknown reason they're always among everyone's relegation tips. No idea why. Everything stands nicely set-up for a Europa or Europa Conference Qualification this year.

We'll still be talking about sleep come May. Namely, how little of it the senior citizens of the Mooswald district will be getting after the club receives full approval to play night matches in its new Dreisamstadion. A new piece of legislation introduced just yesterday from Germany's governing regime puts the club halfway there. The gorgeous new revenue-generating arena in which Christian Streich's Bresigauer will play from mid-October onwards shall host many midweek and Saturday Top-spiel league fixtures in the near future.

For those who have never been to the Bundesrepublik, this writer adamantly insists that travelers put Freiburg on the itinerary. The city itself remains a treasure. Future footballing pilgrims actually have two venues to visit. The old Scwarzwaldstadion--where the newly promoted SC Freiburg II of the 3. Liga and the always entertaining SC Freiburg women of the Frauenbundesliga will continue to play--is an absolute must. The same applies to the gleaming new temple that will pump a great deal of cash into the club.

SC Freiburg could be on the cusp of a true renaissance phase. They might become top-four regulars. At this time of year, it's customary to talk of which high value players the club will sell off and how much trademark "overachieving" one can expect during the first half of the season. This season--with a new revenue stream so tantalizingly close--it's possible there may be no major sell-offs. Moreover, the notion of Freiburg "overachieving" was always a fallacy. The Breisgauer possess a first-rate U23 program. Six of the players who helped the reserves gain promotion currently get a look in camp.

Projected Opening Day Lineup, Freiburg
Lineup—Freiburg—PROJECTED (3-4-3)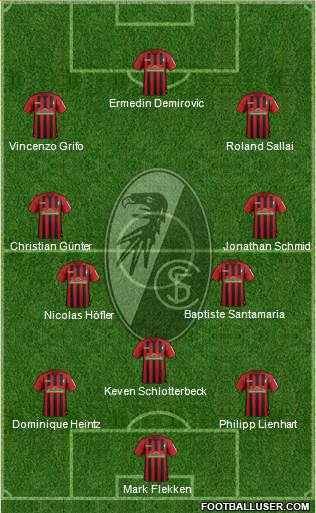 This is just plain good; "sneakily" or "sleepily" good if you must. We behold a top notch lineup casually tucked away in the south-west corner of Baden-Württemberg. Streich's XI lurk in stealth. They are prepared to pounce on any unsuspecting Bundesliga club at a moment's notice. Bosnian striker Ermedin Demirovic truly found his groove toward the latter stages of last season. An in-form Lucas Höler and German football's greatest ever "super sub" Nils Petersen sit ready to work some magic off the bench.

Behind the lead striker, we have two players who recently earned call ups to their national teams. Pforzheim born Italian Vinceno Grifo may not have made Roberto Mancini's final cut, but he led this team with nine goals last year. Those watching the recent European Championship need no reminder of how good Roland Sallai happens to be. The Hungarian netted eight for club in 2020/21. Wise-headed French veteran Jonathan Schmid and recent German national team pluck Christian Günter provide the next quality layer of buttressing.

Moving further back, we have a defensively-minded midfield tandem that matured well in the campaign just completed. Nicolas Höfler and Baptiste Santamaria experienced their fair share of stumbles. It nevertheless appears little to be concerned about. The latter player, a record purchase for SCF, turned in many a performance befitting of his ultra-cool name. It's an embarrassment of riches at the back. Nico Schlotterbeck, Jannick Keitel, Janik Haberer, Manuel Gulde, and Lukas Kübler can also all start there.

Three Burning Questions, Freiburg
What will become of the Schlotterbeck brothers?

At present, it looks as if the rumors surrounding Nico are dying down. It looks as if the two shall play together on the same team for the first time since 2018. Both siblings were deftly sent to their own individual loan stints with 1. FC Union Berlin. Bundesliga watchers considered a neat kind of "away module" developmental program. Keven played in Köpenick during the 2019/20 campaign. The elder brother then returned to Breisgau with Nico heading to the German capital for 2020/21.

Leave it to this club's methodical administrative staff to come up with such a long-range plan. The Freiburg bosses always think ahead. They have to. So many talents get groomed in Breisgau before departing for greener pastures. Some familiar names off the top of the writer's head include Matthias Ginter and Maximilian Philipp. There are dozens more. The outgoing transfers from last season--Robin Koch, Luca Waldschmidt, and Alexander Schwolow--obviously lie fresh in the mind.

How does the club keep pumping out talent?

Location and "quiet competence". Breisgau is well situated to serve as a magnetic hub for talent around a large swathe of Swabia, Baden, and even France/Switzerland. Additionally, the club features a very talented administrative staff. Former president Fritz Keller will sadly not be remembered for putting the managerial team together. He'll be forever associated with other things now. Poor Fritz evidently forgot how to be "quietly competent" once he got to the DFB

We talked a bit about one savvy administrator in a recent scorecard piece. Jochen Saier is one among many managers who keeps the pipeline full. Andreas Steiert, Klemens Hartenbach, Martin Schweitzer, and Christoph Wetzel-Veilandics are a few others who "sleepily and stealthily" get it done. It's simply a great academy. Germany's FA took guidance from the Freiburg "Nachwuchsleistungszentrum" when refashioning their own youth program. Yeah. Take your time trying to pronounce that word.

Why is Christian Streich incomprehensible?

Now, that's a low-blow question! The man simply speaks in a thick south German dialect that somehow manages to be charming and irritating at the same time. Swabish meets Switzerland in the deep, dark regions of the Black Forest. In fairness to the 56-year-old, that particular dialect happens to be a hard one to shake. Freiburg native Joachim Löw lapsed back into it (along with lapsing back into more casual clothes) during his last three years as the Bundestrainer.

This writer can (in large part) understand Streich just fine and offers his services in the event that anyone needs an interpreter. He is a truly great coach who fully deserves to be holding Europa League press conferences next year. Another thing: Both Streich and Löw have also been unfairly maligned after getting caught on camera regularly removing intrusive obstacles from their noses. If we're honest, don't we all have to remove intrusive obstacles from our noses at some point? It's part of the human condition.

Not cool to treat these two trainers like backwater hayseeds!

The "Pick to Click", Freiburg: Nishan Burkart

As noted above, six players from promoted SC Freiburg II were invited to camp. One doesn't even necessarily need to reach into the unknowns to find a young "breakthrough candidate" at Freiburg. The writer could have easily chosen more recognizable names like Yannick Keitel or Nico Schlotterbeck. That would have constituted the easy path. No way. Time was budgeted in order to read up on Kevin Schade, Noah Weißhaupt, Kiliann Sidillia, Kimberly Ezekwem, and Noah Atubolu!

The 21-year-old Nishan Burkart remains the real star. A speedy little devil sired by two Swiss Olympic sprinters, Burkart led SC Freiburg II with 16 tallies last season. He's also netted ten goals for various Swiss international sides. Schade and Weißhaupt, both 19-years-of-age, are the two offensive players from the reserves that join him. They contribute a further 13 goals form last season, There could be space for all three of them on the roster.

Hertha BSC

We should witness a "Berliner footballing Wende" at some point. The only question remains when the turnaround will come. Charlottenburg's "alte Dame" retain the multi-hundred-million Euro backing of investor Lars Windhorst. This actually counts as a very salient matter in corona-times. Most clubs, if they haven't already, will have to engage in major belt-tightening both this season and next. Hertha remain in safe hands financially. Repeatedly pressed, Windhorst never fails to defiantly insist that he will not withdraw his money or back away from this long-term project.

New sporting CEO Fredi Bobic, true to his Swabian roots, is also a prudent prudent personnel executive who won't splurge on a hodgepodge of different players that don't piece together well. There certainly seems to be a new feel around the country's perpetually poor performing capital city club. Naturally, German football lovers who make a habit of consoling our downtrodden Hertha supporting friends have said this before. This time genuinely seems different.

After nearly a quarter-of-a-century's worth of involvement with the club, Michael Preetz is gone. Bobic counts as a more seasoned executive who, importantly, continues to learn from his past mistakes. From failure in Stuttgart to success in Frankfurt, the former Hertha and national team striker continues to evolve. Bobic surprised many of us by keeping trainer Pal Dardai in place after his appointment. The reasoning? Dardai boosted morale in a team that desperately needed a sense of identity.

One could say that Bobic at least has his finger on the pulse of what's always been wrong with Hertha. That may be a fairly obvious diagnosis, but one still has the confidence that the new sporting CEO and the capable administrative staff he's installed can remedy the situation given some time. In this case, a glance at the projected lineup gives on a good read on where we are early on in this process.

Projected Opening Day Lineup, Hertha BSC
Lineup—Hertha BSC—PROJECTED (4-2-3-1)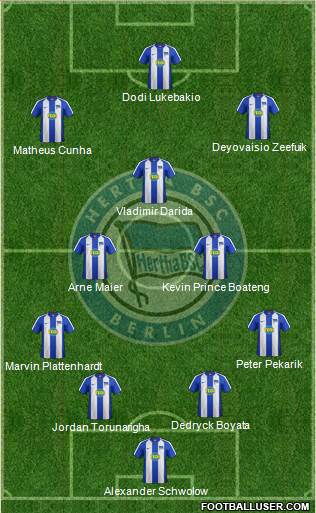 Not really where we want to be by any stretch of the imagination. Jhon Cordoba's sale and Krzysztof Piatek's injury leave the team without a lead striker, unless Davie Selke has discovered some sort of magical elixir that will turn him into a completely different player than the one from the last 18 months. Matheus Cunha may not really wish to be on the team anymore. Bobic is working on shoring up extra support for the wings. He'll need more than one player.

Counteracting some of the doubt and disjointedness within the locker room, we have a player who absolutely wishes to be here. As cliched as it may sound, the Kevin Prince Boateng signing helps immeasurably with the overall goal of team identity. This writer strongly advocates pairing the homegrown West Berlin native with Germany U21 captain Arne Maier in midfield. It gives the squad a solid partnership that can run on the spirit of tutelage.

All members of the back four are team veterans who identify with the club. One shouldn't forget that the inability of Jordan Torunarigha and Dedryck Boyata to remain concurrently healthy last year was one of the primary sources of the team's struggles. We won't have that problem this year. That bodes well. A lot about this work-under-construction bodes well.

Three Burning Questions, Hertha
How long will Bobic give Dardai?

From the sporting CEO's perspective, it makes sense to keep the club man who helped the club avoid relegation in place for the time being. That doesn't translate to an iron-clad commitment. The two personalities don't mesh particularly well. Dardai remains an outspoken gaffer who, for better or worse, isn't afraid to call players out. There's no doubt that the Hungarian wasn't Bobic's first choice. One can consider Dardai the best Bundesliga candidate for the dreaded coaching hot seat.

Vedad Ibisevic's integration into the coaching team unquestionably means that the new chief exec wishes to give a coaching staff built for a specific purpose more time. Looking at the schedule, however, we could see this team hovering near the relegation zone come mid November. The first twelve matchdays are crucial. By then we'll know whether this team proves a European contender or a relegation candidate. The writer bets on the former and predicts Dardai will remain in place. Bobic won't pull the trigger on a change unless the point totals begin looking scary in late February or early March.

Any chance Jerome Boateng is coming?

Some of us haven't given up hope. It certainly would make for the finest of fine stories. Thinking 3-5 years down the line, Jerome may follow in his half-brother's footsteps and finish his career in Charlottenburg. Current circumstances speak against such a move. The released Bayern center halve maintains every reason to still consider himself a relevant player worthy of a Champions' League club.

In addition to performing well in the Champions' League last season, the 32-year-old made 29 league starts for one of European football's premier clubs in 2020/21. The chances of Jerome settling for Hertha at this stage of his career appear slim. In any event, Bundesliga enthusiasts will keep right on checking constantly for any sign that it might happen; much like we did with Mario Götze in the previous summer transfer window.

Why does Hertha need a Netflix documentary?

Now, that's a low-blow question! It also happens to be a fair question. In truth, this writer doesn't have a good answer apart from the fact that apparently every football team needs a documentary these days. Some ("Sunderland til I die") are captivating and compelling. Others ("Inside Borussia Dortmund") are nauseatingly dull and pointless. As we as a species push to a global population of 9 billion, it increasingly looks as if we'll evolve to the point that half of us are making documentaries about the other half.

The columnist has nothing personal against documentaries. Indeed, they actually are among the best things on offer in this mortal plane of existence. Who doesn't like an informative and interesting doc at the end of a long day? Alas, we may have gone overboard a bit. British literary genius Douglas Adams, in pointing out that we may have descended from the Golgafrinchans, once had Ford Prefect presciently point out to Arthur Dent "The human race is currently sitting on a rock on the other side of the hill making documentaries about themselves."

The "Pick to Click", Hertha: Marton Dardai

His fate obviously intertwined with that of his father, one can still congratulate the trainer's teenage son for what proved a largely above average 12 appearances for the senior side last spring. The 19-year-old made nine starts. His father took care to shield him somewhat on the left-handed slant of a back-three. Involvement was thus tempered. Marton frequently got so few touches that one scribbled down a 3,0 grade to indicate a fair-to-middling job.

It's possible that Pal may select his soon for a starting XI appointment on the inside of the projected back-four. Marton could conceivably pair well with Boyata, Torunarigha, or Niklas Stark. No complaints of nepotism will be in order if he can preserve his current form in competitive matches. Marton even showed some real brilliance and class during deployments in the 26th and 29th rounds. Marton's development conveys a significantly more positive impression than that of slightly older brother Palko.

TSG 1899 Hoffenheim

Well. It's that time. No more procrastinating. The block cannot be walked around again. The dishwasher is unloaded and the laundry is folded. We must delve into the team that most German football lovers want nothing more than to skip over. Sigh. The Sinsheimers. Bundesliga purists will not wish to hear this, but die Kraichgauer count as virtual shoe-ins to qualify for one of the Europa Leagues. Dietmar Hopp's club might even snatch up the last Champions' League place just as they did in 2017/18.

A three-year-absence from the UCL never made sense for a club this well financed. They would have easily been contenders last year where it not for some highly improbable bad luck. New trainer Sebastian Hoeneß at one point had to deal with as many as ten players out injured at once. COVID also obstinately refused to leave the club alone. A record eleven players tested positive for the novel virus over the course of the season and had to enter quarantine.

It's incredible that striker Andrej Kramaric managed to knock in 20 league goals with all the time he missed last autumn. The team would have finished significantly higher were it not for injuries that hampered Ermin Bickakcic, Sargis Adamyan, and Mijat Gacinovic. It proved a weird season for the Badeners indeed. They felled German giants Bayern in the second week. After team quarantines, a slew of injuries, and a compressed Bundesliga/Europa League schedule, they were getting the stuffing knocked out them by lowly Schalke in January. As Hoeneß himself put it, "everything went to waste."

That won't happen this year. Lightning rarely strikes twice with respect to a squad-wide injury bug. Speaking of "bugs", Hoffenheim may be the only football team in Europe that beat COVID with herd immunity before anyone could get vaccinated. Hoeneß reeled in one of his pillar players from the FCB II 2019/20 3. Bundesliga championship campaign in the form of Angelo Stiller. He may get Chris Richards back too. The famous Hoeneß nephew may find this particular top tier campaign similar to the one in the third division two years ago as there's a very large field of weak teams left to cover.

Projected Opening Day Lineup, Hoffenheim
Lineup—Hoffenheim—PROJECTED (4-3-3)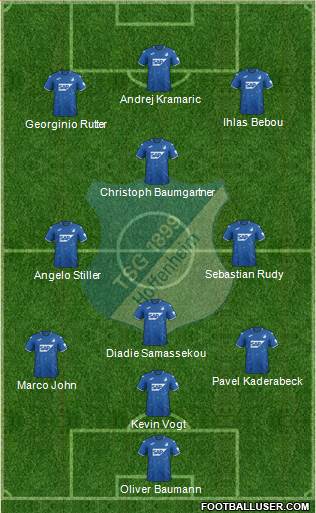 We haven't actually seen this double-diamond pivot yet in the preparation. Hoeneß used an equally devastating 3-3-4 heavy diagonal split-stagger for the side that completely demolished Karlsruhe in an exhibition just yesterday. That might well be his plan for the season. The TSG head-coach favored a back-three through much of last spring. He can have his pick of how to build a very effective one this year. Whatever way he opts to construct it, there's an extra quality attacker on the pitch.

A design like this makes slightly more sense to the writer. We're all aware that Diadie Samassekou can essentially serve as a vortex for midfield balls. He's very N'Golo Kante-esque in that respect. To place him sweeper central and invert the pivot with a stay-at-home defender like Kevin Vogt then allows Marco John and Pavel Kaderabeck more space to operate out wide. Two defensive minded midfielders ahead of them accords them further freedom to bomb forward.

Assuming Christoph Baumgartner can shed some of the sloppiness he displayed through a disappointingly inconsistent season last year, we're basically looking at a quadruple-pronged attack that can come at an opponent from every possible angle. Baumgartner tallied six times despite some of his more curious antics last year. Adding that to Kramaric's 20 and Ihlas Bebou's 9 and one has a 35-goal goal front-four. That's before we even get to young Georginio Rutter, which we will below.

Three Burning Questions, Hoffenheim:
Is anyone for sale?

No one of value really, at least not yet. We might see sporting director Alexander Rosen trim his roster a tad by cutting veterans like Bicakcic, Vogt, Adamyan, Gacinovic, or Nordtveit. These are players who, thanks to recent persistent injury struggles, no longer carry salaries consistent with their worth. Not that the Sinsheimers necessarily have to worry about payroll. SAP's profit margin ensures that the checks always roll off the press on time.

As the transfer deadline nears, the offers will come pouring in for Kramaric and Florian Grillitsch, both of whom sit on expiring contracts. Rosen will naturally want to hold onto them as long as possible. One can't really play poker with an organization wielding this sort of financial clout. Oversized offers totaling a combined €55-65 million are on the way.

If Grillitsch and Kramaric themselves want to go to Bayern, the Serie A, or the Isle, then the offers be accepted. Nothing shall truly be entertaining until they do.

Does anyone wish to play in Sinsheim?

Sometimes the first question begets a second. The writer assures you he won't get too snarkish prior to specially reserved third question. The question furnishes a positive purpose this time. Sebastian Rudy (a.k.a. "Mr. Hoffenheim") wants to be there. Serge Gnabry, Sandro Wagner, and Vedad Ibisevic all speak fondly of their time there. Many others have. Many others will.

A low-stress, low-pressure environment remains attractive for talented professionals. It is such that Kramaric and Grillitsch might opt to extend their deals after all. They'll of course wish to be well compensated in addition to being comfortable. Hopp's software giant can oblige. One or two more intriguing talents will also come in on loan and a few youth prospects will sign. It's the same every year here.

Will Hopp be put in the cross-hairs this year?

Now, that's a low-blow question! The answer remains "no" by the way. For the record, this writer never endorsed that particular protest when the Dortmund fans did it in 2018 and 2019. The DFB ruling sanctioning the BVB fans in February 2020 was particularly poorly timed. German match officials decided to invoke the FIFA anti-discrimination protocols and stop the match when a fan flashed it again during the 23rd round of the 2019/20 campaign.

This was done the country was emerging from a domestic terror attack in Hanau that week. While the intent was correct, the invocation of the anti-discrimination protocols really rifled the German ultras. Most German ultra-societies are actually vehemently anti-discrimination. To utilize FIFA anti-hate protocols against the fans for protesting against someone on the basis of "income" surely wasn't intended to mean that their match could be interrupted because they wished to protest against a wealthy person.

That's when the writer's sympathies began to lean a bit more towards the angry Kurven. Ideally, after 18 months of ghost-games, all of this is behind us. Every German football lover is eagerly looking forward to getting back into the stadium. We'll take the PreZero Arena at this point. Sure. Absolutely.

The "Pick to Click", Hoffenheim: Georginio Rutter

The 19-year-old French phenom came to Sinsheim a little earlier than from Rennes expected last year. After scoring less than three minutes after coming on in his very first match, he never really managed to recapture that flair and was pretty much a dud in two starts. Looking sharper and much better adjusted this preseason, he's a fine tip to have a breakout campaign. Club football remains a new foothold for him. Rutter has tallied 16 times for France at youth level.

There's no shortage of other breakthrough candidates on the Kraichgauer roster. Nineteen-year-old winger/fullback Marco John returns and is projected to start. Eighteen-year-old striker Maximilian Beier has impressed during the preparation. Germany U21 players David Raum and Dennis Geiger will continue to develop. Despite being wrong about this for two straight years, this writer will again predict that Robert Skov will make something happen this year. Something. Please. Something. Anything would be fine.

This writer sends friendly greetings to all Bundesliga fans out there ahead of another fantastic season! You can catch Peter on twitter, @ViceytheSS.

Twitter DMs are open for football conversations, corrections, and (if you truly insist) general abuse. 

All columns debut on Bulinews before appearing on Peter's website later in the week.



Related stories