Bundesliga Tactics Talk: Round Three
By Peter Weis @PeterVicey
Ahead of what promises to be an exciting finish to the summer transfer market and an intriguing international break, there's still plenty of football to analyze from the third round of action in Germany's top footballing flight.

The 2021/22 Bundesliga heads into its first international break with some surprise sides contesting the race for the top seven places. There's also continued performance problems out of the gate for perceived contenders like Leipzig, Frankfurt, and Gladbach.

Hertha-Bayern gets the "tactical focus" section this week. Some big news actually stems from that result. With his comments today, Pal Dardai has dropped strong hints that he will be the first head-coach of the new season to vacate his post.

Along with everything else from all nine fixtures, we've thoughts on that below.
| | |
| --- | --- |
| Pal Dardai. | Photo: Steffen Prößdorf, CC BY-SA 4.0 |
Bundesliga Tactical Banter: Round Three
Company teams rise to the top

How about this after the first three rounds of the campaign? It's Mark van Bommel's Autostädter topping the table! Care to actually come out and see your team, Wolfsburg faithful? As always, there's plenty of extra seats at the Volkswagen Arena. After the substitution error that led to the VfL forfeiting the Pokal, the club is even offering a special promotion. Buy five tickets and you can get the sixth for free! Seriously. That's not a joke. Wolfsburg are actually offering fans this discount.


The 1-0 victory over RB Leipzig for Germany's green company team could be fairly described as a laborious struggle. The two sides contested a very intense duel in Sunday's round three capper. The match truly could have gone either way with the decisive goal coming off a somewhat flukish play. Die Wölfe remain a work in progress even if they do currently top the table with a perfect nine points from three fixtures. By contrast, Germany's red company team are just having a blast.

Leverkusen keeper Lukas Hradecky gleefully remarked that he rediscovered the pure unadulterated joy of his hobby following last round's 4-0 thrashing of Gladbach. He may not be in such a chipper mood this week after being let down by Mitchell Bakker on the goal that spoiled his second consecutive clean sheet against Augsburg. Die Werkself nevertheless, on the while, look like a team enjoying their football at the moment. The 4-1 win over the Fuggerstädter sends them sailing into the break.

One could make the case that Iago's freakishly bad own-goal in the 3rd, the controversial non-penalty-call after Andre Hahn went down in the 8th, and the hard-luck second own-goal off of Florian Niederlechner in the 14th meant that lady luck was on Leverkusen's side. Fair enough. Luck still has nothing to do with the still pulsating form of France's new call up Moussa Diaby. Paulinho, Kerem Demirbay, and Patrik Schick also played an excellent match. Florian Wirtz was incredible off the bench and "last puzzle piece" Amine Adli nearly scored in his brief debut relief appearance.

If one were to select a clear winner from the initial three rounds, the Bundesrepublik's red company team comes closest to looking the most complete side. Nipping just a bit behind we have Nagelsmann's revamped Bayern, whom we'll discuss in greater detail below. With no shortage of respect accorded to the other two teams in the nascent "top-four", the table hardly tells the full tale at this stage of the season.

Freiburg and Wolfsburg will probably drop out of it soon enough.

Smiles for Steffen

The table almost certainly lies when last year's relegation scare currently sits in sixth place. Or does it? Steffen Baumgart's Köln continues to command respect. We won't be rehashing any of the old quips about Steffen's sideline appearance and demeanor this time. This is part due to the fact that we've exhausted comments about the hat and shouting. Instead of wisecracks, let's attempt to crack some of the Effzeh trainer's wisdom. The man truly knows what he's doing in terms of tactics.


We saw Baumgart employ some excellent solutions to his personnel issues in this round. Missing Mark Uth and Jan Thielmann, he retained the 4-1-3-2 by moving Dejan Ljubicic out to the wing, placing Ondrej Duda in Ljubicic's central position, and plugging Sebastian Andersson in at striker next to Anthony Modeste. Not exactly quantum physics, but still effective. The more interesting move came at the right fullback position, where Benno Schmitz got inserted back in after making way for Kingsley Ehizibue against Bayern in round two.

Schmitz proved every bit well matched against the opponent as Ehizibue did last week. In point of fact, the 26-year-old was by far the best Domstädter on the pitch. Schmitz lobbed in killer crosses all afternoon and really impressed with his creative technical ability on the ball. Andersson worked as an excellent foil for Modeste, who was unlucky to hit the post twice. With close to 80 percent possession and a plethora of wonderfully worked opportunities, Köln really should have run away with it against Bochum.

In the end, Baumgart received praise almost incidentally. Four substitutes he brought on in the final twenty minutes sparked the last bit of creativity needed on the two late goals. It makes one a bit sad that it had to come to that in the 2-1 victory. The coach's initial selection proved the real star of the show. The original XI deserved to have it sewn up long before the random assemblage of replacements tipped the scales. Oh well. At least Steffen got his smiles this weekend. No team has served as more of a pleasant surprise than his in this opening phase.

The Burning Questions: Round Three
What were the lessons from Friday's Firecracker?

There were many lessons from the electrifying five-goal thriller between Dortmund and Hoffenheim. One can offer up valuable insights on a variety of topics, though the question of whether Erling Haaland or Marius Wolf sports the better "Golden Man-Bun" remains impossible to call. Both the German and Norwegian presently do an admirable job of demonstrating team-spirit growing out lavish straw-colored locks that complement their jerseys. Good for them.

One can extrapolate the hairstyling observation to the state of Dortmund as a whole. Even if matters are clearly headed in the right direction insofar as growth is concerned, we just don't know how the specific growth pattern will turn out. We may get long excessively long bangs. We may get a mullet. Time shall tell which excess areas Marco Rose shall need to take the thinning shears to.

For the time being, the loose midfield diamond has tightened back up and the (old-fashioned by modern standards) two-striker set that places Donyell Malen alongside Erling Haaland improves at an acceptable clip. Not much for BVB fans to concern themselves with. Their team progresses nicely. German football enthusiasts find themselves considerably more concerned about Sebastian Hoeneß' Hoffenheim.

A team we don't generally like threatens to command our attention.

Lineup—TSG Hoffenheim—Match Three (4-2-3-1)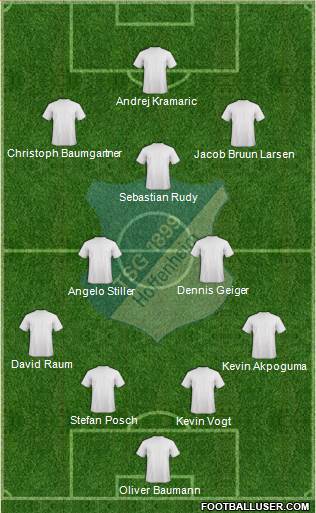 This crew shows off a solid look. Virtually no one anticipated that Hoeneß could line die Kraichgauer up so effectively without midfield linchpin Diadie Samassekou. The Sinsheimer trainer surpassed our expectations by constructing a double-six concept around one of his favorite old FCB II protégées.

The big, bad Bruisers

Keep an eye on Angelo Stiller this season. Few considered it a newsworthy occurrence when Hoeneß plied the then 19-year-old away from the Bayern campus with a commitment to play for him this year last autumn. Now that we've all had a chance to see what the TSG trainer had in mind for him, it's time to laud the signing. The kid with the name of a mafia muscle collector (and a face to match) does a fabulous job strong-footing turnovers on his axis.

Together with fellow German youth internationals Dennis Geiger and new senior-side call-up David Raum, Stiller and teammates do a fantastic job of asserting themselves on their patch of pitch. Through a basic clockwise rotation scheme, the trio meld to collectively exert a footballing influence that combines the brute-force physicality of a Niklas Süle with the roving elegance of a Lars Stindl. A very impressive first few weeks for these three.

Flick of a switch

It took some time for Dortmund to break this down. Approximately one half hour of heavy BVB wing cycles were needed in order to sufficiently disrupt the cog work of Stiller, Geiger, and Raum. From Hoeneß' perspective, however, this really doesn't constitute much of a problem. The personnel can easily be re-organized into something more attack-minded. As we saw last week, Sebastian Rudy and Andrej Kramaric can always work further back.

Offensive options off the bench are legion. Hoeneß maintains no fewer than four natural lead strikers to turn to in the event that the heat needs to be turned up. The depth of this squad--rendered immaterial last year amid the persistent injuries, endless COVID-positives, and required rotations associated with the Europa League participation--receives it's real chance to shine this year.

Take a look at the how the formation changes when Hoeneß boldly opted to sacrifice Stiller for another attacker at the half.

Lineup—TSG Hoffenheim—46th Minute (5-1-4)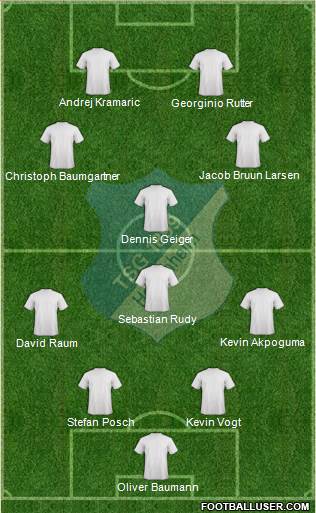 Dropping Rudy so far back genuinely threw Dortmund for a loop. The visiting Badeners were totally dominant. Only Giovanni Reyna's skillful finish enabled the hosting Westphalians to take the lead against the run of play. We would later see Kramaric pocketed next to Mijat Gacinovic in a duel-ten constellation while Georginio Rutter, Munus Dabbur, and Sargis Adamyan served ahead in a late-match no-holds-barred 4-1-2-3.

Any way one slices the bland and flavorless slab of spam that some Germans consider this non-historic club, they're deep and dangerous. Sorry, everyone. It simply appears as if--yet again--we won't have the luxury of ignoring them this season. Some big-time Bundesliga scalps claimed by the "big bad bruisers" are most assuredly coming. After an excessively weak five-round-run to build still more confidence, watch them upset Bayern again in week nine.

There's even worse news for those holding out the hope that this club may somehow fade into mid-table obscurity. Dietmar Hopp extended his developmental reach again this week. The "Kraichgauer Brazilians" now have partnerships with Portuguese academies to add to their Red Bull GmbH-esque alliances with football programs across the pond in Latin America. The wave of the future cannot be subverted. Not good times.

Did Streich deliver another masterstroke?

He did indeed. Moving from the "Kraichgauer Brazilians" to the "Breisgauer Brazilians" is sure to lift one's mood. We leave a non-tradition-based club behind in favor of one of the Bundesliga's more likable and successful "50+1 bastions". From "not good times" to "great times" without even having to leave Baden-Württemberg. Christian Streich and SC Freiburg count as "anti-Hopps".

One derived great pleasure from watching them secure another significant victory en-route to (ideally) European qualification this year. The five-goal affair in Stuttgart worked as the inverse of the five-goal Dortmund-Hoffenheim contest. Whereas all the tallies in the 3-2 fixture there came in the second-half there, this wild and crazy rollercoaster ride saw all the scoreboard changes occur in the opening 45.

The most obvious talking point emanating from Freiburg's 3-2 victory over Pellegrino Matarazzo's VfB understandably revolves around the acute striker crisis in Stuttgart. Matarazzo and personnel boss Sven Mislintat face a full-fledged emergency there. On the defensive side of the ball, the Stuttgart back-three got way-too-eaily shredded on the first and third Freiburg goals. It's a complete disaster. Radical changes are required.

As bad as Matarazzo's defensive unit functions, Konstantinos Mavropanos still dazzled with a brilliant set of skillful actions on his goal. The team's marvelous buccaneering captain Wataru Endo also rediscovered his sparkle with some spellbinding work on the subsequent goal mere seconds later. Whilst we're commenting on the action, Freiburg's Woo-Yeong Jeong sensationally atoned for his miss last week with a sumptuous brace.

Roland Sallai and Christian Günter were brilliant too. Loads of quality football in this one. Despite that, perhaps the most intriguing aspect of the encounter came when the game settled into stalemate during the second half. Christian Streich employed a triple-substitution at half-time to nip the Stuttgart comeback in the bub. For the second consecutive week, the Freiburg gaffer locked it down masterfully.

Lineup—SC Freiburg—46th minute (5-3-2)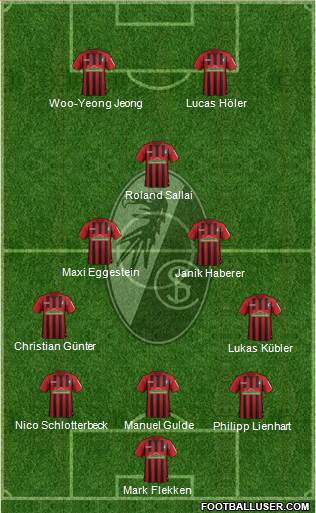 This seems oddly reminiscent of some constructs we saw at Maximilian Eggestein's old club SV Werder Bremen last season. The difference, of course, is that Streich isn't rolling out something like this at the start in Florian Kohfeldt's distinctive "pre-match-capitulation" style. This flat back-three with subdued wingbacks actually serves a purpose. Moreover, the talent exists to peel off some solid counters.

It really worked well. Sallai was unleashed frequently on the break. The Hungarian attacker found himself in space often and got off some great chances. Having already burned three of his subs at the half, Streich didn't refresh the top axis with Ermedin Demirovic and Kevin Schade until it came time to milk the clock late. A different set of circumstances might have seen them introduced earlier to greater offensive effect.

Streich's jubiliert reactions after the full-time-whistle nevertheless engendered very warm feelings in all those watching. The Bundesliga's longest serving trainer rushed over to celebrate with his players as if he were the same age as them. Individual hugs were delivered for executing his game-plan perfectly. Buy stock in this team and its head coach if you can. Something special brews in Breisgau.

What's wrong with Frankfurt?

Mensch. What isn't going wrong in the country's finance capital? Kostic boycotting training in order to force a transfer. Younes returning after a very public pout over his salary sure to leave him unpopular with the fans. Then there was this weekend's 1-1 draw at Bielefeld. After showing some slight signs of improvement last week, Oliver Glasner's new look Adler undoubtably regressed against one of the league's minnows on this matchday. The SGE were lucky to escape with a point. A late Arminia onslaught could have seen the hosts win 3-1 were it not for the post.

Getting bossed by the likes of Alexander Hack, Manuel Prietl and Fabian Klos just isn't good enough. Admittedly, these DSC actors aren't exactly devoid of talent. They still looked well above their level against another wobbly Eintracht back-four/double-six defensive regime. Up front, having tried a 3-4-3 and then a 4-4-2, Glasner went with a 4-2-3-1 this time. Daichi Kamada, fortuitously forced back into the lineup because of Kostic's absence, was by far the brightest spot in the ten spot. The "Scandinavian winger axis" of Jesper Lindstrøm and Jens Petter Hauge did okay, but wasn't spectacular.

Loads to work on here as the team seeks to regroup over the international break. The club should at least make an effort to keep Kamada content by cementing his role in the starting lineup. The Adjin Hrustic midfield experiment also needs to come to an end. Makoto Hasebe needs a regular role in the XI as well. The two Japanese internationals can potentially utilize their long held fondness for one another to provide mutual leadership on the pitch. It's a start.

What's wrong with Gladbach?

More of a case of injuries here. With Stefan Lainer and Matthias Ginter out, Adi Hütter had to cobble together a back-four intrinsically week on the right-hand-side. Union Berlin predictably threw everything they had at that quadrant until either Joe Scally or Louis Jordan Beyer made a mistake. The latter ended up committing the fatal error in the 22nd that enabled the Köpenickers to establish a 1-0 lead in front of their raucous home crowd. It then didn't take much for the stress and strain from last week's encounter with Leverkusen to resurface in the foals' collective posture.

One rubbed ones eyes in disbelief as Lars Stindl sent a wayward pass totally incongruous with his normal style shortly before the half was out. Keeper Yann Sommer again looked out of sorts in his frenzied rush out on Taiwo Awonyi's 41st minute goal. The NRW guests stood little chance of coming back after that. Union's Awoniyi and Max Kruse were flying high after involvement in both tallies. The hosts had all the skin in the game they needed with Kruse, Awonyi, and the crowd. Gladbach had nothing other than pent-up post traumatic stress.

All of that notwithstanding, one shouldn't equate the BMG situation with the SGE one. Injuries will heal. Stress will dissipate. Sporting director Max Eberl shouldn't have too many problems retaining players who are basically satisfied playing for their current team anyway. The situation here can mend. By contrast, "exit fever" still runs high at the club Adi Hütter left last year. Gladbach can hold together as a unit. Frankfurt are plagued by, ironically enough, a bunch of moody divas.

How lousy are Fürth?

Oh, they're terrible. Point blank awful. They may be infinitely worse than the 2012/13 version. Can we just relegate them now? Keeping close tabs on the 0-3 loss to Mainz for the "Americans" column, this writer isn't quite sure he's seen such a timid game of football from a team all year. Mainz wingbacks Silvan Widmer and Anderson Lucoqui were allowed to bomb up and down the flanks unmolested all afternoon long. No one in green seemed remotely interested in getting a tackle in. The chronicler honestly isn't sure anyone on the Kleeblätter won a single aerial duel.

Stefan Leitl began with the exact same idiotically mismatched 4-1-3-2 with the exact same players as last week. He then proved himself completely out of his depth by trying to switch to a 4-3-3 at the half. Without the requisite quality players, it yielded nothing. Svensson's Mainz could have easily run this up to a 6-0 rout with some more converted chances. Totally toothless football from this team. As early as it is, Fürth might well be this year's Schalke. Watching them makes one feel like heading into the locker room with the same sentiments Mark Uth had last season.

Weekly Tactical Focus: "The Best of the Worst"

Our weekly in-depth tactical check-up assesses the physical health of the Bundesliga's "picture of perfect health" as well as its "sick-man". One had the feeling that Saturday's "Top-spiel" would make evident the extent of the divide clear. Simply scoping out the schedule instilled a sinking feeling. Before a ball was even kicked, Hertha-Bayern conjured up memories of the Schalke-Bayern fixture that opened up the 2020/21 campaign. This one didn't finish 8-0, but it very well could have.

Julian Nagelsmann appears to have gotten his trademark urge to over-tinker out of his system in round two. As a result, he commands a strapping and robust squad comfortably lurking in third place. Pal Dardai's tinkering tasks, assuming the higher-ups can convince him to stay, have only just begun. Absolutely nothing is working for "die alte Dame". After opening the season with three losses, Hertha lie dead last in the table; the only Bundesliga side not yet to claim a single point.

With these relevant trends in mind, we're pleased to utilize our "tactical focus" segment to delve a bit deeper into the recent travails of the league's best and worst teams. Presenting, "the Best of the Worst". Note that this is not to be confused with "the Best of the Wurst". Should you notice a German-themed restaurant offering this special, it's well worth dining there. A Bavarian Eatery might have some tasty sausage specials on the board that evening. Try the Münchener Weißwurst. You won't regret it.

Nagelsmann happened to have some nice Bavarian specials in store for us on Saturday evening. Dardai served up some bitterly cold Goulash. Hertha truly are in a deplorable state. We've some torrid tales to cover in the 0-5 shellacking. No joke. We quite literally witnessed players lying down on the job (Stevan Jovetic) and having difficulty tying up their own shoelaces (Davie Selke). Ugh. Gird yourselves for a rough ride.

Since there were no major in-game tactical adjustments from either side, we'll walk it back a bit to take a look at how both these trainers lined up last week. The case of the FCB trainer happens to illustrate the manner in which Bayern get on track rather well.

Lineup—Bayern München—Match Two (3-4-3)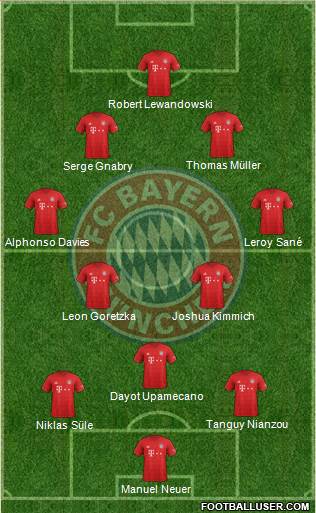 Everyone knew that we'd be in for some form of this goofiness at some point. Thankfully, Nagelsmann's experimentation with a back-three lasted only 45 scoreless minutes. The team reacted to this needlessly ornate construct by miring themselves in their own entirely too complicated build-up play last week against Köln. Niklas Süle, Thomas Müller, and Leon Goretzka got a few looks in, ultimately trying to finish in too complicated a fashion as well.

The 33-year-old gaffer immediately ditched this at half-time. Nagelsmann showed no hesitation in yanking both Tanguy Nianzou and Leroy Sané. Young phenom Jamal Musiala came on to take over on the left flank. Gnabry switched to the right. Alphonso Davies moved back to left full-back, axially pairing with the subbed on Josip Stanisic. Müller dropped into a quasi-ten role. The mighty Bayern fell back into the familiar 4-2-3-1 they played under Hansi Flick.

Having attained success with this, Nagelsmann let it ride.

Lineup—Bayern München—Match Three (4-2-3-1)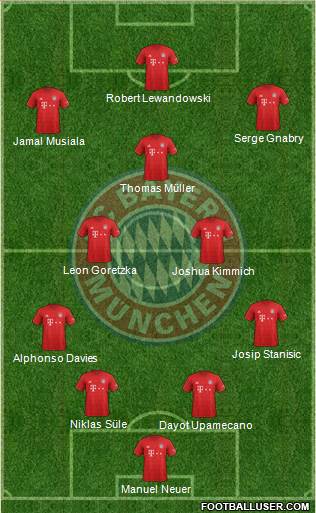 They lined up precisely the same way this week. In-between the two league fixtures, there was a meaningless delayed first round Pokal match against a fifth tier amateur side on Wednesday. Ignore that. The 12-0 stomping of Bremer SV had absolutely nothing to do with anything. Nagelsmann allowed the lads to pick up right where they left off.

This is their system now.

Does Leroy Sané have a place in this?

Deliberately taking steps to improve Sané's confidence remains a priority for Bayern's head coach. The 25-year-old mega talent again can't escape the same unwelcome (and uncomfortable) scrutiny that followed him around last year. It's not entirely unreasonable to expect more reliable form from the former Manchester City attacker in his second year playing for the German giants.

No one who has ever followed Sané will deny that he possesses incredible skills. He's an amazingly quick and exceptionally creative player who mostly seems to suffer from making questionable final distribution decisions. He invariably does something boneheaded immediately after pulling off a series of filthy slick tricks and dekes.

We saw Naglesmann sub Sané on relatively early (61st minute) in this one. The entire team rallied behind behind him when he quickly recorded an assist on Robert Lewandowski's second goal. Clearly, Sané is the first choice ahead of Jamal Musiala. Know that the Champions' League rotations may actually render the question of which one starts moot. There's room for both when the schedule becomes tighter.

Are there further alterations coming?

According to sound reporting sources, Marcel Sabitzer is coming. How the Austrian range sniper fits into this is anyone's guess. Even in the 4-1-4-1, there's simply no room for him. Alternately resting Joshua Kimmich and Leon Groetzka makes zero sense as they have a fantastic understanding of one another. If we've learned anything these past few years, it's that Thomas Müller should never be rested unless he's hurt.

Sabitzer could work as a sub, but it's generally wingers who serve as the refreshers in this system. So-labelled "expendables" Kingsley Coman and Corentin Tolisso have more to offer off the bench without drastically altering the shape of the 4-2-3-1. The new arrival constitutes quite the mystery. A columnist confesses he has no clue as to what the plan with Sabitzer is.

At the back, we do have some nagging problems. For reasons unknown, Dayot Upamecano is off to a terrible start. He's committed tons of errors in both the back-three and back-four. A little unsure of how to apply the high press with new personnel, the whole Bayern back-line is actually prone to very dangerous passing gaffes and blunders. Thus far, they haven't met an opponent capable of taking advantage yet.

It is such that we might see some personnel changes at the back. Incredibly, Nianzou's form is a tick better than Upamecano's. Lucas Hernandez could return to take up his natural center halve position and push them both out of the XI. Süle has probably been the most solid central defender thus far, though he's made some cringeworthy mistakes too.

Hertha: A completely cringeworthy side

It proves very much a different year for those of us Germans accustomed to assuring our Berlin-based Hertha-supporting friends that everything will be alright. This season accords us too little material with which to work. The 4-3-3 spearheaded by the now departed Matheus Cunha in week one couldn't hold its shape for more than twenty minutes against Köln. It quickly devolved into a 4-1-2-1-1-0-1 joke of a flaccid mess.

Dardai tried to use Davie Selke as a false-nine in week two.

Lineup—Hertha BSC—Match Two (4-3-3)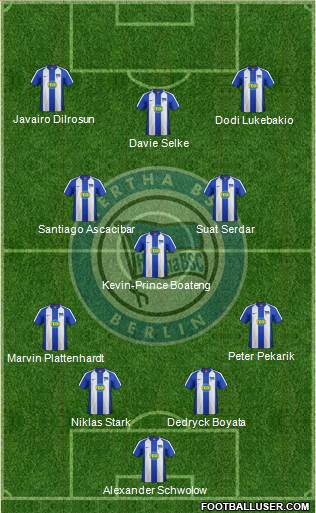 Naturally, this might have worked better if Kevin-Prince Boateng hadn't gotten hurt near the end of the first half. The loss of the anointed veteran leader hurts this team--which once again can't seem to function with a coherent identity--significantly. Replacing the injured Boateng with Stevan Jovetic led to Suat Serdar and Santiago Ascacibar moving back to work a more stable double-six axis.

It turned out to be insufficiently stable, however, as Wolfsburg broke it down easily late and took the match. Still missing Boateng this weekend, Hertha's gaffer took another stab at the double-six approach. A pair of talented players got a cold start opposite Goretzka and Kimmich.

Lineup—Hertha BSC—Match Three (4-2-3-1)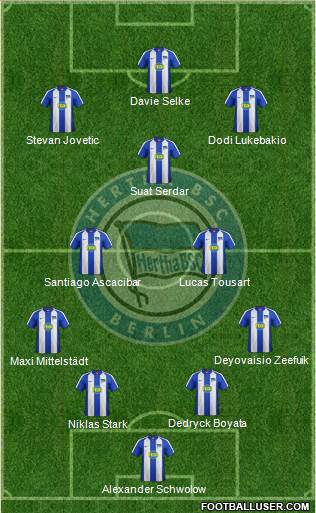 Serdar assumed his third new position in as many matches. Santiago Ascacibar and Lucas Tousart--actually the midfield pairing Dardai preferred shortly after he took back over the squad last winter--were reunited. The Berlin trainer went for younger and faster with respect to his fullbacks. Selke moved back up to a true lead striker position. Jovetic settled back in on the left, where he did do well on matchday one.

Fine in theory. In practice it didn't work. Here's how.

Match Flow: 1st to 6th minute

A couple of rather plodding cycles on the Bayern left led to early turnovers. Miscommunications reigned and a stray pass from Goretzka enabled Selke to rattle off a shot on goal in the 2nd. Hertha's lead striker simply didn't have the finishing quality. A panicky early attempt attempt at goal posed no problems for Manuel Neuer. Selke got another chance some two minutes later when Goretzka, Musiala, and Davies couldn't get on the same page.

Maximilian Mittelstädt and Deyovaisio Zeefuik were eventually able to work the ball to their lead striker after a bow-possession build. This time Selke didn't haver the angle. Before one couldn't even begin to sort out the respective constellations, the Bavarian hosts took charge of the match with a lightning quick sequence in the 6th.

Gnabry stripped a ball in midfield and promptly picked out a streaking Musiala. The 18-year-old laid off sweetly for the overlapping Davies, who then touch-rolled a ball into the box for Lewandowski. The World footballer of the year opted to deftly leave it for the onrushing Müller, who slammed home. Six minutes in and the Can-Can was ringing out through the Allianz Arena courtesy of a sensational team goal.

Match Flow: 6th to 20th minute

Not much football on display in the 14 minutes that followed. The Bavarians did push for a quick seconds with some pretty play on charges in the 8th and 9th. Musiala again looked sharp of some of the left-ward possession builds, but Dedryck Boyata and Niklas Stark were able to halt the rushes before genuine efforts materialized. A full-fledged lull then ensued between the 10th and 13th.

The hosts seemed to freeze a bit for a prolonged stretch, content to pass the ball laterally amid a suddenly heavy downpour on a frigidly cold night. Jovetic, perhaps having planted a foot falsely in the wet conditions, sat down on the pitch and signaled for the medical staff in the 16th. After a treatment spell lasting about two minutes he walked over to the sidelines, then checked back into the match when the ball next went out into touch.

By the 18th, Jovetic was plopping himself down on the pitch again to a chorus of boos. One found oneself in total agreement with the Allianz Arena crowd. The 31-year-old Montengrin was most assuredly hurt. His play for time and rhythm breaking nevertheless remained most unbecoming for someone of his experience level. Finally, the guests managed to get him off in the 20th. Javairo Dilrosun took over on a like-for-like.

Match Flow: 20th to 35th minute

The Bavarians did see their focus broken by this scene. Amid all of this, Bayern were able to engineer a chance during Jovetic's second trip to the sidelines in the 19th. Lewandowski uncharacteristically seemed unprepared when a ball landed at his feet. Some time was required before the hosts could locate their cadence once more. Stanisic and Gnabry combined well in the 23rd, with the latter cutting back for Goretzka.

A powerful shot from the Bayern trailer got deflected. Midfield partner Kimmich got a header on target on the ensuing corner. Two minutes later, Goretzka headed a Kimmich corner just wide. After this pair of tame finishes, Nagelsmann's team maintained steady attacking waves for a sustained periods thereafter. Selke missed the only Hertha opportunity with a very poor attempt off a corner in the 29th.

In terms of the xG, we were still looking at an balanced and low-opportunity match. The general aesthetics of the flow told a different story. Bayern's varied attack waves hinted that a second Bayern goal wasn't far off. Musiala missed latching onto a Goretzka through in the 32nd. One minute later, Gnabry only just failed to sort out his body position when receiving a Davies cross.

Goretzka and Gnabry ultimately found the right combo in the 35th. Lewandowski headed Gnabry's service off the crossbar. The world class striker still had the awareness to stay with the ball and powered forward to tap the rebound in. After a VAR review determined that a slightly offside Goretzka had no bearing on the play, the 2-0 was confirmed.

Match Flow: 35th minute to halftime

Once again, it took some time for the FCB to find their rhythm again following the stoppage. The Bavarians truly got rolling again in the 40th, pouring it on with a four-pronged charge all attacking lanes. Hertha captain Boyata barely avoided an own goal with his desperate slide clearance at the end of the play. Unfortunately, Berlin keeper Alexander Schwolow took a nasty knock to the chin contesting an aerial duel in the 42nd.

Another injury timeout killed off the flow. Match official Sven Jablonski accorded four minutes of first-half injury time after a half that could have honestly seen twice that amount. In light of the rainy conditions and constant interruptions, no one watching this would have complained if Jablonski simply dispensed with added minutes and just sent everyone into the tunnel.

After a whole lot of nothing other than an interestingly intrepid carry from Süle, Jablonksi blew the whistle.

Match Flow: 46th to 49th minute

One change at the half saw Nianzou relieve a reportedly injured Upamecano. It might be the case that the the Frenchman had been playing hurt. His prolonged dip with Leipzig last year was revealed to be the result of persistent muscular injuries. Dardai had little choice but to stick with the same actors who had collected nothing but meaningless touches. The vastly superior team didn't take long officially putting the visiting XI out of their misery.

After three skillfully executed attacking sequences in the 46th, 47th, and 48th involving pushes from Gnabry, Davies, and even Lewandowski, the FCB finally sealed the humiliation with another goal in the 49th. Müller dispossessed Zeefuik in a ridiculously easy fashion and quickly forwarded for Musiala. The teenage German national team player knew he had the time and space to finish smoothy. He did so with calm class. 3-0.

Match Flow: 49th to 60th minute 

As the Bundesliga's "sick man" proceeded to fall to pieces, there's another section much like the second passage in this week's review to cover. Hertha not only stopped playing football, but proceeded to just completely shame themselves on the prime-time stage. The body language from Lukebakio--in truth frustratingly poor throughout the entire match--was shocking as he committed a classless foul in the 50th. Tousart and Ascacibar had to rush back to bail out their limp defensive line on Musiala punch throughs in the 52nd and 53rd.

Then we have the incident with Davie Selke and his shoelaces. In an episode one can see and still not believe, the game stopped for two minutes between the 54th and 56th while Berlin's lead striker tried to work out a knot in the laces of his right boot. One doesn't wish to suggest that Selke is the type who can't figure out how to tie his shoes. We've all had bad days in that regard. Furthermore, it was a cold and slippery night in Munich.

One nevertheless can't resist labelling that image perfectly emblematic of Hertha's performance on this day. They couldn't accomplish the basics. After another horrible foul from Lukebakio on Davies in the 56th, Selke plopped himself down on the pitch in the exact same manner his colleague Jovetic had earlier. This constituted the real end. Selke sitting down as if a parent had to come coax him off the field. Game over.

Match Flow: 60th minute to full-time

There seemed little sense in even playing the final half hour when one team authentically signaled their desire to quit. A triple substitution from Dardai in the 61st isn't even worth covering at all. Of some significance, Nagelsmann decided to pull Musiala in favor of Sané in the 61st. This was well done. The prolific youngster obtained a well deserved standing ovation. As noted above, Sané got a chance to pick up some much needed confidence.

The heavily-criticized attacker looked completely silky smooth on his give-and-go with Müller in the lead-up to Lewandowski's goal in the 70th. The tally that handed Lewandowski a his first hat trick of the season 14 minutes later resulted from a bad Boyata error that ended up conceding a corner. Hertha subs (who also happen to be new arrivals) Ishak Belfodil and Marco Richter showed some intent. The former netted a goal disallowed for offside.

All told, there wasn't much left in it for the disgraced guests. Facing the press and fans on Sunday morning, Dardai all but invited his bosses to demote him back to the U16s. He might get his wish before the international break is out. We've been saying it since the beginning of the season. We touched upon it again last week. Pal Dardai remains the most likely candidate to lose his coaching position first this year.

Tired of running a group of players who often don't seem to want to be there, it appears that the gaffer himself no longer wishes to occupy the seat either. The task of rescuing the club from relegation last spring complete, the Hungarian now wishes to step out of the limelight and return to smoking his famous cigars with the academy kids.

Fredi Bobic and the administrative team should oblige him just as soon as they get through the transfer window. Of course, they still find someone willing to take on a right-fine mess of a roster with no order coming off a string of five trainers who have quit or been sacked in the past three years. Yikes. Who wants this gig?

Thanks so much for reading! You can occasionally catch Peter goofing off while watching the lower German football divisions on twitter, @ViceytheSS.

Twitter DMs are open for football conversations, corrections, and (if you truly insist) general abuse. 

All columns debut on Bulinews before appearing on Peter's website later in the week.



Related stories