Streich emotional at stadium farewell: "Too much to put into words."
By Peter Vice @ViceytheSS
His eyes welling with tears, SC Freiburg trainer Christian Streich took a bow before the Freiburg fan-kurve on Sunday evening. 

In commemoration of the final game at the Schwarzwaldstadion, the local gaffer then donned a face-mask, picked up a megaphone, and led one last cheer session in front of the ultras. 

SCF captain Christian Günter and match goal-scorer Lucas Höler also spoke on the emotional farewell to their venue in post-match interviews.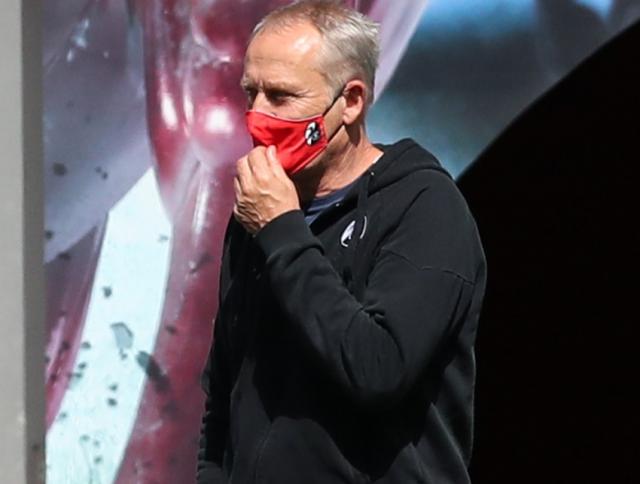 | | |
| --- | --- |
| Christian Streich. | Photo: GEPA Pictures/Christian Schroedter/POOL via Picture Point |
There were speeches, fireworks, and even a series of fan-prepared odes to former SC Freiburg Volker Finke prior to kickoff Sunday in the final game at Freiburg's stadium on the Dreisam river on Sunday. In perhaps the most fitting send-off possible, the local team set a new home match unbeaten record, quickly dismantled visiting Augsburg, and ensured that the final tally of goals scored at the venue stood at 999.


"It's a matter of 25 years," a tearful Christian Streich told the DAZN microphones afterwards, referring to the time he's been active with a club as a youth trainer and head-coach, "There's too much to put into words. That's all for now."

Streich had to break off his interview as he was needed in the stands. The loyal supporters in the curve beckoned him over with songs praising both him and former long-term trainer Volker Finke, also in attendance. The German broadcasting team had to make do with captain/German national team fullback Christian Günter and striker Lucas Höler.

"I'm very pleased that we were able to say goodbye like that," Günter said about the match, "When one sees how the fans live football here, I'm not worried at all that it will be exactly the same in the new stadium. We'll get off to a running start and make it our new home."

"I became a Bundesliga player here," Höler added, "We celebrated amazing victories here with the fans. The atmosphere was always outstanding. It was a very nice farewell."

Fan favorites Höler and Vinenzo Grifo got a chance to celebrate goals before the Curve in the farewell. Additionally, Lukas Kübler also scored his first goal in Freiburg colors in front of the fans.

The 29-year-old veteran journeyman had actually been playing with the club for the past six seasons, joining when they last played in the 2. Bundesliga during the 2015/16 campaign.



More about the match
More about the teams