Fischer speaks on Polter, Kruse, and pushing "beyond the limit"
By Peter Vice @ViceytheSS
When VfL Bochum and 1. FC Union Berlin kickoff tomorrow at 15:30, two projected starters get set to take on their former clubs in what should prove an intense duel. 

Bochum striker Sebastian Polter and Union keeper Andreas Luthe face clubs they left under less than cordial circumstances. 

Union trainer Urs Fischer called upon his recently listing team to dig deep, push themselves to the limit, and finish off the 2021/22 Hin-runde on the proper note. 

The Swiss trainer also addressed his decision to allow Max Kruse to skip training on Thursday.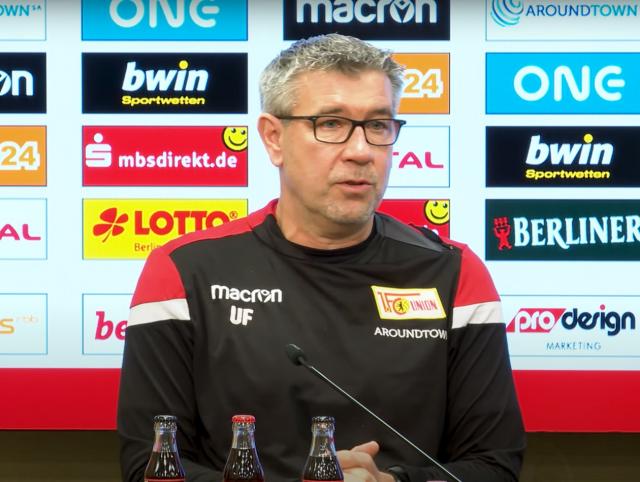 A packed schedule has clearly left the German capital city side from the Köpenick quarter looking visibly tired in recent fixtures. After defeating Leipzig in the Bundesliga's round 14 curtain raiser, Urs Fischer's men are now winless in three matches on the trot. Across 270 minutes of football, die Eisernen have only scored a paltry two goals in a league loss, a league draw, and a very disappointing elimination from the UEFA Europa Conference League.


In a 0-0 draw against at home against Freiburg on night, the team appeared completely devoid of ideas for most of the match. A tight turnaround isn't likely to make matters much easier. On Friday, Fischer found himself in the position of having two explain why he gave key attacker Max Kruse one of the two training days off.

Kruse, who proposed to his girlfriend on live television whilst representing Germany at the Olympics this summer, timed the ceremony for shortly before the winter break so that he and his bride could take a brief honeymoon over the holidays. With appointments at the city registry office being a bit hard to come by during corona times, Kruse needed Thursday off to tie the knot.


Wie Trimmel, Awoniyi und Co - Jetzt gehört Kruse zu Unions Ehe-Ring https://t.co/roNSyZQdHt #BILDSport

— BILD Sport (@BILD_Sport) December 17, 2021


"When family matters conflict, we always decide in favor of the players," Fischer noted on Friday, "That's a promise we keep. It fell on that date and we felt it right that it [the wedding] should take place. If I had said no, the headlines would have been even bigger."

Kruse, a persistent headline-grabbing character throughout his 14-year-long German professional footballing career, has come to serve as the face of the quirky underdogs from the former eastern quadrant of the capital city. On Saturday, they'll face one of their former club heroes; one who's tenure with with the organization came to a rather ignominious end.


Striker Sebastian Polter struck 30 times for Union during three seasons with the club in the 2. Bundesliga. He was a very important part of the Union's 2018/19 promotion campaign. In the FCU's first-ever season in the German top flight, he played less of a role in the 2019/20 campaign. The Köpenickers then released him in May 2020 after it was revealed that he refused to take a lockdown-related pay-cut along with the rest of his teammates.

After spending 2020/21 in the Dutch Erdevisie, recently promoted VfL Bochum picked the 30-year-old Polter up on a free near the transfer deadline. Following an injury to Bochum's regular lead attacker Simon Zoller, Polter stepped in and began scoring goals. The Wilhelmshaven native is undoubtably one of the primary reasons why--to the surprise of many--the 1848ers have collected 20 points and are in 11th place as the Hin-runde draws to a close.

"Sebastian has done well, especially in the last few games," Fischer said of his former player, "He can hold the ball up and keep the defensive line busy. When he heads toward goal, he has a powerful momentum. We'll have to watch out for him."

"You really have to hand it to the [Bochum] for getting 20 points," Fischer said of his opponent, who also happen to have performed very well in front of their hometown fans, "They've taken seven points from their last three home fixtures. This will be a difficult task for us."

"We have to once again dig deep and pull out everything we have left in the tank," Fischer said of the game coming at the end of a long and exhausting run, "We must push ourselves to the limit, if not beyond the limit, to take points home."

Polter facing his old club isn't the only reunion story set to take place at the Castrop. Eisernen #1 Andreas Luthe came up through the Bochum youth academy. For four seasons, he was the first choice net minder for the 1848ers in the 2. Bundesliga. After some injury and competition issues, the second tier side opted to release him following the 2015/16 campaign.



Related stories