Matthäus discusses "tops and flops" from the 2021/22 Hinrunde
By Peter Vice @ViceytheSS
Lothar Matthäus sat down with Germany's main sporting tabloid over the weekend in order to give his take on the state of German football halfway through the 2021/22 cycle.

While some may find the Bundesliga table a bit too predictable and the status of Bundesliga clubs in the European club competitions a tad concerning, Matthäus insisted there remained plenty of intrigue to discuss.

Jörg Althoff of the "Bild am Sonntag" conducted the interview.

Bulinews' Peter Vice supplies the translation.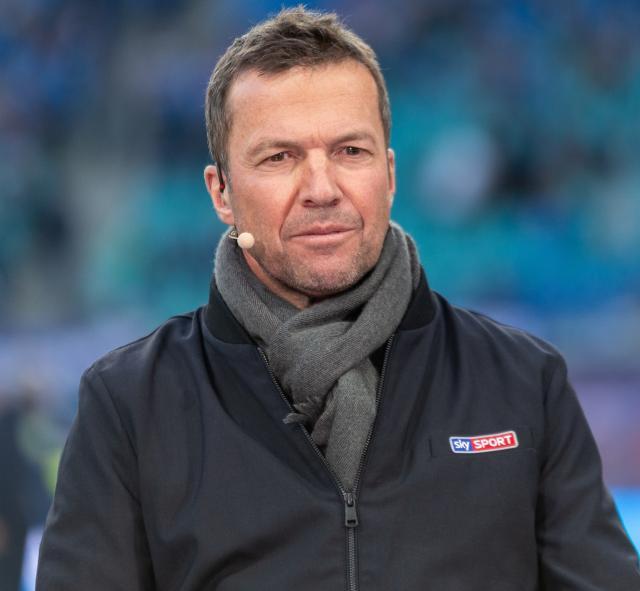 | | |
| --- | --- |
| Lothar Matthäus. | Photo: Steffen Prößdorf, CC BY-SA 4.0 |
Jörg Althoff of Germany's main sporting tabloid sat down with German footballing legend and current Sky commentator Lothar Matthäus to get the 60-year-old's thoughts on the the recently completed 2021/22 Hin-runde. In an interview appearing in the "Bild am Sonntag", Matthaüs chimed in with his thoughts on a variety of topics.


The former Gladbach and Bayern München professional, like most German football watchers, effectively conceded this year's title race to the FCB. Matthäus also expressed optimism that Bayern, German football's lone representative left in the Champions' League, could capture the European club crown again this year.

When it came time to assess the performances of the the record eight new head-coaches that started afresh with new clubs at the beginning of this season, Matthäus reserved special praise for Julian Nagelsmann. The still only 34-year-old-trainer, set to lead Bayern to their tenth title, also truly impressed Germany's one-time footballing hero with the mature manner in which he handled many off-the-pitch matters.

Matthäus also improvised to assign grades to all the other Bundesliga's other new coaches near the end of the interview.

[Journalist Althoff]: Is the Bundesliga nothing more than average internationally, Mr. Matthäus?

[Subject Matthäus]: No. Why?


Althoff: Because [after all the Champions' League eliminations],only Bayern will play in the Champions' League. Borussia Dortmund, RB Leipzig, Bayer 04 Leverkusen, and Eintracht Frankfurt must all play in the Europa League.

Matthäus: Well, a year and half ago [during the 2019/20 finals in Portugal], we had two teams in the top four [Bayern and Leipzig], so it can't be all that bad. Dortmund in particular, but also Wolfsburg, have not done their homework this time.

Otherwise, we'd be talking about a normal Champions' League season. Leipzig's performances were on the level internationally despite their [summer] upheavals. The group featuring PSG and Man City was also very strong.

Althoff: Where does the Bundesliga stand internationally?

Matthäus: Behind England, of course. But other countries haven't overtaken us. We're just looking at a snapshot.

Althoff: Should it be cause for concern in the Bundesliga that Bayern is so comfortably in first place again?

Matthäus: Even behind Bayern, the league remains attractive from a sporting point of view. We witnessed exciting games during the first half of the season with some surprising results. We have many interesting young players like Haaland, Wirtz, Musiala, and Bellingham just to name a few.

There's really no shortage of great players in the Bundesliga.

Althoff: What's the reason for Bayern's dominance?

Matthäus: Naturally, the strength of their roster. They have top quality players who are also team players. And for years no other club has played well enough consistently to keep up with them.

Althoff: Why is it that even Dortmund can't do that?

Matthäus: Because they don't have the quality that Bayern has. [They can't] for example, act upon the mistakes of their opponents decisively. Most recently, in Bayern's 3-2 win over Dortmund, the BVB had chances to take the lead in the second half when the score was 2-2. For me, the BVB was even the slightly superior team at that stage.

Prior to that game, Dortmund could have reached the top of the table. Then they drop five points in three games. That's what I mean by an overall lack of consistency.

Althoff: Are you also referring to the quality of individual players?

Matthäus: There are very few BVB players who could serve as back-ups at Bayern and only a pair who could thrive at Bayern. The rest are lagging behind.

Althoff: Is it the case that Bayern are already champions again?

Matthäus: Nine points ahead and another home fixture against Dortmund. I can't imagine that there will be a different champion.

Althoff: For you, who was the player of the Hin-runde?

Matthäus: I can invent a name like you guys sometimes do: "Haalandowksi!" (laughs)

Althoff: And in a more serious sense?

Matthäus: Lewandowski, then Haaland, then Schick. But it wouldn't be right if I only went by goals. Thomas Müller with his [league-leading 15] many assists. We'll also shouldn't forget Anthony Modeste.

I have to mention Jamal Musiala as a young player. I'm a huge Musiala fan. I actually don't think he gets enough playing time.

Althoff: What really surprised you during the first half of the season?

Matthäus: Freiburg and Mainz really surprised me! To that one could add Hoffenheim, whom one does ultimately expect to be up there.

All three teams have worked hard this year. All three have also clearly earned more than 50 points in 2021.

Althoff: Will one of those three teams qualify for the Champions' League?

Matthäus: I wouldn't be upset at all to see one member of that trio get a place there, but I think that Leipzig has the quality and will make up ground. Bayern and Dortmund look headed for those spots, as do Leverkusen.

Althoff: Are you concerned for Gladbach?

Matthäus: Gladbach themselves are the ones who should be concerned. I personally have some concerns. Something is clearly wrong after everything clicked in the 5-0 win over Bayern in the cup.

For me, as a former Gladbach player and club sympathizer, it's very difficult to look at the table. They [Gladbach] have traveled a negative streak similar to that of Wolfsburg. Those two clubs are the biggest disappointments.

Althoff: Both of those clubs began the season with new coaches. A total of eight clubs did so. That was a Bundesliga record.

Matthäus: That it was and not everyone has lived up to expectations. Mark van Bommel is gone at Wolfsburg. Jesse Marsch is out at Leipzig. Max Eberl has been a bit more restrained at Gladbach, but people expect more from Adi Hütter than the current league position.

Althoff: How would you grade the new coaches?

Matthäus: Nagelsmann gets an "1-" [an "A" in American-scale]. He's doing a fantastic job, both in sporting terms and as a representative of FC Bayern München, even on thorny issues that remain the responsibility of others at the club.

He [Nagelsmann] handles things with professionalism and aplomb. The minus comes from the 0-5 cup defeat away at Gladbach.

Althoff: Can Bayern win the Champions' League with him?

Matthäus: (laughs). Sure, but as they proved under Hansi Flick, they can also do it without him. I genuinely trust that they can pull it off again.

Althoff: And the other grades?

Matthäus: Marco Rose in Dortmund, "2-" [B-], because of the Champions league. Gerardo Seoane in Leverkusen, also "2-" [B-], after getting to third in the league and farther in Europe, but you also have the cup loss.

Oliver Glasner improved from a "4-" [D+] to a "3" [C] at Frankfurt. Hütter is still at a "4" [D] at Gladbach. Steffen Baumgart gets a "2" [B] for infusing Köln with new life.

Jesse Marsch earned a "5" [D-] for those league defeats. Van Bommel also got a "5" [D-] for the same and that substitution error in the cup.

Wolfsburg successor Florian Kohfeldt has quickly tanked in Wolfsburg. The tenure is too short for both Domenico Tedesco in Leipzig and Tayfun Korkut at Hertha.

Althoff: Speaking of Hertha, why aren't things working out at the "Big City Club"?

Matthäus: There have been so many changes over the last few years, both on and off the pitch. Fredi Bobic knows that it's a long-term project and that he has a lot of work to do. For now, I don't expect that Hertha can reach the level they strove for when the new investor [Lars Windhorst] came in.

This season, Hertha must find a way to be content with a stable, mid-table finish. Even that isn't guaranteed at the moment.



Related stories