Hainer agrees to meeting as German press keeps Bayern sponsorship topic alive
By Peter Vice @ViceytheSS
FC Bayern München trainer Julian Nagelsmann was asked about more than his team's performance in his post-match interview on Saturday evening. 

Even though the head-coach has little involvement in the business side of football, the Sky Germany broadcast team made certain that he would comment on the matter of FCB member Michael Ott's quest to get the club to drop its Qatar sponsorship. 

The latest status of the matter, very much alive in the German footballing consciousness, will see Ott sit down for a personal meeting with club President Herbert Hainer.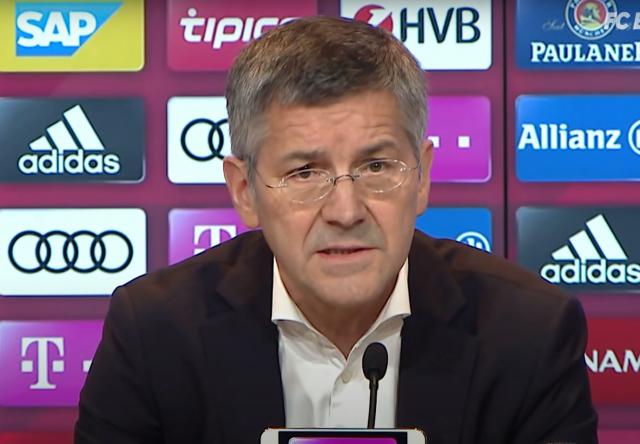 The quest of FC Bayern member and local lawyer Michael Ott's quest to push the German giants not to renew their sponsorship deal with Qatar was reported on in an interview translation article appearing on Bulinews earlier this month. For those interested in how the matter has progresses, Ott's petition was quietly ignored by the club, then somewhat slyly pushed off of the agenda ahead of this past Thursday's general meeting.


There were some fireworks at the meeting on Thursday, with club President Herbert Hainer abruptly adjourning proceedings when Ott made a last ditch effort place the topic in the public eye towards the end of the summit. Some of Ott's supporters could be heard in the hall chanting "We are Bayern, you are not" , "Hainer out", and "We are the fans you don't want [to hear]".

German footballing magazine Kicker reported on Saturday that Hainer had contacted Ott personally to arrange a meeting to discuss the matter personally. Ott confirmed this on his twitter profile, saying that the "matter needed to be resolved".


Herbert Hainer hat mich heute angerufen. Wir haben uns kurz über die JHV ausgetauscht und sind so verblieben, dass wir ein persönliches Gespräch zu Katar und der JHV führen werden. Das Datum steht noch nicht fest. Was aber feststeht, ist, dass der Konflikt gelöst werden muss.

— Michael Ott (@Maitre_Ott) November 27, 2021


Sky Germany's interview team wanted to ensure that this matter remained in the public eye. This was accomplished by asking Julian Nagelsmann about the topic following Bayern's 1-0 win over Arminia Bielefeld on Saturday night.

"Perhaps this is not quite the right setting to discuss this problem," Nagelsmann said after the match, "Maybe their are options to solve this better. It doesn't impact me negatively on the sporting side of things, in which I believe we're doing well."



Mit dem #KatarAntrag wollen wir den #fcbayern auf der JHV dazu bringen, das Katar-Sponsoring zu beenden. Informiert euch unter https://t.co/4LndI6MTl2 und macht von eurem Stimmrecht Gebrauch! (I/V) pic.twitter.com/DfMAhKi8Jr

— Michael Ott (@Maitre_Ott) October 25, 2021
More about FC Bayern