Americans in the Bundesliga:
Ricardo Pepi and Tyler Adams return in week 24
By Peter Weis @PeterVicey
Ahead of another great round of Bundesliga action, we're pleased to deliver the latest installment of our "Americans" column here on Bulinews.

After discussing which players were missing from round 24 of the 2021/22 campaign, Ricardo Pepi, Timothy Tillman, John Anthony Brooks, Tyler Adams and head-coach Pellegrino Matarazzo all receive graded sections.

Given that this was a Pokal week, our analysis would have factored in multiple matches had any Americans participated in the domestic cup.

This didn't happen as the lone American with the prospect of doing so (Adams) wasn't used in the midweek match.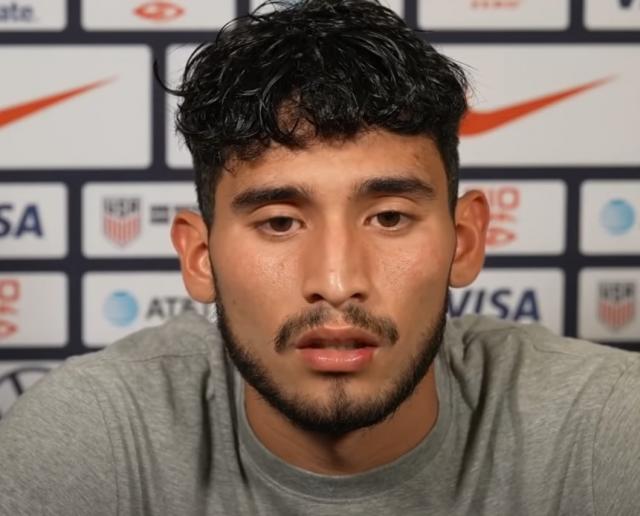 Our weekly check-in with the American footballing actors of Germany's top footballing flight gets a little larger this week after both Tyler Adams and Ricardo Pepi returned to their starting XIs after month-long absences. Their starts--together with two regular German-American starters and the league's American trainer--leave us with five graded sections. The sections are somewhat shorter this time as Adams, Pepi, and Fürth's Timothy Tillman were all pulled early.


Fullback George Bello of DSC Arminia Bielefeld did play 14 minutes off the bench in his team's 0-3 defeat to Leverkusen, but what little action he saw was deemed immaterial in a game already decided. The two American defenders (Chris Richards and Justin Che) playing for Hoffenheim did not log any minutes. Neither did new Wolfsburg acquisition Kevin Paredes, who did not make Florian Kohfeldt's bench squad. Joe Scally remained on the bench throughout his team's matchup against Wolfsburg as well.

Ricardo Pepi, FC Augsburg

Minutes played = 59/90, Positions played = LS

Grade = B-

In the Texan's return to the starting XI for the first time since the international break, most German press sources have the El Paso pistol marked down for a wholly non-influential match in a lead-striker-role. The columnist naturally gets that. Somehow, someway, a top axis attacker needs to do better than 20 touches on the day.

Note that FCA trainer Marcus Weinzierl simply picked the wrong day to deploy a three-pronged attack. Marco Rose's use of Axel Witsel as a sweeper bolt-lock effectively negated a laudable idea. The very much in-form Michael Gregoritsch was supposed to collapse in behind speedsters Pepi and Ruben Vargas as a false-nine.

Under different circumstances, it might have led to more scoring opportunities.


Lineup—FC Augsburg—Match 24 (3-4-3)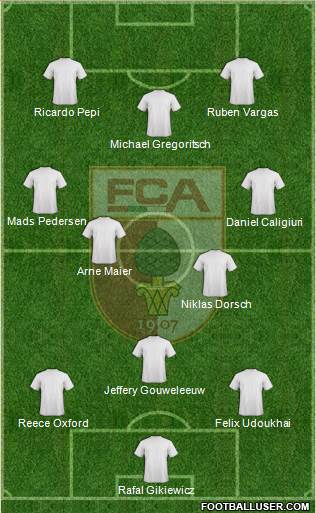 Rather neat how this comparatively ambitious shape worked, i.e. was supposed to work. Pepi certainly had his lanes picked out, making great runs in the 9th, 18th, and 38th. These went unmet. That lies on his teammates. One should note that the Texan did give up a few rushes that he shouldn't have. That occurred in the 43rd and at 45+1.

Something else inconsistent about Pepi's game included his press off the ball. Whereas he was noticeably aggressive (3rd, 7th, 19th, 49th) in some instances, pressure looked a bit lax (15th, 22nd, 58th) in other cases. The squad itself might have pulled out a victory against Dortmund with more persistent pressure. The BVB back-line is (notoriously) very vulnerable in this regard.

Overall, what offensive touches this American got in were actually pretty bright. Examples can be found in the 2nd, 6th, 8th, 30th, 31st, and 37th. Pepi demonstrated solid awareness on most drives, often located teammates with one touch, utilized his head well, and fought well for loose balls. A small set of exceptions came in the 4th, 10th, 26th, 42nd.

His lone track error took place in the 56th. He went to ground too easily attempting to draw a foul in the 50th. Pepi's best work on the day came in the 28th. The Texan steered out a free kick for a corner, then dispatched Julian Brandt's ensuing service. Such solid defending may not have factored into the calculations of some of the appraisers in the German press. We'll count it towards his grade here; one of the reasons he's marked higher.

Timothy Tillman, SpVgg Greuther Fürth

Minutes played = 57/90, Positions played = LM

Grade = C

The American-Heritage Nürnberg native found himself yanked early after looking suspiciously off during his team's 1-1 draw with Köln last weekend. To be fair, head-coach Stefan Leitl's tactics were a bit stale. The SpVgg trainer rolled out the same constellation and XI as last week. Steffen Baumgart's Geißböcke were prepared for it and sliced the Kleeblätter up fairly regularly in the first half.

Tillman totally fluffed his lines when attempting to mark Ellyes Skhiri in the 11th. A desperately poor slide tackle in the 13th was also wince-inducing and he was rightfully booked for a vicious tackle on Salih Özcan in the 22nd. He probably should have been sent off on double yellows after another poor challenge six minutes later. Match official Robert Schröder simply felt it too soon.

Our subject here struggled to hold the ball up for a large chunk of the afternoon, ultimately losing possession in the 3rd, 23rd, 30th, 52nd, 54th, and 57th. Poor clearances in the 14th and at 45+2 led to direct chances for the opposition. Attack follows (4th, 28th, 37th) were sometimes a bit tame. Corner services (6th, 50th) were so-so.

Despite the many uncharacteristic negatives, Tillman had his moments. In the writer's count, he only played 11 intended passes. None were full waywards. Sharp combo work can be found in the 1st, 34th, 36th, and 43rd. Excellent aerial wins are on display in the 13th, 16th, 24th, and 36th. Defensive blocks vital to his team's prospects came in the 33rd, 38th, and 39th.

Two shots on target from Tillman in this round. Though the very tame effort off his weaker foot one minute after the restart was worth forgetting, an awesome run, hold, and hit four minutes prior to the stroke of halftime is definitely worth a look. Not this German-American's best performance, but not anything to push him down to "D-Level" either.

John Anthony Brooks, VfL Wolfsburg

Minutes played = 90/90, Positions played = CB

Grade = C-

Ostensibly thinking about his future post-Wolfsburg, the best way of describing the Berliner's day might be "distracted". Jay understandably had some other things on his mind during the Gladbach fixture last weekend. Working in the exact same tactical set-up as in round 23, the USMNT veteran couldn't come anywhere close to matching his performance from last week.

He got off to a particularly rocky start, allowing opponents to blow past him in the 1st, 3rd, 19th, and 35th. He would also get beaten badly in the 42nd just prior to the pullback goal that allowed Gladbach back into the game. Shaky, unconfident passing decisions were legion in the early going. One can find them in the 3rd, 5th, and 18th. Poor marking (10th, 12th, 23rd) is also on display.

Amid this turbulent opening phase, Brooks still won a few direct duels (14th, 15th) and got off some important clearances (11th, 16th, 28th). He settled down shortly before halftime, looking more like his usual self with commanding wins in the 40th and 44th. The second 45 was much better. The Berliner came off looking very good in 1-vs.1s in the 52nd, 64th, 67th, 74th, and 87th. Possession work (53rd, 59th, 60th, 63rd, 90th, 90+5) also improved.

Clearances were a bit more mixed. Brooks left one spellbound when he took charge and booted the ball out in the 55th. He also did well getting the ball away in the 83rd, 89th and 90+4. There were nevertheless botched jobs in the 62nd, 69th, 77th, and 86th. Defensive lapses occurred in the 50th, 87th, and at 90+2. Pulling this American's grade just above "D-Level", we've some nice free-kick services in the 81st and 85th.

Tyler Adams, RasenBallSport Leipzig

Minutes played = 58/90, Positions played = CM

Grade = D+

In his return to Domenico Tedesco's starting XI for the first time since the late January international break, the USMNT team captain found himself rotated in along with six other fresh actors following Leipzig's Thursday Europa League tie. With so many new faces on the pitch, it came as no surprise to see the team play very disjointed football.

Bochum-Leipzig proved the absolute worst offering of the weekend. Adams' team didn't even attain a single decimal point of xG until after the American was subbed off. The RB New Yorker, along with his colleagues, struggled mightily to make any sort of an impact. We've thus a very meek performance to discuss here.

Part of the reason for this was tactical.

Lineup—RB Leipzig—Match 24 (3-4-3)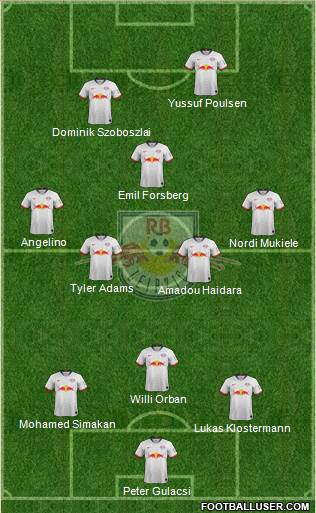 Stationed on a right-slant, Yussuf Poulsen took quite the battering from the Bochum defense. Tedesco's service striker system accomplished little beyond leaving the Danish striker left out on a thin rope. The plan-of-attack had a tedious rhythm to it. The RB trainer clearly spent scant time drawing it up. Tedesco's mind remained on the midweek Pokal fixture.

The writer only recorded 38 touches from the USMNT captain on this day. This American tracked what flow there was attentively, yet spent a significant amount of time at a distance from what we can generously call the action. With a few exceptions (2nd, 17th, 41st, 54th), it wasn't a case of him being too passive on the ball. Field vision and anticipation seemed in order.

With regard to the touches Adams actually got in, there were plenty of deft first-time forwards. One can find them in the 5th, 15th, 18th, 20th, 24th and 43rd. Good cycle work came in the 2nd, 36th, 37th, and at 45+1. A bit of shame that his teammates didn't locate him on well-picked-out lane runs in the 7th, 11th, and 45th.

One did witness all the rust one would expect from a player after a month-long layoff from the starting XI. Touches in the 19th, 28th, 35th, 39th, 45+2, and 51st weren't very sharp at all. Sometimes Adams looked a bit slow on the ball and perhaps even a tad too eager to get clearances off. After the restart, our subject here rushed things in the 49th, 51st, and 52nd. There was at least a decent defensive header in the 55th.

Not too many direct duels for the USMNT captain in his brief shift. What battles Adams did engage in included some pretty bad losses. In the observer's opinion, clear losses occurred in the 12th, 13th, 15th, and 20th. A step-up in the 50th technically counts as the lone win of the afternoon, but the directionless touch that followed simply wasn't good enough.

The USMNT captain didn't factor into Tedesco's plans for the Pokal quarterfinal fixture against Hannover, not even making a cameo appearance off the bench in Leipzig's 4-0 rout. It would appear that Adams' hard luck injury timing has his head-coach satisfied with Konrad Laimer and Kevin Kampl in clearly established six slots.

This could prove rather bad news for the USMNT captain during the remaining ten rounds of the season.

Pellegrino Matarazzo, VfB Stuttgart (Trainer)

Matches = 1, Result = L 

Grade = D 

We've long since passed the point at which the league's lone American trainer can fall back on the excuses of injury. The unfortunate fact that both Silas and Borna Sosa had to sit out last round's encounter was unfortunate, but Matarazzo simply had to do better than the same 4-1-4-1 he rolled out last week. Utilizing Tiago Tomas as the lead-striker while shifting Omar Marmoush over to the wing should be judged as the wrong move. The VfB attack during the first half last round wasn't good enough.

Two in-game injuries against Hoffenheim certainly didn't make the VfB gaffer's job any easier. Both Orel Mangala and Chris Führich had to bow out in the middle of the most recent fixture. The 4-4-2 Matarazzo proceeded to build (with Marmoush and Sasa Kalajdzic working together up top) had its moments. Shifting Tomas over to the left eventually led to the TSG's equalizer. Sacrificing Pascal Stenzel for Roberto Massimo later on counted as a questionable decision too. One doesn't have much of a choice other than to mark this actor poorly once again.

Thanks so much for reading!

You can occasionally catch Peter on twitter, @ViceytheSS.

Twitter DMs are open for football conversations, corrections, and (if you truly insist) general abuse. 

All columns debut on Bulinews before appearing on Peter's website later in the week.



Related stories