Where did it all go wrong for VfB Stuttgart this season?
By Andrew Asher
From 9th place high-flyers last season to battling relegation this season, VfB Stuttgart have struggled to imitate their stunning 2020/21 form in the Bundesliga this term. It has been a thoroughly disappointing campaign thus far for the team from Baden-Württemberg hoping to build on an impressive finish in Bundesliga last year. So, what exactly has gone wrong this season for die Roten?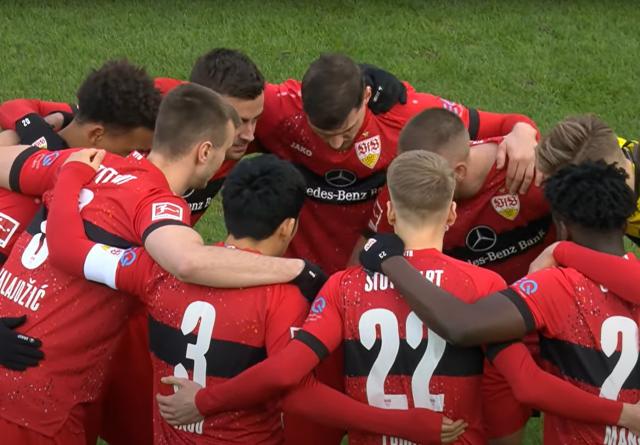 A remarkable 2020/21

After just one defeat from their opening eight games of the 2020/21 Bundesliga season, Stuttgart proved they were not going to be a push over following their promotion from the 2. Bundesliga in 2020. Stellar performances from Borna Sosa and Wataru Endo as well as goals from Silas Katompa Mvumpa and Saša Kalajdžić fired the club to an impressive 9th place finish, just seven points away from Europa League qualification.




Pellegrino Matarazzo's team's 5-3-2 formation allowed for defensive stability as well as the ability to press high in order to win the ball back with the wing-backs and strikers cutting off passing lanes with hope of regaining possession as the opposition runs out of passing options (breakingthelines.com). This aggressive approach comes with a huge risk and reward scenario of course, where if the press is beaten, the midfield and defence become exposed and open to attacking overload. Although, on the whole, the system proved to be a very successful one with Stuttgart claiming huge wins such as their 5-1 away annihilation of Borussia Dortmund.

Summer and January transfers

The summer transfer window of 2021 saw the departures of key players Nicolás González and Gregor Kobel to Fiorentina and Borussia Dortmund respectively. After it became clear that González was determined to leave the club, finally a deal was struck with Fiorentina for around £21.15 million (≈ €25 million) according to Transfermarkt. Both Kobel and González played huge roles in Stuttgart first season back in the Bundesliga and were sold reluctantly by the club.

It also became clear last summer that Marc Oliver Kempf would not renew his contract with the club after rejecting their latest proposal. The 27-year old defender's contract was due to expire this year and as a result the club were forced to accept Hertha Berlin's cut price deal in January and sell the player to a relegation rival.




Fortunately, this season has been hugely successful for on-loan centre-back Hiroki Ito, who has stepped up tremendously and filled the void. The young Japanese defender has gained his plaudits this season, winning November's Rookie of the Month award in the Bundesliga.

Key players lost to injury

The 2020/21 was a breakout season for star player Silas as he notched 11 league goals and 5 assists in just 25 games whilst operating as a right midfielder/right wing-back. Unfortunately for Stuttgart, in March of 2021, the 23-year old tore his ACL against Bayern Munich which saw him side-lined for six months. It was an unfortunate end to a fine first season in the German top flight for the Congolese youngster and cast a shadow on an otherwise terrific season for VfB. Silas' current market value stands at £13.5 million (≈ €16 million) but did reach as high as £22.5 million (≈ €27 million) before his injury (Transfermarkt).




After returning to the pitch from his long spell out injured in November 2021, Silas played just five games before testing positive for Coronavirus and missing two more games. He then played a further four games before sustaining a shoulder injury which would see him ruled out for the rest of the 2021/22 season. With Silas playing a part in 9 games this season and a total of just 272 minutes, one of Stuttgart's most lethal weapons has been all but nullified.

Another player who lit up the Bundesliga stage in his first season in the Bundesliga is Saša Kalajdžić with 16 league goals and 6 assists in just 33 games in 2020/21. The 24-year old Austrian international was Stuttgart's top scorer last season and together with Silas contributed massively to VfB's high position in the table. With a market value of £19.8 million (≈ €23.5 million) according to Transfermarkt, Kalajdžić is certainly making a name for himself in the Europe, especially due to the fact that his contract expires in 2023.

The imposing striker has suffered from his fair share of time on the side-lines this season as he picked up a shoulder injury in the second game of the season that would rule him out until January of this year. Despite only featuring in 9 games this season, the Austrian has managed 3 goals and 2 assists, proving just how much of a difference he makes to the Stuttgart team who will be hoping he can remain fit for the rest of the season.

Borna Sosa is yet another young player (24) who has been consistently producing solid performances for Stuttgart and has made the step up the Bundesliga as well as anyone. In 2020/21 he provided 10 assists in 26 Bundesliga games while this season he has managed 7 assists in 22 games. The Croatian international's marauding runs down the left flank and ability to cross the ball have been a fantastic outlet for Matarazzo's side, especially when operating as a wing-back. The young defender has already missed five games this season through injury and looks to have returned from the recent international break with adductor problems according to manager Matarazzo.

Problems in front of goal

One of the big factors for VfB's poor position in the table this season has been their lack of goals. In 2020/21, Matarazzo's side finished as the 7th top scorers in the league with 56 goals, whereas they have only managed 35 goals so far this season which sits them at 11th for goals scored. It is clear to see the problem especially when considering the fact that Stuttgart have conceded 50 goals so far this season compared with 55 last season.

With Silas and Kalajdžić both playing such bit-part roles and the club losing Argentinian forward Nico González in the summer to Fiorentina, Stuttgart have lacked a real goal-threat this season. Centre-back Konstantinos Mavropanos is the club's top scorer this campaign with four goals, with Wataru Endo, Omar Marmoush, Marc Oliver Kempf, Tiago Tomás and Saša Kalajdžić all scoring three. Wahid Faghir and Omar Marmoush were both brought into the club in the summer, the latter on a season-long loan from Wolfsburg, with a view to strengthening the club's attacking options as Silas would be unavailable until November of 2021.




Due to Faghir being only 18 years of age he has been eased into the Bundesliga with six appearances and one goal to his name. Marmoush however has had a breakthrough season for die Schwaben in 2021/22 with three goals and four assists in 17 games (15 for Stuttgart). His performances even caught the attention of Egypt manager Carlos Queiroz, playing in all seven games in Egypt's run to the Africa Cup of Nations final against which saw them bitterly lose out to Senegal on penalties.

With Marmoush away at the Africa Cup of Nations and Kalajdžić only just returning from his shoulder injury, Stuttgart bolstered their attack with the signing of 19-year old Tiago Tomás on an initial 18-month loan with an option to buy at the end of the 2022/23 season. The young Portuguese striker has been a welcome addition to the Stuttgart ranks firing three goals in just seven games including an 85th minute winner against fellow strugglers Augsburg in a vital six-pointer at the bottom of the table. Kalajdžić being back fit together with the form of Tomás and Marmoush, the Stuttgart faithful will be hoping that the goals will start to flow in the remaining seven games of the season.




Recent form and hopes for survival

Stuttgart have recently settled into a flat 4-back formation which has helped fuel an upturn in form including wins against fellow strugglers Augsburg and Borussia Mönchengladbach. In both games, VfB were able to come back from two goals down winning 6 supremely important points in their bid to avoid relegation from the Bundesliga.

Unbeaten in 3 games, Stuttgart look to have hit form at precisely the right moment and still have everything to play for with a crucial match against Arminia Bielefeld next up. In no doubt another nail-biting affair, Stuttgart have the opportunity to give themselves some breathing space from the drop with Hertha Berlin travelling to high-flyers Leverkusen.


Pure drama, pure emotion! 😍#VfB pic.twitter.com/y8qdV9WjOF

— VfB Stuttgart_int (@VfB_int) March 8, 2022


What does the future hold for Stuttgart?

There is currently a lot of uncertainty and speculation surrounding VfB Stuttgart's playing staff for next season which is fuelled too by their lack lustre second season in the Bundesliga.

Flemish newspaper Het Nieuwsblad recently reported that Belgian midfielder Orel Mangala expects to leave the club at the end of the season with the club setting a price tag of €30 million. However, Bild reports that the player and his agent are angry with the publication, with Mangala's agent claiming that "it's all lies".

There has also been recent movement involving Saša Kalajdžić's situation as it was recently revealed by Kicker that he has turned down Stuttgart's latest contract renewal offer with his heart seemingly set on leaving the club. A whole host of clubs are interested in the wantaway striker including fellow Bundesliga clubs Borussia Dortmund, Bayern Munich and RB Leipzig as well as interest from the Premier League and Serie A. The Austrian's contract only runs until 2023 and so it is becoming increasingly likely that Stuttgart will have to cash in this summer to avoid losing him for free the following year.

On-loan defenders Ito and Mavropanos are set to become permanent signings at the end of the season, both holding option to buy clauses in their contracts for relatively low prices.

What are the fans saying?

Markus Kilzheimer, a well-known VfB Stuttgart fan in the FIFA community, speaks about his opinion of what exactly has gone wrong this season for die Schwaben. He put this season's disappointing performance mainly down to the losses of key players to injury and stated "We had to resort to a quick solution and hope for immediate impact like signing Marmoush and Tomás on loan". Kilzheimer noted that the team has had to work on their cohesion and chemistry at times this season with injuries and transfers playing a big role in the disruption of the starting eleven. He praised the Atakan Karazor's performances whose composure on the pitch could prove vital in their battle to avoid relegation.

When asked about the future Kilzheimer admitted that it will be hard to keep the current squad together with the likes of Kalajdžić wanting moves away. He did however hold hope that Silas will remain at the club for at least another season, as the Congolese right midfielder works to get back to full fitness. Kilzheimer believes that the responsibility will now fall on the young players that have recently signed such as Tomás, Faghir and Sankoh, who was looking bright before his injury, to step up and produce for the club.

Unfortunately, VfB are not currently in a position to hold on to players and so scouting and signing young talent, a field in which they have a proven track record, is increasingly important for the club to continue to progress.

Final analysis

It seems that VfB Stuttgart's season is a little more complex than the cliché of 'second season syndrome' with many unfortunate incidents going against them this season. Losing key players through transfers and most notably through long-term injuries has left the club lacking in fire power and unable to recreate last season's tremendous form. There is, however, still hope for the Swabian club as they currently sit 1 point outside of the automatic relegation play places and ahead of Hertha in the play-off place by 16 goals. A victory against Arminia Bielefeld and results going the right way around them could see them in a far better position by the end of the weekend.



More about Stuttgart