15.30 Kickoffs:
Bochum clinch class preservation in style, Wolfsburg also safe
By Peter Vice @ViceytheSS
An immensely entertaining set of 15:30 Bundesliga kickoffs saw two clubs officially clinch safety on Saturday afternoon. VfL Bochum and VfL Wolfsburg are officially out of the relegation race after a win at Dortmund and a draw at Stuttgart, respectively. 

Hertha BSC and FC Augsburg failed in their bids to extricate themselves from the relegation proceedings. Bielefeld and Stuttgart, meanwhile, cling onto faint glimmers of hope after earning a point apiece. 

Regarding the race for Europe, Köln are one again the big winners. A 4-1 win over Augsburg sees Steffen Baumgart's Domstädter pull into sixth place.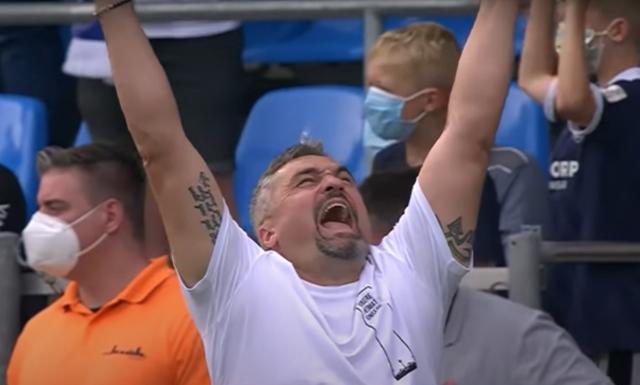 VfL Bochum have their first away win at Dortmund in nearly a quarter of a century. A wild seven-goal-shootout at Signal Iduna broke the way of the visiting Westaphalians. The gripping affair featured three-lead-changes and three handball penalties. In what may be his final start in front of the Dortmund fans, a hat trick from Erling Haaland simply wasn't good enough.


Speaking the the Sky mics beforehand, soon-to-be Dortmund personnel boss Sebastian Kehl denied that there was any concrete deal in place to send Haaland to Man City. The current club head of player licensing nevertheless did concede that "ongoing talks" about what many consider to be a near  certain move. Haaland spearheaded a 4-2-3-1 not unlike the one seen last week. Axel Witsel returned to replace Emré Can in midfield. English youngster Jamie Bynoe-Gittens (starting over Reinier) also got his hinted at starting XI debut.

VfL trainer Thomas Reis, returning from a touchline ban served in the previous round, made four changes to the XI that lost last Sunday at home against Augsburg. Armel Bella-Kotchap, Patrick Osterhage, and Simon Zoller all dropped to the bench. Sebastian Polter, Erhan Masovic, and Milos Pantovic filled in the slots. Reis' replacement for injured left-back Danilio Soares turned out to be Herbert Bockhorn starting on his unnatural side. Captain Antony Losilla served as the "midfield metronome" in a 4-1-4-1.

A dream-start for the guests saw the 1848ers go ahead in the 3rd minute. Takuma Asano latched onto a long-launch from keeper Manuel Riemann, bested Raphäel Guerreiro in a direct duel, and sent in a cross for Polter. The VfL striker benefited from a slip by his marker Manuel Akanji and headed home from about seven meters out. Five minutes after that, Reis' men would double their advantage.

Pantovic attemtoped to lift a ball over for Asano in the 8th. This time, "the Jaguar" couldn't execute a clean take down. Asano's teammates still found a clever way to make use out of it. Pantovic, spotting Gerrit Holtmann breaking out of the corner of his eye, allowed the mishandled ball to roll through his legs. The German-Filipino attacker fired in a finish from the left-hand side of the penalty area into the right corner.

Dortmund did their level best to reassert control over the match. Wolf punched through into the box in the 16th, eventually threading in a cross that Gamboa awkwardly cleared with his elbow. Match official Robert Hartmann got a buzz from the Kölner Keller and the act was ultimately deemed worthy of a handball penalty. Haaland converted to pull a goal back for die Schwarzgelben in the 19th.


Not long after, the hosting Westphalians we're awarded another handball penalty. Elvis Rexhbecaj, attempting to mark Wolf, won a ball with his elbow in the 28th. After once again being compelled to review the video evidence by the Bundesliga's VAR nerve-center, Hartmann again pointed to the spot. Haaland again converted at the half-hour-mark to complete a brace and restore parity.

Dortmund kept the pressure up for much of the half's duration, with Bochum only able to produce a few half-chances seconds before it was time to head into the dressing rooms. Somehow, the two teams managed to keep the tempo up after the break. Fast-paced, end-to-end action from both sides characterized the opening ten minutes after the restart.

Riemann made an excellent stop on Haaland in the 58th, remaining with the Norwegian striker as he lined up a Wolf cross and Jude Bellingham leave for a vicious first time shot. Four minutes after that, however, Haaland would have his hat trick. Riemann found himself powerless in the 62nd when the BVB striker artfully lifted the ball up with his foot to knee-in a Marco Reus flick-on from five meters out.

Bynoe-Gittens was active on the sequence, crossing in for Reus. The English winger would find himself subbed off for Felix Passlack immediately after the tally. Rose aimed for a more protective shape. For the most part, this worked in keeping Bochum at bay. Reis' men managed little apart from their own appeal for a handball in the 76th.

The 1848ers drew level in the 81st with the aid of one of their own likely-to-depart players. Striker Jürgen Locadia, subbed on in the 72nd, shook off Akanji just inside the 18 after taking down a deflected cross. The Dutchman then finished emphatically off the turn into the far corner. Matters got more wild still four minutes later when Witsel was adjudged to have stuck out his arm to block a ball in the box.

Pantovic strode forward to convert the third handball penalty of the afternoon and restore Bochum's lead some 55 minutes after they had forfeited it. Nothing much happened thereafter apart from fouls, stoppages, and bookings in injury time. Given some of the other 15:30 results a draw or even a loss would have still seen Bochum clinch class preservation. As it turned out, Reis' men capped their promotion campaign in style.

VfL Wolfsburg also secured Bundesliga football for next season in the round 32 set of simultaneous kickoffs. Florian Kohfeldt's Wölfe drew VfB Stuttgart 1-1 at the Mercedes Benz Arena. Pellegrino Matarazzo's Swabians looked to be dead and buried down 0-1 heading into the final minutes. An 89th minute tally from Chris Führich enabled the home side to draw level and salvage a critical point.

Hertha BSC missed out on the chance to clinch class preservation by conceding their own late goal. Felix Magath's Berliners couldn't hold onto their 1-0 lead at the Alm. Instead, Arminia Joakim Nilsson headed home an equalizer at 90+1. The two 1-1 draws in Stuttgart and Bielefeld leave Hertha four points above the VfB in the final safe slot. Bielefeld, in turn, are two points behind Stuttgart for the relegation playoff place.

Markus Weinzierl's FC Augsburg--six points above Stuttgart--are technically not safe either. The Fuggerstädter dropped their home fixture against Köln 1-4. The cathedral city side completed their fourth straight league victory. Steffen Baumgart's Geißböcke are very much the team-of-the-moment in the Bundesliga. After last night's draw against Fürth, Köln overtake Union Berlin for sixth place and the second Europa League spot.

There was an upset in Mainz as Bo Svensson's Rheinhessen overcame Julian Nagelsmann's recently crowned league champions 3-1. The result still had no real consequences for either side. Bayern cannot be caught in first and Mainz's ambitions for European football are finished.



More about the match
More about the teams