Tedesco leaves door open to Sørloth in Poulsen's absence: "He will train and we will talk to him."
By Peter Weis @PeterVicey
Speaking at a Monday presser, RB Leipzig trainer Domenico Tedesco sought to stress that he wished to leave the door open for a fresh start when it came to returning loan player Alexander Sørloth. Presumably, this also applies to English winger Ademola Lookman.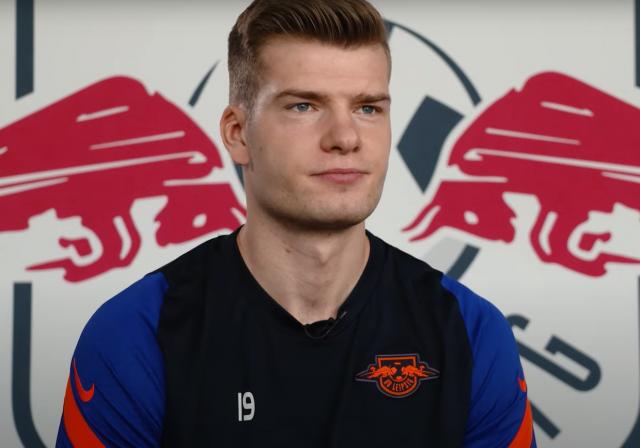 For some German football watchers, it seems like an eternity ago that Norwegian striker Alexander Sørloth was considered an integral part of RB Leipzig's squad. After failing to truly catch on with the German Red Bulls following an injury layoff, endless transfer rumors last summer seemed to suggest that he would depart the Saxon capital for good.


In actuality, the 26-year-old was only shipped out on loan last autumn. Spanish club Real Sociedad showed no interest in purchasing him after he managed just four tallies in 33 appearances. Now, there actually might be a new chance for the Norwegian international at Leipzig. Part of this stems from the fact that Sørloth's Scandinavian striking counterpart Yussuf Poulsen may be out long-term.

Poulsen sustained a muscle fiber injury whilst on Danish national team duty in June. According to German footballing magazine Kicker, the veteran attacker may be out until at least the end of August, meaning he will miss both the Pokal opener and the first four rounds of the season. Sky Germany currently reports that, after a scheduled MRI on Tuesday, Poulsen could be ruled out longer.

That could leave an opening for Sørloth, as head-coach Domenico Tedesco made clear on Monday.

"I think so, for sure," Tedesco replied when asked if the Norwegian had a chance to make the squad, "He's our player and belongs to us. We are looking forward to him coming back. He will train and we will talk with him. He deserves that."

Though the similar case of Ademola Lookman was not brought up specifically, one assumes that this applies to English attacker Ademola Lookman as well. After back-to-back largely successful loans to Fulham and Leicester City, Tedesco is surely eager to give the 24-year-old a fresh look.

Both players are due back in camp a little later after receiving vacation extensions following national team duty with Norway and Nigeria, respectively.



Related stories