Burke on Bundesliga comeback:
"Hopefully, I can call this place home soon."
By Peter Weis @PeterVicey
Some six years after he scored his lone Bundesliga goal, Scotsman Oliver Burke is back in the Bundesrepublik looking for a fresh start. 

Speaking to Tim Lüddecke of German footballing magazine Kicker, the 25-year-old spoke on his hopes in his new locale.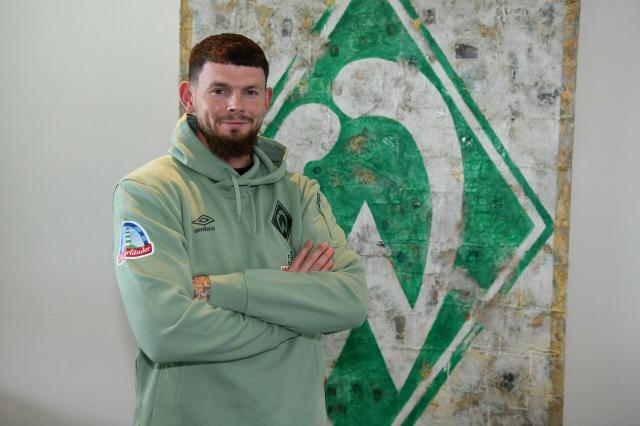 | | |
| --- | --- |
| Oliver Burke. | Photo: Werder Bremen |
Once regarded as one of football's hottest young prospects, much has gone awry for Scottish attacker Oliver Burke since his last stint in Germany. RB Leipzig considered him worth €15.25 million when purchasing the Kirkcaldy native from Nottingham Forest ahead of the 2016/17 campaign.


After just one season, the German Red Bulls shipped the then 20-year-old back to the Isle, selling him for a roughly equal amount to West Bromwich Albion. Burke never really regained his traction there, getting loaned out twice and even being relegated to the WBA reserves.

Following an equally unsuccessful stint at Sheffield United, newly promoted Bundesliga side SV Werder Bremen were able to snatch him up on a free late last week. German footballing magazine Kicker, among other sources, report that there may be some bonus payments due to Sheffield in the event that Burke hits some performance targets, but the transaction still highlights what a downgrade the now €4.5 million-valued player has undergone.

"My goal stats aren't that high," Burke announced when speaking to Tim Lüddecke of Kicker magazine, "there have been a lot of ups and downs in my career - a lot of loan spells. It's a matter of luck and playing time."

Burke reminisced about his last stay in the Bundesliga some six years ago. The now 25-year-old seemed to openly concede that it was a move undertaken a bit too soon.

"It was a big step," Burke recalled, "tactically, in terms of training standards. I had to get accustomed to this higher level first."


Arguably, Burke never really made that step. He did make history in early 2016, netting the first tally scored by a Scottish player in the Bundesliga since 1999 during his lone season in Germany. Unfortunately, that would be the only goal he scored in a German team's colors.

It won't be easy to get playing time in his new locale. Marvin Ducksch and Niclas Füllkruig lie ahead of him on head-coach Ole Werner's depth chart. There may be some hope that, given the team's need on the right wing, the physically imposing attacker might maintain some hopes of logging minutes there.

"I don't expect to waltz in here and play straight away," Burke told Lüddecke, "I have to show what I'm capable of. But I'm here to fight for my position. I'm not done here [in Germany] yet."

"I know what I can do," the player added, "I already have the confidence that I can score a lot of goals. But I also believe I can contribute in other areas, not just by scoring goals - but by helping to create them."

"With confidence, everything will come," Burke concluded, "If I locate that feeling here, I'm very sure all of us will be quite satisfied. Hopefully, I can call this place home soon."



More about Oliver Burke