Polter and Terodde to finally feature together against Bochum?
By Peter Vice @ViceytheSS
In a piece appearing on Kicker Magazine's website, expert Toni Lieto postulates that Saturday night's matchup between relegation candidates VfL Bochum and Schalke 04 may constitute the perfect opportunity for the S04 to finally deploy strikers Sebastian Polter and Simon Terodde together up top. 

Some of Kramer's recent comments would appear to suggest that he's prepared to do just that.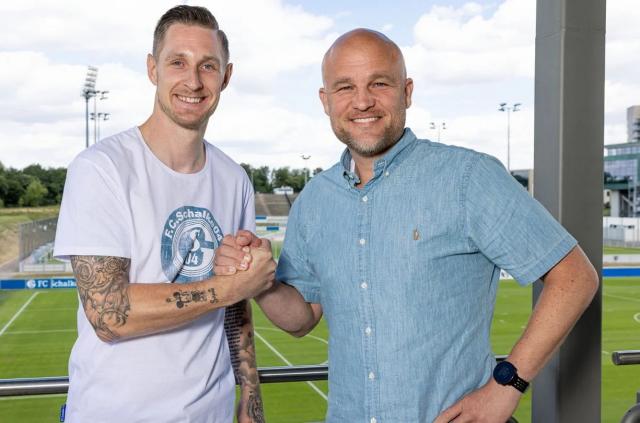 Sebastian Polter and Simon Terodde have thus far not shared a single minute on the pitch together in the current Bundesliga campaign. This is somewhat surprising considering the fact that Schalke head-coach Frank Kramer made no secret of the fact that he considered the two attackers a potent one-two punch during a July interview with Kicker magazine.


"They are both powerful strikers with similar stature and height," Kramer said at the time, "Sebastian is the wrecking ball type. Simon is more of a sneak, who doesn't necessarily seek out defenders, but has a very good eye for lane cuts. I firmly believe that they can complement each other well on the field."

Despite this assessment, Kramer has only used one to replace the other on the field thus far. This coming Saturday's somewhat curiously selected "TopSpiel" may constitute the perfect opportunity. Schalke are likely to be without their main attacking impetus, left-back Thomas Ouwejan. Moreover, Polter and Terodde both get a chance to face off against a former club.

"Playing against your former club always has a special meaning for a player," Kramer said recently, "Such a situation brings adds a few more sprites of motivation."

Terodde's history with the Revierklub actually dates back some time. The 2. Bundesliga journeyman represented the 1848ers between 2014 and 2016. Since then, the 34-year-old has played for Stuttgart, Köln, and the HSV. The same is, of course, not true of Polter. The 31-year-old will most certainly find himself angry with his former club after they held up a transfer to Eintracht Frankfurt this offseason.

Schalke desperately need to find some way of taking advantage of the disarray surrounding last-placed Bochum and earn their first win of the season. If the Königsblauen can't get their own season off the ground soon, the more experimental way in which sporting director Rouven Schruoder opted to re-build the team for the top flight will likely continue to unravel.

"We have full confidence in both of them," Kramer said on the matter "Pairing them together can generate some momentum."



More about the match
More about the teams