Rose insists he had no axe to grind against BVB: "0.0% Schadenfreude"
By Peter Weis @PeterVicey
In his first post-match interview back on a Bundesliga pitch, new RB Leipzig trainer Marco Rose chose his words carefully.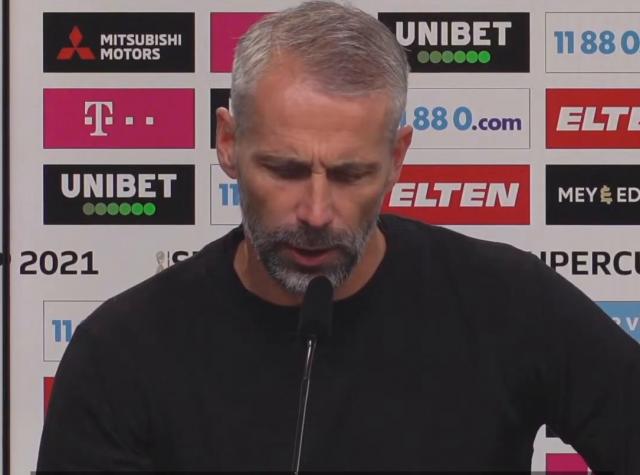 | | |
| --- | --- |
| Marco Rose. | Photo: Borussia Dortmund/OneFootball |
Marco Rose certainly appreciated the energy his new squad pout into Saturday's 3-0 win over his former club Borussia Dortmund. Rose's Saxons thoroughly dominated their Westphalian guests, toying with the defeated BVB towards the end of the match with playful and creative moves around the dejected Schwarzgelben actors.


"When you are more playful, energy develops all by itself," Rose analyzed, "This is a team that wants to win and has intrinsic motivation. Things haven't been so great in recent weeks and a new coach can help get it going. I'm very pleased as the lad put a lot into training."

Naturally, the questions associated with Rose having to face the club that dismissed him immediately after getting his next Bundesliga gig needed to be tendered as well. Like his counterpart Edin Terzic earlier in the week, the Leipzig native handled them with class. Rose insisted that he maintained "0.0 percent" Schadenfreude in defeating his former club.

"I really enjoyed being at the club," Rose insisted, "It was a great year. I met great people and great fans. In the end, it didn't fit anymore. I had to leave, but life goes on for me, too."

Rose took time not only to praise his successor Edin Terzic (with whom he also emphasized he had a great relationship), but also his predecessor at his new club. Rose went so far as to rattle off Domenico Tedesco's accomplishments.

"Domenico Tedesco won the DFB Pokal, turned things around in the second half of the season, and qualified for the Champions' League," Rose noted, "That's immensely important. He accomplished great things for the club."


Despite the win, Rose still has his work cut out for him back in his hometown. The new RB trainer took care to stress that his mind wass on the task ahead, in particular the crazy scheduled necessitated in the Champions' League thanks to this year's unique mid-season World Cup break. Rose expressed concern that the squad "isn't as deep" as some think.

Ideally, the 45-year-old hopes to find success again back in the footballing system in which he initially thrived. Many tend to forget that - prior to his stints with Gladbach and Dortmund - Rose was an RB system coach. The former Mainz defender worked his way up through the RB Salzburg youth ranks for four years before taking over the senior squad in 2017.

Gladbach - who also happen to be Rose's next league opponent - hired him out of the system in the summer of 2019.



More about the match
More about the teams