Müller and Musiala discuss attacking partnership
By Peter Vice @ViceytheSS
Jamal Musiala's star continues to rise higher still after the 19-year-old was involved in three of Bayern's four goals in Friday night's 4-0 win over Leverkusen. 

After the match, Musiala and Thomas Müller conducted a tandem interview during which they spoke on what it was like to play together.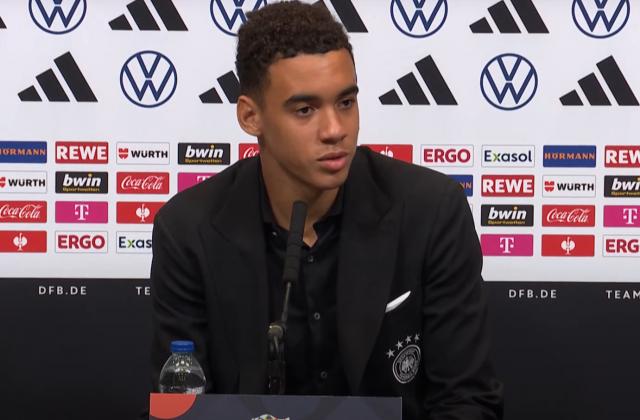 Bayern may still be lacking a classic target forward, but that may matter little if the two players FCB head-coach Julian Nagelsmann has selected to either work out wide in a 4-2-2-2 or in direct vertical connection with one another in a 4-2-3-1 can manage to remain in scintillating form.




Jamal Musiala and Thomas Müller each nabbed a goal in Friday night's 4-0 victory over Leverkusen, albeit with a little help from Leverkusen keeper Lukas Hradecky in both cases. Musiala hit the back of the net in the 17th to give Bayern a 2-0 lead. Hradecky dealt with the effort very poorly. The Leverkusen skipper then slipped to gift Müller the 4-0 six minutes from time.

"I just want to continue to develop," Musiala noted with remarkable restraint in his post-match-interview, "A good game doesn't mean that we're through the bad times. We need to keep at it."

Müller's goal came courtesy of a slip by Hradecky sure to occupy a space in many a blooper-reel over the coming years. Nagelsmann remarked afterwards that his designated lead-striker on the evening had a goal "gifted to him on a silver platter".

Müller seemed to agree, preferring to focus on Musiala in his post-match interview.

"It's extraordinary for him to possess these skills and the overall package at his age," Müller said of his teammate, "It's fully understandable that the football world just wants to watch him play football.




Both players shared some thoughts on what it was like to work alongside the other's game.

"His [footballing] IQ is really high," Musiala said while pointing in Müller's direction "He understands things that I don't even see sometimes. I try to keep up with him."

Müller dealt with the "IQ" matter modestly.

"Of course, I have time to assesses the situation when he's battling against three defenders," Müller noted, "So I have a competitive advantage there. We have a good connection when it comes to the give-and-gos and lookout for combos."

"It's often the case that you like to give him the ball in certain situations because you say, 'Okay, now I'll play Jamal because I know what he can do on the ball'," Müller added, "His game shows what he's capable of."

Musiala received a standing ovation for his goal and two assists after being subbed off in the 81st just before Müllers goal in the 84th. The applause from the Allianz Arena crowd continued well after the teenager had disappeared into the dugout.

More subdued noise from the spectators didn't return until mere seconds before Müller sealed the result.




More about the match
More about the teams