Rose praises Hertha and old friend Schwarz after near comeback: "It's a great team!"
By Peter Vice @ViceytheSS
Mutual respect was the order of the day between two old FSV Mainz 05 teammates following the five-goal-thriller between Leipzig and Hertha. 

RB trainer Marco Rose had kind words and well wishes for his old friend Sandro Schwarz after the pair shared a warm embrace after the full-time whistle.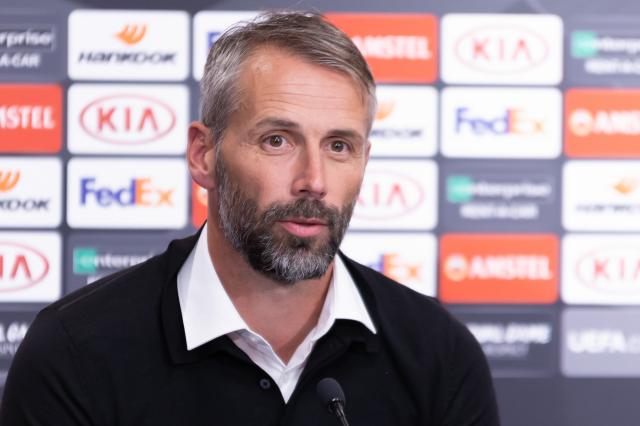 | | |
| --- | --- |
| Marco Rose. | Photo: Steffen Prößdorf, Wikimedia Commons, CC BY-SA 4.0 |
Those opposing one another in the amazing five-goal affair that was Saturday evening's Top Spiel didn't have too much negative to say about the performance of the other side during the post-match interview rounds. Both Marco Rose and Sandro Schwarz (former Mainz teammates) expressed pride in what their own team's had accomplished as well.


"The tear the guys went on," Schwarz mused after his team came up just short of a sensational comeback, "I love them for what they showed in the second half. The stability and aggressiveness that we get on the pitch. That's great sports. That's going to be the way to go."

Despite the fact that his team nearly squandered away a 3-0 lead, Rose was largely satisfied with what he saw.

"I'm mega pleased with what I saw today," Rose said in his post-match-interview, "We were very dominant in the opening phase and earned the clear 3-0. We had a lot of grit and won the game. I'll say again that I'm mega pleased today and proud of the guys."

For Rose, Hertha's near comeback wasn't a reflection of poor play from his team, but rather the quality of the opponent. Rose heaped praise upon his old friend and Mainz teammate Sandro Schwarz. The two men played together with the Nullfünfter between 2002 and 2004. They also both trained Mainz's reserve squad at different time.

"Hertha then came back, but I saw that coming," Rose said, "It's a great team! They never gave up and are generally on a really, really good path athletically. Playing against such an opponent, even with a 3-0 lead, can quickly become unpleasant. We noticed that today."

"[I told Sandro Schwarz] how much I love him and wish him all the best," Rose revealed, "Hertha BSC is on a really good path. That's no guarantee of points. The situation isn't easy. But what's on the pitch there in terms of stability and power is really impressive."



More about the match
More about the teams