Boateng on Hertha's relegation fight: "He who plays must give his life."
By Peter Weis @PeterVicey
Thiemo Müller and Andreas Hunzinger of Germany's Kicker Magazine caught up with Charlottenburg footballing legend Kevin Prince Boateng after Hertha's latest league loss on Saturday.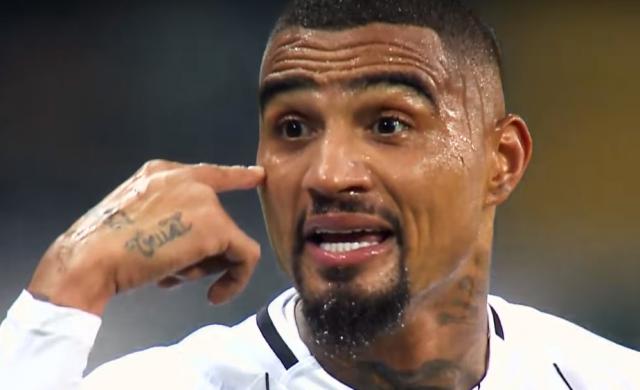 ertha BSC have not begun a new calendar year with four consecutive losses since their relegation campaign in the 2011/12 season. The latest 0-3 defeat in Frankfurt certainly brought with ill omens for a club in total disarray. Despite this, ometown hero Kevin-Prince Boateng - who did do his part to help Hertha avoid relegation last season - wished to emphasize that he still believed.


Thiemo Müller and Andreas Hunzinger of Germany's Kicker Magazine recorded comments from the 35-year-old in the Deutsche Bank Park mixed zone. Boateng noted that, if he felt the team stood no chance of avoiding the drop, he wouldn't have bothered to show up to the park to play.

"We know we're in the shit, but a lot can still happen with 15 games to play," Boateng noted, "I'm not worried, but it's on my mind. We've had a turbulent week. We haven't won a game yet and haven't scored in three games. But as I already said, if I didn't believe I'd stay at home."

Boateng deflected policies about Hertha's botched transfer window and refrained from commenting on Sandro Schwarz's prospects of remaining the team's head-coach. In the view of the veteran, it all comes down to the team on the pitch. He also praised Hertha's lone signing during the final days of the window; immediate second-half substitute Tolga Cigerci.

"We've got a great player in Tolga Cigerci," Boateng said, "he has to get used to it now because he's just gotten here. You could see today that he can handle the ball, that he's a guy who has charisma."

"We don't need to talk about the coach," Boateng also noted, "I think as players we all have to look in the mirror. Why isn't it like the first half of the season? We as players have to look in the mirror. Everyone has to ask themselves: Who am I? What am I? What do I bring to my club and my teammates? That's the only way you can get out of it. He who plays must give his life."


There was a slightly humorous moment when Prince was asked about his return to Frankfurt. Boateng spent the 2017/18 campaign with the Rhein-Main Eagles; scoring six goals and making five cup appearances the year that the SGE captured the DFB Pokal.

"They didn't whistle me," Boateng said of the Eintracht fans with a laugh, "I didn't understand that. It hurt my feelings a bit."



More about the match
More about the teams