Niederlechner comments on €300,000 usage clause: "We ran and fought for each other."
By Peter Vice @ViceytheSS
Hertha BSC striker Florian Niederlechner has publicly confirmed and commented on the contractual clause that cost his current club a six-figure-sum in yesterday's victory.

The 32-year-old acknowledged that knowing that his deployment would cost Hertha some €300,000 made for a very different and oftentimes stressful workweek.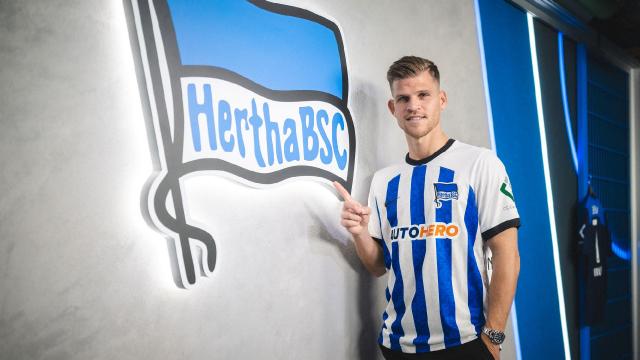 Photo: City-Press GmbH/Hertha BSC

The reported-upon non-compete clause that threatened to sideline Hertha BSC striker Florian Niederlechner against his former club Augsburg on Sunday has now officially been confirmed by Germany's preeminent footballing publication. Kicker Magazine's Steffen Rohr, in an article appearing on the trade journal's website today, writes that Hertha had to pay Augsburg €300,000 for Niederlechner's use in yesterday's victory.


While Niederlechner himself did not get his name on the scoresheet, some of his early play proved crucial in setting the tone for the victorious hosts. The 32-year-old drop past former teammate Niklas Dorsch and - after a nifty one-two with striking partner Jessic Ngankam - beat FCA defender Jeffery Gouweleeuw before hitting a powerful finish wide.

Niederlechner at least demonstrated his value to the team with this signal of intent. The hosts proceeded with energy and resilience thereafter. The newly-acquired attacker gave his new club everything over the course of a 79-minute-deployment. Speaking to Rohr afterwards, he expressed thanks for the vote-of-confidence given to him by die Herthaner.

"It was already settled on Monday that I would play," Niederlechner said, "That was a real statement-of-value from the club. In the end we got three very important points from a competitor. I don't care who scores or assists on the goals, even if I hope that my first goal will come soon."

Niederlechner acknowledged that all the buzz surrounding his €300,000 fee rendered the just-completed workweek a very different and very difficult one. The striker noted that, in light of this extra pressure, he felt the need to take on an additional leadership role in the locker room. It was his responsibility to prepare his current teammates for his former club.

"All the extra fuss meant things weren't that easy," Niederlechner conceded, "I tried to treat it like any other match, but that was hard. The whole week was something else. During the week, I emphasized that the match against the FCA would be tough; that they would make us very uncomfortable against the ball."


"We accepted the situation," Niederlechner concluded, "We ran for each other and fought for each other - that's the only way to fight relegation. It wasn't always pleasant, but the bottom line was that it was a victory for morale. We pulled ourselves up with three points and, in the process, pulled Augsburg back down."

Hertha wrap up the weekend in 14th place on 20 points, ahead of TSG 1899 Hoffenheim and VfB Stuttgart in the relegation race. These two teams pad the Charlottenburgers from the relegation-playoff-place. Augsburg - having lost yesterday's relegation six-pointer - are now just four points above Hertha in 13th place.



More about the match
More about the teams
More about Florian Niederlechner