Report:
Eintracht line up replacement in event of Glasner separation
By Peter Weis @PeterVicey
Amid what seems to be a developing rift between Eintracht Frankfurt trainer Oliver Glasner and the club, Germany's main sporting tabloid reports that the club are formulating a contingency plan with Mike Tullberg of the Dortmund U19s should the head-coach depart.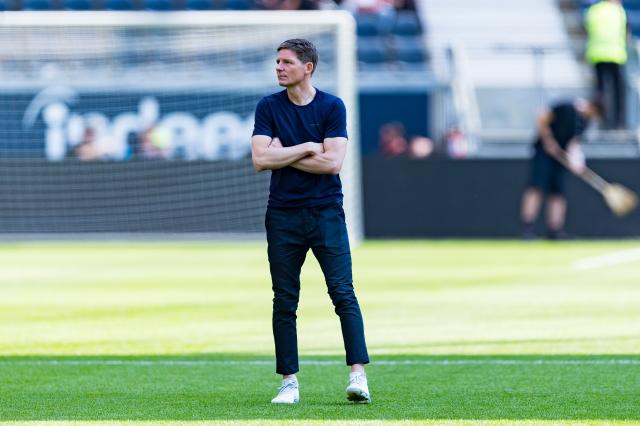 | | |
| --- | --- |
| Oliver Glasner. | Photo: Sven Mandel, Wikimedia Commons, CC BY-SA 4.0 |
Addressing his club's form following a six-match winless run on Sunday evening, Eintracht Frankfurt trainer Oliver Glasner conducted a caustic and worrying press conference during which he claimed that his side didn't have the quality deliver reliable results. The general consensus among German football watchers at this point seems to be that, with so many actors already thinking of their summer departures, Eintracht lack motivation and focus in the current campaign.


"Anything I say today can and will be used against me," Glasner remarked on Sunday, "It's a question of quality and I don't know how to train quality. This team annoys me because it's just too little at the moment. It doesn't do itself justice."

SGE sporting director Markus Krösche attempted to smooth things over when speaking to Julian Franzke of Germany's Kicker Magazine on Monday. Krösche noted that Glasner had given an appropriate "emotional reaction" to the team's recent woes and insisted that both he and his coach were on the same page.

"That happens with a coach, when the same mistakes keep cropping ups," Krösche said "And we were the better team for long stretches. If you add up the unnecessary point losses this season, that's annoying. We spoke to one another today and we have the same view of things."

It nevertheless appears as if Glasner is tiring of his current assignment. Having already won the Europa League with the club last season, the Austrian seems noticeably perturbed with the slide back this year that looks almost sure to leave him without new challenges to strive for.

Given the massive summer rebuild that is excepted once several players on expiring contracts leave and others with grander ambitions depart for greener pastures, it remains very much uncertain as to whether Glasner will wish to hang around.


There are reports that Premiership sides are interested in the 48-year-old. Glasner himself is in the midst of contract extension talks with the SGE. A decision on his future commitment to the club must be made soon.

Germany's main sporting tabloid currently reports that Krösche and the club administrative team are beginning to explore options in the event that Glasner does leave this summer. "Sport Bild" claims that the SGE are interested in Dortmund's Danish U19 trainer Mike Tullenberg.

The former AGF Aarhus striker has helped the BVB youth squad to achieve tremendous success and is one of the mentors credited with overseeing the development of Dortmund's young phenom Youssoufa Moukoko.

The tabloid goes on to note that Frankfurt are prepared to offer Glasner a salary increase of nearly €1 million if he extends his current working papers, good through 2024. Signs still point to a separation unless the RheinMain Adler can finish in the top-four and qualify for next year's UCL.



Related stories