Glasner with zero tolerance for question on effort: "These guys walk through the fire for Eintracht!"
By Peter Weis @PeterVicey
After being ejected from his team's latest league loss for what he termed a "silent protest", Eintracht Frankfurt trainer Oliver Glasner was not so silent at his post-match presser. A reporter asked whether his team understood their current situation.

Glasner fired back.

Glasner specifically referenced the play of defensive leader Makoto Hasebe, likening the 39-year-old to a heroic prizefighter still working the boxing ring.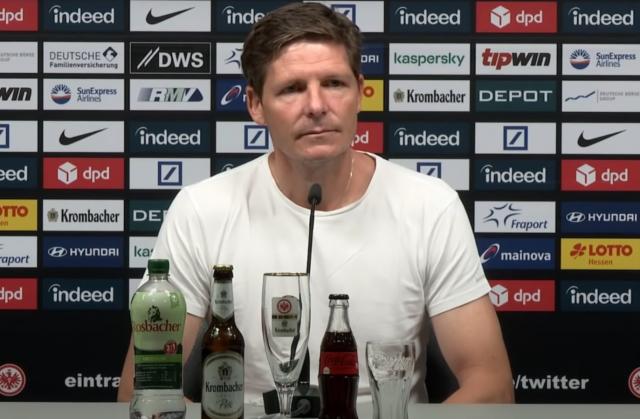 After a Saturday loss against Hoffenheim rendered it extremely unlikely that Eintracht Frankfurt can secure European qualification via the table, SGE trainer Oliver Glasner had choice words for a reporter who questioned whether or not his team had "comprehended" that they had a chance to take advantage of the losses of Leverkusen and Mainz last night and potentially get themselves back in the race.


"I won't accept that accusation," Glasner immediately fired back, "and please. I've said this many times before. Stop asking about all this stuff about whether the team doesn't 'comprehend' or doesn't come to play."

"Let me tell you something," Glasner continued, "Old man Makoto Hasebe, 39-years-of-age, he's played his third full 90-minute-match this week. He's practically pissing blood at this point because he's so exhausted and he's still playing."

"Now I hear this accusation," he went on, "Stop with this garbage. I don't want to say anything more. I know what the lads are bringing here. Accept that Hoffenheim won the match, but don't give me this 'don't understand', 'don't comprehend', no performance and no character."

"This team is contesting it's second Final [the DFB Pokal Final] in two years," Glasner concluded, "They're walking through fire for Eintracht."

Glasner was ejected from the fixture on Saturday after sending a ball onto the pitch in frustration at the start of first-half injury time. Glasner labelled it a "silent protest" in his post-match interview with Sky Germany.


Match official Harm Osmers - in his own post-match interview - explained that he had no alternative but to show Glasner a straight red.

According to the DFB rulebook, anyone throwing a foreign object onto the pitch must be immediately ejected.


Glasner goes nuts 🙃🙃 https://t.co/2siap1fTsr

— ViceytheSS (@ViceytheSS) May 6, 2023
More about the match
More about the teams
More about Makoto Hasebe