Freiburg celebrate hero Petersen after crucial goal: "The perfect script."
By Peter Weis @PeterVicey
After an emotional final night on the pitch in front of the SC Freiburg supporters, German football legend Nils Petersen commented on what it felt like to participate in what practically amounted to the perfect goodbye. 

SCF captain Christian Günter and head-coach Christian Streich also had choice words for their retiring club hero.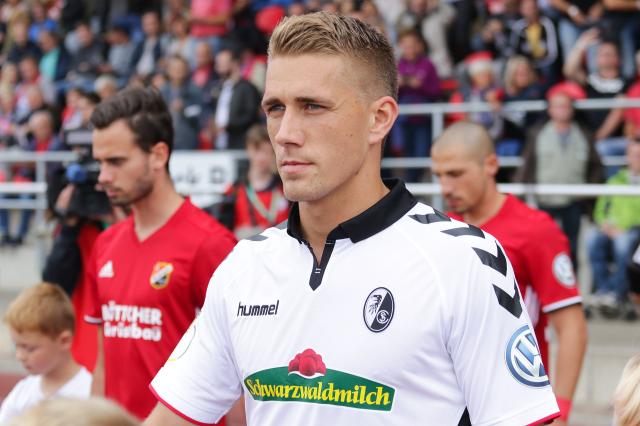 | | |
| --- | --- |
| Nils Petersen. | Photo: Steven Schaap, CC BY-SA 4.0 |
German football's statistically best ever goal scorer off the bench nearly bagged a brace as a substitute at the Europa Park Stadion on Friday night. Unfortunately for retiring 34-year-old striker Nils Petersen, a second tally he scored got chalked off for a minor foul from Nicolas Höfler in the lead-up. After the full-time whistle, Petersen made clear that the goal he scored that counted, in the 75th, was all that really mattered.


Petersen wouldn't see a damper placed on his evening.

"After the second goal, I thought I'd get a fresh contract offer," the Bundesliga veteran joked in his post-match interview with German broadcaster DAZN, "I was sure the goal would count. In any case, everything was too much anyway. Sometimes you should quit when you're ahead. One couldn't have scripted the evening more perfectly."

Petersen's second tally would have put Freiburg up 3-0 in the 80th. It was squad skipper Christian Günter who scored what would prove the game-winner in the 71st. Günter entered alongside Petersen and Lukas Kübler on a triple substitution just seconds earlier. In his own post-match interview, Günter too paid tribute to Petersen.

Günter made clear who the real hero was.

"My goal [scored off a deflection] didn't matter a damn bit," Günter told the DAZN mics, "One couldn't have written a better script. Nils absolutely deserves it and I'm immensely happy."


"Nils was loyal to the club for [nine] years," Günter continued, "he certainly could have accepted another offer. [When it comes to scoring off the bench] I think I've learned a lot from him over the years. He's sacrificed so much for us. He's an outstanding person and personality."

SCF trainer Christian Streich gave pockets of interviews in the mixed zone, but conducted far fewer one-on-ones that the gleaming Petersen. The 34-year-old wandered about the stadium talking to journalists long after the locker room celebrations had died down and midnight approached.

Streich even cut his post-match presser short with a special request.

"Can I be finished now?" Streich asked rhetorically after a short round, "Go talk to Nils. All players should look to Nils as an example. He's a role model. It's not a coincidence either. Everyone loves Nils. Thank you."


1⃣8⃣ pic.twitter.com/n5VKaGMIIa

— SC Freiburg (@scfreiburg) May 20, 2023
More about the match
More about the teams