6 things you may not know about Oliver Kahn
By Rune Gjerulff @runegjerulff
Happy birthday to Oliver Kahn who turns 50 years old today! Here are six things that you may not know about the former goalkeeper.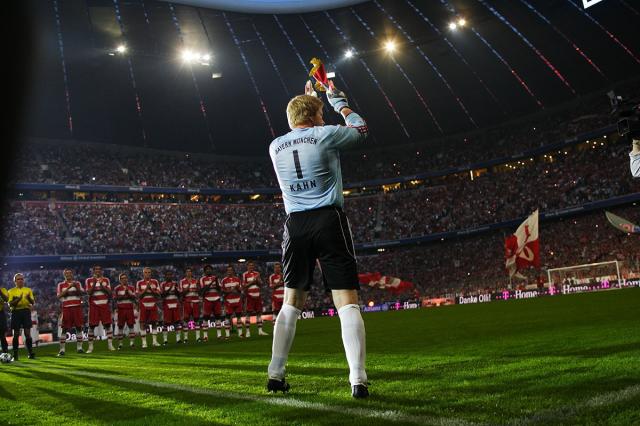 | | |
| --- | --- |
| Oliver Kahn during his testimonial match in 2008. | Photo: Tsutomu Takasu/CC-by-SA 2.0 |
1. Latvian roots
Oliver Kahn was born in Karlsruhe, Germany, on 15 June 1969 and has Latvian roots. His father, Rolf, was born in the Liepāja, Latvia, in 1943 to a Latvian father and a Baltic German father. Ahead of a game against Latvia in 2004, Kahn said he didn't consider the game special despite his Latvian heritage. "That would be taking things a bit far. I have no memories of the country. Though I'm sure my father feels differently. He will be at the match and I'm sure it will be a special game for him," he said.


2. Nicknames
Kahn is widely regarded among the best goalkeeper's of all-time. Through his career, he earned nicknames such as 'Der Titan' and 'Vol-kahn-o' because of his savage temper and commanding and aggressive style on the pitch.

3. Played for two clubs
At the age of six, Kahn started out playing for local side Karlsruher SC whom both his father and older brother have also played for professionally. Kahn was a key player for Karlsruher SC as they reached the semi-finals in the UEFA Cup in the 1993/94 campaign. After the season, he signed for Bayern München where he spent the rest of his career.

4. Trophies and honors
Kahn made a total of 632 appearances for Bayern München from 1994 to 2008. During that time, he won the Bundesliga eight times, six DFB-Pokal trophies and the UEFA Champions League and the UEFA Cup once each. He appeared 86 times for the German national team with whom he won the European Championship in 1996. He never won the World Cup, but
was awarded the Golden Ball (player of the tournament) at the World Cup in Japan/Korea in 2002 as the only goalkeeper ever. When it comes to individual honor, he also won three IFFHS World's Best Goalkeeper awards.

5. Activity after the end of his footballing career
After retiring as a football, Kahn was offered a job as sporting director at Schalke 04 in 2009, but he turned down the offer. Kahn obtained a coaching license in 2010 and a Master of Business Administration degree in 2012. He has also worked as a pundit for ZDF. He has supported various projects, such as the Munich street-football league 'Bunt kickt gut' and the Justin Rockola Association which aims to protect young people from violence, alcohol and drugs.

6. Destined for an executive role at Bayern
Bayern München CEO Karl-Heinz Rummenigge has confirmed that Oliver Kahn will be put in position to take over his job. According to reports, Bayern want to appoint Kahn a member of the board in 2020, and if all goes according to plan, the former goalkeeper would then be able to take over the position as CEO at the end of 2021.