Wolfsburg defensive duo prepare for a "cold start"
By Peter Vice @ViceytheSS
John Anthony Brooks and Maxence Lacroix literally have zero time to get accustomed to one another before pacing a potent Leverkusen attack on Sunday.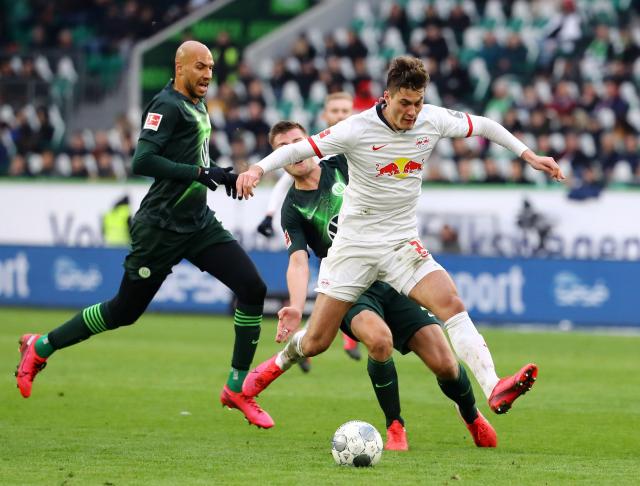 Photo: GEPA Pictures/Roger Petzsche

Red-eyed from his overnight flight back from Albania, VfL Wolfsburg trainer Oliver Glasner first had some good news to report to the waiting press corps. Maximilian Arnold, who had to leave the 4-0 Europa League qualification victory FK Kukesi, was not seriously injured.


"It's not that bad," Glasner said on Friday morning, "If the [level of] pain permits it, he can play on Sunday."

Naturally, Glasner could do nothing about the other injuries and suspensions that presently leave his defensive corps depleted. William Furtado and Kevin Mababu remain out long-term. Marin Pongracic's return has been delayed.  Captain Joshua Guilavogui will also have to sit out the team's opener against Leverkusen on Sunday on a red card.

And so it is that American center back John Anthony Brooks prepares for a "cold start" alongside 20-year-old French international Maxence Lacroix. The duo have not logged a single minute of pitch time together in either training camp, the DFB-Pokal or the delayed conclusion of last year's Europa League.

"It is what it is," Glasner remarked stoically, "It's not very well rehearsed." Glasner called up young defender Tim Siersleben from the youth ranks for assistance until his other actors can return to the pitch.

Glasner seemed to suggest that Brooks might eventually partner with Croatian center half Marin Pongracic; a partnership that worked rather well in the final nine fixtures last season. Pongracic has mononucleosis, and such glandular conditions are known to affect the medium-term fitness of footballers.

Regarding Pongracic, Glasner could only say, "It's headed in the right direction." He could give no specific timetable for the return of his January star transfer.



Related stories